Using Chef Resume Template to Make Excellently-written Chef Resume
Cooking is a skill that is important to learn by all people, but cooking a delicious meal that many people relish isn't that easy. A chef is responsible to skill him/herself with various meals menu, even coming with new 'innovation' by combining ingredients after ingredients. Despite the all the relish a chef may bring, they will still need to write a chef resume to apply for a vacant job using a chef resume template.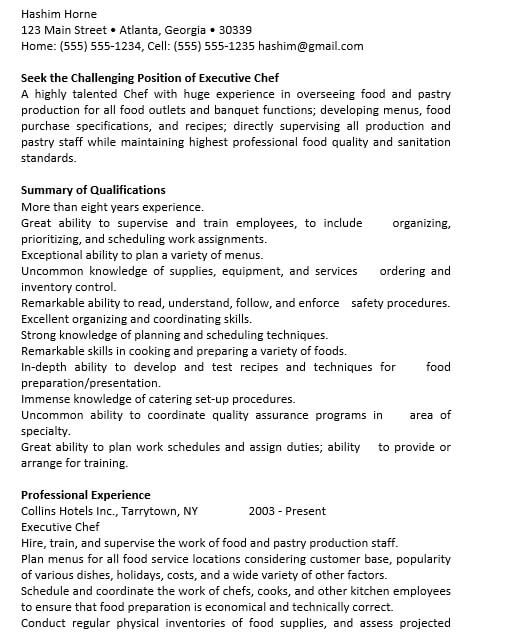 That said, in being a chef it is still common to face such competition as found in other jobs. With that in mind, it becomes a paramount thing to make one resume stands out than the other. One trick to get it is to polish and tailor the resume using chef resume template. Find out what you can get by downloading a template in this article below.
Sample of a Chef Resume
Making a chef resume is actually similar with making another resume for another job. The main aspects such as personal details, education background, previous working experiences, are the ones you need to include in a resume. However, the content under each aspect is definitely different from one person to another. Take a look at this shortened version of resume below made with chef resume template.
Sharon Isabel Adams
102 Peruvian Street, New York City, New York 22931 | sharonadams@here.com | 320-438-4329
Objective
Looking for a position that gets me to learn various new things; preferably in a French-based restaurant in a medium sized restaurant.
Professional Experiences
L'ecole de Sorbonne, New York City, NY – Executive Sous Chef        (2016 – present)
Responsibilities:
Supervising all kitchen staff to work according to the provisions set when the chief chef is absent
Coordinating with chief chef and sous chefs about a new creation and how to implement it
Managing supplies procurement and storage
Controlling staff roster
Les Bijoux, Portland, OR – Sous Chef                                                 (2012 – 2016)
Responsibilities:
Helping the chef to cook meals
Assisting the main chef to perform various kitchen-related operations
Partly handling the supplies; such as listing down what ingredients have to be procured, its quantity, etc.
Handling staff absence, roster, and permission, etc.
Bienvenue Bienvenue! Restaurant, Portland, OR – Chef Apprentice               (2010 – 2012)
Responsibilities:
Followed the main chef's instructions especially in cooking meals
Cleaned the kitchen, took out the garbage, etc.
Education
Bachelor Degree in Culinary Arts, ABBA State University
Graduated in November 2009, GPA: 3.8/4.0
References
Mme. Louise Jean-Pierre                     Owner at L'ecole de Sorbonne (012-345-9990)
Lucien Allard                                       Chief Chef at L'ecole de Sorbonne (012-884-3484)
How to Write a Chef Resume
Writing a resume, a chef resume to be specific, isn't something that can be done easily. You need to know what aspects you need to include and how to format that well. Actually, there is this specific content aspect that you can also find in various resumes, such as working experience, personal details, and education background.
To write your resume, here's what you can do:
First, find any chef resume template that you want to work with. Or, you can also start composing your resume from scratch.
Input your personal identity, working experiences, and education background. Additionally, you may also include objectives, references, and also achievements to your chef resume template.
Once you finished inputting the content, you should proofread the content and dismiss any misspelt and grammatically wrong sentences.
Then, make your resume neat by formatting it.
People Also Ask
What qualification does a chef need?
Actually, there is no specific qualification a chef needs to acquire. However, generally people are aiming for candidates with diploma in related field. Certifications may boost your score; formal education will win their heart. But it's the working experiences that play the most.
What are the skills for a chef?
Not only outstanding cooking skills that a chef has to own, a chef should also consider putting these skills onto their possession:
Willingness to learn
Multitasking
Teamwork
Leadership skills, especially if you are aiming a higher chef position such as main chef or sous chef
Time management
Creativity
What are the tips to write chef resume?
To write your chef resume, it's advised to use a chef resume template. Not only you can make it quick with a template, you can store the template for further use. Aside from it, there tips can be applied:
First, provide your certifications and skills.
Include an objective to your resume
Use action verbs for a greater resume.
Update your resume regularly.
Various Types of Chef Resume
As there are various chef position in the field, it's no wonder there are also various kinds of chef resume template available.
Free Template Chef Resume
The best thing of a chef resume template is its free price. So, unlike hiring a freelance designer to set your resume right, you can do the template yourself—ultimately with no price charged. Now you can use the money for purchasing your loved chips to accompany you while making the resume.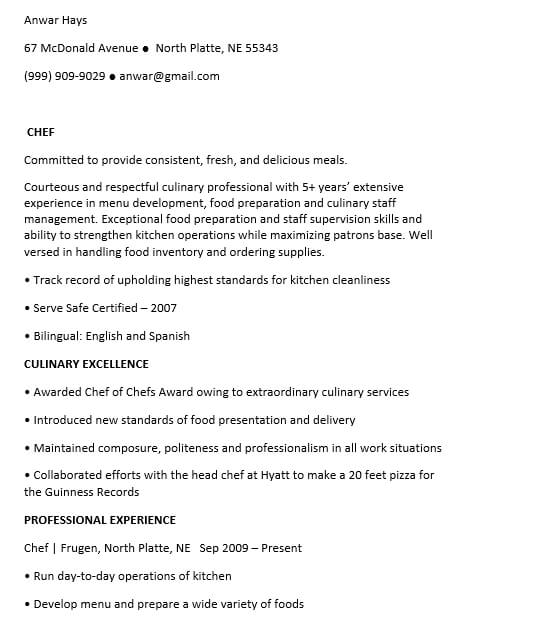 Download for Free Template Resume for Chef
Not only it is free in price, it's also easy to download your chef resume template. It comes in various file types; ranging from Word-friendly file to image-editor-friendly file type. Hence, you may choose one that feels suitable to your editing skills.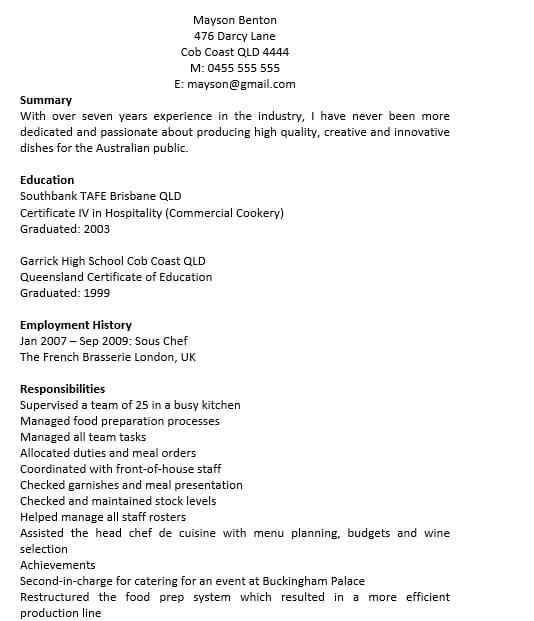 Executive Chef Sample Resume
Planning to hit that executive position? Begin your journey by creating an outstanding resume using a chef resume template. With a template, shoo away that confused mind and just start your 'creative process flowing'. Input your personal identity, working experiences, and other related data – and boom! You're ready to go.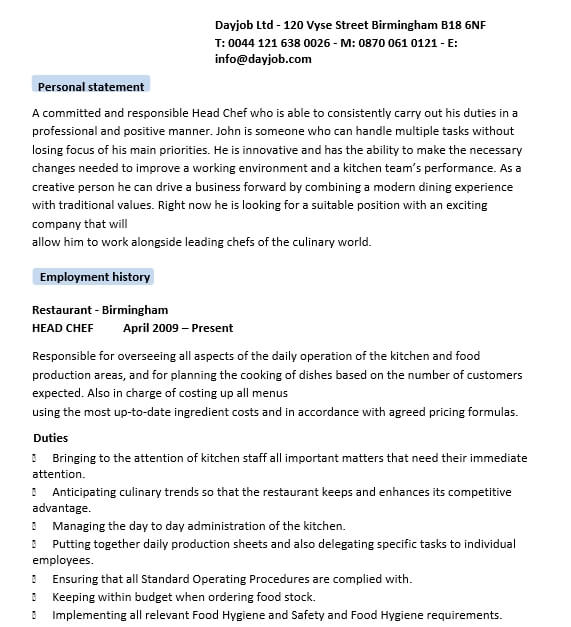 Free Template for Chef
Even for an executive position, making a resume can be pretty daunting. That's why people make templates and share it online. By downloading it, you can easily and quickly make your resume without paying any money.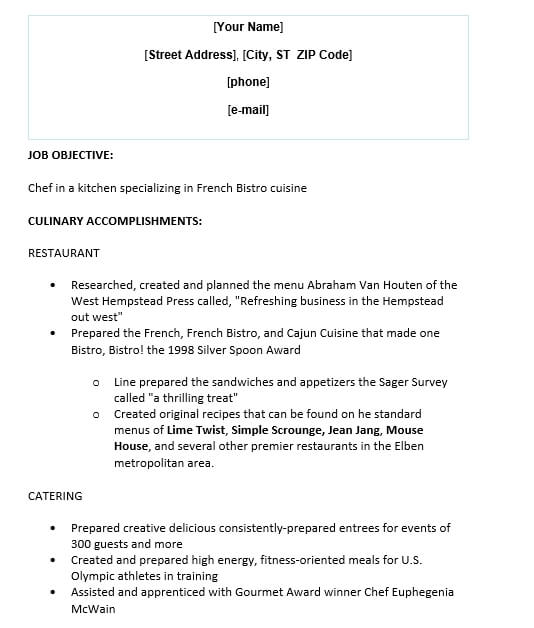 Free Templates for Kitchen Manager
If you are interested in being a kitchen manager, there is its chef resume template too. The template is also customizable, be it its décor aspect or its content – make sure to benefit much from the template you've just downloaded.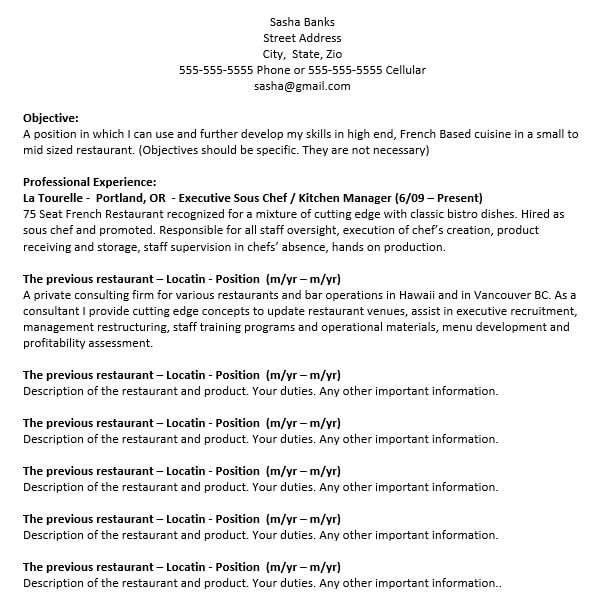 So those are some kinds of chef resume template as well as some related information that you may need to write one. Well, now let's secure that vacant chef position by making a resume ASAP!