Making an Excellent Chemical Engineer Resume to Grab that Job Offer
Not many people have the chance to get enrolled into chemical engineering department when they study in college. Studying chemical engineering will take you to complete science: combination of physics, biology, chemistry, and even economic and mathematics are being studied in this course. That's why, many positions are offered that tempts you to build your chemical engineer resume soon.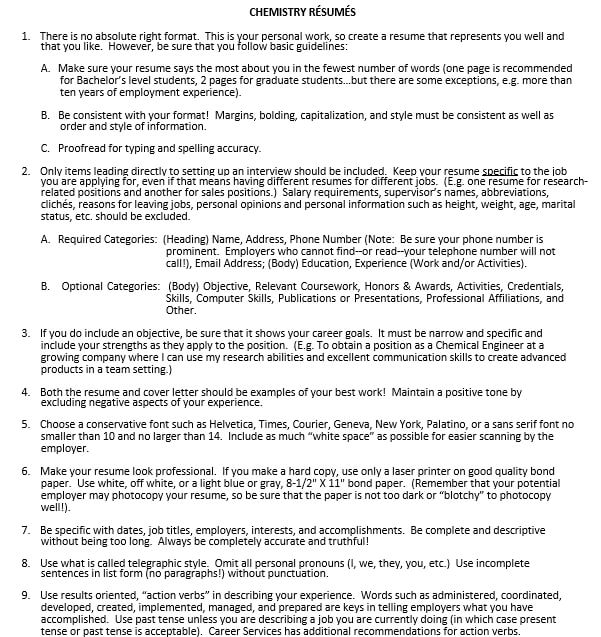 If you come here to get some sample of chemical engineer resume template, you've come to the right place. Creating resume can be wholesome for several people and you may be one of them. From a template, you can either learn it before making yours from scratch; or, simply customize the whole template and making it as yours. Both methods are the smart way to build your resume.
Sample of Chemical Engineer Resume
Is a chemical engineer resume the same with other kind of resume? Well, it is different, especially in the field of job description and skills – which you need to make it relevant to the data you've gathered yourself. Take a look at this sample to help you make the chemical engineer resume.
Anand S. Ganesh
Chemical Engineer
120 Pine Street, New Orleans, Louisiana 46548 | anandganeshmail@live.com | 013-342-5735
EDUCATION                Harvard University
Bachelor of Science in Chemical Engineering, graduated in 2015
GPA:  3.5/4.0
PROFESSIONAL EXPERIENCE
ATP Company, Ltd., Chemical Engineer, 2017 – present
Responsible for providing engineering support for chemical equipment and operations.
Providing assistance in designing new chemical processes, or improving the old ones.
Implementing novel ideas to make a better operational efficiency.
Planning, scheduling, and coordinating chemical technicians' project activities.
Triple A Company Ltd., Assistant Engineer, 2015 – 2017
Assisted the engineer in coordinating chemical operation.
Brainstormed ideas for new chemical processes and helping the engineer to plan and schedule it, etc.
JJ Company Ltd., Summer Intern, May – August 2015
Assisted the engineer to perform chemical analysis
REFERENCES
Mr. John Doe (General Manager in ATP Company) – reference letter enclosed
How to Create the Chemical Engineer Resume
In order to create your chemical engineer resume, you can make the process quicker by listing down your previous working experiences first. Then, list the job description of each job as complete as you can.
Once you finished doing so, you can do the following procedure to start building your chemical engineer resume.
First, take a sample resume. You can find it in various sources online.
Then, launch it using the compatible app. For example, if you download a resume with file extension .doc/.docx, then you can use Word to access the chemical engineer resume.
Once you can see the template sample, you may start making your resume either by typing the content all by yourself, or by editing the content of the resume sample directly.
Proofread your resume. Never let any misspellings or grammatical errors get into your resume.
Format your content. If you decide to compose your resume all by yourself, make your resume as neat as possible.
People Also Ask
What skills do chemical engineers need?
A deep interest in the field of chemistry
Ability to work under pressure
Numeracy, IT, and analytical skills
Teamwork and interpersonal skills
Effective communication
What can chemical engineers specialize in?
There are various specializations a chemical engineer can come into. The list is as follows:
Pharmaceuticals,
Manufacturing
Design and construction
Petrochemicals
Biotechnology
Environmental health
How do you write a chemical engineer resume?
Writing a chemical engineer resume isn't something that differs much from writing resume for other jobs. The resume itself contains literally similar items—such as personal details, education background, as well as professional/working experiences. The job description is what comes very different to other resume as job description is pretty individual.
You can see the step-by-step of how to write a chemical engineer resume on the headline above. Step four, which is to proofread your resume, is an important step to do. With that, you can make your resume a more professional one.
Several Sample of Chemical Engineer Resume
Although chemical engineer seems to be an already specific job, there are several kinds of resume that you may find online. Just as the sample that will be mentioned below.
Chemical Engineer Resume Template for Free
What's good from resume templates is that they are free of charge… mostly. That said, it's just a matter of source that you may find a free template. However, that doesn't mean that free templates are bad in styling. Dig the internet, and find any template that fits your preferences.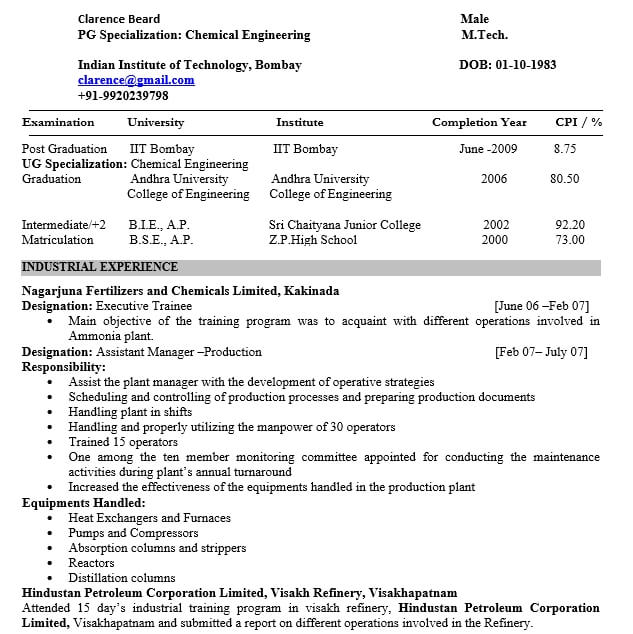 Sample Chemical Engineer Resume for Free
A chemical engineer resume sample (or template) will be very beneficial for many people, especially for those people with no previous experiences of making resume. If you are part of the squad, you can simply get a template and start making your resume by referring to it. Alternately, customizing the downloaded template can also do the trick faster.
Entry Level Resume Sample for Chemical Engineer
Everyone must know what it feels to be a first-timer. Confusion lingers—and that will be worse if no one can be relied on. It is why people start making a pre-made template. Not only it can help first-timers to conquer their confusion about what to include in a resume and how to decorate it, but it also helps them to work on it in less time.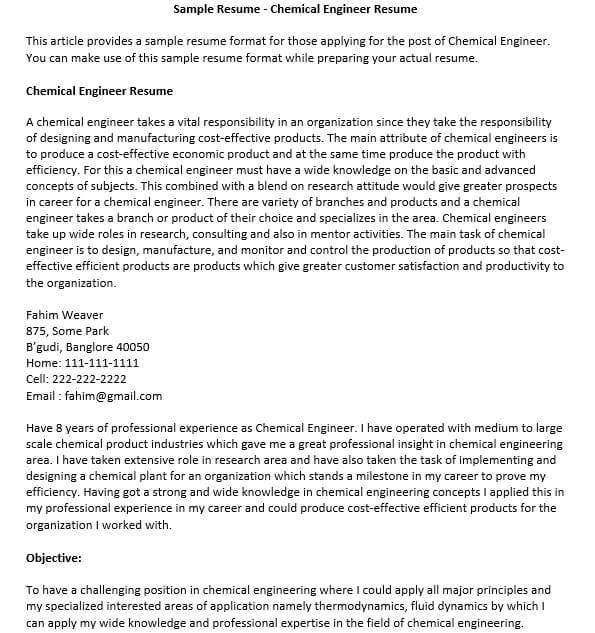 Resume Sample for Experienced Chemical Engineer
Even resume can be benefitted from by experienced chemical engineer. For experienced chemical engineer resume, you may write it a bit longer since you need to include all of your relevant working experiences and its job descriptions. To anticipate it, you can consider putting only several important job descriptions or reducing the font size a bit. Make sure it is still readable.
Chemical Project Manager Resume Template
If you are a previous chemical engineer and plan to take a step to project managing, creating the list of your chemical engineer job description helps the potential to understand that you are that capable person to hire. To make it presented in one place, you can create a chemical engineer resume.
So that is some information you may need when composing your chemical engineer resume. Remember, getting a template or copying from a sample does not mean you do it in a not professional way. It's just a trick to get you the resume you need way easier.