Preparing for Your Child Care Resume will Never be Easier with these Templates Below
Looking for child care resume samples? Well, you're on the right page. As there is an increase of child care worker needs, people will be more selective in hiring the right nanny for their children. Are you ready to compete in this field?
No need to worry, if you are experienced personnel, you have the cap already. Hence, what's left is to showcase your experiences and qualifications in a professional manner. That said, a resume is what you need the most. Find out some samples of child care resume in this article below.
Sample of Child Care Resume
Kim G. Antoinette
Phone: 9930-3048-3325 | Santa Monica, CA | kgantoine@freemail.com
QUALIFICATIONS:
5+ years of child care experience
Experienced with infants, toddlers, and preschool children
Fluent in two foreign languages (French and Korean)
Capable in teaching preschool subjects (course completed)
Work experiences with family with high profile
First Aid and CPR certified
CHILD CARE EXPERIENCES:
Jang's family                                      
Santa Monica, CA                               
2013-2020
Full time, stay-at-home nanny, with children aged: 2, 5, and 8 years old.
Providing full-time service five days per week for two boys and one girl aged 2, 5, and 8 years old consecutively.
Providing assistance for parents with childcare duties such as preparing meals, organizing children's activities like preparing them for school and helping them with school projects and other homework, working on the children's laundry, arranging sport activity while keeping the youngest one occupied with lighter activities, and also helping parents to prepare them for sleep occasionally.
Being in-charge of several light housekeeping chores and feeding the dogs as well.
EDUCATION:
University of California (2009-2013)
B.A. in Psychology, concentration in Developmental Psychology
cGPA: 3.87
University of California (2012-2013)
Short Course in Teaching for Children, Faculty of Education
FOREIGN LANGUAGE:
French (native fluency for both spoken and written), Korean (advanced fluency)
HOBBIES AND INTERESTS:
Reading, making crafts, photography, singing, dancing, swimming
Tips of Making Your First Child Care Resume
If it's your first-time making child care resume, no need to worry too much. Everyone passes this step and will pass through it someday. These tips will be beneficial for you to make your first resume.
Don't get too (somehow) proud and so overwhelmed about your passion in working with kids.
Make the resume neat and professionally-looking. Hence, say bye to unformatted and colorful resume.
Using child care resume template can really help you to quick-prepare your resume.
Think of yourself as a brand, hence you need to promote yourself using the resume.
People Also Ask
What is a child care provider duties?
Child care provider offers supervision and child-care (related to basic needs) services. The duties varied greatly; ranging from creating fun educational activities, preparing routine meals, and helping them with school homework.
What are some child care skills?
Some child-care related skills will include planning and managerial skills, communication skills, organizational and decision-making skills, creative thinking, etc.
What should I put on my resume for child care?
Put your child-care qualifications such as:
Skills in self-control and patience
Perseverance and excellent physical stamina
Time management
Creativity and great communication skill to children, etc.
How do you list working with children on a resume?
It's advised that you detail the skills/qualifications you include into your resume. For example, if you include 'creative thinking', you may explain it further with: "Ability to create engaging educational and age-appropriate fun activities in short time".
Various Types of Child Care Resume
There's no exact science in creating child care resume. However, if you want yours to do goo during the administration selection, it's best to try any of these child care resume templates below.
Sample of Child Care Resume Template
If you are seeing a job vacancy for child care worker position and you feel totally encouraged to fill the vacant position, it's time to prep a resume. With these templates provided below, no more confusion, better future ahead! Grab one and amaze future employer with your qualifications, skills, and experiences!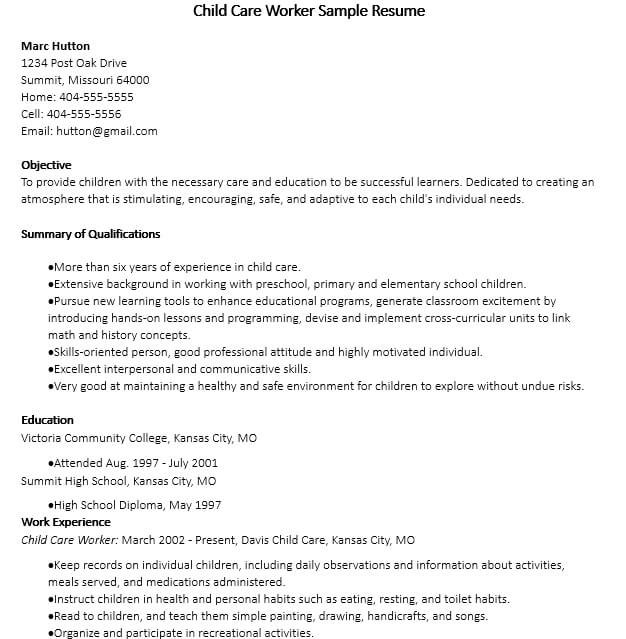 Sample Children Care Resume
To find out how to make a great resume, it'd be better to learn about it from some examples. Or, grab a child care resume template, so t you'll only need to fill the blanks with relevant information about you.
Example Resume of Child Care Teacher
If being teacher is your passion, starting your journey towards the goal by making a resume sounds like a great step to make. Find out how to compose and format your resume with the help of these templates below.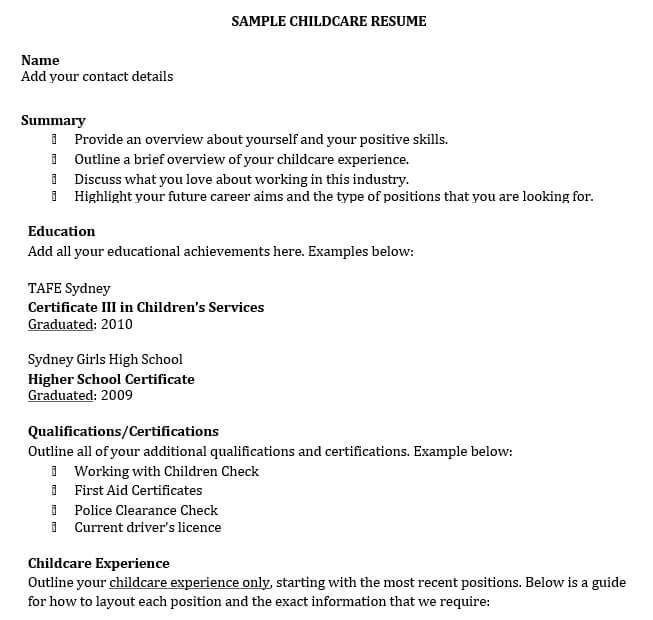 Microsoft Word-friendly Child Care Resume Template Example
What's the easiest application to make resume? Majority of people will answer it with Word – the most common word-processor app, versatile to various purposes. Now you can create your child care resume with this app-friendly format too; hence you don't need to worry about dealing with unfamiliar user-interface or such.
Child Care Sample Resume Template
Since resume is something that sells your skill and experience, you need to make it right. If it's your first time making your resume, you should download the template file and make the resume according to the template right away. Remember – vacancies won't wait for late-goers.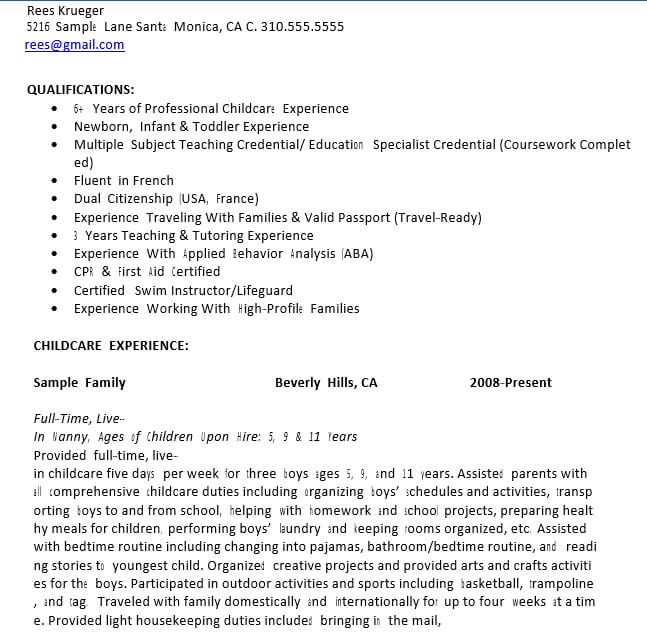 Experienced Child Care Worker Resume Sample
Experienced workers win some steps forward. But without a decent resume, it will be useless since the employer cannot see the reason why they should hire you.
Making child care resume seems to be an easy thing to do, yet it requires you learning about what may bring good impression in the eye of your employer.
Resume Sample of Child Care Worker
If you are passionate in working with children, being a child care provider seems like a dream job – despite the strenuous energy required and great patience to fuel you up. Show your employer you are the greatest candidate.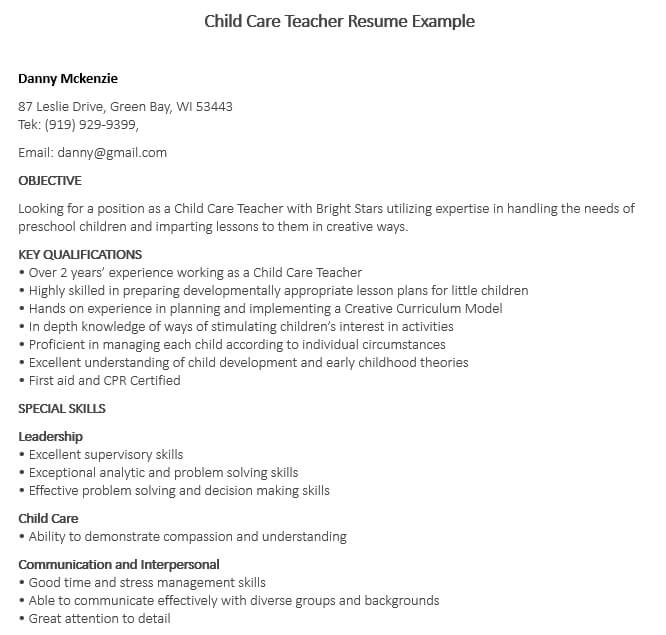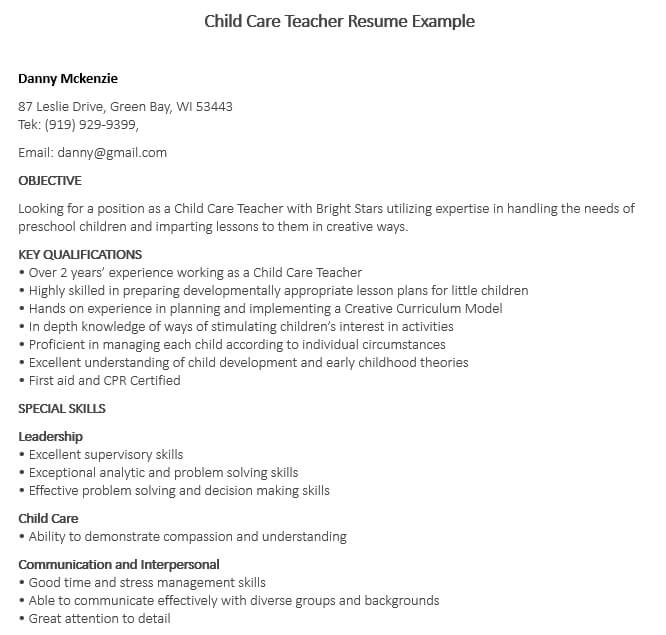 Child Care Worker Resume Example
After seeing the sample above, hope you can understand what it takes to create your own child care resume. Using a template, it is way even easier. However, even if you make your resume using a template, it'd be great to know important aspects required to make a resume.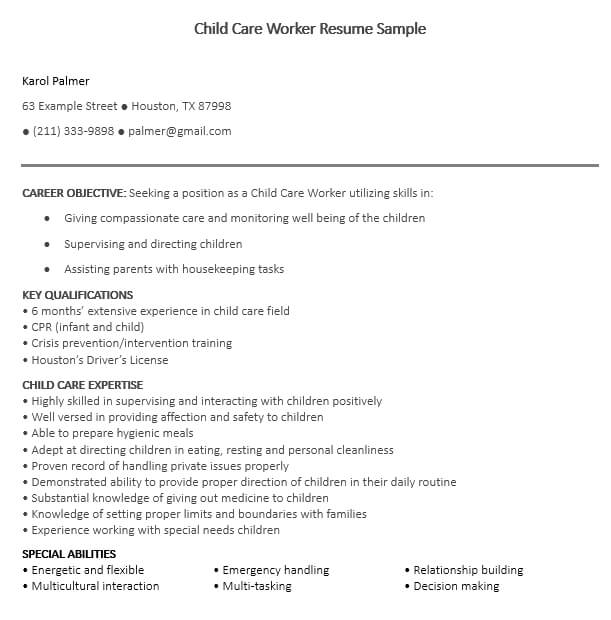 So, we'll ask the same question: are you ready to compete with your skill? Now that you have learned some information regarding child care resume, what's left now is to make the resume itself.