Cook Resume Sample and Templates for Free
Using cook resume sample is indeed important. When you are a cook, sometimes you do not think of writing a resume. All you want to do is working in the kitchen to ensure every customer's order is done right. Well, at some points, you have to make a resume, and this is how you do it easily.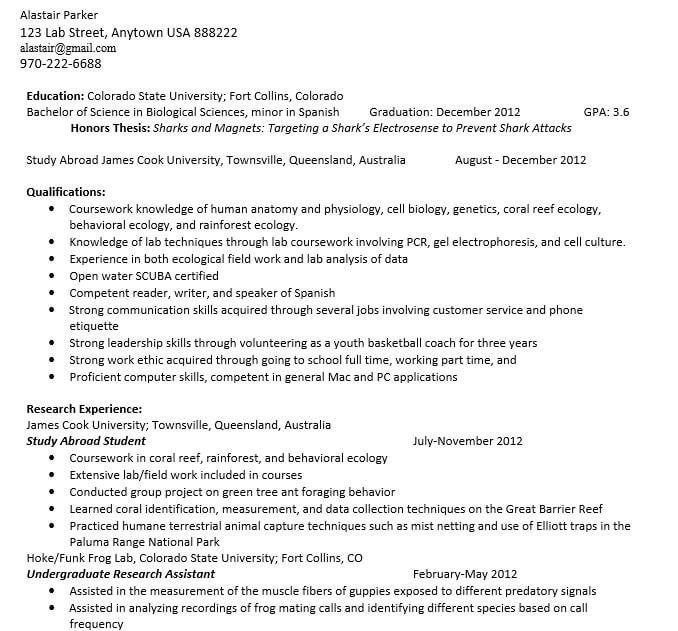 You need to use templates. Templates and examples are incredibly helpful when it comes to resume writing. You can write the resume so easily because the templates already have everything that you need to write on it. All you have to do is editing the bits and details. Here is the resume example.
Cook Resume Sample Example
RESUME
Name: Jim Simons
Email: jimsimons@mail.me
Phone: 278-2817
Address: 1 Martha St., Saint Williams, CA, 2716
Profile
A keen line cook.
Having been working in restaurants for more than three years.
Graduated from culinary school with a degree of Applied Science in Culinary.
Willing to work in teams and working night shifts.
Developing expertise toward Italian and Western-based cuisines.
Education
Jonah High School, Graduated 2012, GPA 3.7
Saint George Institute of Culinary Education, BA in Applied Science in Culinary, Graduated 2017, GPA 3.4
Work History
2017-2019, Gilardino's Italian Restaurant, Line Cook
Duties:
Cleaning up kitchen and cooking utensils
Developing menu and creating new food items for the restaurant
Maintaining sanitation standard in the kitchen
2019-2020, Karen and James Cooking Space, Line Cook
Duties:
Managing daily inventory.
Plating prepared foods
Preparing ingredients (proteins, vegetables and herbs) for grilling and cooking
2020-Ongoing, Happy Culinary, Senior Line Cook
Duties:
Reporting stocks and restocking as needed.
Working with waiter/waitress to complete customer's orders
Training new line cooks and teams
Trainings
2017, Training for Junior Line Cook, St. Mary School
2018, Becoming a Good Cook at Industrial Kitchen, Gov. of Barbara
Skills
Kitchen preparation
Mise en Place
Time-Management
Organization
Multi-tasking
Communication
Adaptability
High-pressure
Team-Working
Language
English, Advanced
Italian, intermediate
How to Write Cook Resume Sample?
Writing a cook resume won't be easy without cook resume sample. This is the reason why you should use this document to make the writing process more effortless. Follow these steps below, and see how you can turn the template into a resume on your own. Here they are:
Download the cook resume sample that you can get. Make sure it matches with the theme that you need.
Open the document on Microsoft Word or on other application/ program to edit the document.
Edit the document by adding a brief profile of yours. It should not be more than a paragraph or two.
Add your contact information, including phone numbers and emails.
Add your history of education as well as your professional work history. Do not forget to mention your duties at the previous jobs. If you are new, write the experience of internship or volunteering program.
If you have been joining any sorts of trainings, write it up on the document, followed by your list if skills. Then, add your language skill.
Recheck the document before sending it or printing it,
People Also Ask
How do you describe being a cook on a resume?
Being a cook is quite a common job, especially for those who have passions in culinary world. Therefore, you do not have to really describe what being cook means on a resume. People know what a cook is already, and what the job is. Simply write that you are a cook, and they know what you mean.
Download the best cook resume sample, and then you can go easy on the resume writing. As you just have to edit the details here and there, it will help you to explain the duties or things you have done on the previous jobs. Surely, it will make the resume look even better.
What are the skills of a cook?
The skills are more on the soft skill side. The hard skills will be very varied, depending on the expertise of the cook and the type of restaurant. However, the soft skills are usually the same. When downloading or taking a good look at cook resume sample, you can tell the soft skills are just all the same.
They include time-management and organizing skill. A line cook will find it hard to keep it together when they do not have a good time-management skills. Organizing skills are also needed as they will have to handle a professional kitchen, and prepare the orders from customers, which are quite exhausting.
What are the duties of a cook?
The duties are varied, again, depending on the restaurant's policy. If you use cook resume sample, you may notice many people have the duties to prepare food ingredients. Besides, line cooks also have to do stock and restocking in the kitchen.
The good line cooks should have the job of communicating with customers as well. They will also need to work together really well with the server teams (waiters/waitress) as they need to make sure all customer's order are made properly and served immediately. This is the main job of the cook
Assistant Cook Resume Template
Assistant cook is the position given to the juniors in the kitchen. Even so, they still need to make a good resume. Use this cook resume sample for that.
Executive Chef Resume Template
This is the executive chef resume. Using cook resume sample for this profession is not wrong as the format is technically the same.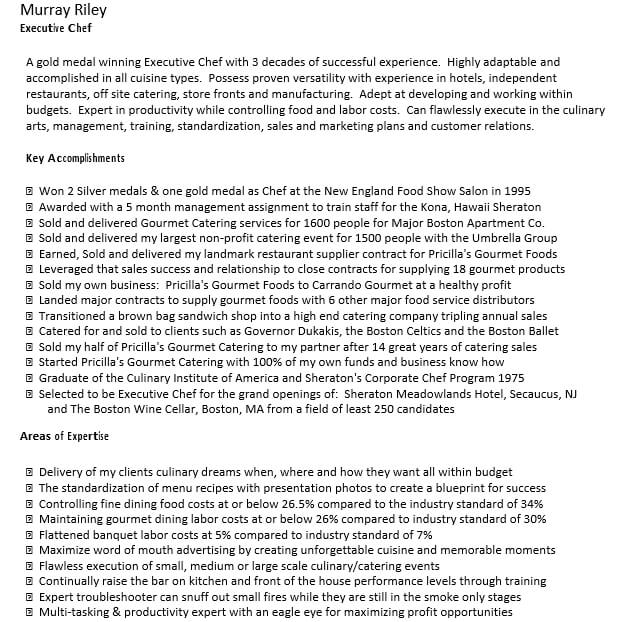 Kitchen Manager Resume Template
Kitchen manager is a serious job, and thus the resume must be well-written. Use the templates to help you writing the resume.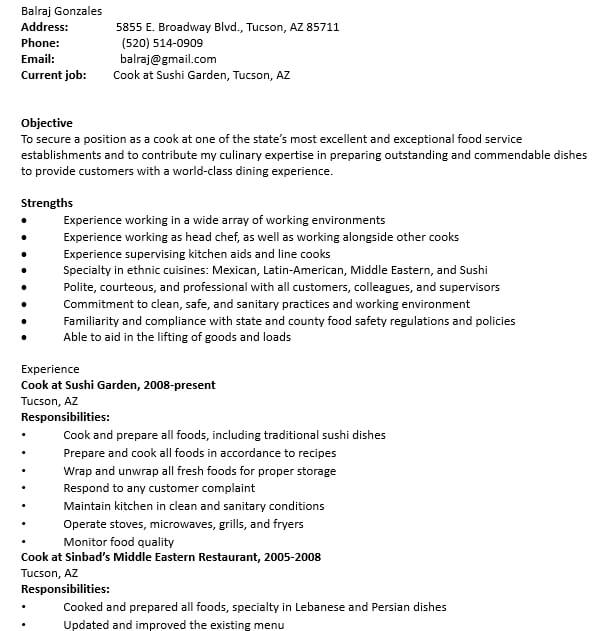 Sample Cook Resume Template
For those who need free cook resume sample, download this one below. This is definitely free, and you can just use it whenever you want.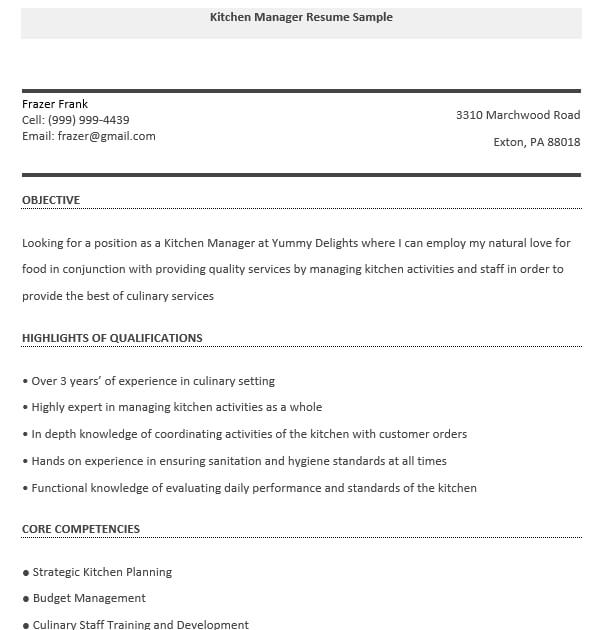 Experienced Cook Resume Template
This is the cook resume sample that you need to download if you are an experienced one. Download this template and fill the details with your personal information.