Referring to a Journalist Resume Sample to Compose Your Own Resume
Interested in revealing the hidden facts of your town? Or, revealing how people react to the newest electoral result? Journalist is one great job that covers those duties. Not everyone can become that excellent journalist, but if you don't try, you won't ever know about it. To begin your step into journalism, you can get a journalist resume sample to aid you create the document.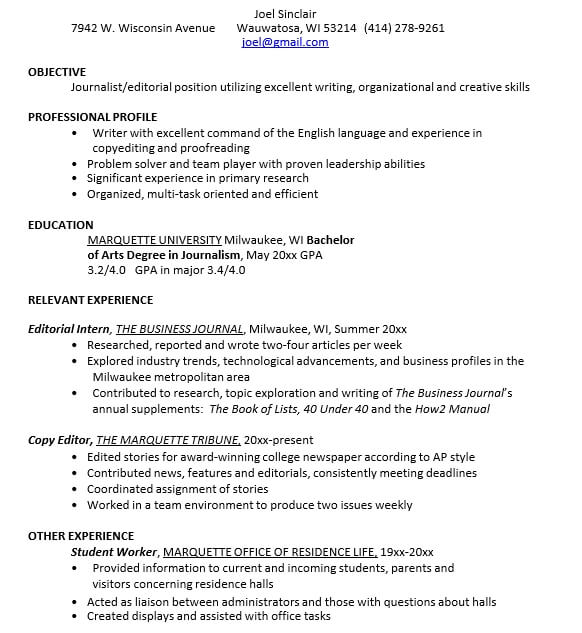 Even if you're already experienced with making news, it never goes wrong with making a resume with some assistance from a journalist resume sample. That way, you'll have a guide at zero cost!
Sample of Journalist Resume
Writing news article isn't the same as writing a resume. Now that you've just realized it, it's a good idea to peek at a journalist resume sample. Here's a sample for you—but remind that it's a shortened version. You may add it with other aspects that you think OK to be included.
John K. Mayer
120 Atlantic Street, Detroit, MI 93812 | johnmayeritsme@gmail.com | 9328-2379-5743
OBJECTIVE
Aiming to work as a journalist that performs excellence in writing local and state news, but without omitting to write light articles that uses creative skills in information deep-digging.
PROFESSIONAL PROFILE
Writer with outstanding English writing skills, experienced in performing editorial and proofreading jobs.
Team player with recognized leadership abilities.
Great experience in performing primary research
Proficient in several languages (Spanish and Latin)
Exceptional skill in multi-tasking and efficient working
EDUCATION
Detroit State University, Detroit, MI
Bachelor of Arts Degree in Journalism, Graduated in February 2016
GPA 3.5/4.0
RELEVANT EXPERIENCE
Copy Editor, DETROIT DAILY, 2018 – present
Edited passages for newspaper to match the required style
Coordinated with the team to produce two editorial news per week
Contributed in features and news
Editorial Intern, DETROIT TRIBUNE, 2016 – 2018
Performed research and wrote up to four articles per week.
Explored about citizen biz, culinary, and industry trends in Detroit and sometimes in cities nearby
Coordinated with the team to conduct researches and explored the topic covered
Freelance Proofreader, 2015 – present
Reading through the manuscripts, and then finding grammatical and typographical errors.
How to Make a Journalist Resume?
To make your journalist resume, it's pretty similar to preparing resumes for other kinds of jobs. All you need is to list down:
Your working experiences (if any), any internship experiences, or undergraduate experiences.
Your education background.
Achievements
After all those things are gathered, you can start making your resume. Be it making from scratch, simply using a template or having a journalist resume sample to guide you – all possibilities are cool to try.
Input all of your data into that resume, and once you finish inputting the content, you shouldn't forget to proofread the resume. Professional world—especially for jobs related to media, normally will turn down your resume if it has a lot of grammatical mistakes or misspellings. Even if you've made your resume using an extravagant-looking journalist resume sample template, the good things will fade just because of several misspellings and badly arranged sentences.
People Also Ask
How do you write a journalist resume?
As mentioned earlier, writing a journalist resume is just writing other jobs' resumes. However, it may differ in several aspects, such as in the previous working experiences. It's a must that you should stick with the true job description of your job; and including it to the resume is something you need to do.
What are your objectives as a journalist?
All journalists may share similar objective – which is to present facts whichever side they are on. However, in writing your resume, you should not just say it as blunt as that. Tailor your sentences, and make it longer such as one or two sentences.
What skills should a journalist have?
Excellent written and verbal communication skills
Sound knowledge of English-writing
Skills to work well and efficiently even under pressure
The skills to accept criticism
Desire and ambition to succeed
Several Types of Journalist Resume
Confused of how to write a journalist resume even with journalist resume sample as a guide? Shoo those worries away and let's take a look to several kinds of journalist resume below. Who knows that after seeing several examples, your process in making a resume will be seamless than ever?
Professional Journalist Resume Example
If being a journalist is your childhood dream, becoming a professional journalist will surely make yourself proud. That said, you should start finding that professional journalist vacant position. This is where you can showcase your skills: if you got any samples of writing, you may include it to your application.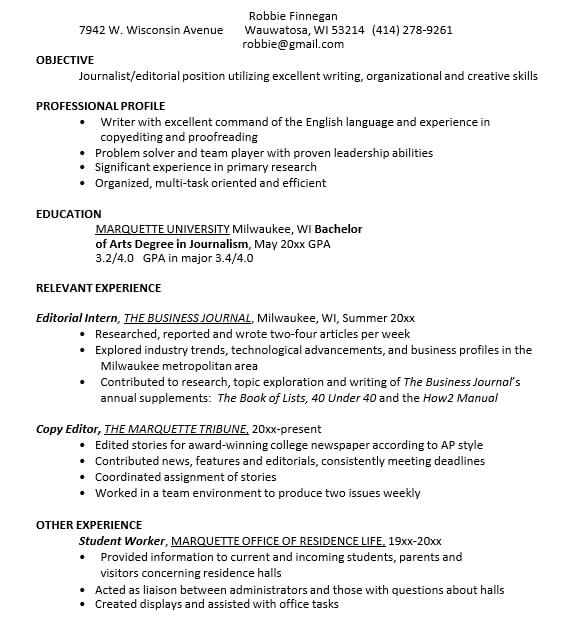 Even after providing outstanding portfolio, your applicants will be turned down if you don't provide resume and cover letter. If both resume and cover letter have their own sample that you can access online.
Sample Resume of Magazine Journalist
Interested in working for magazines? Show your interest in working in such biz through your resume. Don't worry if it's your first time—we all had it—you can rely on magazine journalist resume sample to assist you while making the document.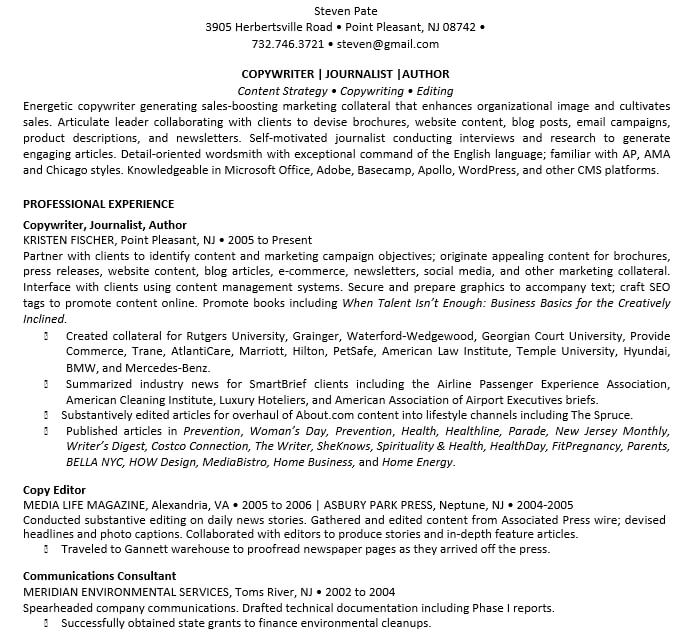 Resume Sample of Automotive Journalist
Are you an auto aficionado yourself? No need to worry about having no places to express your interest in cars – you can apply for that vacant auto journalist. Just prepare your resume, include your portfolio, and seal it after you enclose your cover letter. Good luck!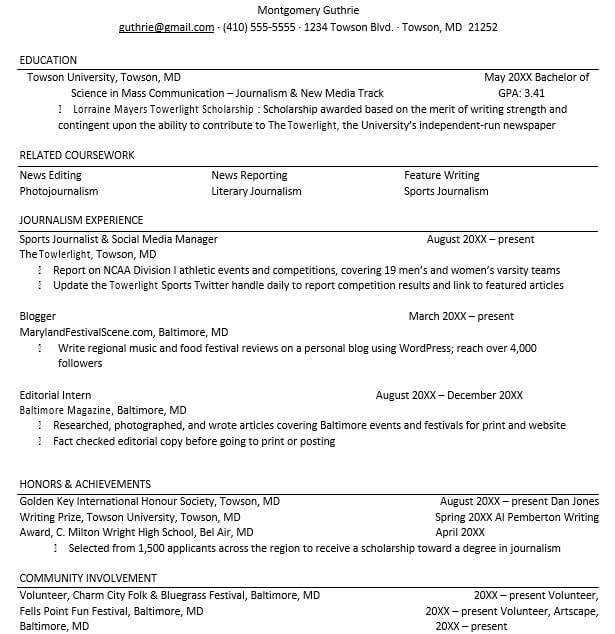 Sports Journalist Resume Sample
Any kinds of sports will be under your responsibilities given that you're applying for that sports journalist position. Are you ready to sell yourself for something you like? Sounds too dreamy, but dream no more and just start making your resume! If needed, you can always refer to a sports journalist resume sample.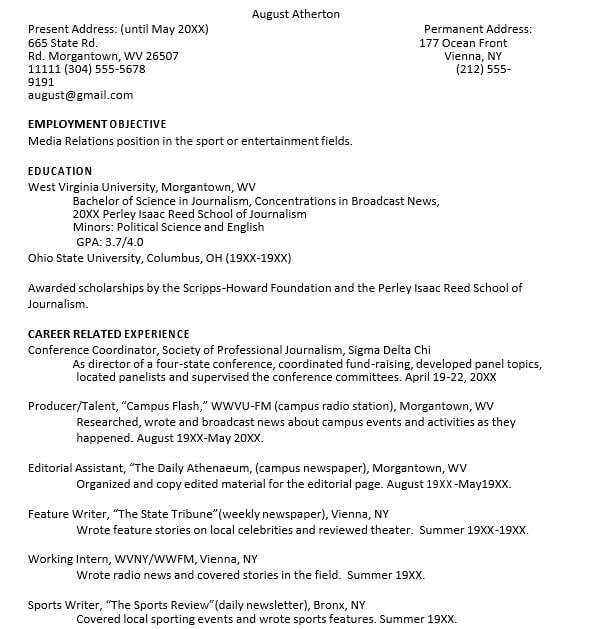 Sample of Freelance Journalist Resume
Who says applying as a freelance journalist requires no resume? Employers won't want to recruit anyone with no resume, and that's for sure. If you're interested in being a freelance news hunter for that media, it's your turn to prepare the resume. Be it creating one from scratch or relying on journalist resume sample, make sure to include only the right aspects in your resume.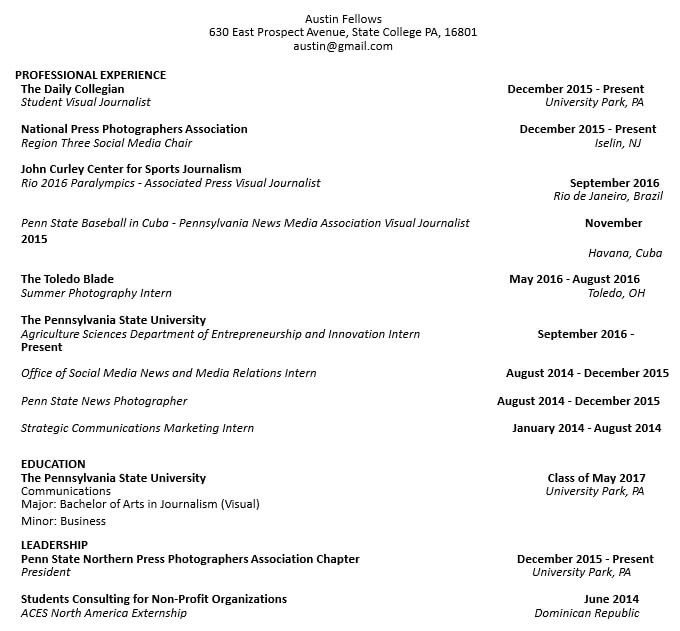 So, are you ready to make your own resume? As emphasized in this article, it's recommended that you use a journalist resume sample. Through such sample, you'll know what to include in your resume as well as how to format the document.