The Outstanding Event Planner Resume Sample
Are you a highly organized person with a passion for planning, managing, and operating events? Then, maybe you can be a great event planner. Use this event planner resume sample to help you start your career in the competitive event planner field.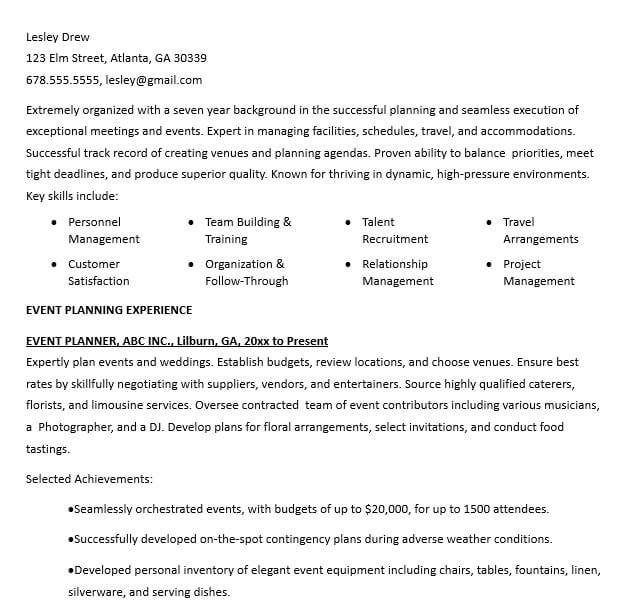 To be a successful event planner, you need to possess all high-quality soft skills, such as time management, relationship building skills, communication skills, paying attention to details, and multitasking as you can't miss a single thing when you plan customer's events.
Example of Event Planner Resume
The following is the event planner resume sample that you can easily learn from:
Laura-Jane Smith
Professional Event Planner
Contact Details
Email    : laurajane.smith@live.com
Phone   : (627) 722 7272
Address            : 22 Highwood Road, New York City, NY 99888
Key Skills
Business development
Business management
Hotel, food service, and health regulations
Scheduling
Digital marketing
Event management
Business administration
Sponsorship development
Wedding trend research
Relationship building skills
Communications skills
Teamwork
Educational Background
Master of Arts (2014 – 2016)
Major: Meeting and Event Planning
The New York University, New York City, NY
Bachelor of Arts (2010 – 2014)
Major: Meeting and Event Planning
The New York University, New York City, NY
High School (2007 – 2010)
Highwood High School, New York City, NY
Professional Summary
A well-organized event planning coordinator with more than 4 years of experience in a big company.
Excellent in all elements of meeting and event planning, including budget administration, vendor management, timeline development, and contract negotiation.
Excellent in planning the post-events, such as managing the accommodations and travel arrangements for newlyweds.
Professional Experience
Event Planning Coordinator (July 2016 – Present)
JZ Event Planning Interactive Inc., San Francisco, CA
Evaluating the past plans, then operating and managing the new plans to make improvements
Enhancing client satisfaction ratings by handling the customers well, starting from scheduling the events well until keeping the customers happy with our services
Managing the contractual obligations, including vendor coordination, budget administration, schedule creation, communications, and rehearsal
Managing and operating the administrative logistics in the event planning, including event booking, contract signing, event promotions, and fee collections
Event Planning Intern (January 2016 – June 2016)
JZ Event Planning Interactive Inc., San Francisco, CA
Assisting the event planning coordinator in almost every event planning tasks
Reporting to the event planning coordinator about the daily, weekly, monthly, and yearly conditions
Coordinating the videographers, photographers, florists, musicians, and ceremony participants during the ceremony, rehearsals, reception, and pre-ceremony events
Tips on Writing an Event Planner Resume
To increase you chance, besides using the event planner resume sample, try to contemplate applying the following tips in your resume:
List your exceptional event planning skills
To be a well-known event planner, list your talents and skills, both hard skills and soft skills, such as time management, well-organized, discipline, budget management, administrative skills, vendor coordinating, etc.
Add remarkable professional experiences
Your experiences in working as an event planner are also important since these can reassure the HR manager that you are the right person to fill in the job position.
Do not forget to check your grammar and spelling
This must be done because you can't be a clumsy person if you are targeting to be an incredible event planner. Yes, your personality can be easily read from what you write in your resume. Therefore, make great first impression by making an excellent resume.
People Also Ask
How do you list your event planning skills on your resume?
After downloading event planner resume sample, include all relevant keywords and skills in your resume. These include:
Creativity
Critical thinking
Quick thinking
Problem-solving
Communication
Relationship building
Keen attention to details
Vendor coordinating
Budget management
Administrative
How do I describe event management on my resume?
You can describe your job by putting in your event planning skills, such as:
Logistics administrative
Social media skills
RSVPs and invitations
Event and pre-planning coordination
Dealing with consultants and vendors
Marketing and sales
Venue setup and choice
Visual-audio equipment
How do event planners stand out among other competitors?
To be a well-known event planner, you must be competitive and always look the opportunity. Here are the tips you need to consider if you eager to be a remarkable event planner:
Keep up to date
Create interactively creative events
Be an open-minded person
Be remarkable in social media
Focus on the millennial generations
Build connections
Read relevant books and blogs
Types of Event Planner Resume Sample                    
The last thing you can do is choosing the right event planner resume sample. You can choose based on your specialization, need, or preference.
Event Planner Resume for Experienced Event Planner
The experienced event planner resume sample is the right choice for you who have years of experience as an event planner, either working in a company or for your own company. You will be given the chance to show your experience with this template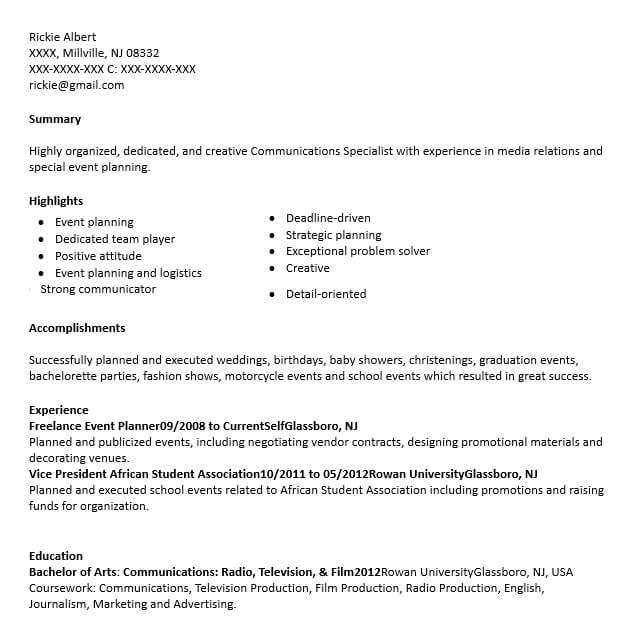 Non-Experienced Event Planner Resume
Unlike the previous type, the non-experienced event planner resume sample is the perfect choice for those who have just graduated from school and don't have any working experience yet. Working in any field is fun as long as you enjoy work in it.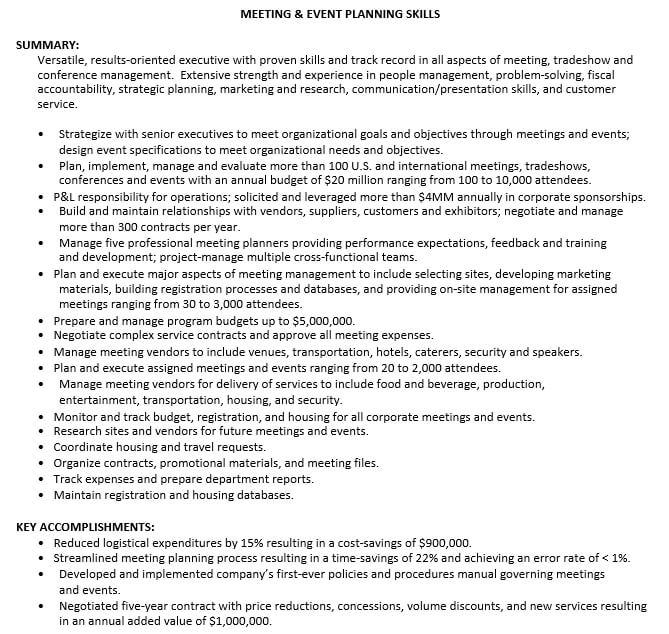 Event Planner Resume for Freelance Event Planner
For you who are still studying in college, high school, or university, and want to have interesting non-academic experience, just use the freelance event planner resume sample. Moreover, also include your previous freelance experience in your resume.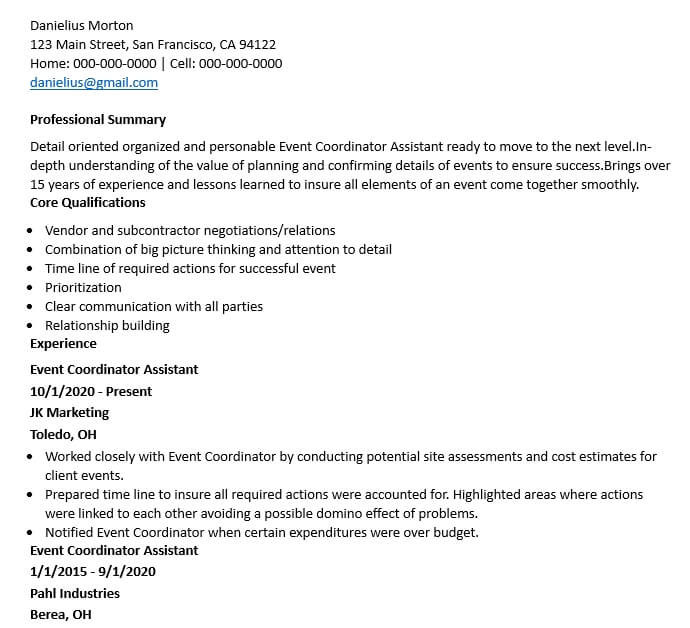 Event Planner Resume for Hotel Event Planner
Hotels often make some events to attract new guests or customers into their hotels, and of course this can be a prospective job. Fill in hotel event planner resume sample if you are interested to be a hotel event planner. You can also have the chance to enhance your connections by applying for this position.
Assistant Event Coordinator Event Planner Resume
If you are still not sure about applying to be event coordinator yet, try to apply an assistant event coordinator first. This kind of event planner resume sample will be your guide in writing resume. Include your professional summary as well as your key skills in this resume.