The Exceptional Manufacturing Resume Template and Samples
Are you a fresh graduate who looks for a job position in manufacturing sector, but don't know how to start and make your resume? You can take one of these manufacturing resume template samples, and make it as your guide in writing one.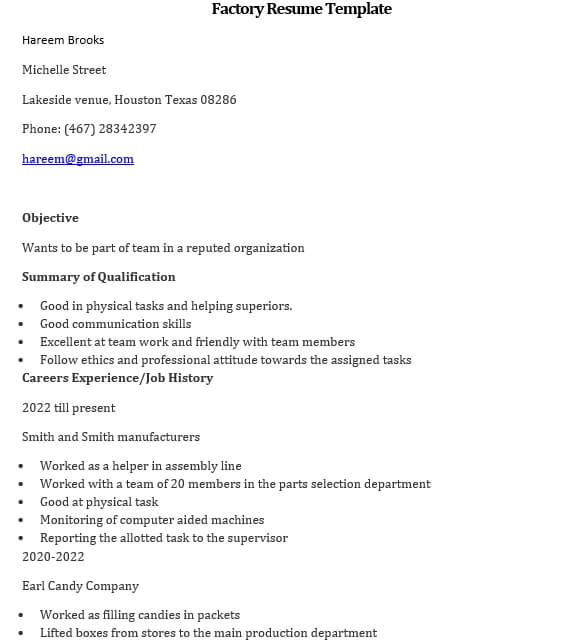 The manufacturing sector is one of field jobs that are highly sought by applicants, especially fresh graduates because this job offers many positions. It is good option for fresh graduates who don't have any working experiences yet.
Example of Manufacturing Resume
You can take a look at the example of manufacturing resume template below to help you get the big picture on writing the resume:
Gerald Jones
Quality Control Technician
Address            : 28 Haven Road, Atlanta, Georgia 23809
Phone   : 828 626 7878
Email    : gerald.jones@outlook.com
Resume Objective
Seeking a quality control technician job position in your company that has the amazing reputable in the country as a large manufacturing company.
Summary of Qualifications
Certified as a 6-sigma excellent expert
More than 8 years of experience in working as a quality control technician in a famous bottling manufacturing company
Excellent written and spoken communication skills along with organizational skills, supervisory skills, and interpersonal skills
Excellent skills and talent in using the production tools and equipment
Easily adjustable and quick learner in every type of working environment
Educational Background
Bachelor of Science (2008 – 2012)
Major: Industrial Engineering
Cornell University, Georgia
High School (2005 – 2008)
Saint Haven High School, Georgia
Training Experience
Various in-house seminars, training, and workshops about statistical quality control
(2011 – Present)
Achievements
Best employee of the month in 2 years (June 2018 – February 2020)
Old Creeks Bottling Company, Georgia
Bagged as the best Team Lead for the company's program (December 2020)
Old Creeks Bottling Company, Georgia
Career Experience
Quality Control Technician (2012 – Present)
Old Creeks Bottling Company, Georgia
Performing in-process random document results and quality testing
Assisting the QC and industrial engineers in determining the quality standards based on the capability of the processing
Analyzing and gathering the production data points that indicate the company quality performance, then making the graph performance trends to increase the awareness of shop floor
Implementing and performing test systems that can catch the quality production before hitting the end of the processing line
Implementing the most effective system to maintain the high-quality standards of the product but still using the minimum production cost
Leading a team of 11 engineers for checking the quality of the final products and their functions
Tips on Writing a Manufacturing Resume
After learning from the sample of manufacturing resume template, now it is time to know more about the tips you can contemplate and apply to your resume, such as:
Include your writing skills
Writing skills are highly required in the manufacturing sector because in this industry, you need to have excellent interpretation skills in reading and writing many important documents that might be required by the department where you are working in.
Add the proof in your career experience
Giving the proof of working experience can make the resume more valued since it shows that you were truly a dependable staff in your previous company. You can also mention your reference or achievements.
Include your excellent skills in artistic work
Having additional skills is always the best thing when it comes to apply for a job, including artistic skills. In the manufacturing sector, by having these exceptional skills, you can be hired to be a product or machine designer.
People Also Ask
What should you put on your manufacturing resume?
As mentioned above, the most important thing to be included in the resume is your skills. The following are the great skills to have as a manufacturing staff:
Critical thinking
Great at working under pressure
Great ability in working cross-department
Excellent communication
High interest in technology
Paying attention to detail
How do I describe a factory job on my resume?
Describing a factory job in the resume might be not easy, but based on manufacturing resume template; you can list all responsibilities and duties in the manufacturing job to describe your job. You can start with mentioning the department you want to work in or you were working in before. Then, add the duties, such as defining the materials required to produce each product, organizing the goods, maintaining the quality control, maintaining and operating the production machinery, etc.
What are the types of the manufacturing sector?
The manufacturing sector is a job field where the companies create or build the products. The company processes the creation of products by using raw materials with the help of production machinery. There are six types of manufacturing processes:
Repetitive manufacturing
Continuously manufacturing
3D printing manufacturing
Job shop manufacturing
Batch products manufacturing
Discrete manufacturing
Types of Manufacturing Resume Template
From these following manufacturing resume template examples, use and choose one that's best suitable for your specialization and skills.
Machinist Manufacturing Resume Template
Choose the machinist manufacturing resume template if you have exceptional experience in using, maintaining, and operating the manufacturing machinery. Make sure to write your previous career experience as well in your resume.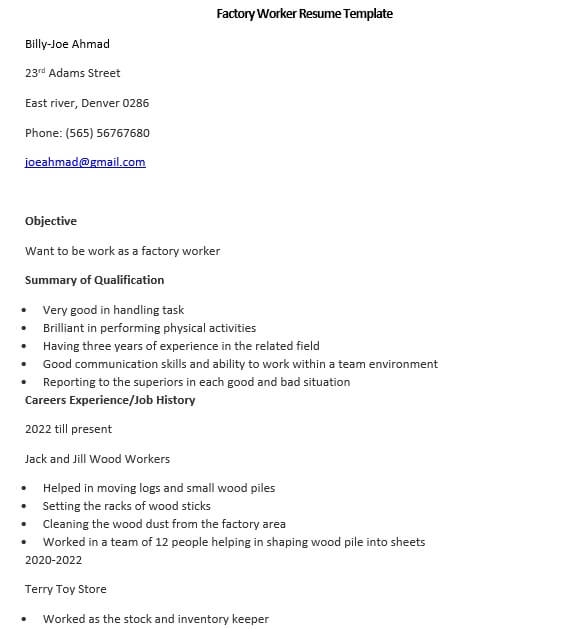 Factory Worker Manufacturing Resume Template
For being a factory worker, you don't need to have an exceptional educational background or working experience. You just need to highlight your great personality in this manufacturing resume template to make yourself more stands out among other applicants.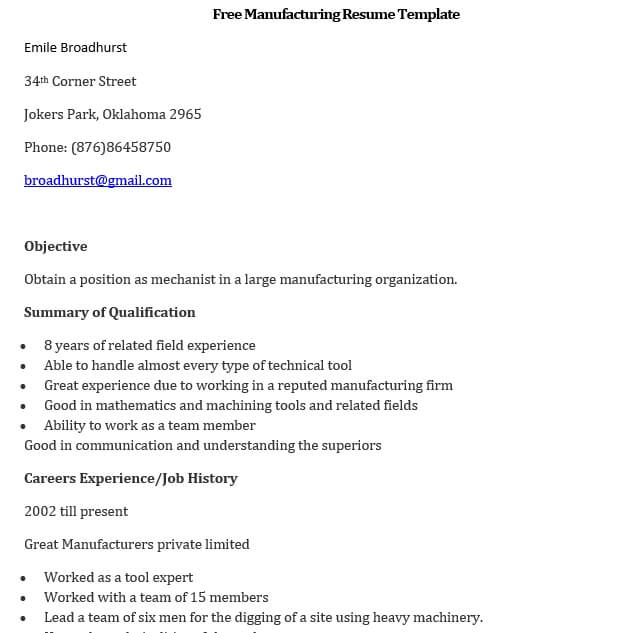 Safety Manager Manufacturing Resume Template
This manufacturing resume template is perfect for you as this resume template leaves blank spaces that you can just fill in easily with your data and information. You will be guided in writing the best manufacturing resume format ever.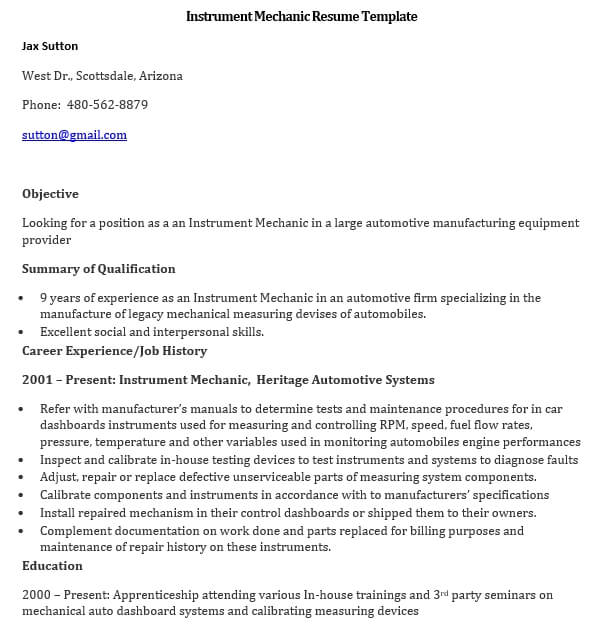 Material Handler Manufacturing Resume Template
Being a material handler means you need to have good attention to detail because you will hold the responsible for maintaining and organizing the material stocks in your company. Just fill in this manufacturing resume template if you are confused about writing a good resume.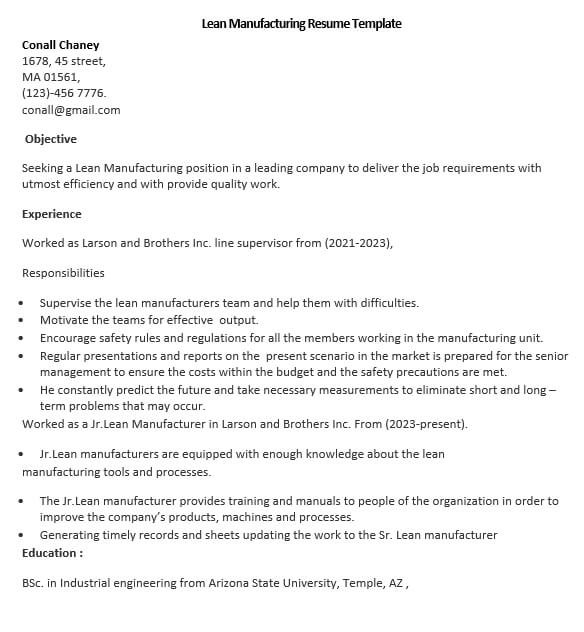 AutoCAD Drafter Manufacturing Resume Template
Of course, you are required to have remarkable artistic skills if you are looking for an AutoCAD drafter position. The AutoCAD drafter manufacturing resume template will help you to make the resume more astounding, and it increases your chance of being hired.