Example Cashier Resume and Pro Writing Guide
Almost any type of job requires someone to make a resume; this includes a job as a cashier. Composing a resume needs patience and a considerable amount of time as you have a lot to write. Therefore, it's always recommended to use an example cashier resume to guide you through the writing process.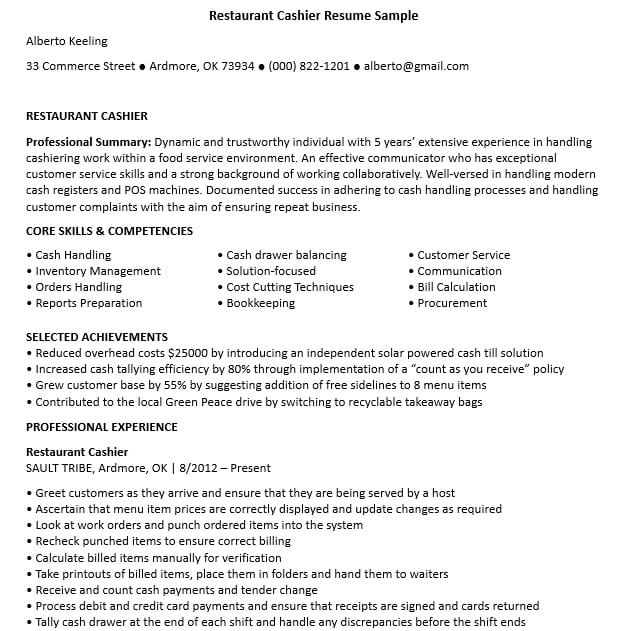 Before you start composing the resume, make sure you get an in-depth understanding of the best way to emphasize your abilities as a cashier. The following writing tips and downloadable example cashier resume will help you draft your own resume without hassle if you don't know where to start.
Sample of Cashier Resume
Below is an example cashier resume you can use as a reference to write your own:
Jackie Howard
Address: Greensboro, NC 27406
Phone Number: 336-651-1524
Email Address: howardjackie@gmail.com
Summary
Passionate Head Cashier with professional experience of over 5 years in handling the management of daily accounts, inventory, and providing exceptional services for the customers.
Aiming to implement my expertise and skills to good use in your business as a head cashier.
Professional Experience
JackJack Store – Greensboro, NC
Cashier, May 2015 – Present
Proficiency in records management, business administration, researching, procedures, and all the related duties to maintain productivity.
Perform the open as well as the close of the registers, keep track of cash limitations, and assist the training program of new cashiers.
Count cash in the drawers in order to make sure the number of money is correct, handling an average of 80 transactions each day, and operate the cash register.
Walmart – Greensboro, NC
Cashier, Aug 2010 – January 2015
Responded to customer queries and solved payment issues.
Responsible for the balance of the cash at the end of the shift.
Responsible for the order of shelf stock and backup inventory.
Education
Greensboro College – Greensboro, NC
Bachelor of Arts, Aug 2010
Additional Skills
Skilled in SAP, data entry, internet, and oracle
Proficient in Microsoft Office (Excel, Word, and PowerPoint)
Excellent verbal communication skills
Tips to Write a Cashier Resume
Here are some essential tips you need to keep in mind for writing an attention-grabbing cashier resume:
Since you apply for a cashier position, consider using action verbs, such as arrange, calculate, resolve, maintain, organize, etc.
Draw upon your recent professional experiences or all the relevant skills you have to create a compelling summary or career objective.
If you apply for an entry-level cashier position, begin your resume with your educational qualifications.
Include skills required for a cashier. These may include math skills, interpersonal communication skills, the ability to prioritize important tasks and manage time, product knowledge, phone etiquette, as well as the ability to patiently settle consumer complaints.
People Also Ask
How to write a career objective or summary in a cashier resume?
Recruiters will only spend a few seconds on every resume they read. Hence, it's essential to use a summary or career objective to give the first impression. If you want to write a summary, you can write 2 to 4 sentences presenting your most remarkable professional experiences and accomplishments.
If you opt for including a career objective in your resume, you can write 2 to 4 paragraphs elaborating your career aspirations and goals.
How to make your job experience stand out?
Employers always have an eye for candidates who have "been there." As such, the professional experience section in your resume is your best chance to make a good impression. Here's how to write your professional experience:
First, write your position name
The name of the company
Dates of employment
Duties and achievements
How to write a cashier resume without relevant experience?
If you lack relevant cashier skills and experience, you simply need to show that you are eager to learn and having skills. For instance, if you previously worked as a coffee shop waitress, you can include your skills in dealing with customers.
Types of Cashier Resume
The cashier resume samples are available in various types, and they should all be used according to the position the candidate applying for. If you have worked in a fast-food restaurant, then you should use a resume for fast food cashiers.
Having the right sample will ease your effort of writing a resume from scratch. To find out the right example cashier resume for your needs, below are some examples you can select.
Example of Head Cashier Resume
If you were previously employed as a head cashier with adequate experience, you need a resume sample specifically made for your needs. This example cashier resume is what you might be looking for.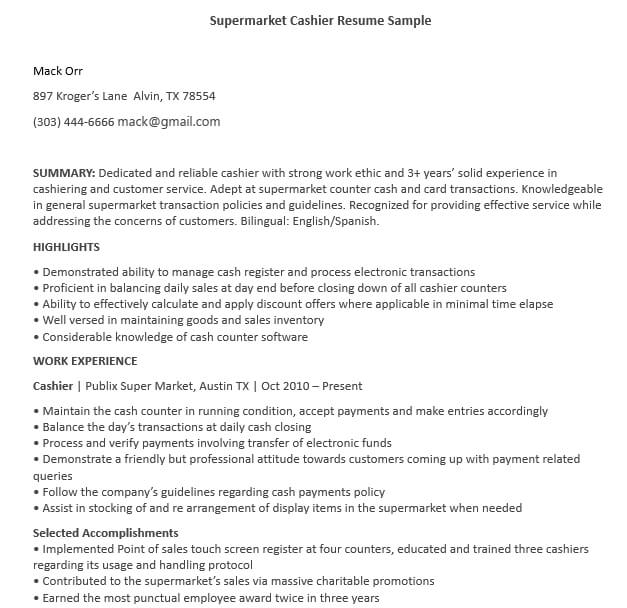 Simple Resume Example for a Cashier
This example cashier resume comes with a generic content of a resume for a cashier job. If you plan to apply for a cashier position at more than one place, this resume sample will surely come in handy.
Resume Template of Grocery Store Cashier
Plan to apply for a cashier position at a grocery store? Then, this is the resume example you need to ease your job in composing your own resume. The good thing about this template is that it's available in a .doc file format, which is perfect for those who prefer a customizable template.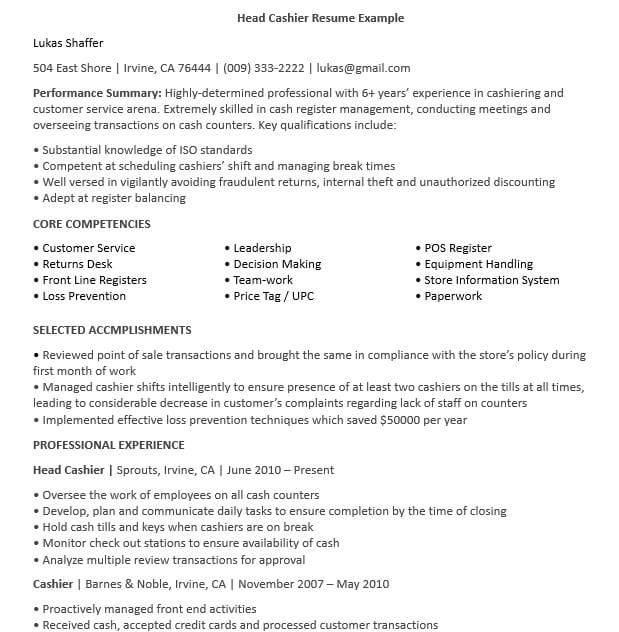 Resume Sample of Fast Food Restaurant Cashier
This example cashier resume will make a great reference should you require a good resume to apply for a position of cashier at a fast-food joint. You just need to download and customize it as per your needs.
Cashier Supervisor Resume Template
As a cashier supervisor, you will need this example cashier resume to present all your professional qualifications in a professional way. This template is also great for you to highlight your noteworthy experience and accomplishments.
Restaurant Cashier Resume Example
This is an example cashier resume meant for those who have enough experience as a restaurant cashier. Make use of this sample as a reference when you plan to look for a new opportunity.
Resume Template for Supermarket Cashier Jobs
If you want to apply for a supermarket cashier job but have no idea where to start off, this resume template will give you various ideas about what you should include in your resume. With this template, you will also know how to arrange a resume that will get you hired.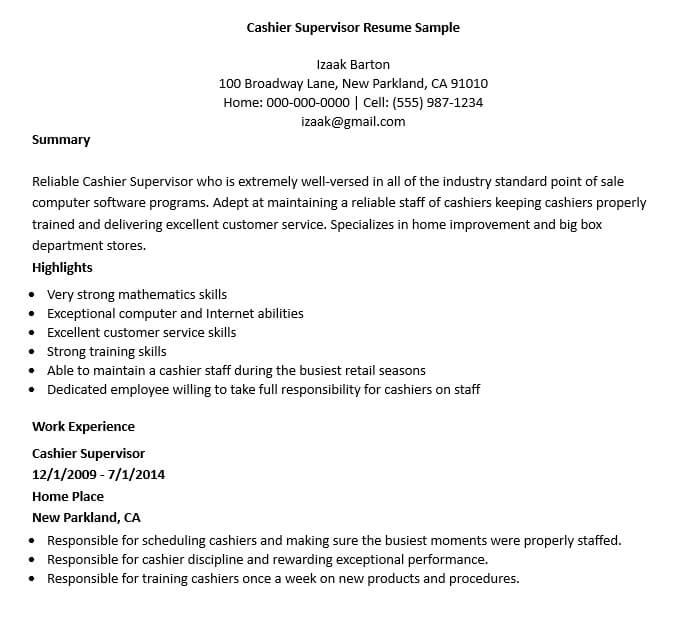 An example cashier resume is specifically created to give you references to write your own resume. All the samples and writing tips above can assist you in comprehending the format you must use and the resume content you should include in your own resume.