How to Write a Military Resume (with Template and Sample)
If you are a military person looking for a new opportunity, then you have to come up with a resume that can secure you a civilian job. Through your military resume, you should be able to demonstrate your commitment to your profession and how you can implement your military skills in a civilian setting.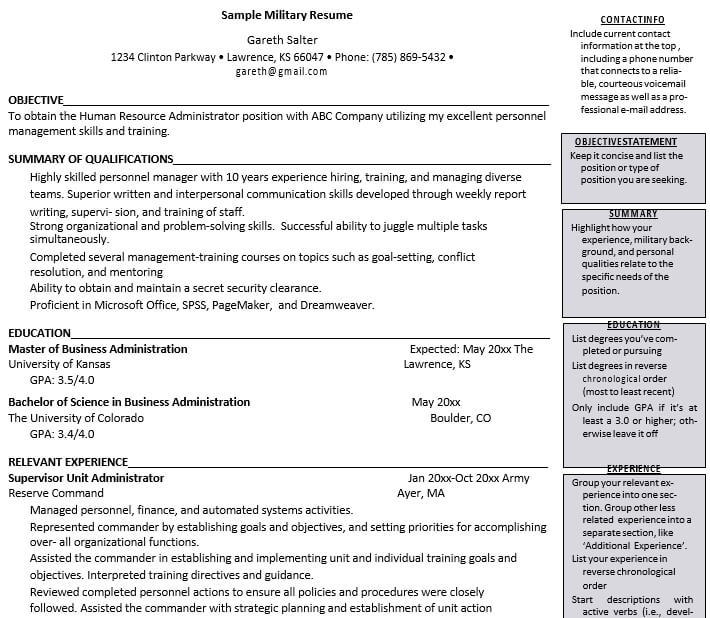 However, describing your previous job in a way that can impress a regular hiring manager may be difficult. The use of proper terms is crucial when drafting a military resume. In this article, you will learn how to write a resume that includes your previous military experience.
Sample of a Military Resume
Below is the example of a resume you can make use of as reference:
Terry McAlpine
Address: Alexandria, VA 22304
Phone Number: 571-372-8808
Email Address: tmcalpine@gmail.com
Summary of Qualifications
Demonstrated remarkable abilities in leadership while also leading various teams.
Excelled at managing supplies and the movement of team members in challenging situations.
Exceptional written and verbal communicator who built strong bonds with a wide range of people.
Experience
United States Marine Corps, NSA (Naval Support Activity) Naples, Italy
Supervisor of Landing Support (March 2014 – September 2015)
Responsible for the supervision of more than 60 personnel outside the US territorial waters.
Performed tasks coordination across two different agencies in order to meet over 25 objectives in a period of six months.
Provided details of security for four crucial assignments.
United States Marine Corps, NSA (Naval Support Activity) Naples, Italy
Vehicle Operator of Landing Support (October 2013 – March 2014)
Responsible for the transport of more than 100 personnel, 30 tons of military equipment, and 2,000 essential supplies for three months.
Promoted to supervisor position after being in charge as a primary amphibious vehicle operator for five months.
Additional Skills
Spoken languages: Italian, Spanish
Computer skills: Adobe Acrobat and Microsoft Office
Able to deadlift 200 pounds
Education
Pennsylvania State Univerity-University Park, Pennysylvania (September 2016 – May 2019)
Bachelor's degree in Supply Chain Management
Tips to Write a Military Resume
Use the following essential steps to write a resume that also includes your previous military experience:
First, make a list of your entire responsibilities and experiences as a military member.
Highlight the most notable accomplishments and duties that are related to the civilian career you are going to apply for.
Include any training or education related to your civilian career path.
Include security clearances and awards relevant to the position you are applying for.
Include the soft skills you honed during your military career.
Rather than using military terminology, use civilian jargon instead to detail your information.
Include numbers to elaborate on your accomplishments.
People Also Ask
How does military experience look on a civilian resume?
The experience you gained from your military career is an essential asset you should include in your resume. The personal assets you should present through your civilian resume may include leadership, dedication, positive work ethic, transferrable military skills, and dedication.
How to write a military to civilian resume?
Before you start writing your military resume, make sure you have decided on your civilian career path.
Translate all of your military skills, experience, and accomplishments into civilian terms.
Focus on the professional experience relevant to the position you apply for.
Include relevant education or training.
Be careful when you plan to include any information closely related to active combat.
What you should avoid in writing a military resume?
Too many military acronyms and terminologies
You don't use enough quantifiable terminologies to demonstrate your qualifications.
Your resume is unnecessary too long.
Types of Military Resume Samples
Resume samples for ex-military members come in a wide selection of types. A resume sample specifically intended for former air force personnel cannot be used by navy personnel.
Hence, it's vitally important for any ex-military personnel to use the most appropriate military resume sample to write their own military to civilian resume.
Police Military Resume Sample
Many former military members become police officers. If working in a police department is your chosen career path, this resume sample will help you translate your military experience into a civilian resume.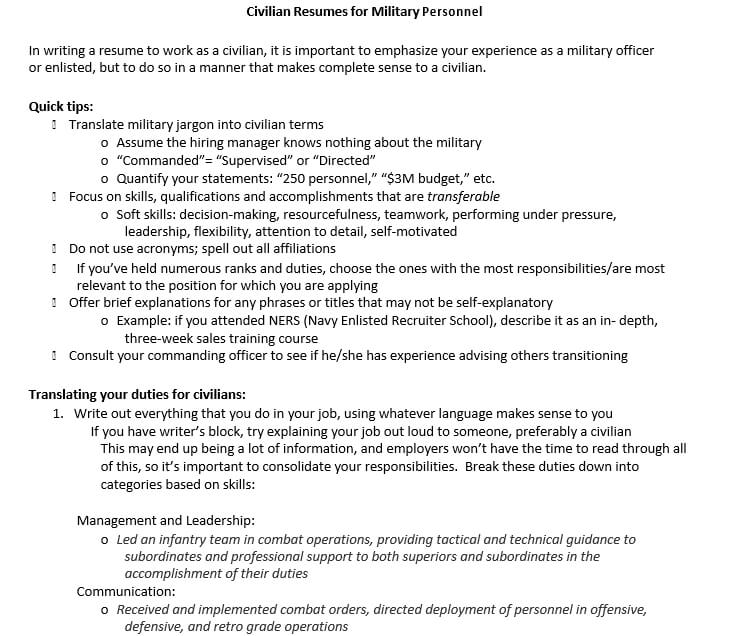 Template Resume of Military Pilot
If you previously worked as a pilot in an air force and plan to change your career, then this is a military resume sample you are looking for. It's available in a .doc and .docx file format so that you can edit the existing content with ease.
Ex-Military Resume Template
This is a resume template that reflects a profession in the military. It's a typical resume that a former military member might write. Also, it contains military jargon that has been translated into terminologies that can easily be understood by civilians.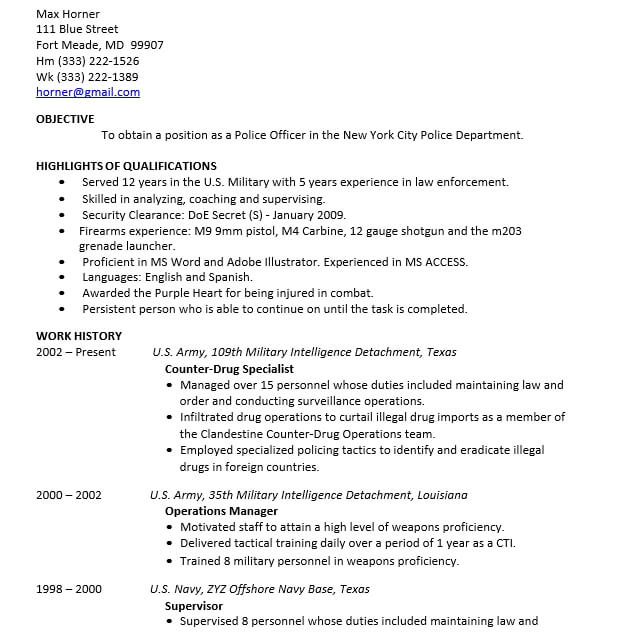 Resume Sample for Former Experienced Military Members
If you are a former high-ranking military member who plans to look for a civilian job, then you will need to have a professionally composed military resume to secure your chosen position. This resume sample will help you get the job done.
If you're planning to change your navy military career to a civilian one, this resume will give you all the essential tips of writing a resume. Also, it provides you the guidelines you will need to compose your own resume.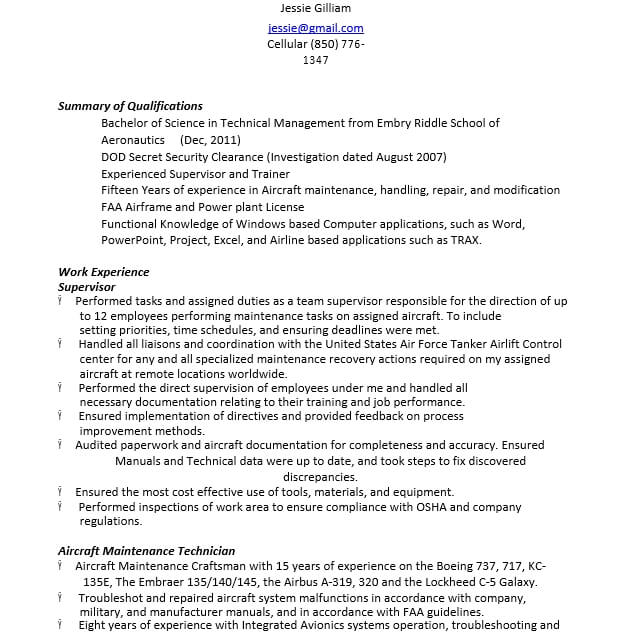 Military Resume Sample in Chronological Order
This military resume sample is what you will need if you have a lot to tell through your resume. This sample focuses on the most crucial sections of the resume that are all written in chronological order.
Army Military Resume Sample in Word
Presenting your military experience into a resume that can be easily understood by civilian employers can be challenging. As such, it's recommended to use a military resume sample just like this one. Opt for one in a .doc format if you don't need any graphic elements.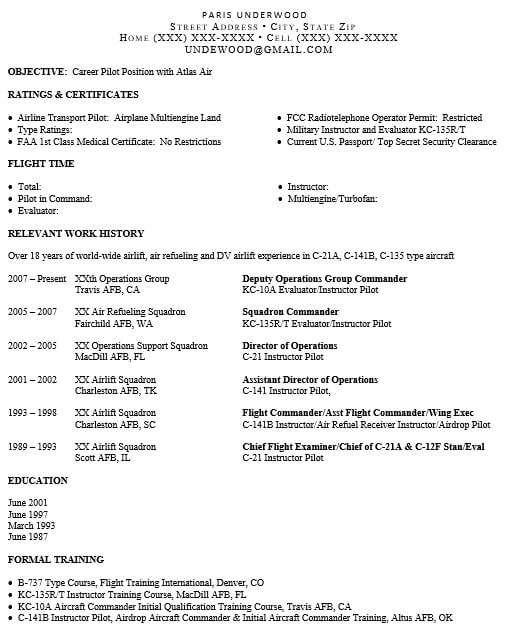 Resume Template for Air Force Military Personnel
This resume sample for air force military members is what a military resume should look like. It includes the summary of the applicant profile right at the top of the document before moving on to detail experience, education, skills, and career history.
Resume of Administrative Assistant Military
If you require a resume sample that shows what you should include in a resume for an administrative assistant military personnel, this one is the ideal option. It shows how to use the correct verbs, the importance of summary, and what you should not include in the resume.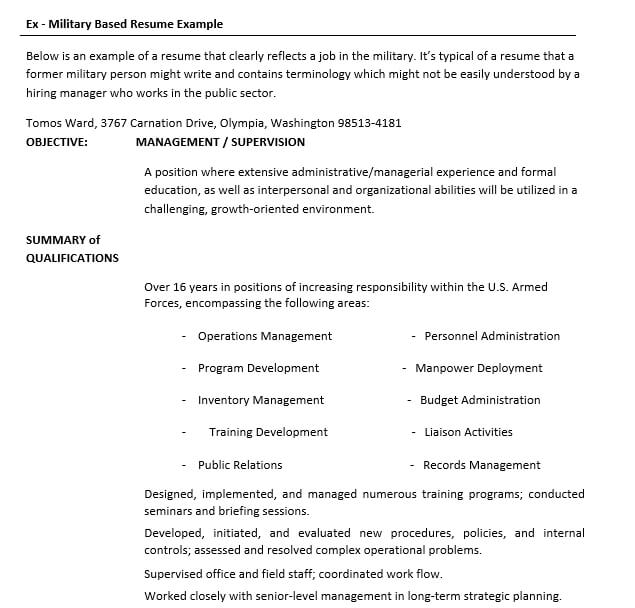 Switching the profession from military member to civilian job is not easy. When you finished composing your military resume, make sure to review it, or if possible, ask someone you trust to proofread it for you.