How to Make a Dental Assistant Resume Nicely?
Excellent health also roots from a routine oral and dental checkup. Therefore, the role of dental assistant isn't to be neglected. So, if you're qualified enough to apply for a dental assistant job, better to grab that with a well-composed dental assistant resume.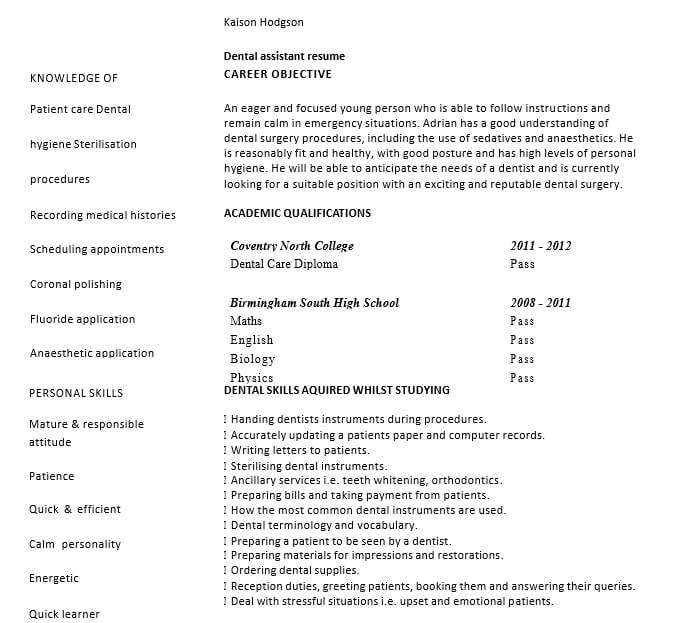 Creating an outstanding dental assistant resume isn't a simple work, although it may seem so. You need to wittily tailor it, adding this and that, or customizing this and that. For first timers, it can be tricky to do. That's why this article is written to guide you while making your resume.
Dental Assistant Resume Sample
This shortened sample comes from an aspiring dental assistant that plans to apply for an entry-level job.
Clara Benz Smith
123 Bush Street | Providence, RI 53838
(039) 323-3098
cbsmith@gmail.com
KEY QUALIFICATIONS
Appropriately assisting dentist with his/her needs.
Providing pre- and post- dental procedural instructions to patients
Exceptional knowledge of dental terminology and various procedures
Familiar with maintenance, sterilization, and other hygienic procedure
Proficient at operating dental equipment and instruments
Computer: MS Word, Dental Office Software, Excel Database
EDUCATION & TRAINING
Dental Assistant Certificate | Providence Dental College, Providence, RI – 2018
BLS, CPR, and Dental Imaging – 2017
Diploma: Community School, Providence, RI
WORK EXPERIENCES
Dental Intern | Rhode Island State Dental Clinic, Providence, RI | May 2018 – May 2019
Assisted dentists and dental assistants in various procedures
Helping in obtaining and processing of dental radiographs
Maintained office and the dental hygiene
Assisted DA with patient's history taking and coordinating with DA for equipment required
Organized and sterilized dental equipment after use
ADDITIONAL SKILLS
Good time management and interpersonal skill
Excellent patient service skills
Detail-oriented
Ability to multitask
How to Make Dental Assistant Resume?
Becoming a dental assistant isn't for everyone. That said, in order to get that job, you need specific qualifications to pulley the chance of getting hired.
If you think you're qualified to become one, then making a dental assistant resume is what comes next. Here's the procedure:
Gather some details about making dental assistant resume.
If needed, you may download a relevant template.
Continue by taking it to action: make your resume.
Fill the field with your own relevant information.
After completion, always make time to proofread and edit.
People Also Ask
What should a dental assistant put on their resume?
It's just similar to making any resume. So, a dental assistant resume should own at least these aspects below:
Personal identity and contact details (make it short, no need to elongate it)
Qualifications
Skills
Professional experiences
If any, include your achievement and reference. Enclose the reference in different sheet.
How do you introduce yourself as a dental assistant?
If it means for a dental assistant resume, then you should introduce yourself by mentioning your basic personal identity and contact details (name, address, phone number, email address). Then, continue by mentioning your qualification, objective, and professional experience.
What are some dental assistant skills?
Organizational and managerial skills
Multitasking skills
Excellent dexterity skill
Professional manner
Listening and communication skills
Empathetic attitude
Detail-oriented behavior and personality, etc.
Various Types of Resume for Aspiring Dental Assistant
Becoming dental assistant may be everyone's dream job, and it may be your dream job since childhood, too. To achieve that long-buried dream, make sure to create a great resume to introduce yourself to the recruiter. You can take a template or pre-made dental assistant resume as reference.
Dental Assistant Resume Template for Free
Since making resume isn't our everyday job, it becomes a difficult thing to do. That's why some creative people make dental assistant resume template. By using template, besides you can cut time required to make the resume, you'll also be able to know what aspects needed to make a resume.
MS Word and PSD Dental Assistant Resume Template
Word and PSD file types are the most common template file types for resume, including dental assistant resume. Whichever it is, Word or Photoshop-ready file type, it can help you to compose a worthy resume that will 'allure' your recruiter to interview you.
Choose Word template files if you're foreign with image editor app like Photoshop. The user interface is easier, but its features may be restricted especially if you plan to involve some decoration to your resume a bit.
Entry Level Dental Assistant CV Template
Everyone's entry level at one time – and they may also be confused about how to make a dental assistant resume. Lucky you to have found this page! By downloading a sample, you will know what points to include into your resume. Plus, you can use the pre-made template too if you need a quick-resume.
Dental Assistant Resume for Dental Student
Planning to work as associates in a dental clinic? Great move it is! You should prepare yourself for the learning process which could benefit you a lot. But first, make your dental assistant resume. Include your skills, educational background, and not to forget – personal identity.
MS Word Pediatric Dental Assistant Resume Template
If you are already experienced in the field of pediatric dentistry as dental assistant, your dental assistant resume must showcase it. Experience is a great game-changer to get hired for a job, hence that'd be great to make it as addition to your resume. Don't forget to mention what place you're working for.
Free PDF Dental Assistant Resume
A PDF dental assistant resume mayn't be able to be used directly. However, you can still refer to it as you create your resume. What points needed to include to how to decorate and layout. All you can learn from a pre-made resume. By doing so, you won't get lost while making your resume.
Free Cover Letter Template Dental Assistant Resume
Do you know what is often found missing from someone's job application? It's a cover letter. Whatever job you are trying to apply for, it's always advised to include a cover letter into your job application. That way, your application will look more proper and professional.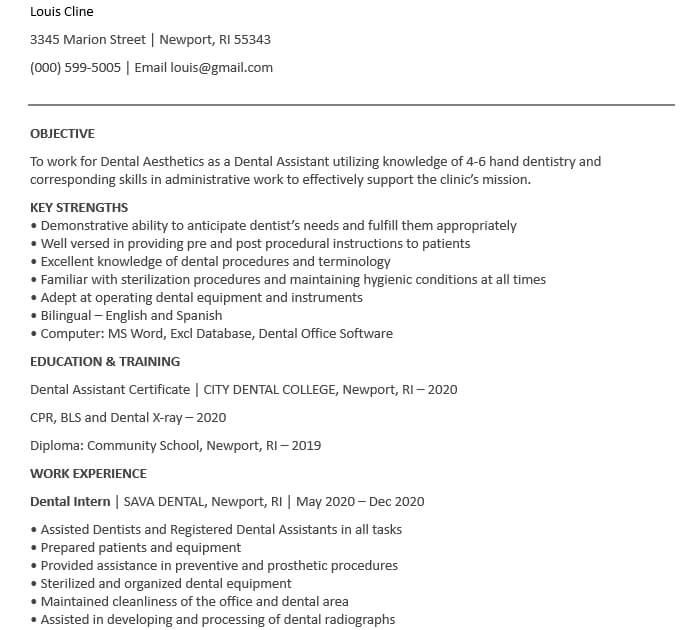 Well, so those are information that you should know before preparing your dental assistant resume. It's best to prepare your resume long before you apply for a vacant job. Plus, if you have your resume already, updating it to a better version is highly encouraged.