Making a Remarkable Resume by Referring to an Actor Resume Example
Becoming an actor may have been one of your dreams for long – even since your childhood. But you know, to act in front of camera isn't for everyone. Production houses or agency will need to know who you are through your actor resume. Confused while making it? An actor resume example will be a great help.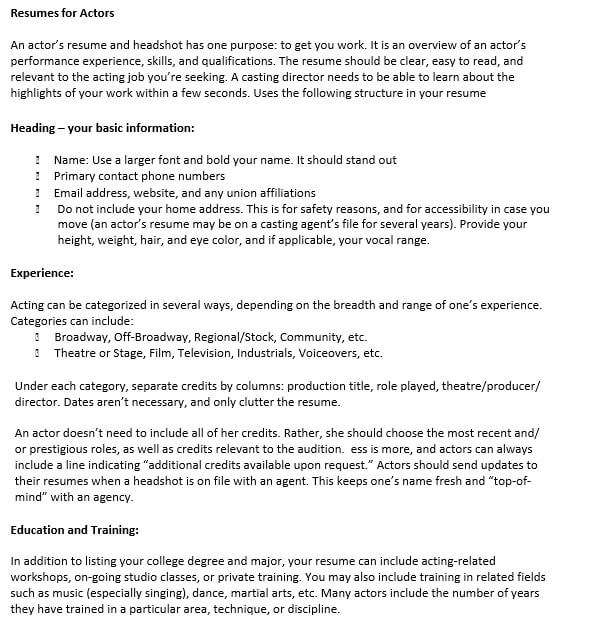 Actor resume example can also be a template to make your own actor resume. That said, with a template to help, cut off those hours of wondering what aspects you need to list down in your resume. You'll just need to customize it to relate with your own experiences and conditions.
Sample of Actor Resume
Are you deal with the first-time confusion while making your actor resume? No more worries, just take a look of this actor resume example of a theatre actress.
Stephanie Williams
(882) 2330-3299
stephwilliams@imail.com
New Old City, Lost Angels City, U.S.A
Hair: Blonde                              Weight: 137 lbs
Eyes: Blue                                Height: 5'7" ft.                           Vocal: Mezzo-soprano
Theater
Ten Deeds to Regret (2020)                    Muse Girl                      RGB Theatre, Courtney Sanders
Late Bloomers (2020)                             Ms. Indiana                   LAC Theatre, James Taylor
The Leaves Wither (2019)                      Blondiana                      DG Theatre, Joe Performer
Film/TV Appearances
Hello My Ugly Face                               Juliette                          112 Studio (short film)
101 Girls on the Street: the Series          Lead (Iris)                     Mundane Year Productions
Commercials
Sud Star Auto Insurance
Organix Organic Produce
2017 New Old City Odd Carnival advertisement
Special Skills
Ballet, singing, foreign languages: Germany, Latin
Education and Training
BA, Performance Theatre, Lost Angels Public University
Voice, Anna James
Ballet, Yena Choi
References
James Taylor                 Director of Late Bloomers (882-1222-0029)
Adam Smith                  Professor in Performance Theatre Dept. Lost Angelica Public University
(881-1102-9393)
Anna James                  Voice instructor (881-7732-3993)
How to Make an Actor Resume?
It's actually pretty simple. With the help of actor resume template or actor resume example, that'll be less than an hour to make your resume (even 30 minutes will suffice).
First, gather the resources of pre-made template or resume examples.
Then, list down the most updated acting experiences that you have
Put that into your template
Spice up the look: change the font size and/or style, work with the decorative, etc.
Recheck, proofread and edit!
People Also Ask
How do I make an acting resume with no experience?
If you have no experiences, you can stick with mentioning education and informal training that you take. Have no prior training in related field? It's time to get it done: invest your funds and time on acting classes or such.
How do you make an acting resume for beginners?
Why bother making from scratch when you can use actor resume example and its template? By taking any of those, all you need is to customize the template with your own data (and some décor if you want).
What do you put on an acting resume?
Personal details and contact information
Physical characteristics
Acting experiences (if any)
Education background and training in the related field (if any)
References (if any)
Various Sample of Actor Resume
For ones inexperienced, making a resume can be tricky. Well, all people face it at first, but don't worry since there are many helps available online. Actor resume example is what you need to shoo away that worry.
Acting Resume Template Example
Confused to make your resume? Well, actor resume example is what it takes to help you out. With various templates to count on, you can easily imitate one to make yours.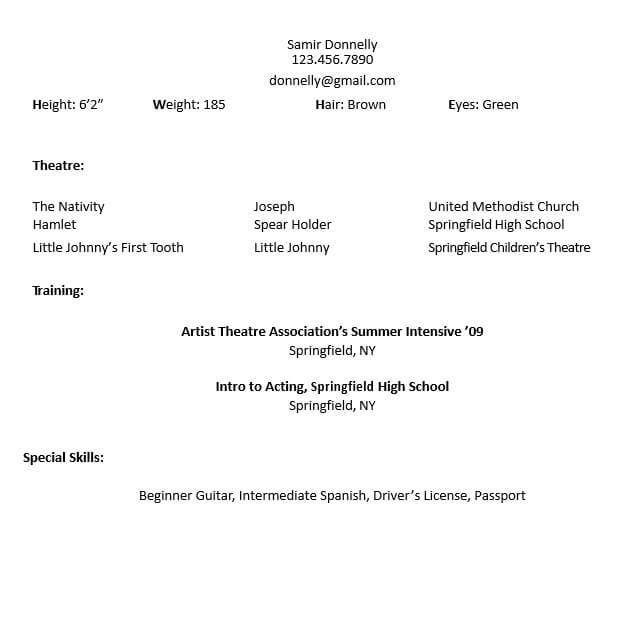 Acting Resume Template Sample
Resumes are easy to make if you understand what it requires. Besides the personal details, you'll have to deal with inputting your experiences. Therefore, if you apply for an actor gig, make sure your resume is updated.
Actor and Model Resume Template
Do you have double job as model and actor? Cool! Show it off to the next team you'll work with. That way, you can become one of the most potential actors the team is looking for.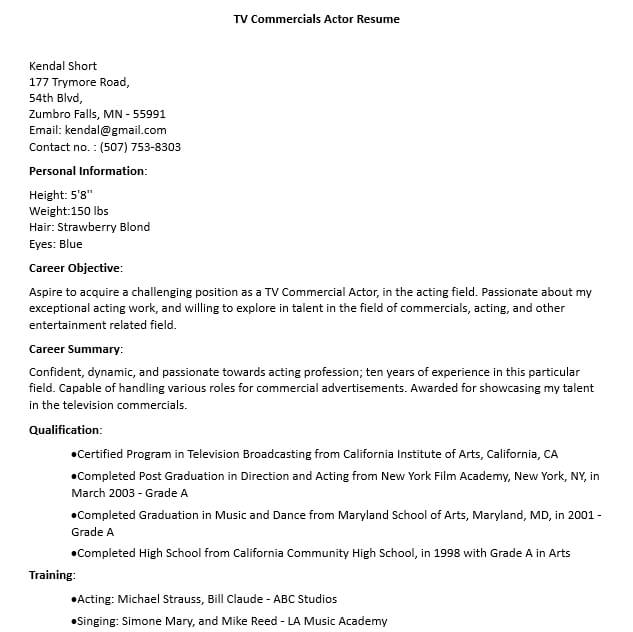 Child Actor Resume Template Sample
With various roles needed by the industry, it's inevitable to include children into the filmmaking process. Who knows in the future your kid will be a rising star? Show your kid's experiences (if any) and related classes that your kid has been taken.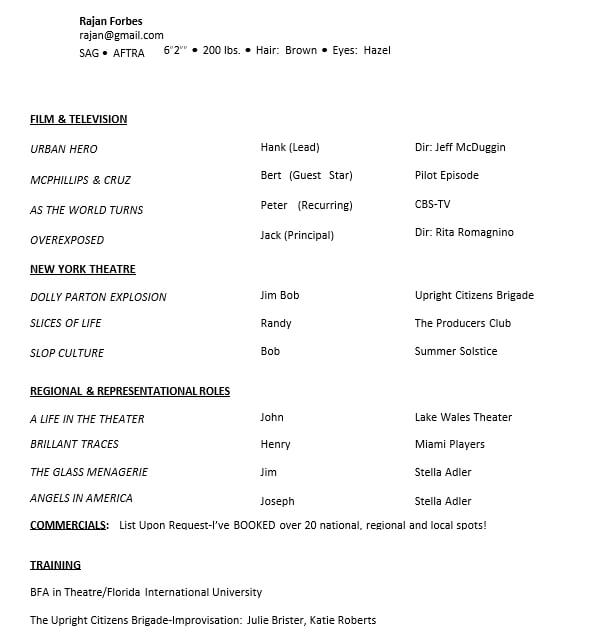 Easy Actor Resume Template Example
Some may say it's difficult to make a resume. But with templates, it can be made easily. With an actor resume example template, feel free to customize the things in it: from the décor, font types, to its contents (after all, the resume contents are what truly matter).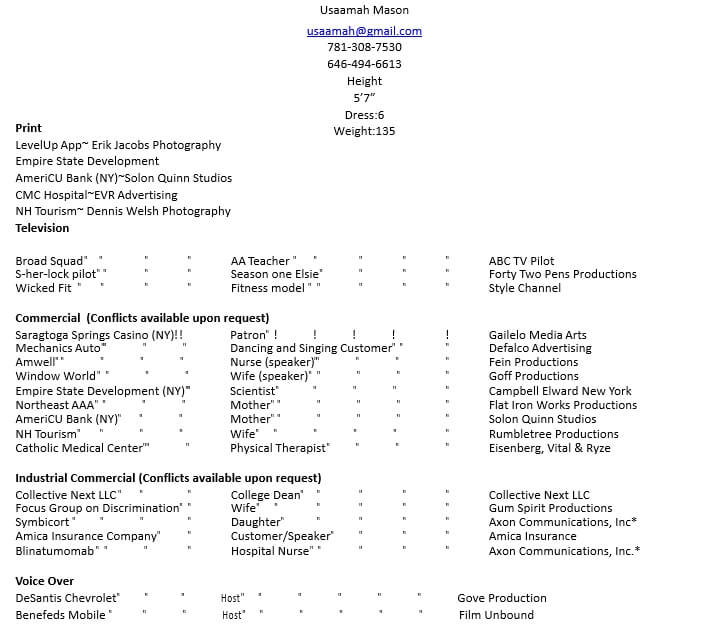 PDF File Professional Actor Resume Template Example
PDF file isn't that unpopular one in terms of a template. Unfortunately, it's not editable so if you get an actor resume example in PDF, you can read and make it as your reference.
Resume Template for Actors
Who says actors don't have to write their resume? They still have to write one, and probably you're that person required to make it as well. If it's your first time making one, referring to an actor resume example shouldn't be forgotten.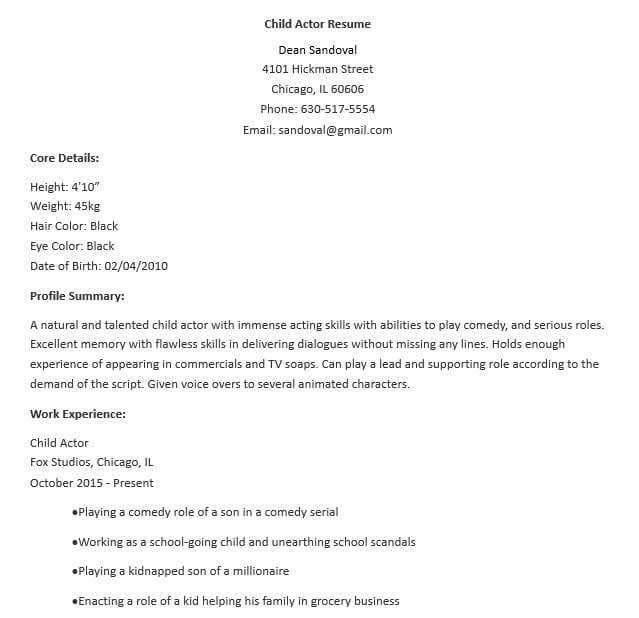 Resume Template for Film Actors
By planning to jump into your next job, it means you should be ready to rebuild and update your resume. That said, referring to an actor resume example will be a great decision to make – hence you not overdoing your resume or lacking the aspects required.
Resume Template for TV Commercial Actor
If working in commercial film is your most common gig, you'll be most likely to get into this new gig easily. Just make sure to list your biggest 'flex' of starring the commercial film for various brands. If possible, you should get the copy of the film itself as proof.
Sample of Theatre Actor Resume
In making an actor resume, you can refer to an actor resume example. You'll get to know that resume for actors will highlight related experiences and other appearances in any media; be it appearing for ads, additional role in drama series, short film, etc.
Simple Resume Template for Actor
It's not the decor lavishness, but the content and experiences that you've gathered all these years that matter.  Therefore, instead of choosing one resume template with too many decorative, sticking with a simple one should be better.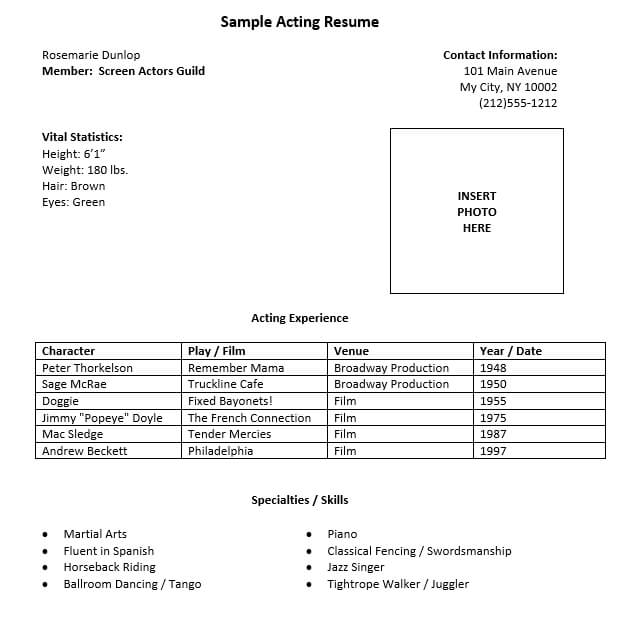 That sums up the information about actor resume example and related information. So, what's your pick? Are you going to make it from scratch or getting a template to help you out?