Free Download Financial Analyst Resume Samples and Template
The career of financial analyst is deemed as one of the fields with most rapid growth rate these days. For those of you who are interested in applying this job, you may increase the chance to stands out from the crowded competition by utilizing financial analyst resume template and sample.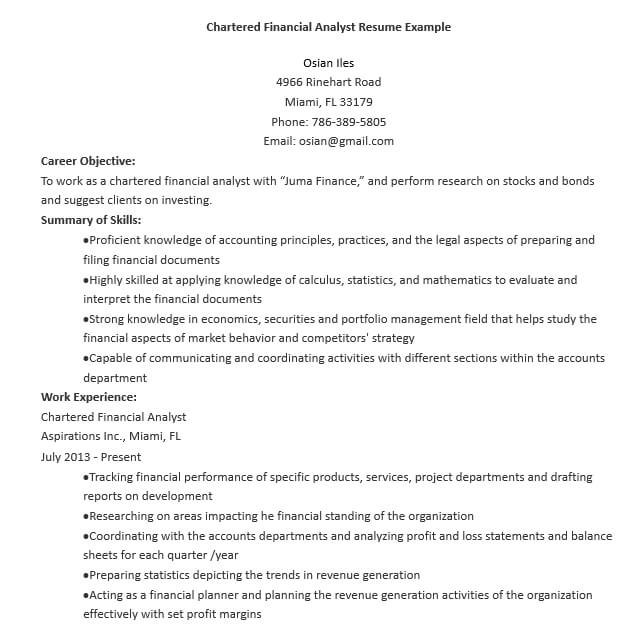 No matter where you desire to get a job as financial analyst, chance is, you love to do data diving and number crunching, along with proposing to others interesting things you find. However, before you can turn this enthusiasm into a proper career, it will be helped to incorporating solid financial analyst resume.
Resume Example for Financial Analyst
Charles Jonathan
4845 Wildrose Lane
Detroit, Michigan, 48221
313-772-1813
jonathancharles@abcmail.com
Resume Summary
An experienced financial analyst who has worked in the field for more than six years.
Capable to present and develop insightful analysis to guide decision making in executive level.
Possesses certification of CFA and Master Degree in Accounting.
Enthusiastic to pursue extensive expertise in financial industry.
Skills
Critical thinking, strategic thinking, leadership, risk management, time management, problem solving, performance optimization, adaptability, team-working
Work Experience
Falcon Gold Inc., Detroit, MI / July 2017 – Present
Create weekly reports and presentations to guide staffs on financial assessment
Keep track of investment and present advices according to the current trends in market
Manage training of new employees annually and create onboarding materials
Finance Intern
Secure Prime, Detroit, MI / December 2012 – June 2017
Arranged reports to provide financial outlook of the company to the management
Established accurate analysis for market share of competitor
Created detailed report to inform the impact of company's debt to net income
Education
University of Detroit Mercy
2010 – 2012
University of Detroit Mercy
2016 – 2010
Tips to Write Resume for Financial Analyst
Put out the most impressive part of the resume at the very beginning in order to stand out from other applicants. This can be done by starting the document by putting out convincing introduction that emphasize your main strengths.
Show to the hiring manager that you are a qualified person for the job position, by including the relevant required skills on the resume document. It is better to match your skills with the one mentioned at job listing.
Convince the potential employer that you are indeed a capable financial analyst by making sure you put detailed work experiences, your achievement, and quantified.
People Also Ask
What should a financial analyst put on resume?
Personal information: Locate this at the top of resume to the hiring manager can identify you easily
Profile: A summary of your skills, accomplishment, and relevant work experience
Key skills: A list with bullet point format about your abilities
Work experience: A properly formatted list of your work experience
Education: An insight into relevant education qualifications and certifications
What are top 3 skills for financial analyst?
Research skill is very important for an Analyst, because the job requires you to mine correct data. Next necessary skill is analytical skill, in which you provide logical thinking demonstration, collect various data, and evaluate them. Another important skill is general technical skills.
What is the role of financial analyst?
Financial analyst is a position with extensive range of duties and responsibility, according to the company or industry. In investment industry, an analyst work to analyze investment, potentials, and present their findings. In other industries, they may need to evaluate money returns and money directions.
Best Professional Financial Analyst Resume
Resume is there to create the very important first impression, so that you will be able to land the job position that you are aiming for. This financial analyst resume document can help you to build an easily noticeable resume.
Customizable Resume Sample for Financial Analyst
Financial analyst is a job that provides high earning potential and rapid paced career. However, to secure the position first, you will need to build an effective and professional financial analyst resume. This sample template will give you a guide on how to create a career-winning job application document in no time.
Financial Analyst Downloadable Resume
Just because financial analyst has a lot of work to do with spreadsheet, doesn't mean your resume document must look as dull as one. Here is a financial analyst resume that makes you stand out and thus increasing your opportunity compared to the rest of your competitors.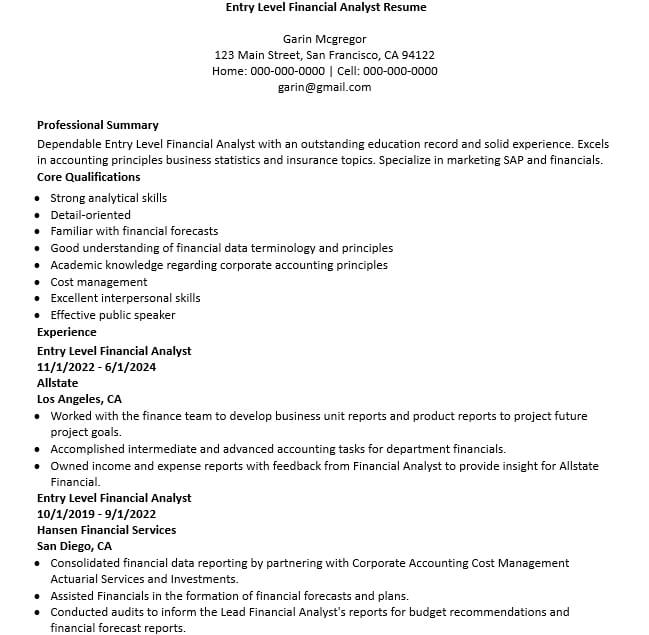 Financial Analyst Resume to Download for Free
The process of applying job is started with building a concise and clear resume document. This sample is suitable to use whether you are an entry-level or senior applicant, as a useful tool in practicing to create a proper financial analyst resume.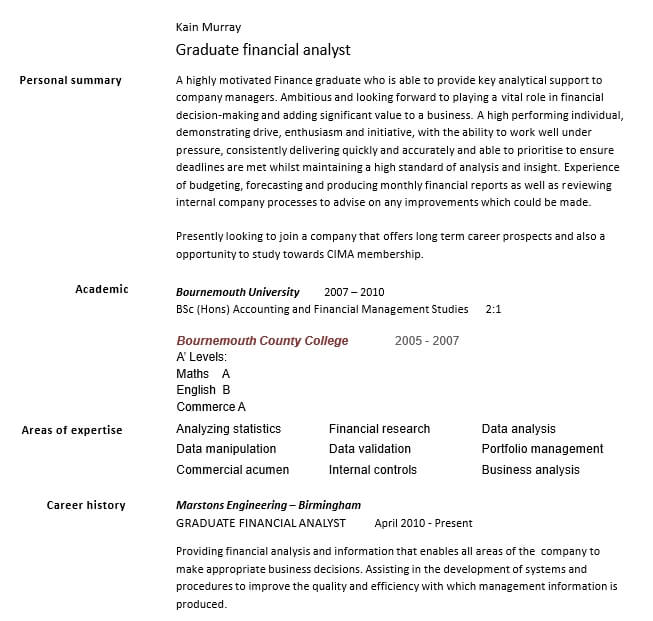 Free Format and Sample of Financial Analyst Resume
This financial analyst resume can be customized easily. Download and use it now as a quick beginning in building a great resume. You can start the job application procedure by taking the first step only in several minutes.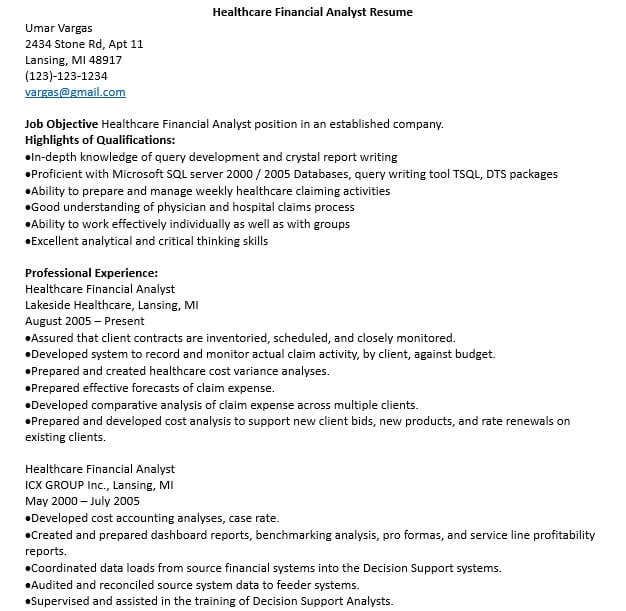 Free Resume Template for Financial Analyst
Looking for a way to advance your job searching game and raise the opportunity to land the job? What you may need now is a financial analyst resume sample document that can act as a guide to create your own with professional format and structure.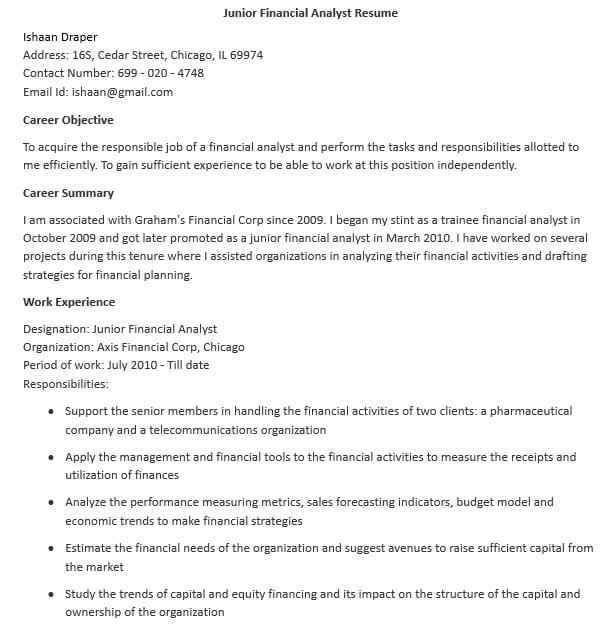 Job-Winning Resume Sample for Financial Analyst
A well-written financial analyst resume allows you to communicate your best qualification effectively, so you will be set apart from other candidates in order to secure an interview. Creating the document might sound like a challenging task, but the writing process can be simplified by using a sample template document.
Get free financial analyst resume by downloading it now and utilize the document to help you decide the best technique of formatting. It is also recommended to follow the writing tips above to build an impressive resume for financial analyst job position, and the questions people ask the most when it comes to create a resume for this particular job.