Planning to Apply to That Cook Position? First, Make Your Cook Resume!
If you love to do mix and match – not with clothes, but edible ingredients, being a cook can probably be your dream job. Probably you have gained some working experiences and plan to switch to a better place. No matter what kind of cook you are – inexperienced or not, in order to apply for a cook job, you should prepare your cook resume first.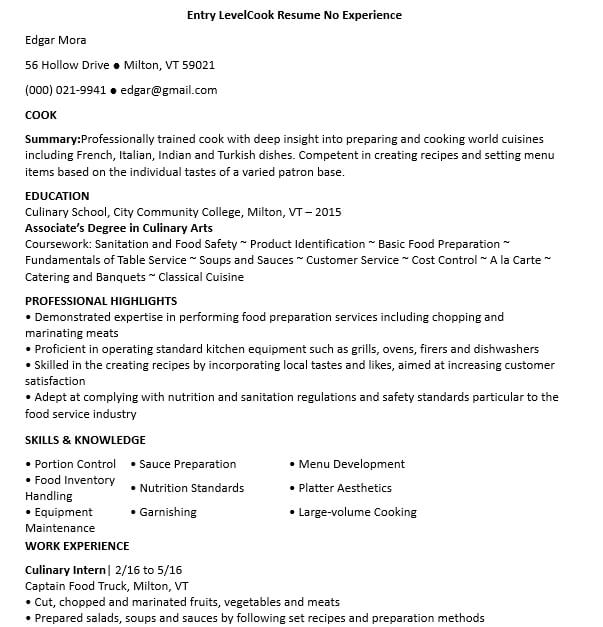 Preparing your cook resume isn't that easy, but not that difficult either. If you have plenty of time, you may try to create the resume from scratch. But if you're in such hurry, getting a suitable template will help you a lot.
Example of Cook Resume
Need an example how to write a cook resume? Take a look at this shortened version of cook resume below.
Amanda N. Breeze
281 Forestry Road, Indianapolis, Indiana | 9012-2309-43223 | amandabreeze@mymail.com
QUALIFICATIONS:
Experienced cook with 10+ years of experience
Sound practical knowledge in various kinds of dishes, but more focused in Western cuisine, especially French
Ready to work under tension
Great communication and interpersonal skills
Outstanding teamwork
WORKING EXPERIENCES:
Madame Antoinette Restaurant                           Main Chef                     2017 – present
Verify and check the quality of ingredients during preparatory time
Plan and cook the menu
Deliver food for special guest or special requested situations
Collaborated with in-charge department to procure and order ingredients, equipment and other related things.
Planning the schedule of co-workers shift and provide kitchen instructions, etc.
AXA French Restaurante                                    Sous Chef                     2011 – 2017
Helped main chef to perform various kitchen-related operations
Listed running-out supplies and consulting it with the main chef, etc.
SaluT Restaurante                                             Chef Apprentice 2009 – 2011
Followed main chef's instruction regarding kitchen operations, etc.
Education       
Bachelor's Degree in Culinary Arts (Graduated 2009)
Dickinson Public University
References
Pierre J Martin                         Owner at Madame Antoinette Restaurante (9210-2321-24293)
Anna P. Martin                         Manager at Madame Antoinette Restaurante (9210-3842-74853)
How to Write a Cook Resume
Fortunately, writing a cook resume isn't much different than writing other kinds of resume. What differs is the job description that you own and do/did as a cook.
In order to write your cook resume, you should prepare:
The list of previous cook jobs that you experienced.
Try to recall the job descriptions and list that down.
Once you've done doing so, you may start writing your cook resume. You may use a template if you're confused about how to make the document.
Don't forget to check back for any misspellings, wrong chronological order, etc.
People Also Ask
How do you describe cooking on a resume?
You can say it according to the main point of your job description, such as monitoring food quality, manage co-workers, or ensuring ingredients and other supplies are already procured and stored appropriately. You can simply refer to the above sample if you're confused about what to include.
How do I write a CV for a cook job?
Well, aside from getting the example above, you may get another reference from cook resume template. Cook resume template isn't only about getting to know the aspects that you should include in a resume, but also the decoration and formatting.
As mentioned earlier, you should start with 'compiling' your professional working experiences and listing down the job description. After that, you may start typing your qualifications, educational background, and certification that you've gained.
What skills should I put on my resume for cooking?
You shouldn't just include 'cooking' as your skill. That'd be too clear to start with, so include:
Organizational skills
Collaboration and communication skills
Culinary expertise, etc.
To get other list of skills, you may see it in somebody's cook resume which you can access online.
Several Types of Cook Resume
You may think that there is only one kind of cook resume that you can have. No—there are many. Take a look at these samples to get an insight about which template should you download.
Apprentice Chef Resume Template
If you've planned to apply for an apprentice chef, then it'd be better to get an apprentice chef resume template. Even a long-term professional can get stuck in confusion – let along if this is your first time applying for a job.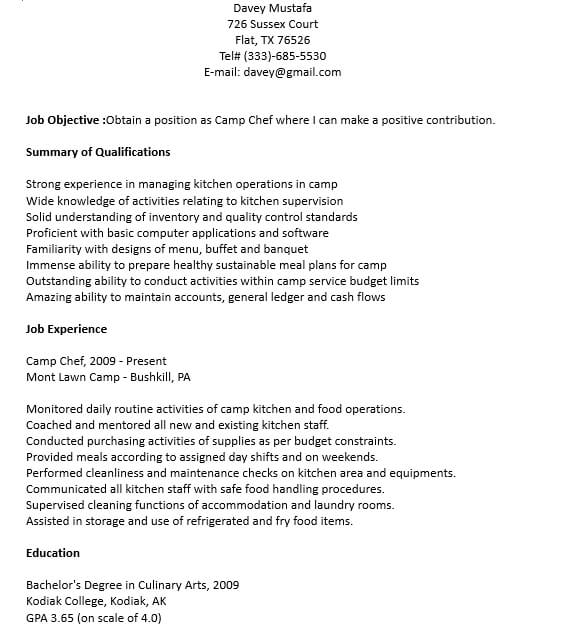 When applying, don't forget to sort your experiences (if any) in a reversed chronological order. Include your education background as well. Before submitting your document, make sure to proofread the text beforehand to ensure that you placed no errors – which may lower your score for being a potential candidate.
Catering Resume Sample
You may be interested in working in a catering service. Now that you got a chance to get it yours, why don't you start making your resume?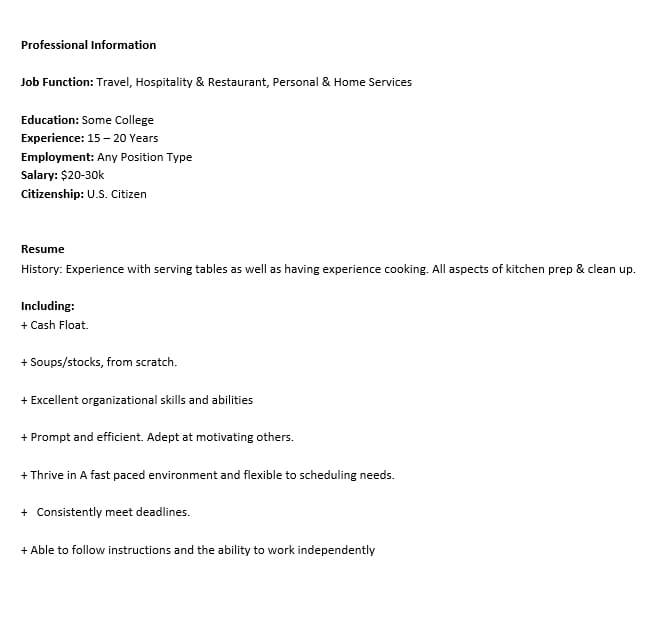 To make your resume, it's a sure thing that work experiences will help to get your position. But don't worry if you're not experienced yet. Just include your qualifications, educational background, and relevant trainings.
Cook Manager Template Sample
Aiming to become a cook manager? Grab that manager position if you're sure about your qualifications. Managing cooks isn't that easy – you know that. But if you think you're qualified, be it due to your previous experiences or it is your passion, don't postpone in making your cook manager resume. Who knows you'll be the best candidate to fill the vacant position?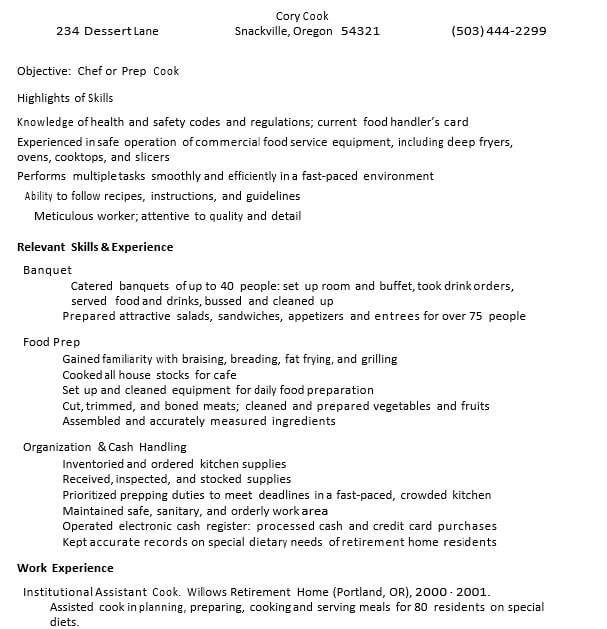 First Cook Template
Becoming a first cook requires you long-earned experiences in the related field. It doesn't mean you should've already been a first cook, but instead, you should have worked in the culinary field.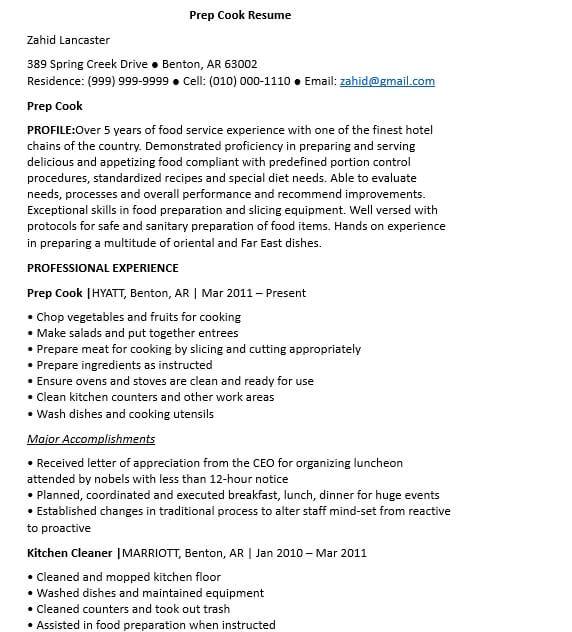 Now with your cook resume, build a nice impression and showcase your previous/current job with a resume. To help you creating your resume, you can try getting a template so you know how to write one and decorating it.
General Cook Resume
Confused about which resume template you should get? Then you can just stick with general cook resume. No matter what kind of position you are applying for, general cook resume is a great tool to assist you in making resume.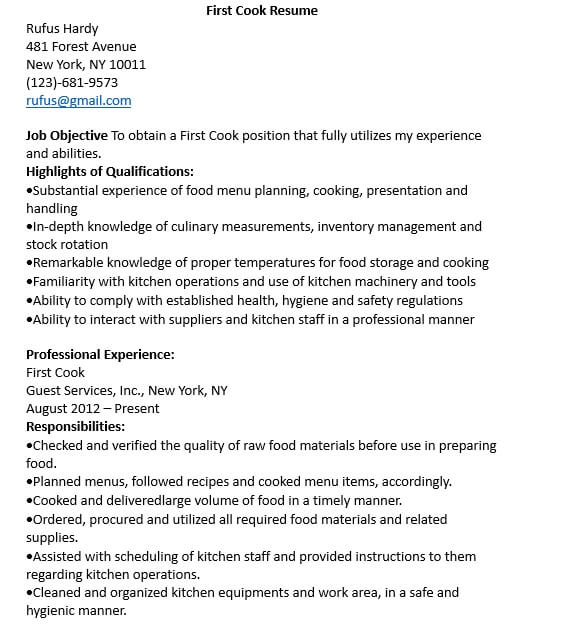 So those are some information about how to create your cook resume. It is a sure thing that you may use template to get you understand the aspects required to build your resume. By doing so, you can become that outstanding candidate that the employer is looking for.