Fresher Resume Template Example and How You Write It Properly
There is no doubt that using fresher resume template is quite helpful. Fresher is like someone who just graduated from school, and they have little to no experience when it comes to look for a job. The thing about job is that you will have to bring in a resume in order to get one. Well, in this case, you can use the template.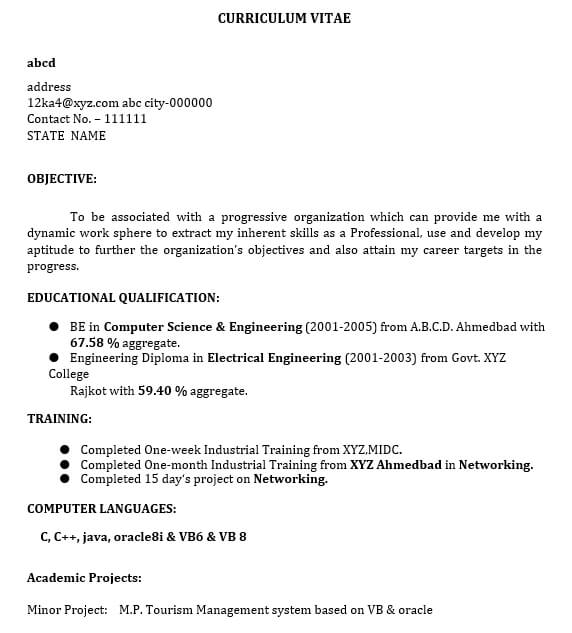 Yes, using templates is wise because it means you do not even need to worry about constructing sentences and the content of the resume on your own. You just have to add data and then follow the format that's already displayed in the template. Therefore, without further ado, this is the template, example as well as the explanations that you need to know about the resume.
Fresher Resume Template Example
Jackson Williams
Phone: 2816-2921
Address: 26 Bounce St, Patrol Town 271
Career Objective
Having just graduated from university, the career goal is to find a decent job and establish a career. Before graduating from university, I have a few experiences in internship and informal jobs. I can work with teams and always have the determination to give the best to everything.
History of Education
Glenn High School, Graduated 2017, GPA 3.4
Thomas State University, Graduated 2021, Bachelor of European Literature, GPA 3.2
Internship and Previous Work Experience
Translator, Yank Museum, 2017
Historian Internship, School of English Monarchy, 2018
Internship for Historian Team position, Denver School, 2019
Research Team, The Unearthing of National History, 2020
Skills
Communication Skill
Reading Old Languages
Manuscript Preservation
Time Management
Archiving
Language
English, Advanced
Spanish, Advanced
Latin, Intermediate
How to Write Fresher Resume Template?
There are a lot of formats for fresher resume template. However, the best one should be the simple one. Remember, people who are labeled as fresher or fresh graduates are expected to have less experience when it comes to professional work. So, it is better to keep the resume nice and simple.
Make the resume look brief, but it does not mean the essential information should be omitted.
You will have to write everything important in there, like the contact information, but you do not need to squeeze too much winding up and complicated information.
People Also Ask
What should a fresher resume contain?
The most essential thing that people need to put on their resume when they are just graduated from college is personal information and the history of education. After all, you have just been fresh out of the school, and the school has reputations. Most of the time, it is important for the recruiters.
Besides considering the school, they will also consider the internship experience. If you do not have any, fear not as most of fresher resume template and examples you can find have the space to add your extracurricular activities as well. Therefore, it does not have to be an empty resume after all.
What is a good resume for someone with no experience?
It does not matter whether or not you have experience. As long as the resume is well-written and not exaggerated, everyone should consider the resume as a good one. If you want to make it look even better and readable, use chronological resume as it orders the resume by date.
It should be able to make the resume way more interesting and up to date. The newest addition will be on the top list, so the recruiters will have time to examine which experience and information is the most recent ones. This is a very common form of resume to use as well.
How do I make a resume for a beginner?
There are a few; you have to do these steps. It is important to follow the step, so you won't end up with uninteresting resume, and you won't lose the chance of getting the job. These steps are the common steps to take, whether you are fresher or just have tons of experience in the working industry.
Focus on displaying a truthful data
Download the right fresher resume template
Edit the template by preparing the data beforehand
Recheck the data and information displayed on the resume before sending them to the recruiters.
Free Fresher Resume Examples
Templates are available everywhere, and this is one of the best examples you can get. Use this fresher resume template to write your experience and contact detail.
Software Engineer Fresher Resume
Use this template to create your resume as software engineer. Using the templates will certainly help you out a lot in this.
BCA Fresher Resume Template
This is the fresher resume template for BCA graduate. Use this template to write the best resume and get the job you want.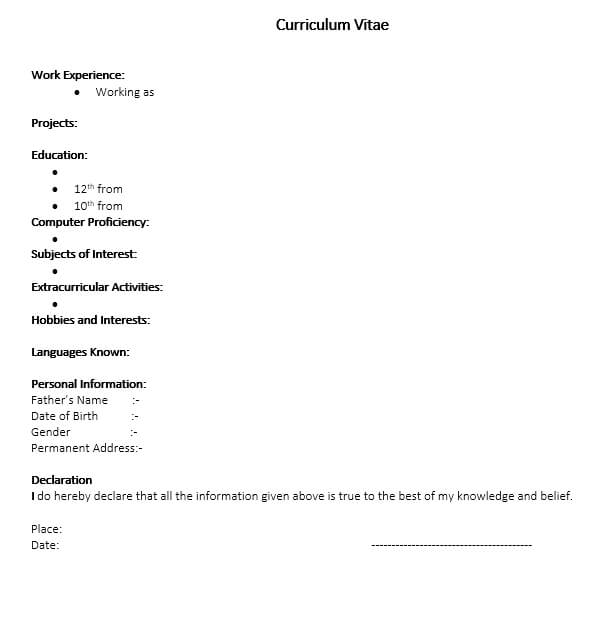 Fresher Resume in Word
Of course, you have to make templates in Words. This template is the one you need. Download it as it is free and editable.
Fresher Resume in PDF
The standard format for emailed job application is the PDF for the resume. This is the fresher resume template that you need, and it is already in PDF format.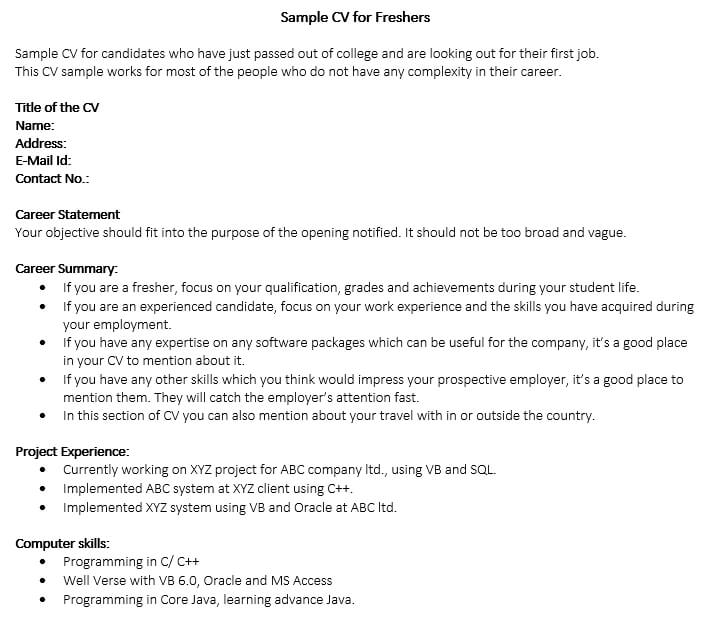 Standard Resume with Simple Format
Use the standard format to create simple yet readable resume for everyone in general. It works perfectly fine.
BSC Fresher Resume Example
For those looking for fresher resume template for BSC or Bachelor of Science graduate, the information about the resume is going to be shown in the example.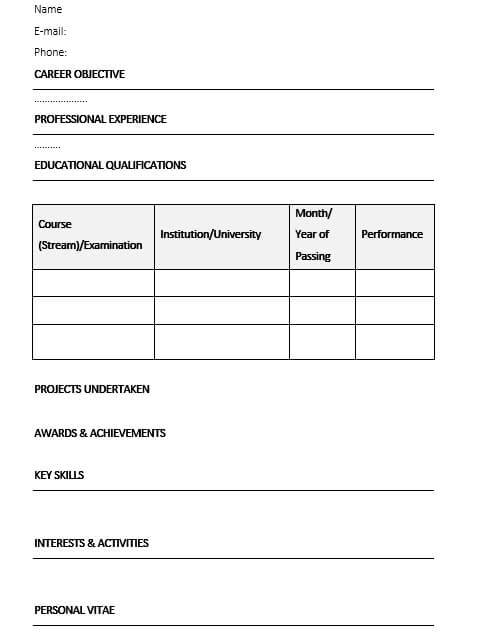 Resume for Fresher Example
This is the example for fresher resume. It is simple and highly recommended to download.
Fresher Resume for IT Students
This is the fresher resume template for IT students. Use this template to show off your computing and engineering skill at once.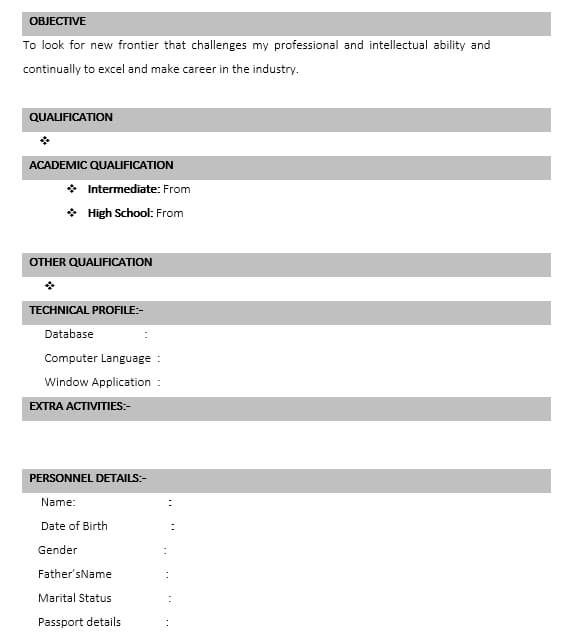 Fresher Resume with Basic Format
The basic format for the resume is like the one shown here. This is the template to download as it is free.
Standard Fresher Resume Example
This is the last fresher resume template to show. You can use this template and edit it whenever you like as this is the standard format.