Free Functional Resume Template and Example
There are a lot of people who are looking for functional resume templates. This kind of template is certainly needed because you just have to highlight your skills and explain them in the document.
These are some templates for you. All of them are downloadable for free, and there will be some examples and details about the resume as well, including the frequently asked questions.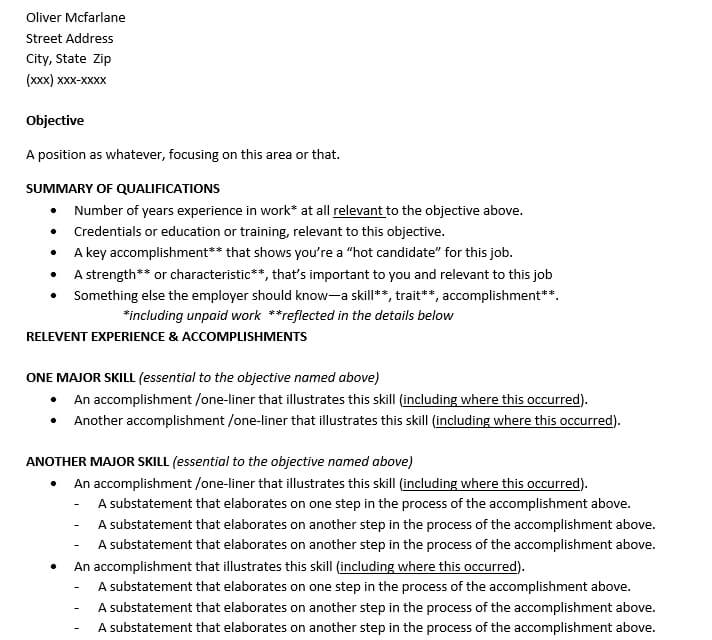 Functional Resume Example
Simon James Howe
767-654-532
At a Glance
A 25-year-old aspiring writer from Jacksonville, California who has been working in literature industry since graduating from college and continue to work in other types of writing-related department, including in poetry and drama.
Education Background
Jacksonville University, Bachelor's Degree in English Drama and Literature, GPA 3.9, Grad. 2017
Skill
Poetry Writing: capable in composing poetry in any literature style, but particularly interested in Romantic Era poetry.
Prose Writing: has the ability to write and compose prose and has chosen Austen-style prose as his interest.
Drama Writing: great at writing drama script (drama in modern-style as well as in Shakespearian drama style)
Training
Drama and Literature Training, Jacksonville Community, 2019
Becoming a Poet, Nash University, 2020
Working Experience
Script Writing Team, Douglas Production, 2017-2019
Assistant Drama Manager, Hudson Theater, 2019-Ongoing
Language Skill
English, Advanced
French, Advanced
Mandarin, Intermediate
How to Write Functional Template?
For those who are looking for the functional resume templates or want to try writing one without any template, you still need to understand what goes on the resume. These are some tips to create the resume.
List the contact information first
Resume introduction must be written in details
The skill should be written in details and grouped by type
Do not forget your work employee and employment history
Write only the relevant educational background
Professional accomplishment needs to be added
People Also Ask
What is functional resume format?
Functional resume is defined as a resume that highlights the skill of a person. In regular resume, the skill is added, but not in detailed. The functional resume is more on the "show off" side of the skill rather than informing the personal information or educational background.
For people who do have skills and want to make sure the recruiter or anyone reading the resume gets impressed by the skills, they need to use the functional resume templates and create this kind of resume instead of the regular one.
Do functional resumes really work?
Sometimes it does work. When people have a lot of skills and quite good at it, their skills come in handy for several occasions and probably will do good in the future job. It depends heavily on the company or on the people reading the resume.
However, some of them still think this kind of resume is incomplete because it is too focused on skill instead of on the background and information. It becomes imbalanced at some points. So, if you decide to use functional resume templates, make sure it matches your purpose first.
When should you use a functional resume?
The functional resume templates will help a lot when you need the resume to apply for a job or project which does require tons of skills. Say for example, you are good at dancing and this time you want to go to a dancing audition. Instead of using regular resume, use this functional one.
The functional resume is going to highlight your dancing skill and probably inform a lot of necessary, dancing-related information that the recruiters need to know. This is when you should use the functional resume as it will help a lot.
Template for One Page Resume
People need these functional resume templates to help them write short and clear resume. In this case, one page is enough.
Example of Omni Resume
If you need the resume in Omni style, you can download the template and start writing it so easily now.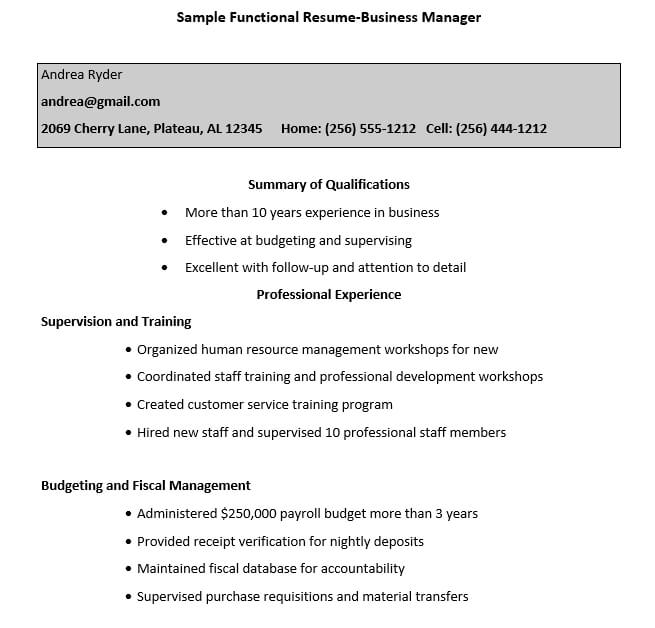 Simple and Clean Resume Template
There is no need to complicate things and write nonsense. You can write the clean and simple resume using the template.
Template for Functional Resume
Writing a functional resume won't be so easy when you decline the idea of using template. This one is all ready, and you just need to fill it up.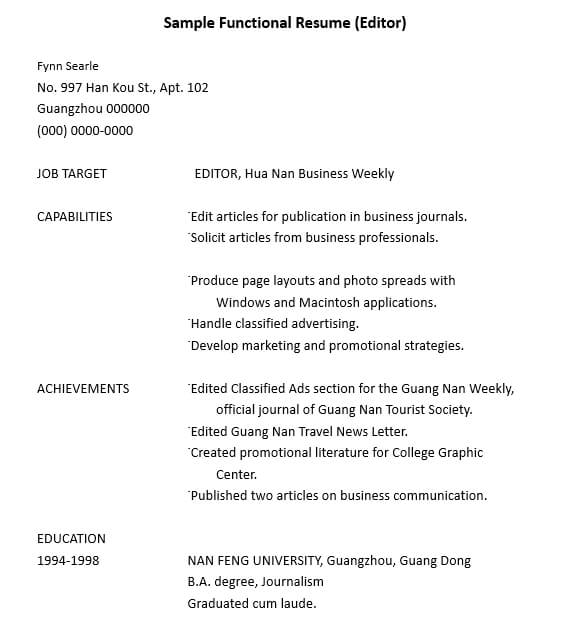 Professional-style Resume Template
There are functional resume templates for professionals. The templates make the document look even more legitimate and convincing.
Template Resume for College Student
College students also need to write resume and this template is going to show you how easy it is to write the resume in simplest way.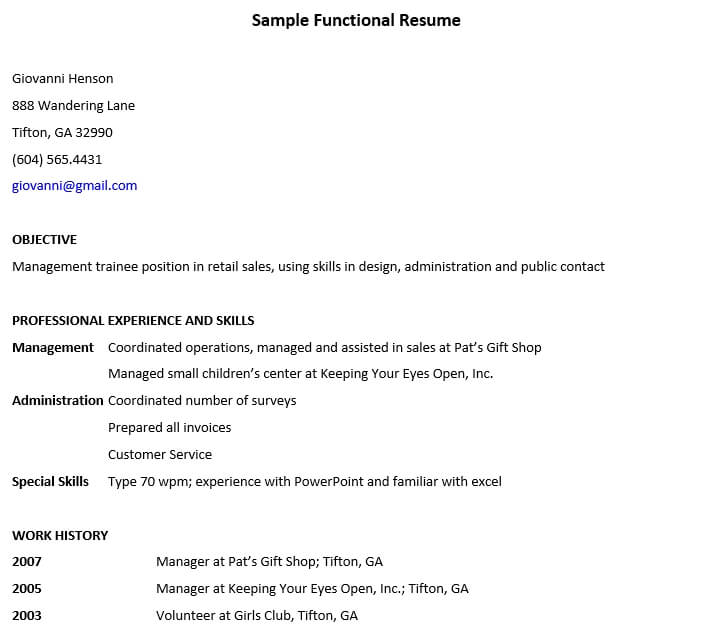 Clean and Minimal Resume Format
Recruiters do not like someone who exaggerates things. This is why when writing your resume, you have to keep it simple.
Simple Resume Set Example
These are some of the best functional resume templates to download. It has the correct example in the simplest way, so you won't get confused by it.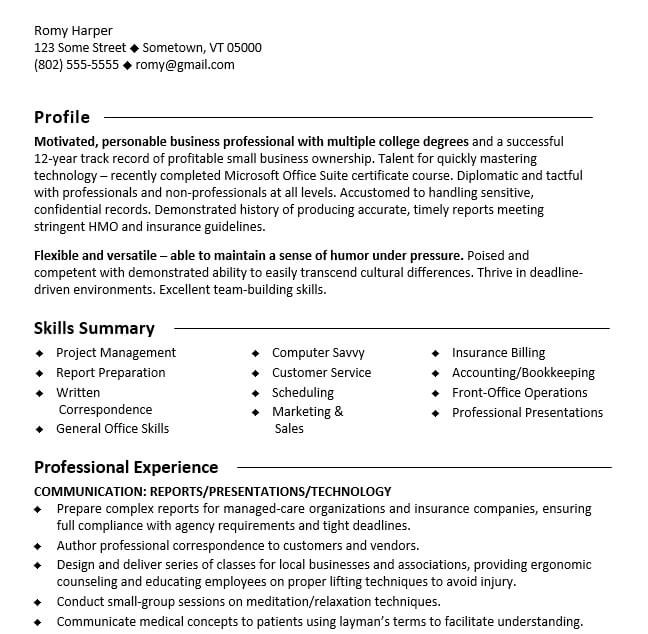 Template for Functional and Simple Resume
Write a good functional resume using the help of this template. It will take you less than a few minutes to get it done.
Example of Functional Resume
Do you need example for the resume? Just find ones, and download them all for free.
Typographic Resume Template
To write functional resume templates in typographic style, you have to use the typographic template. It is complete and has everything you need already.
Functional Resume Sample
There are various samples available for the functional resume. You just have to download them to start writing.
Functional Resume for Editor Template
Editors have to highlight their skill, and hence they need functional resume. Use this one to help you write the resume.
Creative Resume Template
Be creative with your resume and use the right template. Fill the details on your own.
Resume Template for Business Manager
Last but not least, there is template for business manager. Surely, this is one of the best functional resume templates that can be downloaded for free.