The Ultimate Guidelines to Write a Volunteer Resume (with Samples)
When it comes to volunteer vacancies, many people who interested in this position have a tendency to just put everything together. However, to prove that you really take the cause seriously, it's vitally important to have a professionally composed volunteer resume.
You can include qualifications and expertise you gain from the relevant experience you have ever had in the resume. If you want to apply for a volunteer position, check the following samples and writing tips to help you craft a volunteer resume.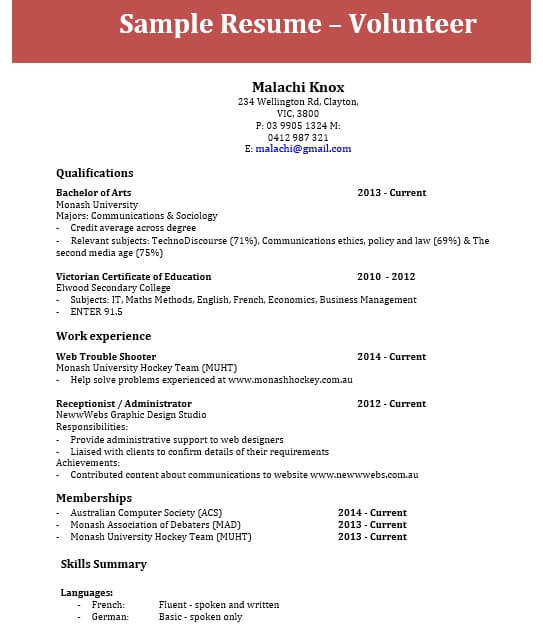 Sample of Volunteer Resume
Tony Anderson
Staunton, IL 62088
andersontony@gmail.com
Professional Summary
I am a dedicated volunteer and social services worker with solid advocacy and crisis response experience, providing extensive social service and good interpersonal expertise, as well as planning and managerial skills.
Education
Illinois State University – Normal, IL | Master in Social Work
2016 – 2018
Illinois State University – Normal, IL | Bachelor in Social Work
2012 – 2016
Professional History
Volunteer | August 2018 – present 
Family Service of Lake County – Highland Park, IL
Provided extensive rehabilitation services for adults, teenagers, and children in support of the prevention and welfare services for children.
Worked with the founders and advocates of the community program to make services available for people in need.
Reported cases of child abuse based on the current legal requirement for required journalists.
Social Services Worker | January 2018 – present 
Illinois Medical Center – Elgin, IL
Worked to enhance and alleviate the lives of patients by implementing efficient, compassionate treatment methods.
Increases pro-social activities of youth participants by 30% with community services and therapeutic aid workers.
Provided advocacy regarding rehabilitation issues, physical and substance abuses, and mental health for individuals as well as families.
Skills
Family services
Community support
Conflict resolution
Organization
Assessments
Strong communication
Writing Tips to Craft a Volunteer Resume
Here are the steps to create a compelling resume to apply for a volunteer job:
Always start your resume with your name and basic contact details.
Include a brief, compelling personal profile.
Include your educational background.
Mention the volunteering experience you have in the experience section. You can also include non-volunteering professional expertise.
Include skills related to the position you apply for in your resume.
Write the best qualifications you have. Also, highlight charity or fundraising-related training you have passed, if there's any.
Share your achievements, accomplishments, and the best results of the charity program you were involved in to prove that you are serious about the position.
People Also Ask
Do you need to write a resume for a volunteer job?
Whether you are applying for a paid job or a volunteer opportunity, writing a resume is a must thing to do. Besides help you to get the job, it will also show that you are serious about the work you apply for.
How to write the best resume for volunteering?
First, write all the volunteer works you have done in your experience section. Then, connect all the experiences in volunteering with your abilities. Moreover, you need to create a new separate section to write unrelated experiences at the end of document.
What to keep in mind when writing a volunteer resume?
Your resume should be short and concise. Make sure it's no longer than two pages. Then, use a simple design in neutral color schemes, and apply bullet points to list your details.
Types of Volunteer Resumes
Resumes for volunteer are available in a wide variety of types since there are also many different kinds of volunteering. If you are interested in serving those in need, you will find the templates of volunteer resumes below beneficial.
Sample Resume for Volunteer Firefighter
Firefighting is not only a skill that requires sacrifice, but also adequate skills. With the help of this volunteer resume, you can show your enthusiasm for this position.
Resume Template for Hospital Volunteer
You need to understand this resume sample will not help you land a job, but a resume that will get that you that job interview. So, if you apply for a volunteer job at a health facility, don't hesitate to use this template.
Volunteer Resume Template for Applicants with Experience
With this volunteer resume sample, your application will appear different than the others. It's because the template will identify your most substantial qualifications and skills. It makes all the details you write easy to read.
Nursing Home CV Resume Sample
If you have worked at a nursing home and look for the best method to write a resume, check this template. You simply need to download it and edit the existing content with your own details.
Resume of Volunteer Coordinator
This volunteer resume is the first thing you need to get to start a career as a volunteer until you gain the opportunity to be a community service coordinator. The only thing you need to do is just download the resume and customize it as per your needs.
Example of Church Volunteer Work Resume
For some people, serving in the church is a fulfilling voluntary job. But your future employer needs a well-written volunteer resume. You can use this sample to help you draft your resume.
Resume Template for Leadership Volunteer Position
Plan to apply for a leadership volunteer job? This sample highlights all the details related to the new position you are applying for, like experience in leadership coaching and training.
Volunteer Resume for Experienced Applicants
It's a volunteer resume specifically designed for those working at voluntary organizations for quite some time. This template is more focused on the details of the applicant's volunteer experience.
Resume Template for Animal Shelter Volunteer
This simple volunteer resume template is an ideal reference for working at an animal shelter. In addition, this template is available in doc format that guarantees you an easy customization process.
Volunteer Resume Template for Photographer
If you are a photographer who wants to work at a non-profit organization, use this well-written resume template to create your own resume. This resume helps you highlight the responsibilities you've done in your previous employment related to the job you apply for.
Blank Volunteer CV Template
With this volunteer resume template, you don't need to do anything but fill in the provided blanks. You simply need to think about the relevant details you should include in this ready-made resume layout.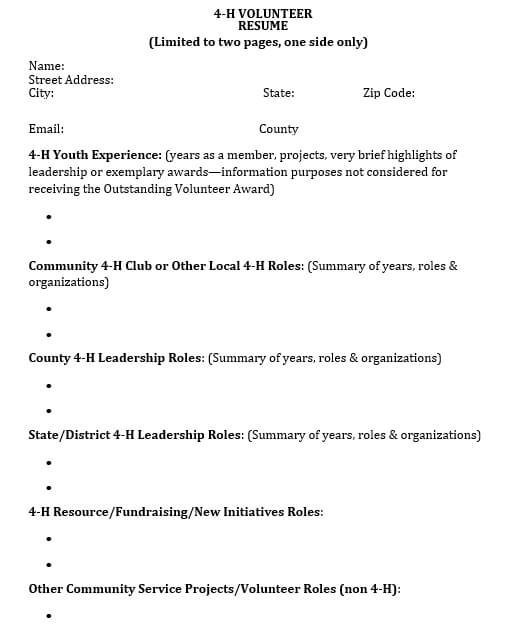 Working in a voluntary organization is a rewarding experience. By writing a good volunteer resume, it shows that you are really serious about the position you are applying for.