If a student received a lower grade which comes to be unfair, he or she is allowed to write a grade appeal letter. Typically, colleges and universities have certain rules to follow this process. This letter is usually addressed to the dean of the college as well as the boards. If it is possible, it is necessary to deliver the letter to the right person.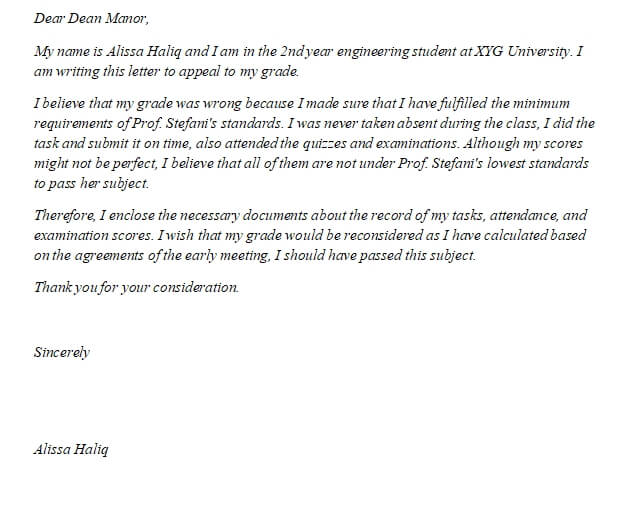 What To Say In An Appeal Letter?
There are no specific words you must say in an appeal letter. However, you have to mention the exact situation or event that goes wrong and state what you will expect about the outcome. This letter of appeal is the chance to let your professor or teacher know the situation. Besides, this might give you a chance to make them reconsider the decision.
How To Argue About My Grade?
There are some steps to make your letter appeal successfully change the decision, here are some steps  to follow:
Do a research
Before wiring, a grade appeal letter, make sure to know the procedure of appealing in your college or university. Usually, you can find it in the handbook or website of your campus. Make sure to be familiar with the policies.
Stop being mad
Most students will go up to complain. In most cases, they might meet the professors with an upset face and argue. However, most students fail to do that. Therefore, be aware to do something strategic such as following the regulation of your faculty.
Show evidence
The next thing to prove is to maintain your evidence. Collect any evidence such as your attendance, tasks, and quiz scores. There will be a chance that it can be a human error. If your professor is right, then he or she will also provide valid proof.
Keep the relationship
Note that you have to keep the relationship. It is because you might find another issue in the future if you don't take it seriously. Your dean might be your next lecturer, and if you don't treat them with respect, you might have another problem.
Sample Of Grade Appeal Letter You Might Need To Know
Dear Dean Manor,
My name is Alissa Haliq and I am in the 2nd year engineering student at XYG University. I am writing this letter to appeal to my grade.
I believe that my grade was wrong because I made sure that I have fulfilled the minimum requirements of Prof. Stefani's standards. I was never taken absent during the class, I did the task and submit it on time, also attended the quizzes and examinations. Although my scores might not be perfect, I believe that all of them are not under Prof. Stefani's lowest standards to pass her subject.
Therefore, I enclose the necessary documents about the record of my tasks, attendance, and examination scores. I wish that my grade would be reconsidered as I have calculated based on the agreements of the early meeting, I should have passed this subject.
Thank you for your consideration.
Sincerely
Alissa Haliq