Having a good cover letter is indeed recommended for getting an interview process. Recently, most students have started to use letters of recommendation during their internship to support their job applications. This letter is very necessary to have because there is a third party who recommends students by stating their abilities and talents during the internship. If you are asking to write an internship letter of recommendation, make sure you know him or her well.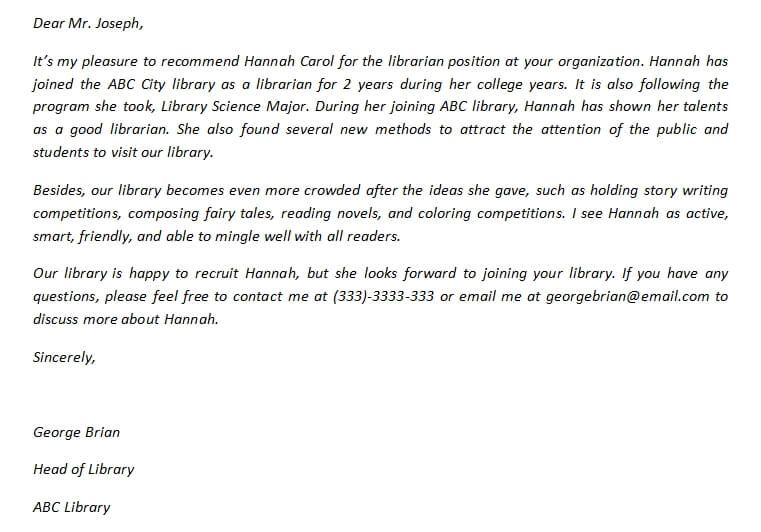 Is Internship Letter of Recommendation Important?
Some people don't think that letters of recommendation for internships are important. But in some cases, this letter is required to support a job application letter. Many hiring managers in companies look at internship letters to consider their potential employees to be called in the interview process.
Therefore, If you want to write a letter in a good format to support students who will apply for jobs, you must pay attention to several aspects such as the following:
Your recommendation letter should be able to explain the applicant's abilities and expertise in detail and clearly.
Make it clear that the applicant deserves to occupy the position applied for according to the best experience during the internship.
Convey the applicant's personality during the internship, ranging from friendly, cheerful, kind, helpful, or others.
What Should Be Included in Letter of Recommendation?
The letter of recommendation that you write must be positive in tone and support the applicant. If you only know a few things about the applicant, it's better to decline the request politely. You can write several things related to the applicant by paying attention to the following 5C aspects:
Connection
State clearly your connection with the applicant, whether you were his/her boss or a client during the applicant's internship in his studies. This aims to convince the hiring manager that you know the applicant well.
Contribution
It is important to disclose what contributions the applicant has made during the internship with you. Make sure not to exaggerate or make up a story, just tell it according to facts.
Confirmation
Emphasize that you recommend the applicant to fill the position in the company. You can state by writing "highly recommend" or "recommend without reservation" in the letter.
Contact
Include your contact, it can be your phone number and email address. You may get a sudden call from the company to ask about the person you are recommended.
Closing
Close your letter nicely and politely. Then write your full name and title along with a signature.
Internship Letter of Recommendation Sample
The following is an example of a recommendation letter that you can use as inspiration in writing:
Dear Mr. Joseph,
It's my pleasure to recommend Hannah Carol for the librarian position at your organization. Hannah has joined the ABC City library as a librarian for 2 years during her college years. It is also following the program she took, Library Science Major. During her joining ABC library, Hannah has shown her talents as a good librarian. She also found several new methods to attract the attention of the public and students to visit our library.
Besides, our library becomes even more crowded after the ideas she gave, such as holding story writing competitions, composing fairy tales, reading novels, and coloring competitions. I see Hannah as active, smart, friendly, and able to mingle well with all readers.
Our library is happy to recruit Hannah, but she looks forward to joining your library. If you have any questions, please feel free to contact me at (333)-3333-333 or email me at georgebrian@email.com to discuss more about Hannah.
Sincerely,
George Brian
Head of Library
ABC Library
It is clear that an internship letter of recommendation can be used as a support along with a cover letter. Note that you must know the applicants you recommend well.