It cannot be denied that stress at work often occurs. A pile of work, a bad office atmosphere, toxic friendships, and several other things can cause stress. You may try to stick with it for years, but if things aren't getting better, it's your turn to leave your job by writing a good resignation letter due to stress.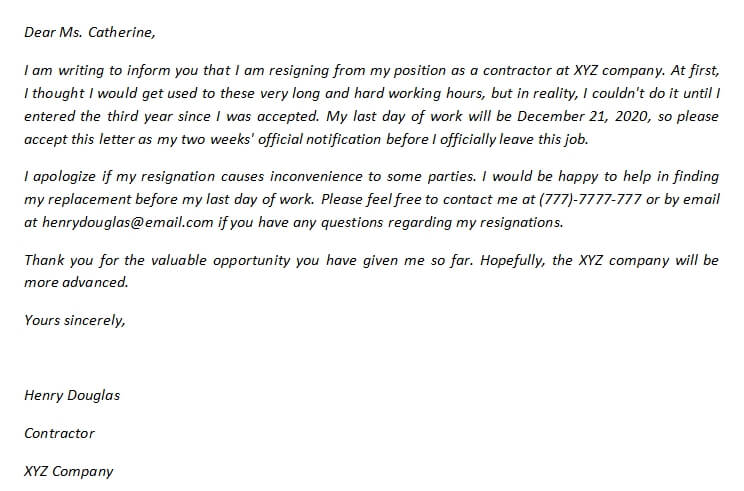 Can I Leave A Job Due To Stress?
You have the right to leave your job if you can't hold it anymore. Hard work will harm your life, including stress and poor health. It will also interfere with your activities whether at home or work. You may have tried to cheer yourself up by traveling somewhere on the weekend, but still, you remember your hard time at work.
There is nothing wrong with leaving a job because of stress. You can still apply for work at other companies by choosing a better institution that gives better respect for their employees.
How To Write A Good Resignation Letter Due To Stress?
A good resignation letter should be written with care. Here are three aspects that you should not miss when writing  a resignation letter:
Thank the company
You must leave a good impression on the company before officially resigning. Remember that the company has also contributed to your life during several of these years. Also, emphasize that you still want to have a good relationship with everyone in the office.
Express regret
Convey your deep regret regarding the decision to quit the job. Express that you are sorry to leave your position in the company, but you don't have any choices to not quit from the job, because the more stressful days make your health condition getting worse.
Reveal Reasons That You Are Stressed
You are writing a letter of resignation because of stress, which means you have to tell about the stress you are experiencing in a concise and clear statement. Make the manager believe that you are not lying about your real situation.
Resignation Letter Due To Stress Sample
The following is an example of a resignation letter that you can use as inspiration to write yours:
Dear Ms. Catherine,
I am writing to inform you that I am resigning from my position as a contractor at XYZ company. At first, I thought I would get used to these very long and hard working hours, but in reality, I couldn't do it until I entered the third year since I was accepted. My last day of work will be December 21, 2020, so please accept this letter as my two weeks' official notification before I officially leave this job.
I apologize if my resignation causes inconvenience to some parties. I would be happy to help in finding my replacement before my last day of work. Please feel free to contact me at (777)-7777-777 or by email at henrydouglas@email.com if you have any questions regarding my resignations.
Thank you for the valuable opportunity you have given me so far. Hopefully, the XYZ company will be more advanced.
Yours sincerely,
Henry Douglas
Contractor
XYZ Company
All in all, you are recommended to write your resignation letter due to stress in short and to the point. It's enough to write three paragraphs with complete aspects.