Free Mechanic Resume Templates and Examples
When you need the example of mechanic resume, you can find a lot of examples that you need the most below. These are the ones for you to download as they are freen and they surely will help you in making the best resume for everyone.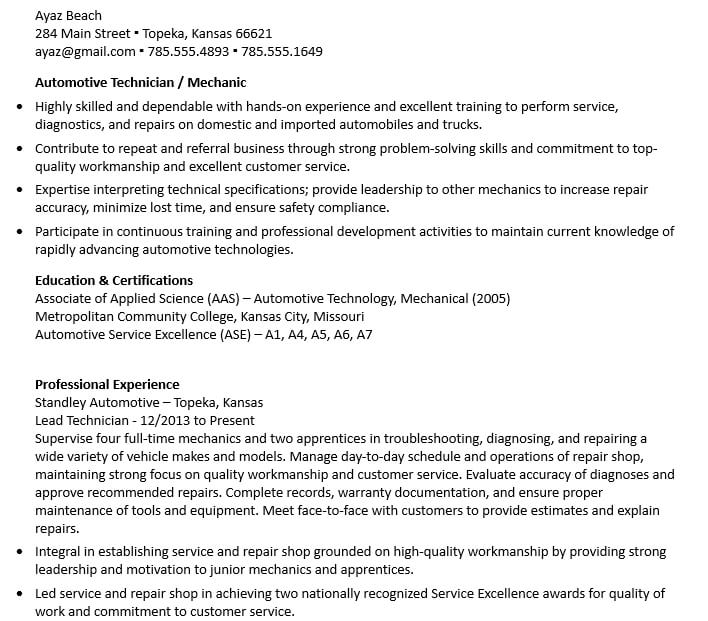 Before you jump to the templates, there will be example as well. This example is in the right format and content, so you can use it right now and make your own resume. Do not worry about charging or anything since these are all completely for free. Let's check the example below.
The Example of Mechanic Resume
RESUME
Name: Oscar Island
Email: oscarisland@mail.me
Phone: 28156-31816
Address: Yoda 72 St, Ball, 2871
At a Glance
Skilled mechanic who has been working for more than 10 years.
Good in many skills of mechanic-related field and having been trained for more than a decade to fix things up, including for trucks, automobiles, and other types of four-wheeled vehicles.
Great in providing leadership and problem-solving as well.
The Education Background
Berk High School, Graduated 2007, GPA 3.4
Automotive Technology School of Berk, GPA 3.5, Associate of Applied Science, Graduated 2011
The Certification
Registered Technician and Mechanic for Cars, 2012, The Government of Berk
Work History
2011-2016, George Jr. Cars and trucks, Technician
Duties:
Establishing service and repair on cars
Leading service and achieving goals each month
Conducting automotive inspections
Repairing broken vehicle
Inspection Broken Engines and transmission
2016-2019, Thomas Cars Garage, Senior Technicians
Duties:
Replacing parts of vehicle
Ordering spare parts
Understanding calibration and machinery inspections
Auto mechanic check
2018-Ongoing, The Government of Berk, Senior Technicians
Duties:
Located and removing parts
Training staff
Maintaining the checking schedule
Making deals and appointments
Hard Skills
Vehicle Inspection
System Repairs
Part Managing Technique
Equipment and Spare part installation
Part Replacement
Engine Rebuilding
Procedural Maintenance
Calibration and Checkups
Soft Skills
Time-Management
Team Working
Communication
Multi-Tasking
Problem-Solving
How to Write a CV for a Mechanic Job?
To write a good mechanic resume, just follow these steps. These are the steps you should take to make sure the resume is going to be absolutely well-written. There will be plenty of people that get impressed by your resume for sure:
First, you need to download the correct mechanic resume templates or example, depending on what you need.
Open the resume template on the correct program, such as in Microsoft Word
Edit the resume and make sure you have prepared your data beforehand.
Add in your contact information
Add in your history of education
List of working experienced completed by the duties
Complete the resume by listing your skill
Add your signature and you are done.
People Also Ask
What responsibilities do mechanics have?
The responsibilities of a mechanic are basically to fix things up. Yes, when people need a mechanic, they want their broken vehicle to get back to normal, so they can ride it again. All you need to write on the mechanic resume is that the job description of mechanic is to fix the things up.
You can also add a lot of other things in the list. The job is including towing vehicle to the replacement places and to get rid of broken parts or replace the old parts of vehicle to the new parts. Write them all up on the mechanic resume, so your resume will look good and readable.
What should a mechanic put on a resume?
A good resume should put all the skills and detail information on the resume. It is including the information that you need to know about where you get the degree of automotive, as well as your work history. Work history is particularly needed because this is where you get the plus point.
If you have tons of experience, list each and every single one of them in the mechanic resume. This is the only way you can show off your skill and this is where you get the label on experienced mechanic. Thus, you will get the job way more easily.
What are mechanic skills?
For your information, the skills of mechanic that people need to write on their mechanic resume include the ability to check vehicle, replacing its parts, getting issues and bugs fixed, getting the vehicle towed, and everything else. It is all needed to be well-written on the resume.
The Resume for Aircraft Mechanic Template
In fact, the aircraft mechanic is a big job and everyone knows that. You can download the resume now, and make sure you download the correct template, so making one is not going to be so hard for you.
Resume for Auto Mechanic Template
Auto mechanic works with cars. To make sure the mechanic resume is correct, you need an example. This is definitely the example that you have to own.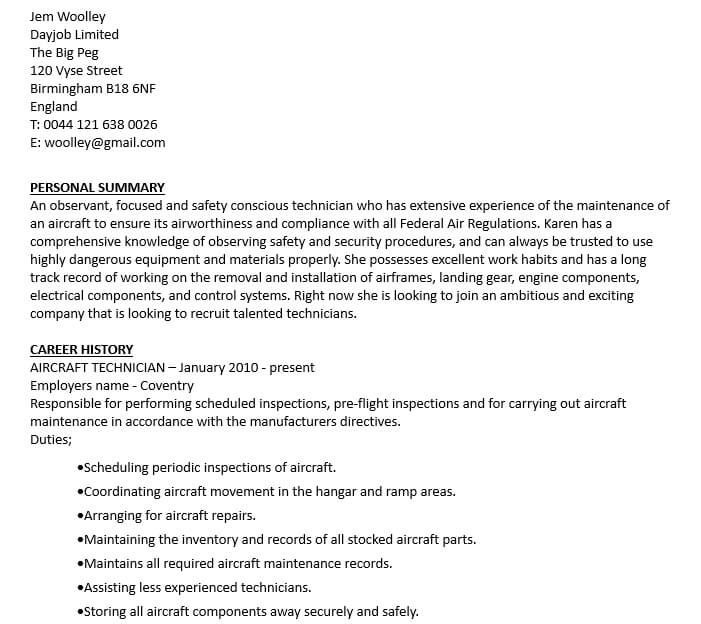 Resume for Auto machine Mechanic Template
This is the resume for automachine. You have to download this one as it is for free and everyone can apply it for a job as automachine technicians.
Resume for Aviation Mechanic Template
Aviation mechanics work in aircraft workshop and places like that. This is a serious job and everyone who needs to apply for a job like this will have to download the mechanic resume, and get the resume done right now.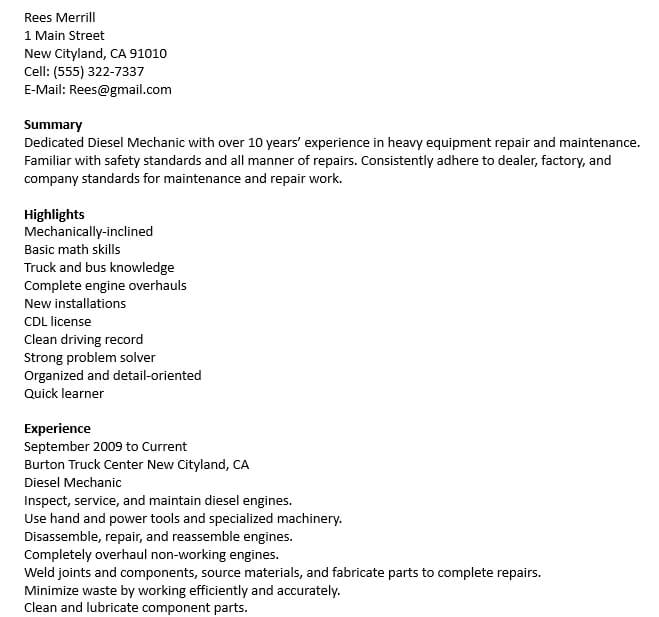 Resume for Diesel Mechanic Template
Are you interested in getting a job as diesel mechanic? If you are, this is the template to download and copy. It has everything you should write to get the job properly at all time.
Basic Mechanic CV Template
As we know, to write a good mechanic resume, you need a good example as well. This is the one for you to download. Do not forget to download this one as it has everything that you need to know and to write on the particular document. This will help you out.