Get the Receptionist Resume Examples and Templates
For those who are looking for receptionist resume example, there will be plenty of them to download. They are all ready to help you making the best resume, so you can get the best job as receptionist officer in any company that you want. These templates are free to download.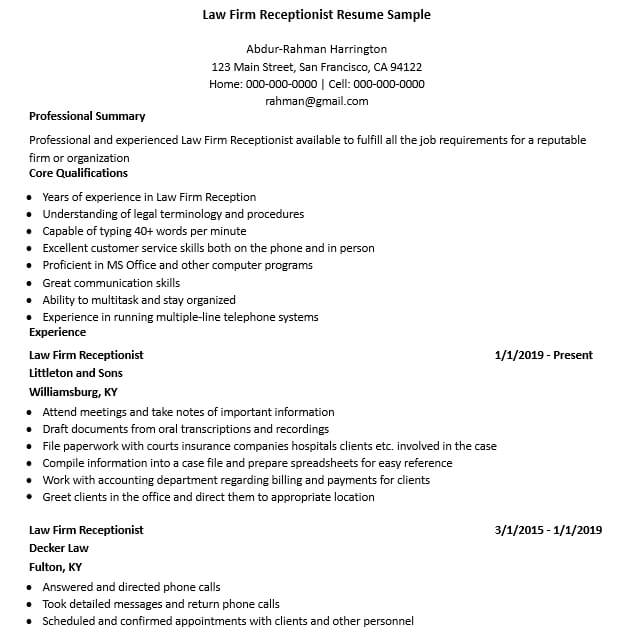 Therefore, there is no need to worry about being charged for anything. It is all for free, and you just have to select which one you like, press the download button and then the template or example will soon be yours. These are the examples that you need. Download them all right now.
Example of Receptionist Resume
RESUME
Name: Tamara Lee Cooper
Email: leecoopertamara@mail.me
Phone: 2715-3817
Address: 36 Sheldon, Plank 3716
At a Glance
Experienced receptionist who has the expertise in working at front office.
Have been working in various hotels and other companies.
Good in communicating and multitasking.
Willing to work in shift and being placed in a team.
Aiming the career in the field of professional receptionist, particularly in hospitality.
History of Education
Graduated 2010, Denver High School, GPA 3.1
Graduated 2014, Kellan Academy of Secretary, GPA 3.5, Bachelor's Degree in Administrative Officer Assistant.
Work History
2014-2017, Farrah Hotel and Spa, Front Office Desk Officer
Duties:
Managing booking and room-keeping
Answering phone call (inquiries and complaints)
Replying emails (inquiries and complaints)
Collecting payment from customers at the front office
Updating hotel's database
Taking order and request from guests
Offering advices and information
2017-2019, Abraham Hotel, Front Office Desk Officer
Duties:
Processing booking process and booking fee
Answering inquiry-related phone call
Taking information and complaints from guests
Making bills and collecting payments
Providing services and information from guests
Offering advices and information
2019-Ongoing, Abraham Hotel, Front Office Supervisor
Duties:
Training and providing information to new receptionist officer
Managing database of the hotel
Providing helpful insight during recruitments
Creating schedule and shift-related information
Trainings
2017, University of California, Becoming a Communicator
2018, University of California, How to Face Challenging Guests
Skills
Microsoft Offices (Word, Excel, PowerPoint, etc.)
Time Management
Communication
Multi-Tasking
Problem-Solving
Attention to Detail
Dependability
Compassion
Patience
Language
English, Advanced
French, Intermediate
Spanish, Advanced
How to write a resume for Front Desk Receptionist?
To write a good receptionist resume, surely you need an example. There will be plenty of examples to see below. Basically, to sum them up, these are the things you need to write on the resume. It also explains the steps to take when using the receptionist resume example.
Download the resume example that you desire
Edit the template on Microsoft Word or other program
Add your contact information on the top section of the resume
Add your history of education
Add your working career history
Add your skills and training
Add your language skills
Recheck the resume before printing or sending
People Also Ask
What should I put on my resume for receptionist?
When you use receptionist resume example and try to make it yours, surely you will notice the most examples contain the same content. They are all highlighting the job experience as well as the skills. For those who need to apply the job as receptionist, they surely have lots and lots of skills.
In addition, the skills are including communication. A good receptionist will have to be able to communicate well both in written communication and in verbal communication. Receptionist will also have to own the skill of patience and multi-tasking as it will all be needed throughout the career.
How do I write a resume for a receptionist with no experience?
When you have no experience yet, the best thing you can do to make sure the resume still looks good is to include all the experience you get from internship and volunteering program. All you have to do is adding them in the resume, and use the receptionist resume example as reference.
How do you describe a front desk job on a resume?
The job of a receptionist is quite a lot. There will be tons of jobs that you have to do. In most receptionist resume example, you will see the job is including answering phone and emails, getting the request from customers and many more.
Resume Template for Dentist Receptionist
Dentist offices also have a receptionist to make the notes of every appointment and many more. Use the template to make a good dentist receptionist resume.
The Resume of Hotel Receptionist Template
Do you work in a hotel? Well, surely you need to write a good customer service or receptionist resume. Just use this one as your guideline.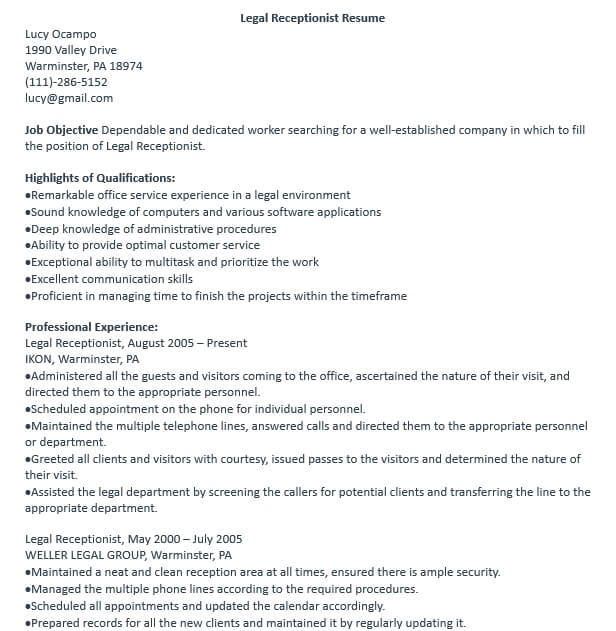 Resume Template for Law Firm Receptionist
Law firm surely has receptionist, and this is the receptionist resume example that you can download. Use it as reference when writing your own resume.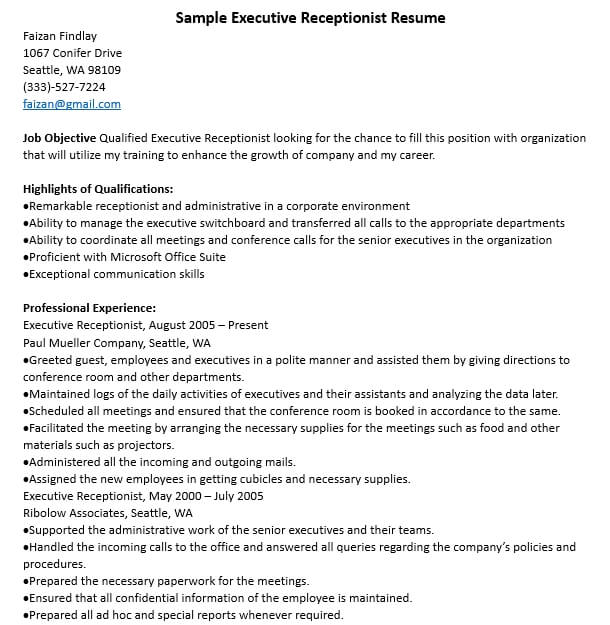 Resume of Legal Receptionist Template
Legal offices do have receptionist as well. To make a good resume, this is the example that you are surely needed.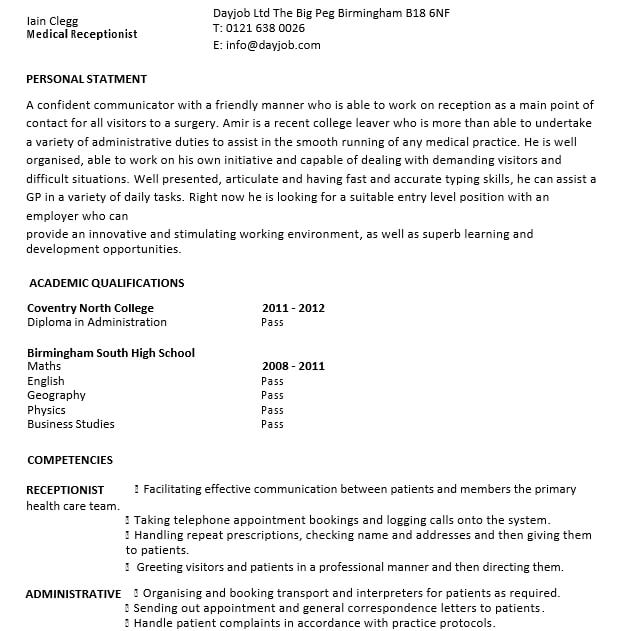 The Resume Template for Medical Receptionist
This is the front office desk officer who works in hospitals and clinics. For you who need the receptionist resume example, this is the one to download eventually.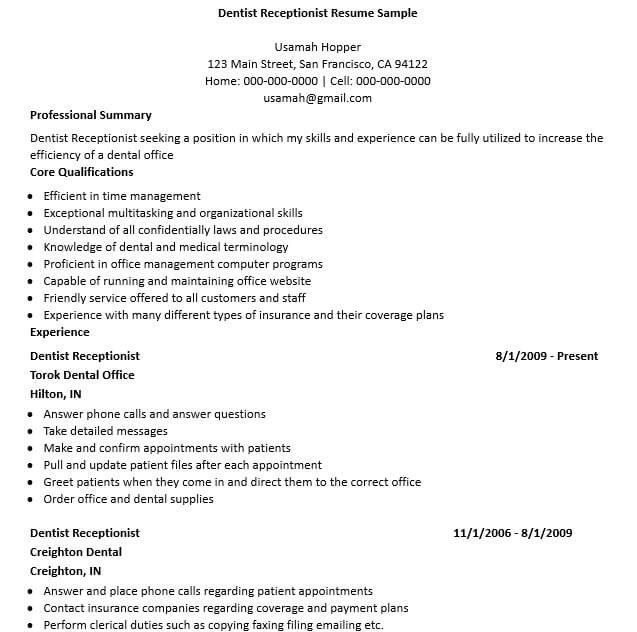 Resume of Office Receptionist Template
When you want to work in an office, this is the receptionist resume example you need to make. Make the resume readable to impress everyone in that company.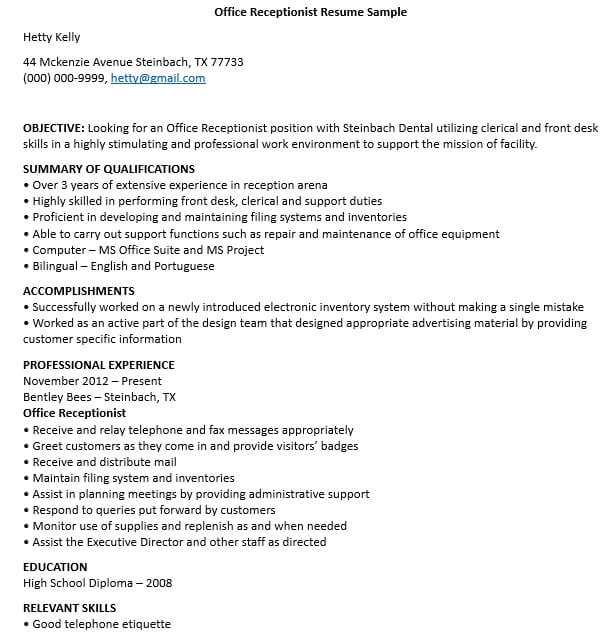 Resume of Receptionist Template
The basic resume like this is needed to help people writing a good resume without any fuss.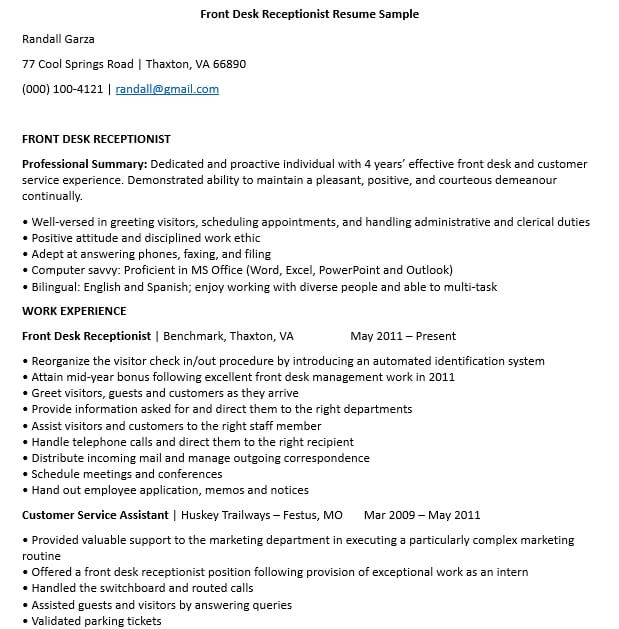 Resume Template for Salon Receptionist
In every salon, there will be front office desk, and this is the receptionist resume example for this position. You can download it now, and write yours.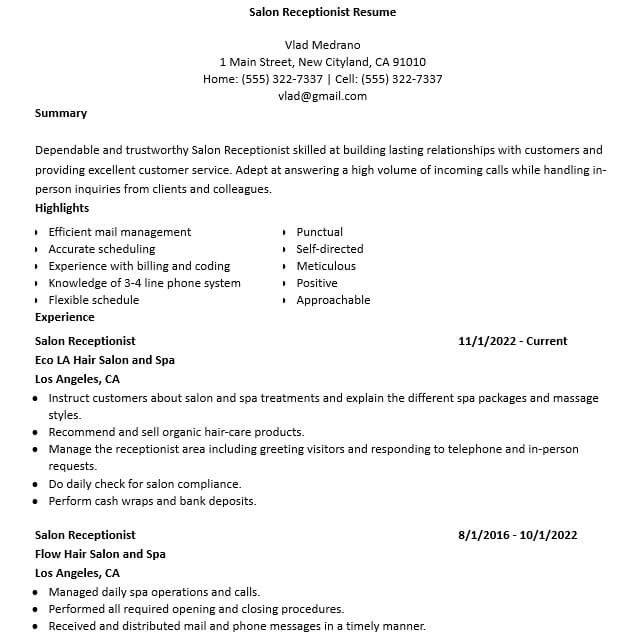 Resume Template for Vet Receptionist
For those looking for receptionist resume example for vet office, this is the resume to download. It is free, and it should be able to get downloaded now.