Medical Assistant Resume Template in PDF, Word and More
Using medical assistant resume template is definitely helpful when you need to pen down a good resume but you cannot really do that on your own. There are many templates available all across the internet and there will be several of them here. They can all be downloaded for free.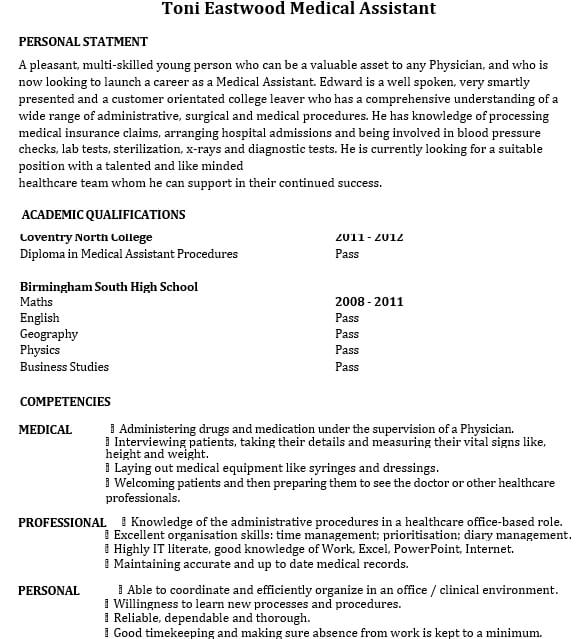 With the help of the template, making resume for applying job as medical assistant will be quite easy. There will be no obstacles at all, and you just have to download the template, edit them accordingly and then send the resume to the employer or to the hospital where you need to apply.
Example of Medical Assistant Resume Template
Fanny Button
Email: ladyfannybutton@mail.com
Phone: 2716-8278
Address: 25 George House, Jacksonville, JA, 291
Career Objective
Becoming a professional medical assistant and being able to use my medical assistant skill to help other people. The career goal is to deliver the best care and the most efficient help for those working in the healthcare industry. I am good with people skill and willing to work in a team
Education
Laurence High School, GPA 3.6, Graduated 2014
Edward Lincoln University, Bachelor's Degree of Medical Assistant, Graduated 2018
Certification
Certified in First Aid Handling, American Hospital Association
Certified in CPR Handling, American Hospital Association
Experience
2018-2019, James Health Clinic, Jacksonville
Position: Medical Assistant
Checking patient's vital signs
Recording patient's progress and updates
Keeping patient's medical record and make reports
Organizing patient's samples and specimens
2019-Ongoing, Jacksonville Public Hospital
Position: Supervisor for Medical Assistant
Organizing other medical assistants
Supervising schedule for assistant and interns
Helping with patient's vital sign
Recording and keeping records on the patient's progress
Clinical Skill
Understanding medical terminology
Understanding how to check vital signs
Understanding patient's examination
Understanding minor surgery support
Understanding phlebotomy
Understanding injection administration
Understanding specimen collection
Administrative Skill
Capable in producing medical billing
Capable in performing coding
Capable in keeping patient record
Capable in making scheduled appointment
Capable in using Microsoft Word, Excel, and Outlook
How Do I Write A Resume For A Medical Assistant?
To write a good resume, this is what you need to do:
Download the right medical assistant resume template
Edit the template on Word (if the format is doc) and add details on the resume
Do not forget to add your work history, education history and skill
Finish the resume and save the document
Send the document to the job application company
People Also Ask
What is a good summary for a medical assistant resume?
Medical assistant is still a job to take care of people. It goes beyond the payment. This is why when you need to write your summary, especially on the objective, make sure the objective is not to gain well-paid job. The job is indeed well-paid in many areas, but this should not be your goal.
You need to state that you want the job because you love to help other people taking care of their health and assisting doctors and nurses in doing their jobs. It should be so much better objective rather than the materialistic side of the story.
How do I write a resume for a medical assistant with no experience?
It is common for people who are just studying at university or just graduating not to have any experience. However, in medical assistant resume template, you can find the part where you should be able to write your internship experience (or externship if any).
The internship is good enough and sometimes considered as unpaid work. The point of writing the work history is to see how much experience you have. Considering that internship is just as good as working, your resume is going to be full of experience.
What are some medical assistant skills?
There are two types of skills which mostly found in the medical assistant resume template. The first one is clinical skill, and the second one is administrative skill. Clinical skills are including recording patients vital and doing injection. Meanwhile, administrative skills include keeping medical record and using Ms. Excel.
Resume Template for Certified Medical Assistant
This is a medical assistant resume template that you can use when you have your own certification or at least you are certified as medical assistant. Highlight the certification using this particular template, so you should be able to write on your resume with ease.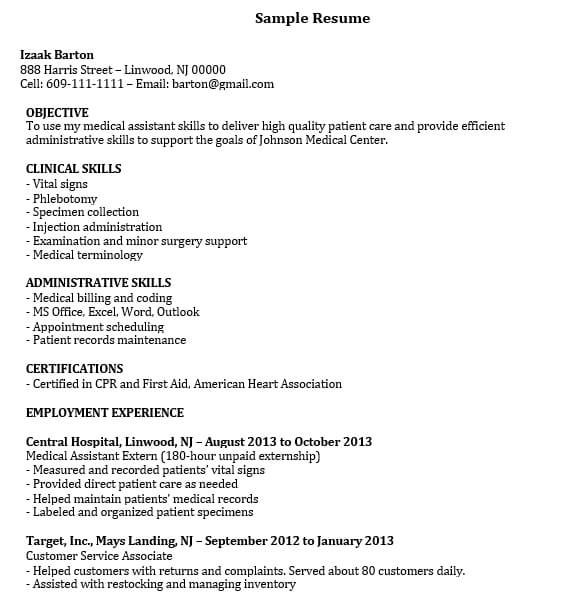 Example of Resume for Medical Assistant with Objective
Of course any medical assistant resume template should have objective. This one is no exception. You should be able to write your career objective or goal in the resume, and show the employer or anyone reading the resume how passionate you are to work in the healthcare industry.
Free Medical Assistant Doc Resume Template
The most common format for any document is .doc. It means you can open the document in Microsoft Word. Microsoft Word can be found in all types of PC and laptop, and everyone seems capable in using one. This medical assistant resume template is using .doc format, and it is downloadable.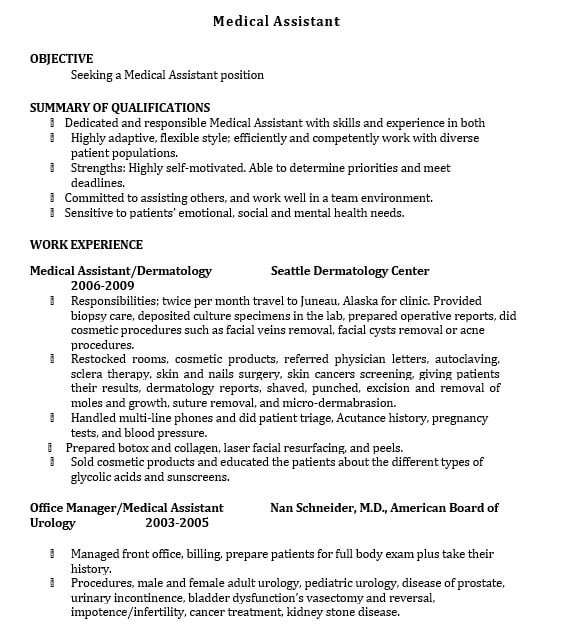 Entry Level Medical Assistant PDF Resume
If you need other format rather than doc, though, you can try PDF. This medical assistant resume template is in PDF format, and it is very easy to edit as well. The template is aimed for those who are just at the very beginning of their medical assistant career.
Example for Resume for Medical Assistant with Externship
Externship is sometimes very popular for those who study or learn skills like medical assistant. Instead of internship, externship is done way beyond their organization or university to gain as much experience as possible. This is the medical assistant resume template for that.
Resume Template in PDF Format for Administrative Medical Assistant
Most job applications are done by email now. To send email and attach your resume there, it is better for the resume to be in PDF format. This is the template you are looking for as it is using PDF format. The medical assistant resume template is very easy to use, and it is downloadable for free.