Sample Medical Assistant Resumes Templates and Details
Finding sample medical assistant resumes is important when you should make the resume, but you have never done that before. The templates or examples are very useful to show you what the resume should look like. Therefore, if you need some templates, there will be plenty to find below.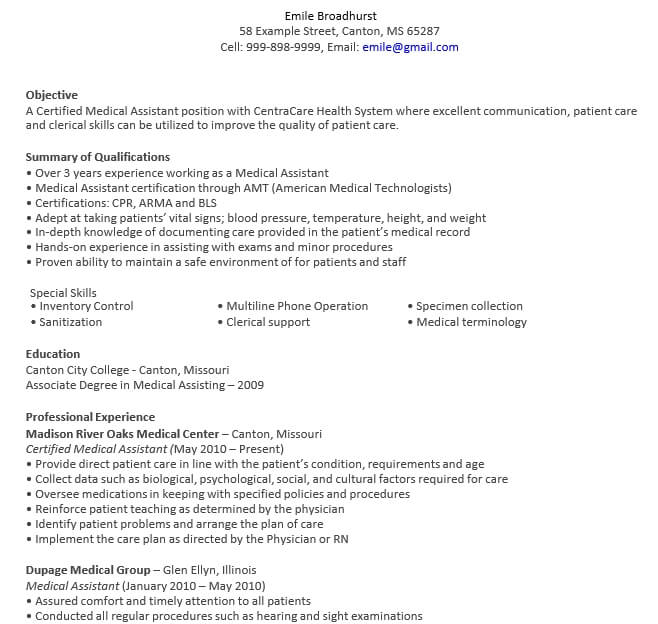 You can download them for free. Then, the templates can be saved in your PC, and just get them out or edit the contents when needed. You do not to get confused when it comes to make a resume for medical assistant. These are the templates and examples for you.
The Sample of Medical Assistant Resumes
Jackson Ruth
Email: jacksonruth@mail.me
Phone: 28692-1926
Address: Smith 35 St, Glenn, HH, 3625
At a Glance
Professional and certified medical assistant with more than three years of experience.
Having been working in medical practices, hospitals and healthcare services.
Understanding the skills of patient care and willing to work hard.
Familiar with shifting schedule and willing to work in teams.
Education History
Thomas High School, Graduated 2013, GPA 3.4
Valerie Medical School, Graduated 2017, GPA 3.5, Certified Medical Assistant (CMA)
Working Experience
2017-2018, Hudson Hospital, Certified Medical Assistant
Duties:
Providing assistance to general physicians and registered nurses at the hospital
Handling administrative duties
Scheduling appointments
Recording patient's billing and bookkeeping
Taking patient medical histories
Improving patient's quality assurance
2018-Ongoing, Kellan Clinic, Certified Medical Assistant
Duties:
Collecting patient's blood sample
Performing injections
Helping various diagnostic procedures
Performing patient care
Performing patient sanitation
Hard Skill
Medical Office Management
Medical Billing
Medical Data Entry
Blood Drawing
Basic Injections
Medical Bookkeeping
Patient Vital Check
Soft Skill
Time Management
Communication
Patience
Team Working
Empathy
Compassion
Certifications
Certified Medical Assistant, 2017, Valerie Medical School
Certification in First Aid, 2017, Valerie Medical School
Certification in Advanced CPR, 2017 Valerie Medical School
Language Skill
English, Advanced
German, Advanced
Italian, Intermediate
What should be on a medical assistant resume?
A medical assistant resume should look like a professional one. This is why you have to find the right sample medical assistant resumes. After that, there will be several things you have to write on. These are the list, so you know exactly what to write:
The contact information of yours including email, address, phone and social media information (if any)
The history of education, including the university level/ where you get the CMA degree.
The history of professional work. Write the duties in details.
The skills you have as a CMA. Hard skills and Soft Skills.
The language skills
People Also Ask
What is a good resume objective for medical assistant?
If you want to write an objective on the resume or when the sample medical assistant resumes that you download has space for objective, the objective you should write is the one related to working and helping people. After all, working as a CMA is going to get you helping patients all the time.
Write the goal as wishing to work in a large-scale healthcare clinic or hospital, so you can help more people in the need of medical assistant. If you want to do volunteering work or internship, inform this on the objective field then state it as clearly as possible.
How do you list medical assistant skills on a resume?
The skills should be grouped into two types. The first one is the hard skill, and the second one is the soft skill. Everyone knows the hard skill is the technical one, while soft skill is the personal one. Say for example, the hard skill includes phlebotomy or blood drawing, medical assistant and more.
Things like medical administrative and bookkeeping are also hard skills. As for soft skills, they include the empathy, compassion, communication, and many more. Moreover, patience is also needed as soft skill along with the team working and time management.
How do I write a resume for a medical assistant with no experience?
When you have no experience whatsoever and you want to write a good resume with the help of sample medical assistant resumes, you can include all the experience you have during internship and volunteering works. It will be counted as the same.
Medical Administrative Assistant Resume Template
CMA is a serious job and applying for one needs a good resume. This is the sample of a CMA resume you can download for free.
Certified Medical Assistant Resume Template
Download the sample of CMA resume, so when you need one, all you have to do is only editing this template.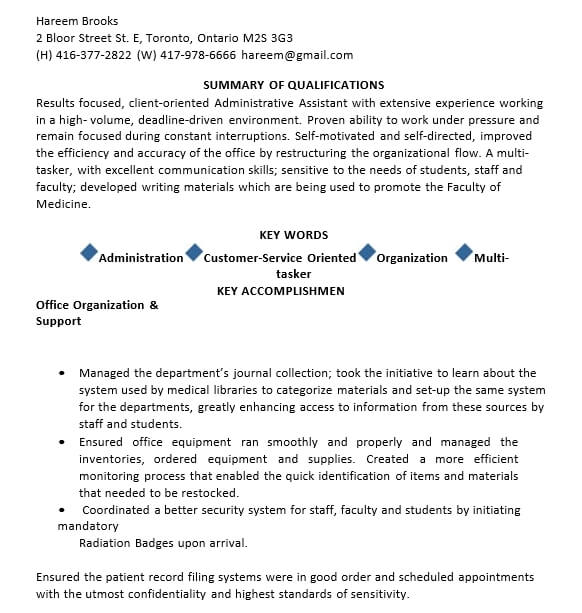 Medical Dermatology Assistant Resume Template
Are you a dermatologist assistant? If so, you need to download sample medical assistant resumes as this can help you writing a good resume in your position.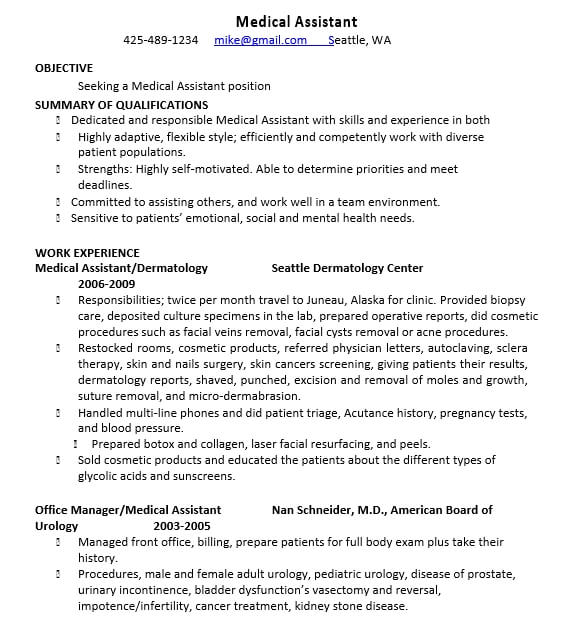 Free Medical Assistant Resume Template
Downloading sample medical assistant resumes should always be free. There is no need to pay for anything when the document is available out there for free.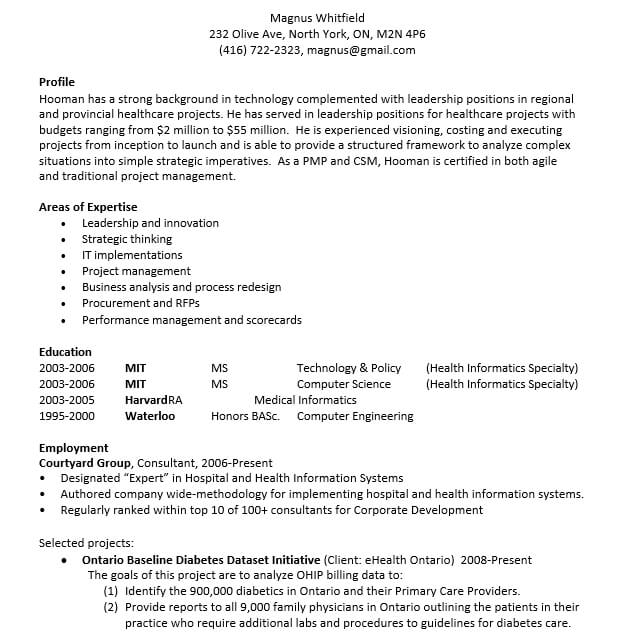 Example of Resume for Hospital Medical Assistant
CMA works in hospitals, and this is the template they use for the resume. Get one now and never worry about making the resume again.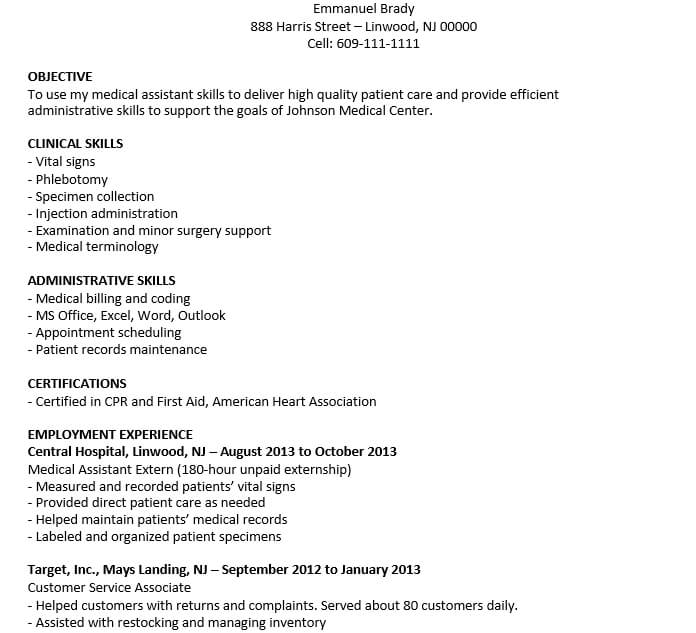 Medical Office Assistant Template Resume
Get the sample medical assistant resumes now, and edit it when you have to make the resume for a CMA. It will help you, and you won't find it hard to make the resume anymore.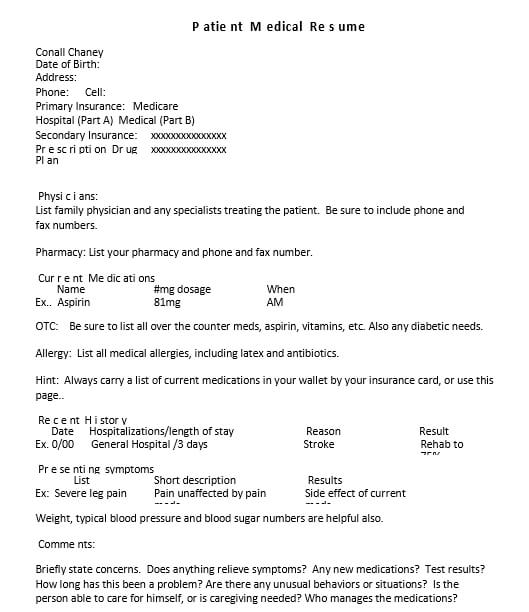 Physician Medical Assistant Template Resume
This is the sample medical assistant resumes for physician or those CMAs working under the physician's order. Download the template absolutely for free.
Sample Medical Assistant Resume Template
Of course, sample medical assistant resumes are needed. You should always have one in your PC, so making resume will not be something difficult anymore.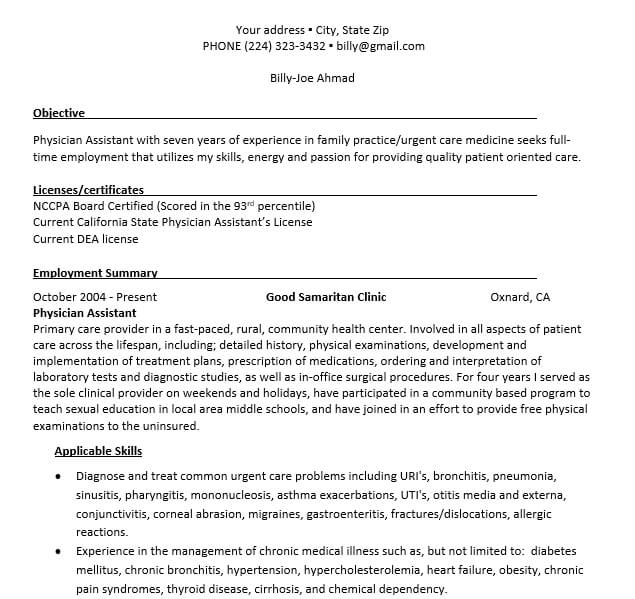 Example of Resume for Support Medical Assistant
This is the sample medical assistant resumes that you can use to make a resume for a supporting medical assistant. Use the template for free, and just edit it as you like.