Free Elementary Teacher Resume Templates and Examples
When you need elementary teacher resume, you cannot just make it on your own, especially when you have never done that before. You will need the help of a template. The template is always needed when you want to write a decent resume with no flaws in it.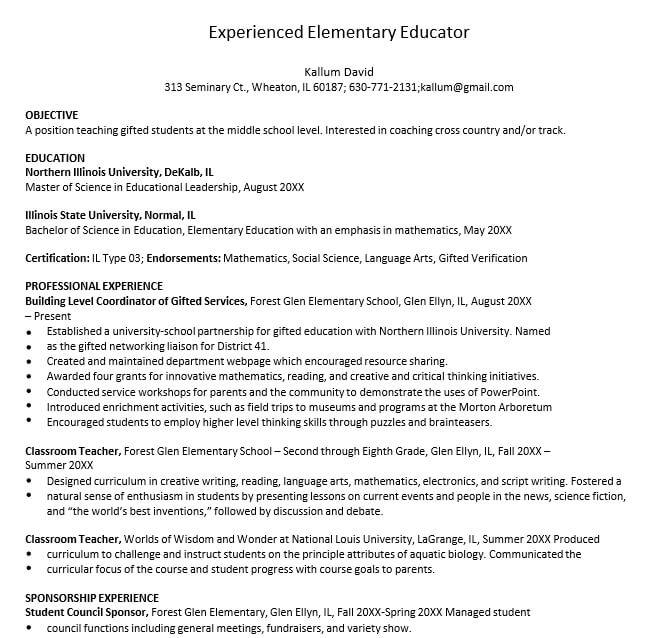 Therefore, to help you out, make sure you download all these templates below. They are all for free and can be downloaded at all time. There is no need to provide credit card information or filling anything up. It is all just one click away then the elementary teacher resume is all yours. Check it out now.
Example of Elementary Teacher Resume
Name: Joanna Smith
Email: joansmithR@mail.me
Phone: 2715-18351
Address: 36 Rather St, Bones, 62 SG
At a Glance
Having been working as elementary school teacher for three years.
Graduating with honor from university with the degree of elementary education.
Willing to work in class with 20-30 children in it. Good in handling students and providing core education for them.
Having experience as home class teacher.
Working Experience
2017-2018, Julien Elementary School, First Year Teacher
Duties:
Providing core education in several essential subjects
Teaching kids to behave and work harmoniously in class
Preparing their learning stations
Communicating with their parents and guardians
2018-Ongoing, Smith Elementary School, Senior Teaching Team
Duties:
Making schedule for each classes
Preparing teaching materials
Providing home team materials for other teachers
Processing kid's communication books for the parents
History of Education
Brenda High School, Graduated 2013, GPA 3.4
Fawn College of Elementary Education, Graduated 2017, GPA 3.3, Bachelors of Elementary Education
Skills
Hard Skill:
Elementary Educations
Elementary Biology, Science, and Physic
Elementary Social Education
Early Learning Technique and Education
Elementary School Basic Materials
Soft Skill
Communication
Patience
Team Working
Time Management
Stamina
Compassions
Languages
English, Advanced
Spanish, Advanced
Italian, Basic
Certifications
Trained Elementary School Educator, University of Warwick, 2017
Trained Elementary School Teacher, University of Utah, 2018
How to Make Elementary Teacher Resume?
People would like to put the important information in their resume, including the elementary school educators. These are some of the things you will certainly find in the elementary teacher resume. Keep an eye on them, and write these things as well when you need to create your own resume:
The contact information, so employer can contact you with ease
Your objective or the information at a glance. Write this in a narrative but shortly only.
The history of education, including where you get the licensing for teaching
The history of professional work experience. Write the duties in details only.
The skills and languages you speak.
People Also Ask
What skills should a teacher list on a resume?
Elementary school teachers will have to work with a lot of small students. Therefore, their skill will be more on the soft skill side. They will have to have patience and communication skills, so they can speak with the children easily. They will also have to write time management on their elementary teacher resume.
Besides, the technical skills or the hard skill should be there as well. They include the skill to provide basic education for the elementary school students. The main courses like science and social studies should be included on the resume.
How do you describe teaching on a resume?
In elementary teacher resume, you should describe your experience while teaching or all these years while being a teacher. Also, state how many years you have been working as teachers and where you are working. It will add more professionalism in the resume.
Download the correct elementary teacher resume example, so you can see what the proper resume looks like, and you can copy it. It is a very simple thing to do. Moreover, the example and template are available everywhere.
How do you make a resume for a first year teacher?
You can see when you have no experience whatsoever, you should always write and include your early internship and volunteering teaching work as well. They will get your resume look full and convincing rather than writing nothing in there.
Basic Elementary School Teacher Resume Example
This is the basic elementary teacher resume that you can download. The template has the proper structure and content. Therefore, all you have to do is just filling the spaces with your personal information then print and send the CV out. It is very easy to download, too.
Example for Elementary School Teacher Resume
For those who need to write about the resume, get some template now, and this is one of them. It is free and very available to get downloaded all the time.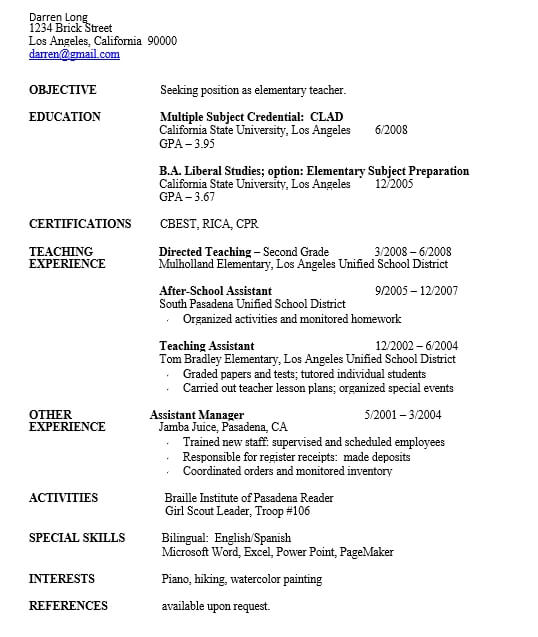 Experienced Elementary School Teacher Resume Example
This is the resume for experienced teachers. If you have been working in the teaching industry for years, making elementary teacher resume is not going to be hard. However, the samples are still needed, so you know that you do not make any mistakes in that resume.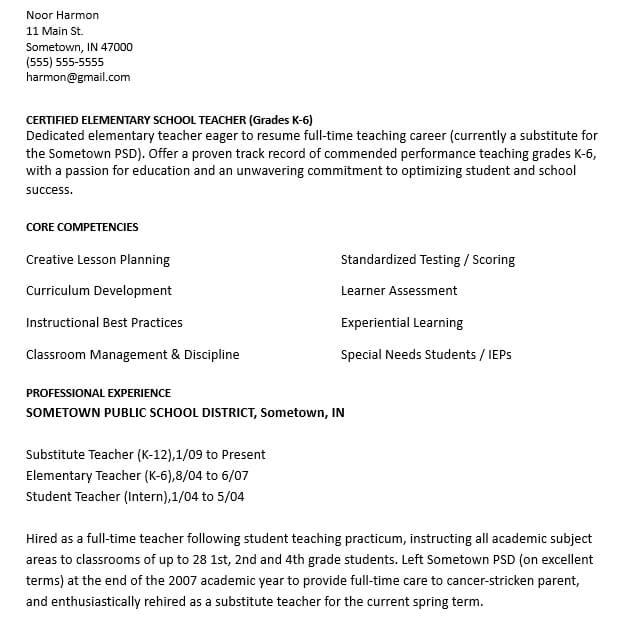 First Year Elementary School Teacher Resume Example
It is your first year of teaching? Well, just get this template and feel free to write the resume absolutely with ease.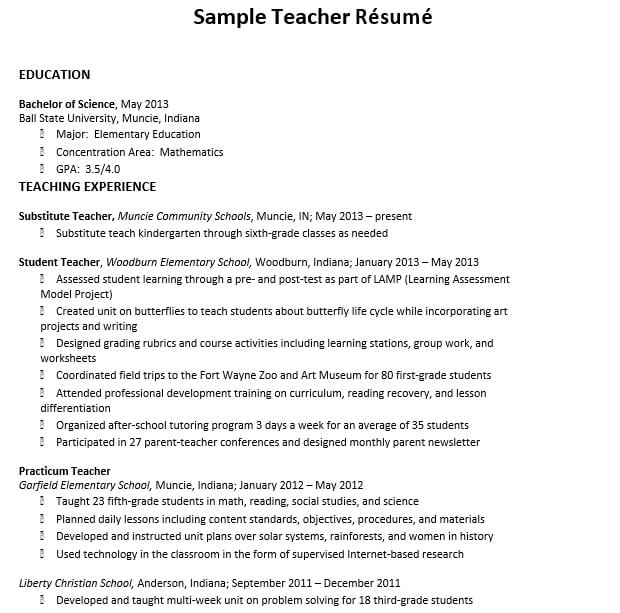 Free Example of Elementary School Teacher Resume
Download elementary teacher resume for free since you do not need to pay anything for the resume. It is all for free, and using it will get you a lot of helps as you will be able to write a good sentence and narrative in your CV.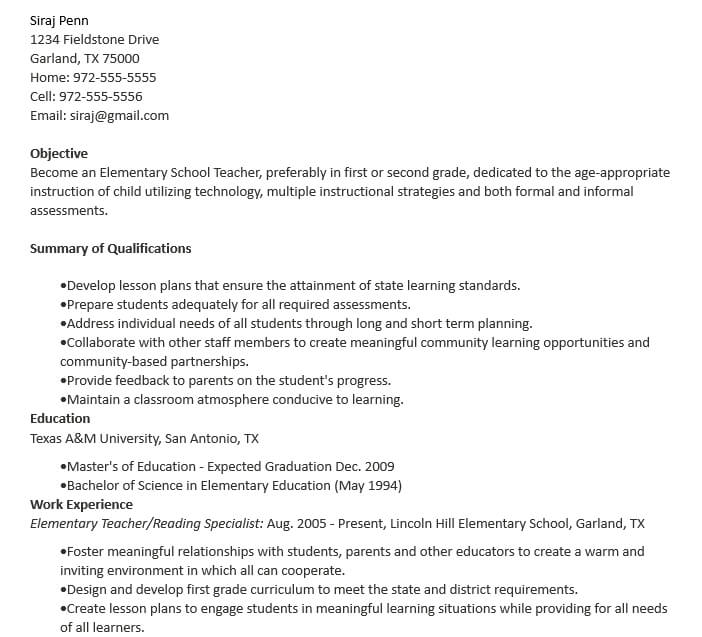 Sample and Template of Elementary School Teacher Resume
This is the resume for those who need the sample and template first. It is free and downloadable for sure.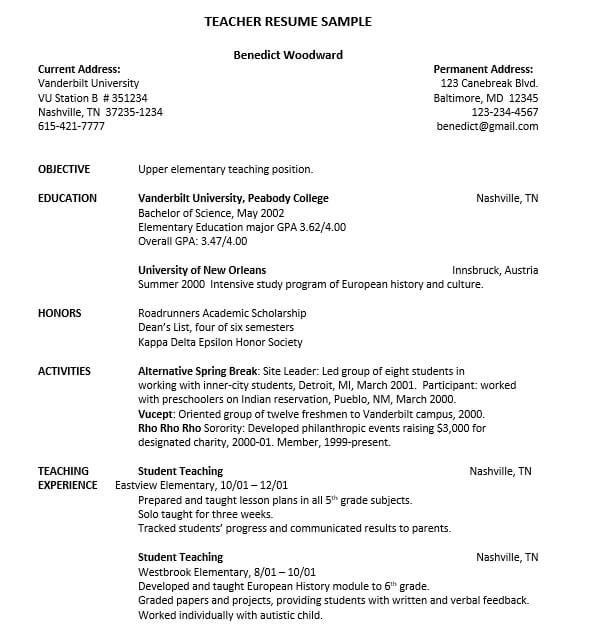 Upper Class Elementary School Teacher Resume Example
This is the elementary school resume for upper class teacher. In addition, it is for 4-6 grade teachers.
Veteran Elementary School Teacher Resume Example
Last but not least, this is the elementary teacher resume for veterans, which means the teachers have tons of experiences already. This is the resume template to download as it helps you to write the entire document for free and quickly.