A nurse recommendation letter is written by a supervising nurse, patients, or even hospital administration who is working with him or her. This type of letter is usually required if a nurse is seeking a promotion or going to work in another department.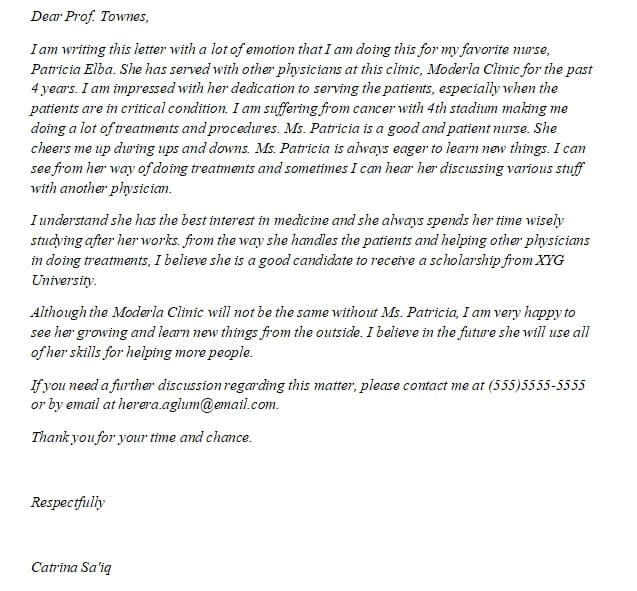 Can A Nurse Recommendation Letter be From Anyone?
There are no exact requirements from whom you will get a recommendation letter. The problem is how effective the letter to be your reference regarding your new position or promotion. This is why it is always important to ask someone who knows well your personality, skills, and capability.
Typically, the person who is suggested to write a recommendation letter for a nurse is an academic adviser, professor, or faculty member.
What Can I Send To Someone For Writing A Letter Of Recommendation?
First of all, it is important to provide necessary information such as your best interest and goals. You have to let them know your value and personal strengths. Besides, make sure the person who is going to write a recommendation letter is someone who knows the memorable anecdotes.
Who Are People Not To Ask For A Recommendation Letter?
Generally, there is no rule on who is allowed and not allowed to write you a recommendation letter. If someone doesn't feel qualified to write you a recommendation letter, then they are allowed to decline the request. You need to find someone who has a better chance to help you.
How Does A Nurse Recommendation Letter Look Like?
Below is a sample of the nurse recommendation letter that you might want to know. Note that this is not a real recommendation letter used by someone. All of the components here are fiction.
Dear Prof. Townes,
I am writing this letter with a lot of emotion that I am doing this for my favorite nurse, Patricia Elba. She has served with other physicians at this clinic, Moderla Clinic for the past 4 years. I am impressed with her dedication to serving the patients, especially when the patients are in critical condition. I am suffering from cancer with 4th stadium making me doing a lot of treatments and procedures. Ms. Patricia is a good and patient nurse. She cheers me up during ups and downs. Ms. Patricia is always eager to learn new things. I can see from her way of doing treatments and sometimes I can hear her discussing various stuff with another physician.
I understand she has the best interest in medicine and she always spends her time wisely studying after her works. from the way she handles the patients and helping other physicians in doing treatments, I believe she is a good candidate to receive a scholarship from XYG University.
Although the Moderla Clinic will not be the same without Ms. Patricia, I am very happy to see her growing and learn new things from the outside. I believe in the future she will use all of her skills for helping more people.
If you need a further discussion regarding this matter, please contact me at (555)5555-5555 or by email at herera.aglum@email.com.
Thank you for your time and chance.
Respectfully
Catrina Sa'iq
To sum up, someone who can write you a nurse recommendation letter doesn't always come from your office. You can simply ask it from your favorite patients. If they are close to you and know you well, they will gladly do it.