An elementary teacher recommendation letter can be used for promoting a student teacher who has graduated from the university. This letter is typically required if the graduated students want to continue their career as a teacher. Besides, this recommendation letter also can be written after the student-teacher has passed the teaching program.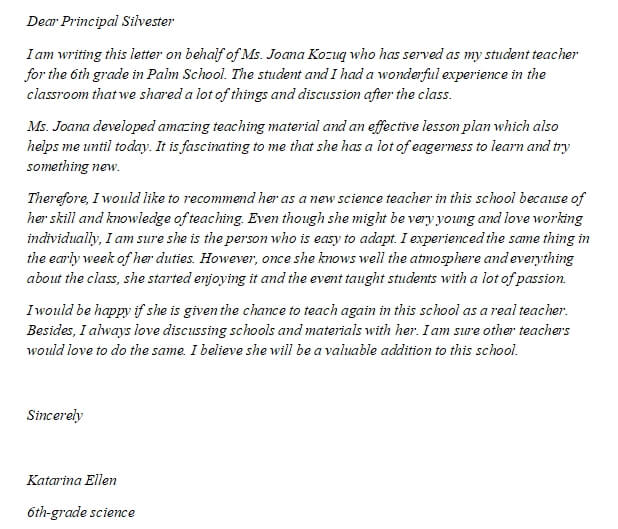 Can I Write A Fake Letter Of Recommendation?
In short, no! You are not allowed to write a fake letter of recommendation. when someone is asked to include the letter of recommendation, the contact person should be written in the letter. It must consist of full names, email addresses, work addresses, and phone numbers. The organization will likely do a fact-check before processing someone to know whether the person is truly capable or not.
Can My Friend Write A Recommendation Letter?
Many people ask for a recommendation letter from acquaintances and personal friends. Those people are allowed to write a recommendation letter. If someone/your friends are asking you to write a letter of reference, make sure you write it professionally. State and outline the work ethic, attitude, and positive character traits. Try to make the letter of recommendation as to effective as possible.
Can A University or College Notice That  Someone Is Lying?
Unfortunately, colleges and universities can easily notice the inconsistencies in your applications. They have some ways that tell your profile doesn't match with your counselor or teachers. They will not hesitate to do fact-checking by contacting the person who has written the letter of recommendation to verify the information. They do it to know if you are lying.
Elementary Teacher Recommendation Letter Sample
Below is a sample of the teacher recommendation letter in case you are asked to write it for someone. Generally, the reference letter must state the strengths and weaknesses of someones professionally.
Dear Principal Silvester
I am writing this letter on behalf of Ms. Joana Kozuq who has served as my student teacher for the 6th grade in Palm School. The student and I had a wonderful experience in the classroom that we shared a lot of things and discussion after the class.
Ms. Joana developed amazing teaching material and an effective lesson plan which also helps me until today. It is fascinating to me that she has a lot of eagerness to learn and try something new.
Therefore, I would like to recommend her as a new science teacher in this school because of her skill and knowledge of teaching. Even though she might be very young and love working individually, I am sure she is the person who is easy to adapt. I experienced the same thing in the early week of her duties. However, once she knows well the atmosphere and everything about the class, she started enjoying it and the event taught students with a lot of passion.
I would be happy if she is given the chance to teach again in this school as a real teacher. Besides, I always love discussing schools and materials with her. I am sure other teachers would love to do the same. I believe she will be a valuable addition to this school.
Sincerely
Katarina Ellen
6th-grade science
Department Chair
Palm School
That is all our quick tips and a sample of elementary teacher recommendation letter. It is always good to promote someone who has the best ability. We hope this helps you.