The Nursing Assistant Resume and Free Templates
Writing nursing assistant resume is not going to be easy all the way when you do that without templates. Ready-made templates are certainly needed as these contain the right and proper look of the resume. Find a lot of templates and resume below, so you can write the resume of yours easily.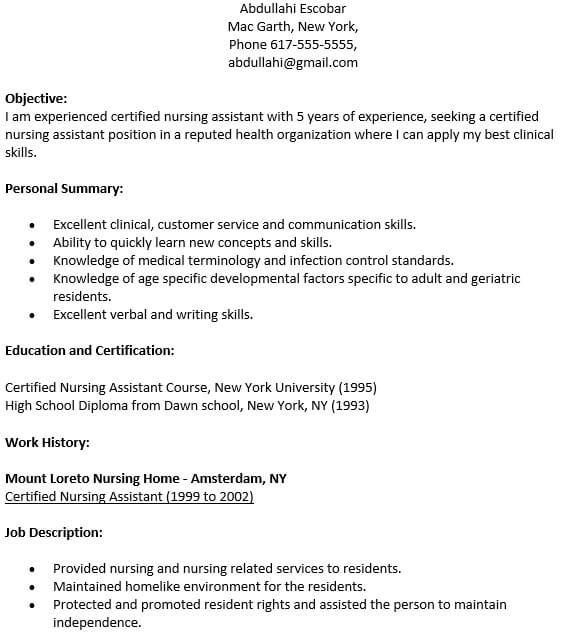 There will be the examples as well to show you how easy it is to write a good resume when you know the right structure. Make sure you know exactly how to write it because applying job for nursing assistant is not a joke, and you should never take it for granted.
Example of Nursing Assistant Resume
Rachel Williams
Email: rachelmarywilliams@mail.me
Phone: 2716-3171
Address: 56 Jackson St, Atkinson, GH, 107
At a Glance
Professional nursing assistant with years of experience.
Good in providing patient-care and making sure the patient's safety is on good hand.
Gained good experience throughout the years and advanced in reciting medical terminology as well as checking vital sign and medication.
Willing to work in shift.
Education
Montana High School, Graduated 2012, GPA 3.4
University of Atkinson, Graduated 2016, GPA 3.5, Bachelor Degree in Nursing Assistance
Working Experience
2016-2018, Yule Hospital, Nursing Assistant
Duties:
Providing patient care and providing rehabilitation.
Providing home-healthcare if needed
Setting nursing-home features and benefits for patients
Checking vitals, changing diapers and clothing
Making sure the patient's well-beings are taken care of.
2018-Ongoing, Hospital of Atkinson, Certified Nursing Assistant
Duties:
Making reports, checking vitals and providing clinical skills for the patients
Providing meals and entertainment for patients along with the junior nurses
Complied with the high standard of hospital and clinic
Recording patient's progress and report them to the family.
Nursing Skills
Hard Skill:
Patient Care Management
Patient Safety Management
Medical Terminology
Medical Records Management
Vital Sign Checking
Monitoring Skill
Medication Skill
Soft Skill:
Patience
Empathy
Time Management
Team Working
Compassion
Good Stamina
Certificate and Trainings
2016, The Health Ministry of Atkinson, Certified Nursing Assistant
Number of Certificate: 28715192 RNA
Language Skills
English, Advanced
Spanish, Advanced
Portuguese, Intermediate
How to Write Resume for Nursing Assistant?
In order to write a good resume for nursing assistant, you should download a nursing assistant resume template. This way, you can just edit the whole thing easily without having to compose the entire thing from blank page. The steps to follow should be found below:
Download the nursing assistant resume and save it in your PC
Edit the document by adding your data and information on the template
The data you should add are including personal contact information, history of education, working history and skill.
Recheck the entire document before printing or sending the resume to the employers.
People Also Ask
What should a nursing assistant put on a resume?
The nursing assistant resume should contain useful information, including the one to highlight the experience in hospital industry. For those who want to apply job as nursing assistant, surely you have previous experiences. These experiences must be highlighted on the resume.
Write the experience chronologically and thus it will be easier for those reading the resume to assume which experience is the newest one. You should also add the skills and other information related to the job and experience. It will make the entire thing so wholesome and readable.
What are nurse assistant skills?
The skills are generally divided into two types in the. The first type is hard skill and the second one is soft skill. Hard skill is the technical ones; they are including patient vital checking, medication, medical terminology knowledge, patient care knowledge, patient care assistant and many more.
The soft skills are more on the personal side and they are including determination, compassion, team working, time management and more. Because working as nursing assistant is going to be dealing with a lot of people, skills like empathy and patience are surely needed as well.
What are the duties and responsibilities of a nursing assistant?
The duties are often written on the nursing assistant resume. They are including working with patients' family to provide home care and daily need for the patient. The duties are also including checking patient's vitals and providing meal, diaper changing, clothing changing and many more.
Basic Resume for Nursing Assistant
This is the basic example for nursing assistant resume. It is all free for you, and there is no need to pay even for a penny. You can just select one that you need then editing it will be way easier.
Resume Example for Certified Nursing Assistant
This is the nursing assistant resume for those who have certification already. You should be able to show off your certificate through this resume. That way, the future employer will have no doubt that you do have experience and good in getting the job done.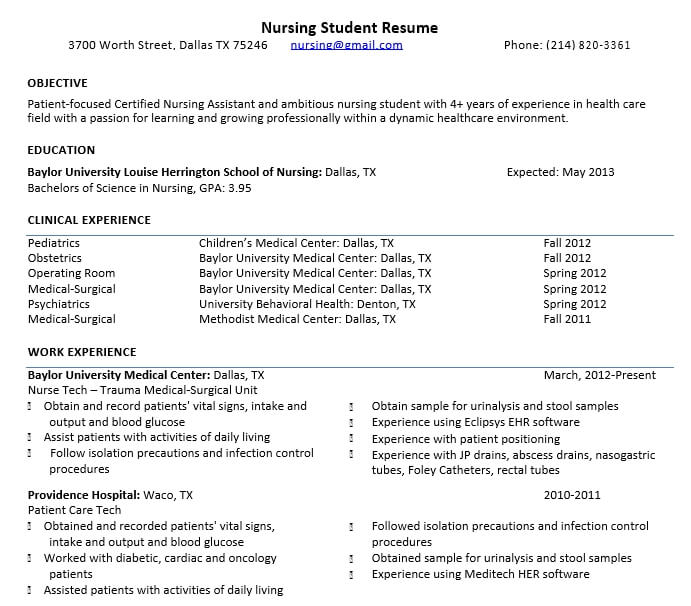 Template of Resume for Entry-Level Nursing Assistant
Entry-level is new, and there is less experience in this one. However, trainings and internships should be able to get listed on the resume. It will show off the resume, and show that you have experience whatsoever, even when the job is not providing money for you back then.
Example for Resume for Nursing Assistant
Using nursing assistant resume is good to help creating resume when needed. There is no need to think too hard when it comes to composing the whole thing. It is all free to download and whenever you need one, you can use the resume at once.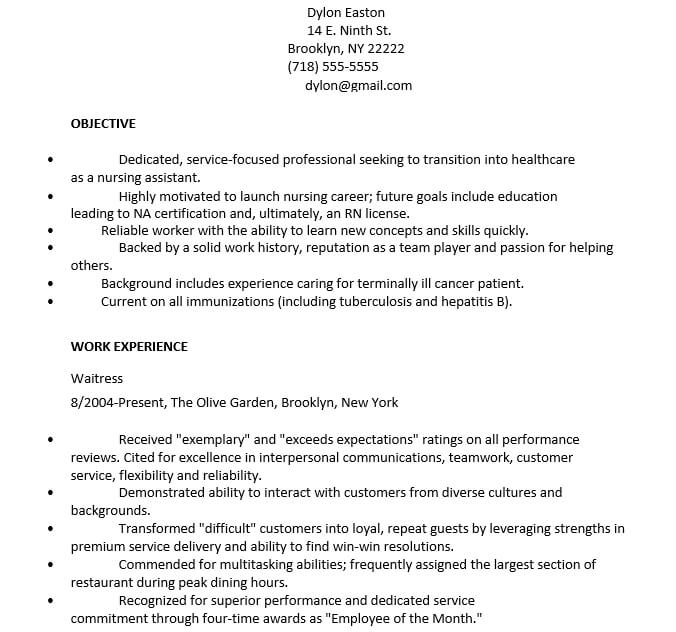 Nursing Assistant for School Resume Templates
For students who are still learning about being a good nurse, you can download the nursing assistant resume and then making your own resume, probably for internship or other programs. Do not worry about paying anything though because the templates are all for free.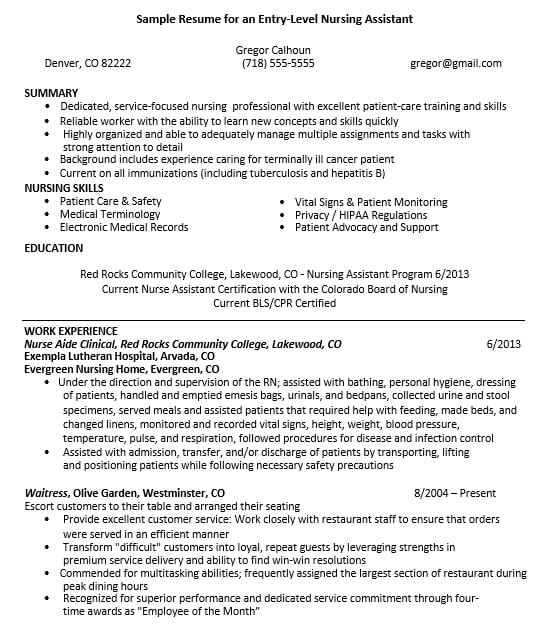 Student of Nursing School Resume Templates
Last but not least, there is nursing assistant resume. Download the resume and thus making resume for any purposes will be easier. There is no way you can create resume in quick and easy way without templates.