How to Make Your Pharmacist Resumes Easily and Quickly
Instead of becoming a drug-dealer that is illegal and tends to be dangerous, becoming pharmacist can be the option if you are wondering how great it is to work with medicines. It's not an easy way to become a pharmacist, as it needs years to complete the study. Once you've got the degree, you can start preparing your pharmacist resumes to begin your career path.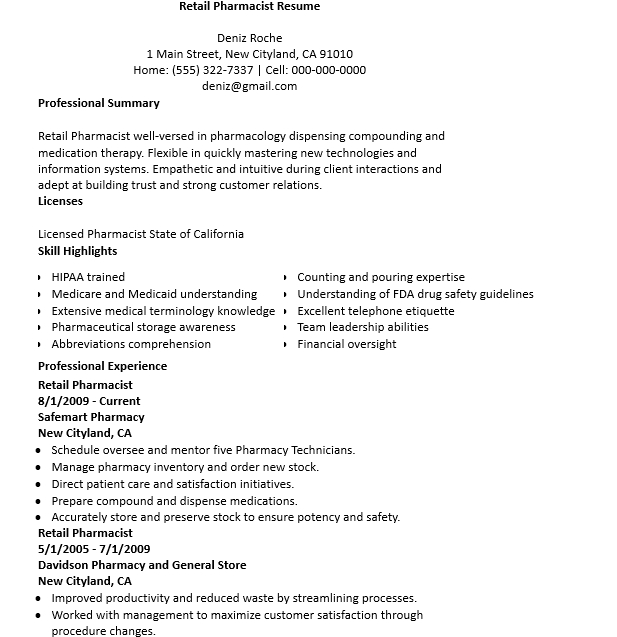 Creating pharmacist resumes does not take a lot of work if you know how to deal with it quickly. One of the tricks that do is by using a template. You may also use a pharmacist sample; that way you can refer to it and getting your resume done in relatively shorter time. Plus, by taking a template or a sample, say no to hire someone on the internet! It's great to have your money for something else.
Sample of Pharmacist Resume
If you are a pharmacist and still looking for a job, preparing several pharmacist resumes is one great thing to do. It's recommended to change your resume anytime you are applying for a workplace. Take a look at this sample below so you can get some insight about how to make one.
 Joanna M. Meredith
Pharmacist
182 6th South Street, Philadelphia, Pennsylvania 38384 | joannameredith@mymail.com | 032-348-596
PROFESSIONAL SUMMARY
A pharmacist with 7+ years of experience and strong knowledge in the field.
Has great physical stamina and willing to work overtime. Adept in effective communication, loyal, and has a cheerful personality.
OBJECTIVE
Currently aim to get a pharmacist job in Philadelphia since I recently moved here. That would be great to meet various people with the same spirit, loyalty, and idealism to help people getting the right medications for their illness.
EDUCATION
Bachelor's degree of Pharmacy, University of California, CA              Graduated in 2013
GPA: 3.6/4.0
WORKING EXPERIENCE
State California Public Hospital, San Jose, California                         2013 – 2021
Responsibilities:
Dispensing medicines by compounding, packaging it, and setting the label for pharmaceuticals.
Communicating with physicians regarding what kind of drug therapies should be given to the patients.
Providing patients with the proper information as well as explaining the proper use of medications.
Providing health promotion along with the process of explaining the drug etiquette.
REFERENCES
Hannah J. Smith, Pharmacist Chief at State California Public Hospital           (023-438-548-849)
How to Create Pharmacy Resume
To make your own pharmacy resumes, you have several options: you can start it from scratch, using a pharmacy resume template, or just taking a sample and typing it yours. However, whichever method you are using, you need to prepare your data before entering it into your resume. So what data you should have?
First, your personal identity. It's a sure thing that your pharmacy resumes must contain the information of yourself. Be it name, email address, home address, and telephone number—make sure you put this information into your resume.
Then, your education background. Given that pharmacist is a job that requires you to have a specific education background, you should include this as well to your resume. You need to include your what degree you have, which university you are attending, and for how long you attended the school. If it's worthy enough to include your GPA to the resume, do it.
Previous working experiences. Showcase your experiences working in another institution by putting the name of your job, the name of the institution, and the duration that you have worked for them.
Additionally, while composing your pharmacist resumes, you may consider adding several optional items to your resume—such as references, professional summary, and the objectives.
People Also Ask
What does a pharmacist do everyday?
What a pharmacist does everyday is pretty similar with the job description you have read in the sample above. So, basically a pharmacist will check and dispense medication after compounding and labeling it. Indeed, in dispensing the medication, a prescription from physician is highly needed.
A pharmacist should also keep the records of medicines used in the inventory, and then removes out of date medicines. Additionally, they also explain the medicine etiquette (how to take the medicine) to the patients.
Should a pharmacist use a CV or resume?
Generally speaking, a pharmacist should offer both documents. However, each institution may provision different rules according this.
What are pharmacist skills?
A pharmacist should possess these skills before working for an institution:
Accuracy
Scientific aptitude
Mathematical skills
Communication skills
Interpersonal skills
Integrity
Management skills
Several Sample Resumes for Pharmacist
There are lots of pharmacist resumes that you can find online. Which one that you need depends on the kind of pharmacist jobs you are applying.
Resume for Hospital Pharmacist
Pharmacist resumes can also be made if you're applying for hospital pharmacist jobs. Never hesitate to grab a template if you are still confused what to input to your resume. That way, you can make a resume in an easier way.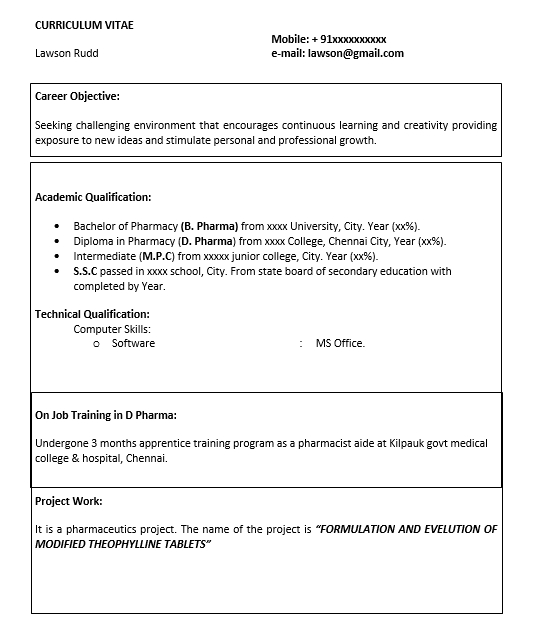 Pharmacist Assistant Resume Template
Becoming a pharmacist assistant also requires you to have adequate knowledge in the field of pharmacy. That said, you will need to attend pharmacy schools for years before being ready to roll into the workforce. If you got some experience working in this field, that'd be better to include it onto your assistant pharmacist resumes.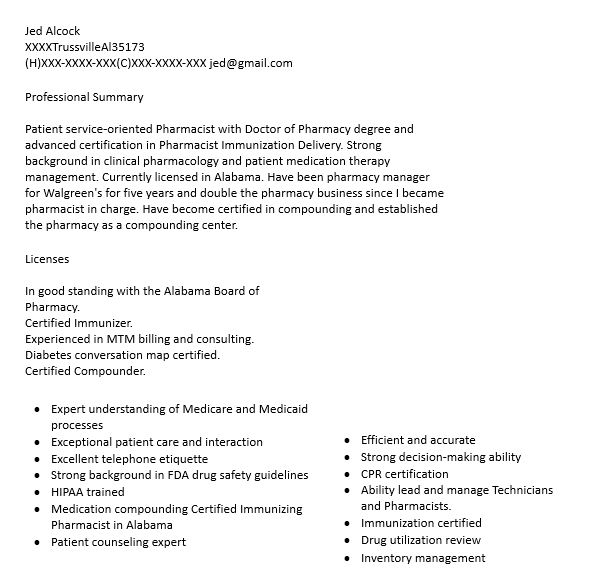 Registered Pharmacist Resume Template
Pharmacists and other medical personnel have to register themselves. This is important and usually set as the most paramount requirement to become an eligible applicant to work in an institution. If you're already registered, make sure to tell your employer about that in your resume.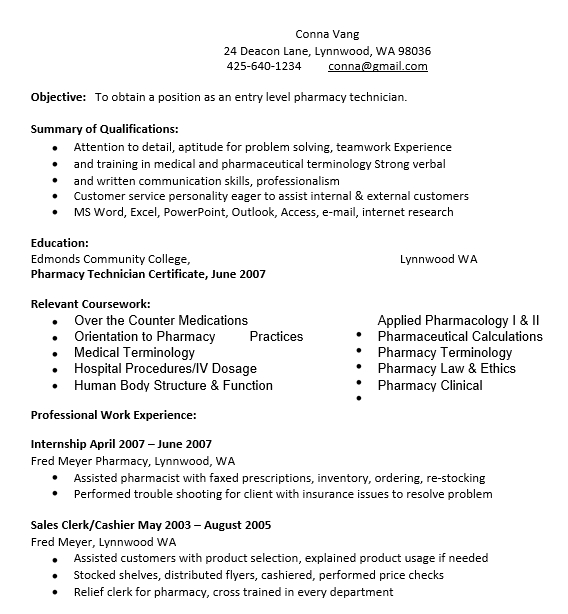 New Pharmacist Resume Template
New to the workforce and got no idea of how to make pharmacist resumes? It's really simple—just grabs a pharmacist resumes template and start inputting your personal data to the file. Don't forget to check back for any mistakes, and that's it!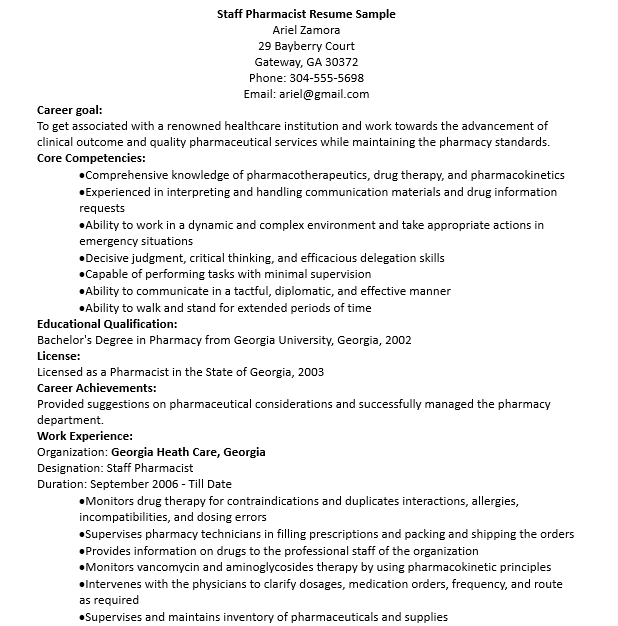 Resume Template for Graduate Pharmacists
If you're one of those pharmacists to have graduated from a Master's program, it's better to have your pharmacist resumes contain it. Never hesitate to put your education background as employers want candidate that are knowledgeable.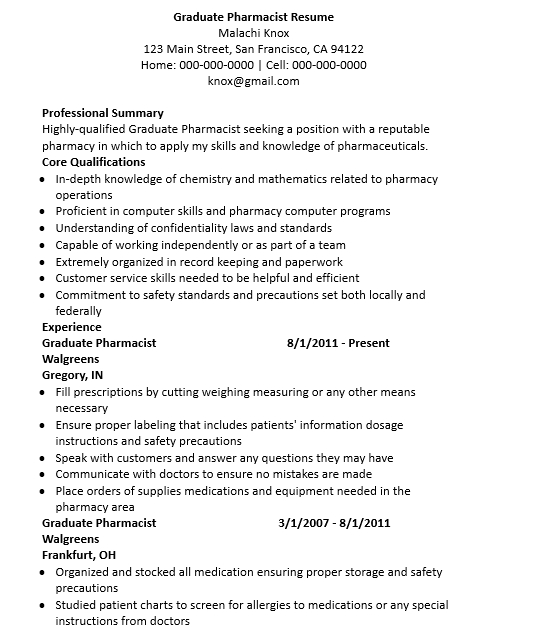 Using pharmacist resumes template is an easy step to create your resume. Moreover, templates are easy to edit and it can as well help you to cut the cost for hiring someone. By doing so, you don't need to be confused anymore about making the resume—just input your data and check for errors, and you're done!