Best Physical Therapist Resume Templates
Can you provide assistance to clients in recovering from one of the most serious health conditions but unable to create a compelling resume? You may need a sample of a physical therapist resume and professional writing techniques to improve your career chances.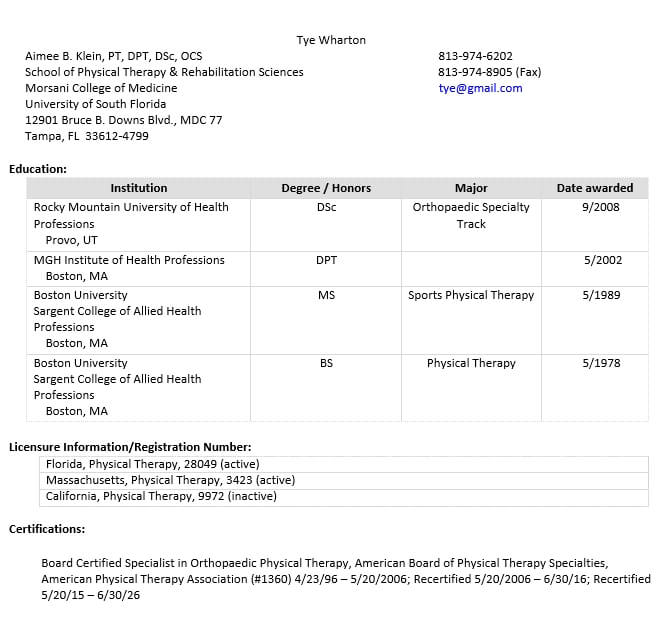 With the help of a physical therapist resume sample, you can compose your own with high accuracy, assurance, and confidence that the document will stand out. The primary purpose of the resume sample itself is to make the writing process more manageable and save you much time and effort.
Sample of a Physical Therapist Resume
Prior to start drafting your physical therapist resume, it's advised for you to know the standard form of the resume, such as follows:
Fred Miller
Address            : Dorchester, MA 02122
Phone               : 617-224-1121
Email                : millerfred@mail.com
Career Summary
Licensed physical therapist with more than 8 years of professional expertise providing physical therapy treatments in both outpatient and inpatient settings.
Skilled at examining the rehabilitative requirements of every patient, establishing treatment objectives and plans of therapy, and performing programs of PT.
Professional Experience
River Creek Health, Dorchester, MA
Physical therapist, October 2016 – Present
Provide exceptional services of physical therapy, including treatment and evaluation of senior patients to support and promote health.
Provide treatment to senior patients suffering from stroke, heart disease, generalized health conditions associated with aging, Parkinson's, and lymphedema.
Perform health assessment by performing medical checks, interviewing the patients, updating, acquiring, and assessing the patients' therapy records.
Train more than 10 new assistants of physical therapists with the implementation of therapy programs.
DG Physical Therapy, Dorchester, MA
Physical therapist, July 2012 – September 2016
Provided services of physical therapy to more than 15 patients with various health conditions, including stroke, cancer, and heart disease.
Conducted therapeutic approaches, such as manual activities, stretching, gait exercises, balance training, and standing exercises.
Provided assistance to patients in undertaking non-manual activities, everyday activities, functional exercises, and the use of supporting equipment.
Education
Northeastern University, Boston, MA
Master's Degree in Physical Therapy, June 2012
Additional Skills
Proficient in Microsoft Word, PowerPoint, and Excel
Pliable in working with the elderly, adults, adolescents, and minors
Fluent in English and Mandarin
How to Write Physical Therapy Resume
Targeting a career in physical therapy? Then you will need to check out the following physical therapy resume writing guides:
You need to first figure out which resume format fits your needs. A resume in chronological format is the most recommended one because it helps you show your best capabilities and accomplishments.
Impress the hiring manager with a clear career objective or resume summary. Also, keeps it only in two to three sentences summing up the full details of the resume.
Use bullet points to list your responsibilities and achievements for each job.
If you are graduated with honor or achieving another worth-showing off accomplishments, include them under the detail of the educational institution where you received your degree.
When you write the skills section, recheck the job requirements so that you can write more than just listing your skills.
People Also Ask
What are the tips for creating a resume for physical therapist jobs?
Make your resume as engaging to read as possible. While it's fine to create a typical resume, it will be more beneficial to you if you consider exceptional writing methods to improve your resume's readability.
Make your physical therapist resume as adaptive as possible. In other words, you should be able to create an effective resume content that tells the reader that you are capable of the position.
Also, you should create an exciting career objective, and your educational qualifications, as well as work history, should be clear.
What to put in resumes for physical therapists?
It's vital to remember that your educational background is significant. Thus, you should mention it right after writing your career summary or objective. Also, be sure to write your academic history in brief and accurate sentences. After that, think about your job history along with your duties and additional skills.
What kind of mistakes that must be avoided when writing a resume?
People tend to write a resume in a passive voice. Although it's acceptable, it would be best if you aren't using it. Rather than using passive voice, try to write in active sentences instead.
Types of Physical Therapist Resume Templates
There are many types of resume templates to create a physical therapist resume. If you don't want to deal with the arduous process of creating a resume, below are some templates you can select and use.
Resume Template for Physical Therapy Teacher
Suppose you are considering a physical therapy teacher as your dream job. In that case, you should understand how to create an impressive resume that can help you get the job. To do this, you will need this resume template to present your career objective, employment history, and other crucial details.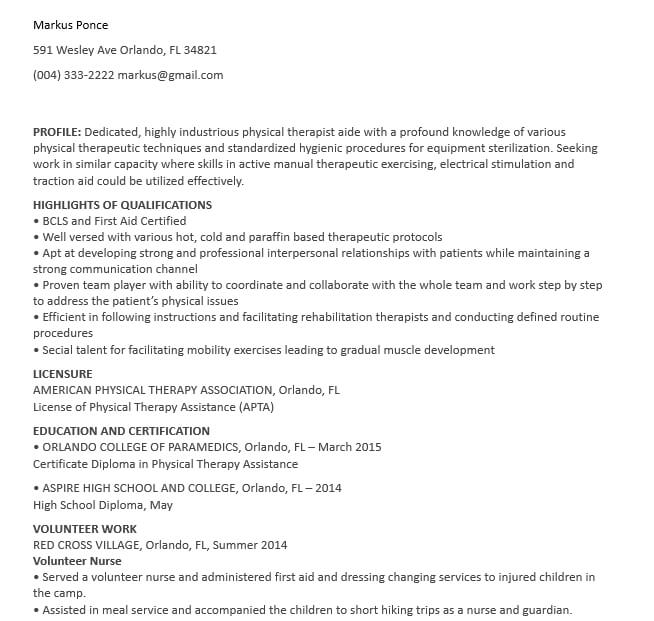 Resume Template for Therapist Aide Fresher
Suppose you are a med school graduate planning to apply for a job as a physical therapist but have never created a resume. In that case, you might find this physical therapist resume template beneficial. Obviously, this template is editable and easy to customize.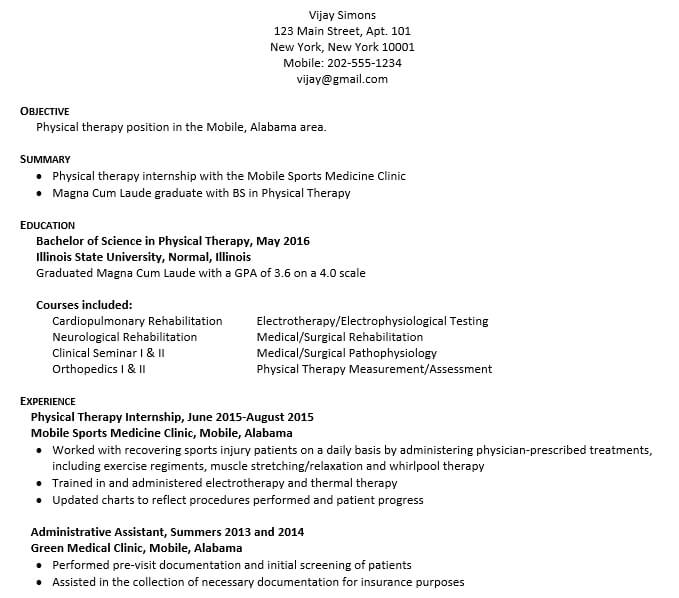 Resume Sample for Student Physical Therapist
Just graduated from a medical educational institution and looking for a job as a therapist? You may use this physical therapist resume as a template to help you express your genuine interest in the job. It's available in Word format as well, so it's easy to use and edit.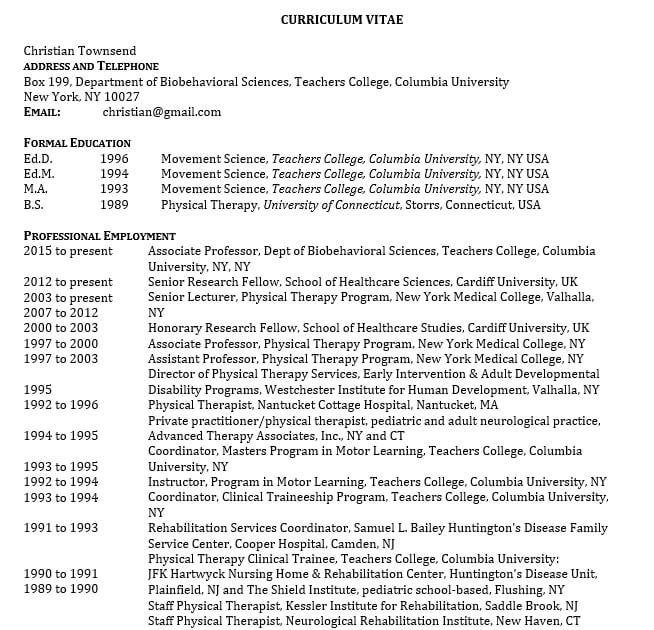 Resume Example for Entry-Level Physical Therapists
If you are a medical school graduate and would like to look for a job as a therapist, you might not have much job experience. But with this physical therapist resume template, you will be able to make the experience section in the resume as convincing as possible.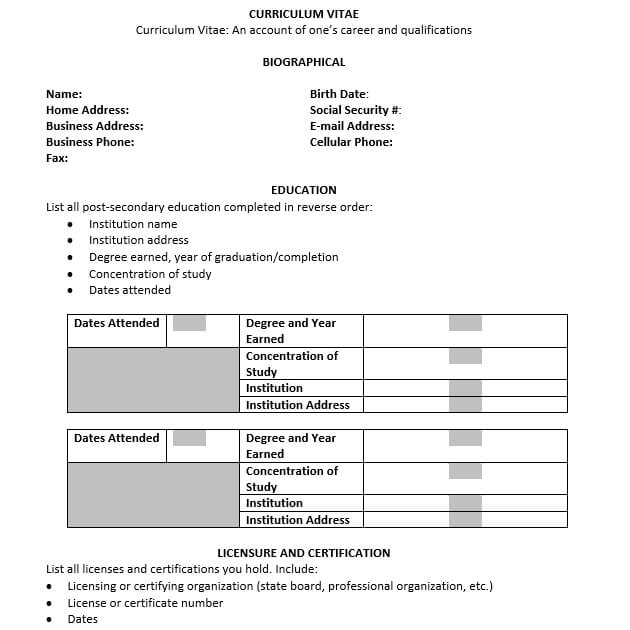 Resume Template for Assistant Physical Therapist
Suppose you are a proficient physical therapist looking for employment as an assistant therapist. In that case, you may use this resume template to write a winning resume for the position. With the help of this pre-made resume, you can write all of your qualifications in a compelling way.
The best physical therapist resume is the one that can land you to a job interview. Thus, you must ensure that your resume is easy to read; otherwise, your potential boss will not offer you the job you seek.