Pilot Resume Free Templates and Writing Guidelines
If you have been planning to apply for a pilot position, then you will need to create a resume. Not just a regular resume, but a professionally composed pilot resume so that the hiring manager is interested to know further about you.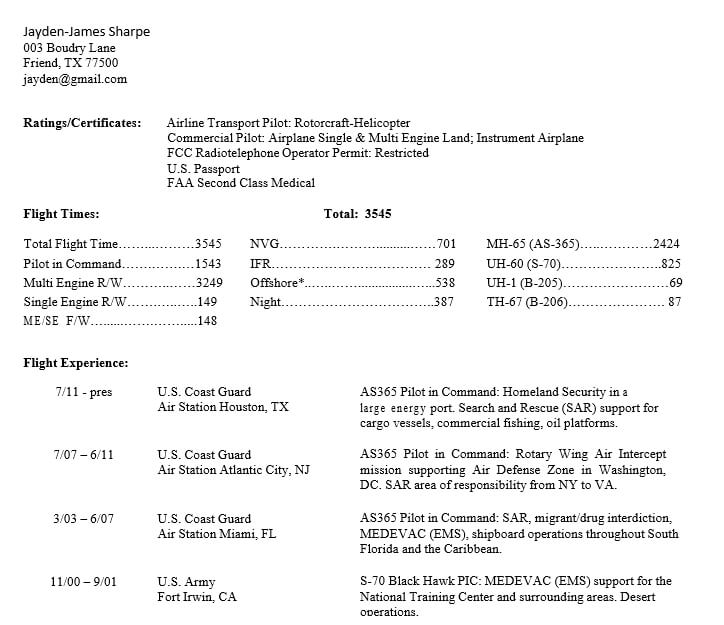 Making an appealing pilot resume does not need to be difficult as long as there is a template that can guide you on the whole process of resume creation. You can get the resume layout downloaded and then customized as per your needs. Check out the following templates that you can make the most of them.
Example of Pilot Resume
To give the basic concept of a resume for aviation positions, you will need the following pilot resume sample so that you know how your resume should look like.
Jason Springer
Address                : Denver, CO 80205
Phone                   : 303-442-0935
Email                     : jasonspringer@mail.com
Professional Summary
Commercial airline pilot with more than four years of professional experience flying medium to long route flights.
ATP certificate from the FAA.
Rated on Boeing MAX and Airbus A320NEO.
Aiming to move to international flights from domestic flights with American Airlines.
Professional Experience
Airline Pilot (Primary Officer) | Aug 2017 – Aug 2019
Delta Airlines, John F. Kennedy International Airport, Quuens, New York
Worked with co-pilot to make sure the flights were safe, comfortable, on time, and the passengers had a positive experience.
Ensured that airline standards and international regulations were fulfilled during the flight.
Maintained effective communication with co-pilot, airline personnel, cabin crew, and traffic control.
Cargo Pilot (Secondary Officer) | May 2015 – May 2017
Amazon Air, Northern Kentucky International Airport, Cincinnati
Assisted the first officer by completing the piloting operations when it is required.
Ensured that all the standards and protocols of safety were adhered before flight, during flight, as well as after flight.
Education
Program of Airline Career Pilot, ATP Flight School | 2015
Bachelor's Degree in Aeronautical Science, Embry-Riddle Aeronautical University | 2013
Skills
Aircraft technology and modern aviation
Advanced physics and mathematics
Strong collaborative and teamwork skills
Leadership skills
Communication skills
Ability to maintain calmness under pressure
Certifications
Federal Aviation Administration's Certificate
Certificate for Commercial Pilot
Flight Instructor Certification
How to Write a Pilot Resume
The following are the essential steps of creating a pilot resume that is as impressive as your abilities to fly an airplane:
Choose the format that is professionally acceptable for the aviation position you want to apply for. You can either use a standard or chronological resume.
Start your resume with your contact details at the beginning of the page.
If you are an entry-level pilot, include your career objective along with some accomplishments during your training. However, if you have been in this job for long enough, then include your career summary in one paragraph.
On your job experience, start with the most recent one. Don't forget to add the title of your job, the date you begin the employment, and the company's name.
Also, include some of your impressive achievements during the employment.
Make the education section in your resume soar.
Include your certifications, memberships, and your flight time.
People Also Ask
How to make a professional resume for aviation professions?
In order to make sure your pilot resume is shortlisted by your prospective boss, you will need to use high-quality white or ivory paper when you print your resume.
For the best results, try to keep your resume to one page only.
Make sure to use the same type of paper for the cover letter, reference, and resume itself.
Be sure there are no gaps in your resume. Also, remember to check your contact details.
How a resume template for aviation professions can help you?
Creating a resume can take a significant amount of your time. However, the many resume templates might help you save a lot of time and effort when writing a resume. When you manually write a resume, chances are you will forget some essential things that you need to include.
With a pilot resume template, the entire sections of your resume will be adequately arranged to put everything relevant to the job and anything worth mentioning about yourself in the resume.
What to avoid in making a pilot resume?
Avoid using wordy sentences, putting references on the same page, and writing all the airplanes you have operated.
Types of Pilot Resume Templates
Below are some of the resume template types you can select to create a resume for the aviation position you would like to apply for.
Basic Resume Template for Pilot
Creating a pilot resume that has to have many graphic elements is not everyone's forte. Therefore, make use of this basic resume template to help you create an attention-grabbing and outstanding resume that will help your application get shortlisted.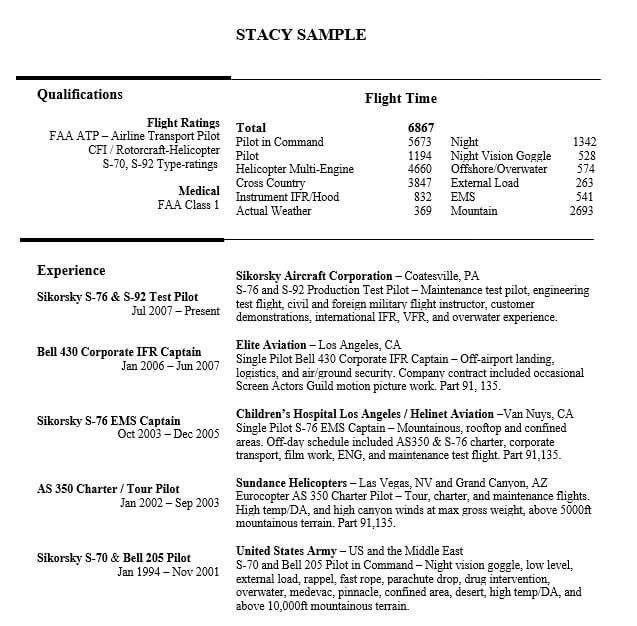 The best thing about this resume template is that it's available in a .docx and .doc file format, meaning that it is easier to customize and perfect for those who have limited editing skills. You solely have to download and personalize it with your qualifications.
Resume Sample for Commercial Pilot
Securing a commercial pilot position can be started by using this excellent resume template. Apart from being available in .doc file format, this template also covers all of the crucial points and information you will need to present to impress the hiring manager.
Professional Resume Template for Pilot
Download this professionally designed pilot resume template and use it to help you create your own enticing resume in order to be considered by the employer for the position you apply for. This Word template is also easy to be personalized with your own qualifications.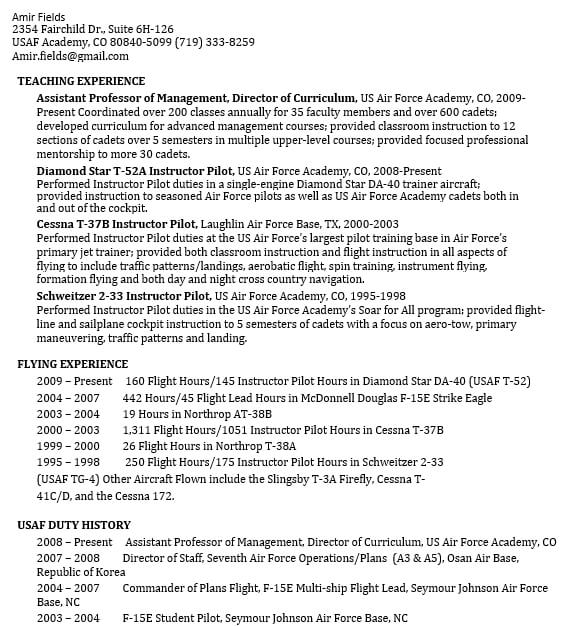 Resume Sample for Helicopter Pilot
This stylishly designed resume sample is your weapon to maximize your likelihood of being considered to be interviewed by the employer. Download and customize this sample with your own information, professional experience, and any of your qualifications to help you realize your dream.
Resume Example of Airplane Pilot
Aviation professions remain one of the most promising careers. To start achieving your dream of being a pilot, you may need this airplane pilot resume sample to write your own in a proper way so that yours can get into the interview room.
Sample of Military Pilot Resume
If you are working in the air force and have proficient skills in operating military aircraft, then this resume sample will be beneficial for you. It's available in a customizable file format, so you only need to edit the existing information with your own.
A pilot resume is the documented form of your professional profile. Therefore, it's essential to write a resume that can highlight the most remarkable aspects you have. The templates above are a great approach to open up the possibility of obtaining a pilot job.