Artist Resume Writing Tips and Templates for All Art Jobs
When applying for art jobs, you will encounter fierce competition that you can only get through with an artist resume that stands out among the rest. Using a standard-looking resume is impossible to help you get the job. You require something that conforms to your profession's values.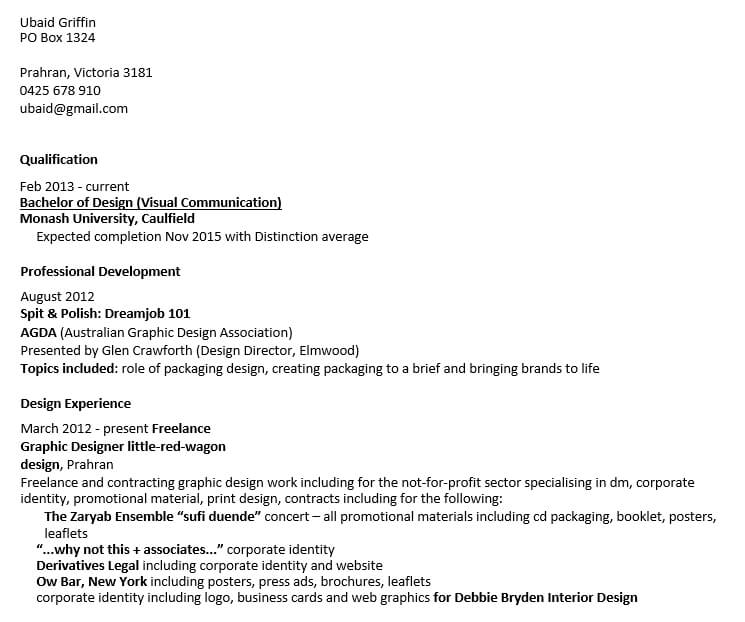 You will need an artist resume template that is not only creatively designed but also ingenious and innovative. Taking that into account, you will appreciate writing tips and resume samples for various art positions available here.
Example of Artist Resume
Here is a resume sample that can give you an idea of how to create your own:
James Spears
Address            : Grand Rapids, MI 49503
Phone               : 616-444-1441
Email                : spearsjames@mail.com
Professional Summary
Passionate artist with 4 years of experience and a diverse portfolio of accomplishments, including acknowledged exhibitions and articles. Have a profound sense of foresight and artistry that can be seen in all the displayed artworks.
Education
Master of Fine Arts in Industrial Design – Ann Arbor, MI
University of Michigan | May 2013
First place in an art competition held by the university, 2012
Bachelor of Fine Arts in Studio Art – Ann Arbor, MI
University of Michigan | May 2011
Graduated Summa Cum Laude
Experience
Self-employed | Detroit, MI
Freelance artist, July 2013 – Present
Design and create artworks in accordance with the clients' requests and deliver the pieces to them.
Create surreal art pieces to be exhibited in regional museums.
Create realistic artworks for 5 online portals.
Work with a regional museum in the installment of arts around the outdoor space.
Avant Garde | Detroit, MI
Art collection cataloguer, June 2011 – June 2013
Analyzed records of the database and verified the integrity of bibliographical content.
Cataloged 1,300 art items in various categories and completed a month earlier.
Re-wrote descriptions for 40% of art pieces that had inadequate information.
Bibliography
Johnny Johns, "A Brand New World", The Press, January 21, 2012
Andy Perks, "Beyond the Lines", Wolfstreet Journal, September 2011
Exhibitions
Solo Exhibition, Mare Gallery
Skills
Photography
Photoshop, Sketch, InDesign, Illustrator
How to Write an Artist Resume
Below is the step by step of creating an artist resume:
Select the correct format that is used explicitly for artists. Make sure to select a well-known resume format, such as the reverse-chronological one.
Start your resume with your contact details and followed by an eye-grabbing resume objective or summary.
In the education section, include the name of the institution, month and year you graduate, your degree, and your achievements, if any.
Include your professional experience and your accomplishments.
Include your bibliography and the exhibitions you have held. Don't forget to write the date and the name of the shows and bibliography.
Write your additional skills, if any.
People Also Ask
Why use templates to make an artist resumes?
It is critical for an artist to genuinely express your sense of creativity and artistry in all they do. Your job application is unquestionably one of those things. You should be able to present your art and creativity sensibility to your potential employer through your resume.
With an artist resume template, you would be free from the tedious task of making a resume from the very beginning. Besides, the template provides the ideas of how you have to present all your professional information.
What are the perks of using resume templates?
Art involves creative works and conveys the beauty in everything you do, and resume templates help you reflect that. Each of the templates that will be displayed in the following sections is created for various professions that have anything to do with art.
Art professions include 3D artists, makeup artists, and many more. If you use templates to apply for one of those jobs, you will get a well-designed ready-to-use resume sample that can help you secure the position.
How to use resume templates for artists?
You simply need to find an artist resume template that is suitable for the position you consider. Then, download the template and customize it as per your needs.
Types of Resume Templates for Artists
Below are some of templates for art professions. If you are considering one of the following templates, make sure you already know the requirements of the position you want to apply for.
Resume Template for Makeup Artist
A makeup artist is one of the many professions that is incredibly stressful, and even the competition of the employment market is relatively high. With the help of this artist resume template, you can create an ingenious and innovative resume in no time.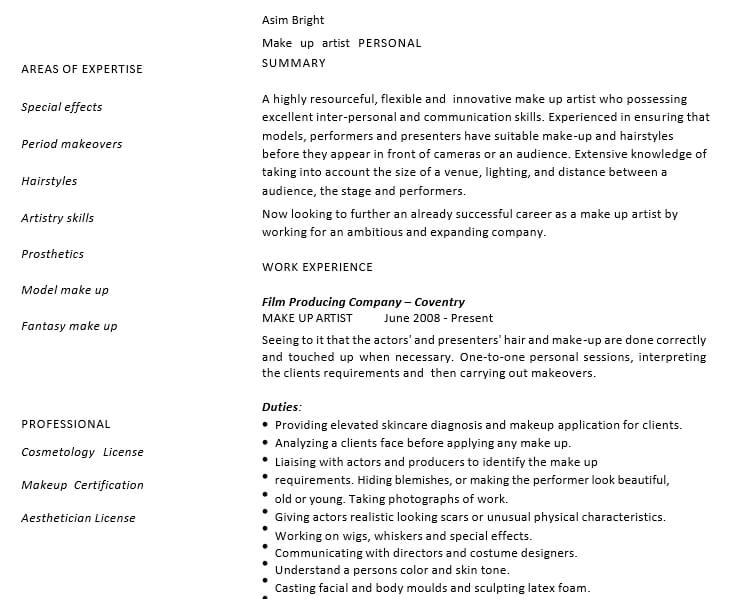 Resume Sample for Visual Artist
If you are considering a position of visual artist, you can make the most out of this artist resume sample to help you create your own. This ready-made layout enables you to organize your previous experience and qualifications professionally.
Resume Template of Tattoo Artist
This is an artist resume example that you can use to apply for a tattoo artist position. It enables you to arrange your qualifications and professional experience into different readable sections. This will make the hiring manager has an easy time reading your resume.
Resume Example for 3D Artist
It takes only highly skilled artists to create 3D artworks. If you are one of these persons and consider this profession as your passion, you will have to be able to show your expertise and skills by using this well-designed artist resume.
Resume Template for Graphic Artist
Graphic design is one of the professions that nowadays are in high demand. That implies that you will need to make yourself stand out using a professionally designed resume. You can do so with no hassle with the help of this ready-made resume.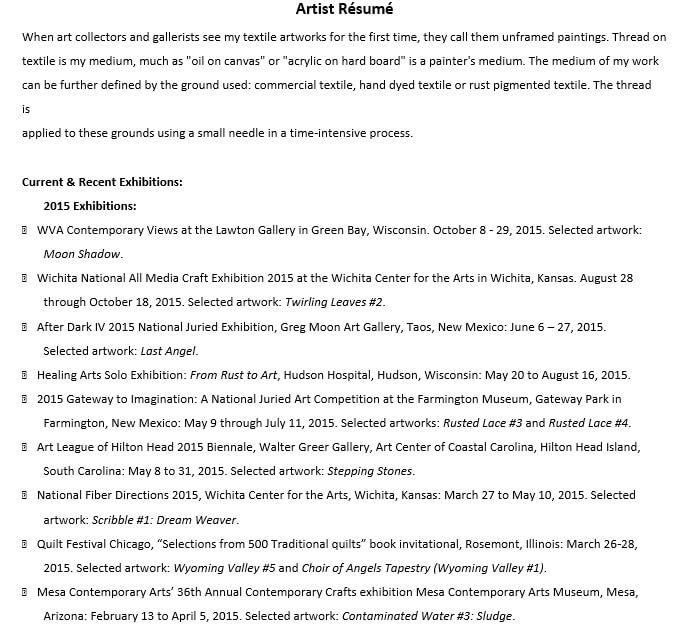 Each resume template above has been specifically adjusted to match a specific art job requirement. The pro writing tips, sample, and the artist resume templates above will come in helpful if you require a resume to apply for a makeup artist job, graphic design, tattoo artist, 3D artist, and many more.