Registered Nurse Resume Example with Explanations and Free Templates
Finding registered nurse resume example is essential, especially by nurses who at some points have to make their resume for applying jobs or for completing paperwork and documentation. These are some examples that they are going to need to download.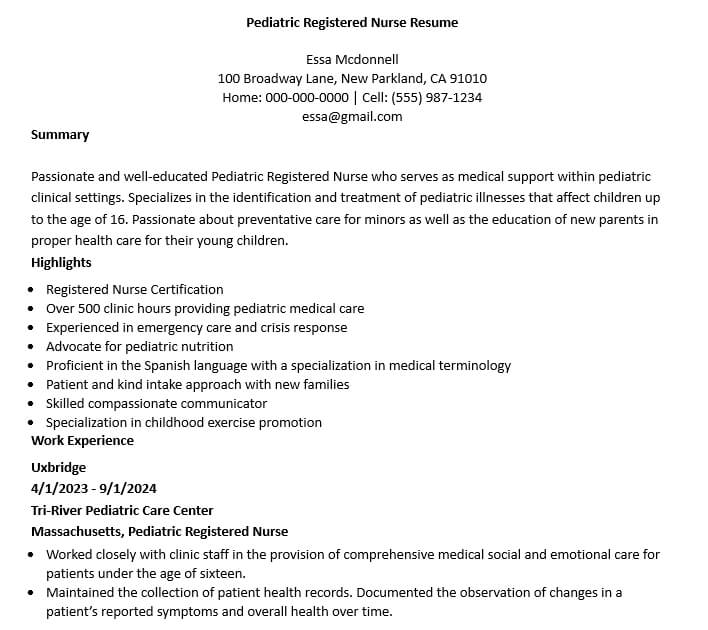 Downloading these examples won't charge you for anything. It is completely free and everyone can just click on the resume templates that they like and then using it as the base for the resume that you make. Without further ado, find the registered nurse resume example now.
Registered Nurse Resume Example
Amanda Lee
Email: leeamanda@mail.com
Phone: 3617-1826
Address: 65 Jacinta St, Patrol State, BP, 2871
Registered Nurse Number: 6782917-BP
At a Glance
A registered nurse based in Patrol State.
Having been working in hospital and clinic as nurse since 2017 and has becoming experts in dealing with patients and help them to maintain their well-being.
Willing to work in 24 hours shift and having great skills in time managements and patience.
Education
York High School, Graduated 2012, GPA 3.4
Ronald College for Nurses, Graduated 2016, GPA 3.8, Bachelor in Nursing and Hospice Care
Licenses
Registered Nurse, Patrol State, 2017. RN number: 6782917-BP
Trainings
Ronald College for Nurses, Certification for Live Saving First Aid, 2016
Patrol State Government, Certification for Elderly and End-of-Life Care, 2017
Working Experience
2017-2019, Patrol State Hospital, Registered Nurse
Duties:
Checking patients' vitals
Making reports and providing information for doctors and pediatrics
Drawing blood and performing injections to patients
Assisting patients
2019- Ongoing, Ronald College for Nurses, Registered Nurse Teams
Duties:
Training new nurses
Providing documentations for nurses training
Giving example in patients care and hospice care
Hard Skill
Phlebotomy
Vital Checking
CPR and Life Saving Attempt
Medication
End-of-Life Care
Soft Skill
Time Management
Patience
Stamina
Team Working
Communications
Language Skill
English, Advanced
Spanish, Advanced
Portuguese, Intermediate
How to Write Resume for Registered Nurse?
Of course you will have to write the resume with the help of a registered nurse resume example. Without one, you will spend hours in composing the resume and it will never get done on time. These are the steps you should take for the resume making:
Download the correct registered nurse resume example depending on what you need.
Open the template on your PC or your laptop
Add in your personal or contact information on your PC
Highlight the education history
Highlight the work experience as nurses (internship is included)
If you have licenses, including the one where you get the RN, write it on the resume.
Add in your skills, both hard skill and soft skill, to the resume.
If you speak more than one language, write it on the resume
Recheck the resume before you send it or print it.
People Also Ask
What Skills Should a Registered Nurse Have?
In registered nurse resume example, you can see that skills are always written there. So, what is exactly the skill that a RN should have? Well, the hard skill is surely related to the technical things, like blood drawing and drug injection. Checking patient's vitals is also considered as hard skill.
The soft skill is more like personal. It is the one like time management and patience. Communication skill is also very important on this list considering that a good nurse must be able to communicate properly to their patient all the time.
What is the Objective of Registered Nurse Resume?
After finding the registered nurse resume example, you have to start making the resume and the first thing to write is the objective of the resume. It is not mandatory but most people do write it on their resume. As for a RN, the objective should be the one related to patient's well-being.
Example for Entry-Level Registered Nurse Resume
Entry-level nurses are very new in the industry. However, they must have taken a lot of experiences when it comes to teaching because they have done internship and volunteering works as well. The resume should be the one made using a good registered nurse resume example.
Resume Template for Experienced Nurse
Experienced nurses must highlight their work experiences from the very beginning of their career. Use a good example or template and thus you should be able to make a good resume as well. Download them all for free as templates should not charge you for anything at all.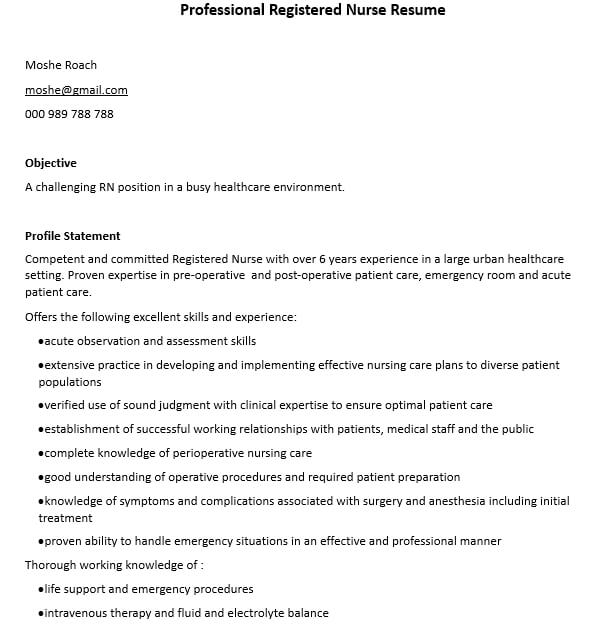 Example for New Graduate Registered Nurse Resume
New graduate nurses, also called fresher, are limited when it comes to experience. However, they still have to make a good resume to impress everyone. This is where registered nurse resume example is badly needed. It will show them exactly the information about the potential nurse.
Resume Template for Nursing Jobs
When you are interested in working in the nursing or hospice industry, surely you will have to be able to apply for the nursing job position in hospital, health center, or other places related to people's well-being. Use a good example to help you creating a good resume as well.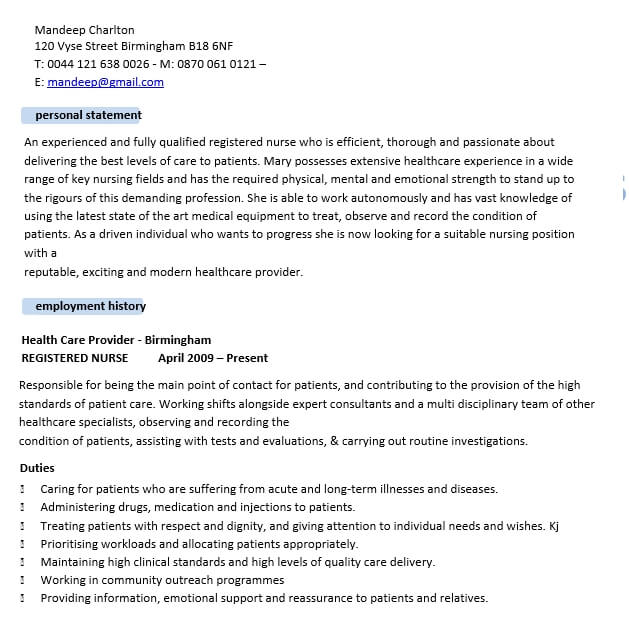 Example for Pediatric Registered Nurse Resume
Pediatric nurse is a job you will find very interesting. If you want to apply for the job as pediatric nurse, find the right example. A good registered nurse resume example will help you to compose a readable resume that may impress the future employer.
Example for Professional Registered Nurse Resume
When you are a professional and you want to highlight that fact on your nurse resume, fear not as highlighting job experience is very possible to be done. Simply choose the template or example that let you do that and the job will be done.
Sample of Resume Template for Nursing Position
If you see a job vacancy for registered nurse and you are interested to it, you will have to find a registered nurse resume example and then make your own resume. When it is done, send the application, and hopefully you will be qualified and accepted to the job.