Loving a job is a beautiful gift. However, there are times when we have to leave work because of some urgent matters. This will probably make you resign with regret. One of the best things you can do when you are forced to leave your job is by writing a resignation letter with regret. To write a graceful letter, you need to notice some relevant aspects.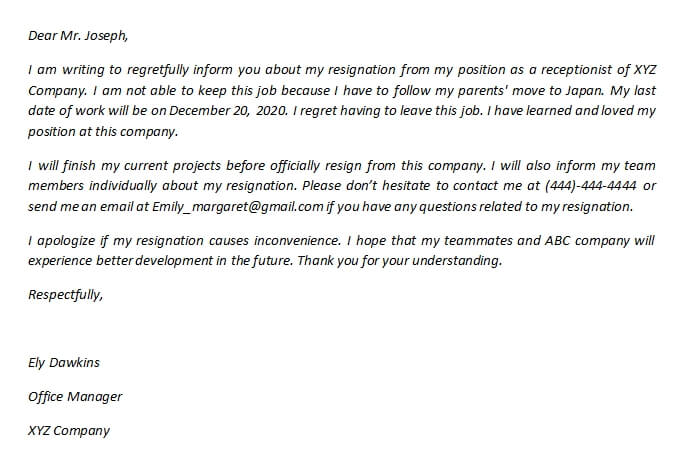 How To Write A Good Resignation Letter?
Some relevant reasons might encourage you to resign from your job. Whatever the reason, you need to write a polite and elegant letter, especially if you love your job. Below are some tips that you can apply to make a great resignation letter:
Keep It Concise
Write your letter to-the-point, as well as clear and concise. Include a good salutation with the recipient's name followed by colon or comma. Don't forget to write about your position, the date you are going to leave, and the reason why you will leave the job. Keep in mind that your letter must be written shortly and clearly.
Be Honest
honestly state the reason you left work. Don't make it too long or too short, but your reasons have to make sense. Additionally, tell that you leave the job with a very sad feeling.
State That You Will Settle Your Project
This will be an important part that will show your responsibility. Say that you will complete your current projects before you officially resign from the office.
Send Your Letter in Person
In some cases, the employees may send a resignation letter by email. But it didn't leave a good impression. So you can give it directly to your manager or supervisor at the office.
Resignation Letter With Regret Sample
There are some elements that you need to include in your resignation letter, such as your supervisor or manager's name, your name, and position, your reason,  also your last day of work. Here is a brief resignation letter with a regret sample that can help you to get a new idea.
Dear Mr. Joseph,
I am writing to regretfully inform you about my resignation from my position as a receptionist of XYZ Company. I am not able to keep this job because I have to follow my parents' move to Japan. My last date of work will be on December 20, 2020. I regret having to leave this job. I have learned and loved my position at this company.
I will finish my current projects before officially resign from this company. I will also inform my team members individually about my resignation. Please don't hesitate to contact me at (444)-444-4444 or send me an email at Emily_margaret@gmail.com if you have any questions related to my resignation.
I apologize if my resignation causes inconvenience. I hope that my teammates and ABC company will experience better development in the future. Thank you for your understanding.
Respectfully,
Ely Dawkins
Office Manager
XYZ Company
That's all our short explanation about the resignation letter with regret and its sample. You can customize the letter by changing some of its important aspects.