Getting a scholarship to study is the most coveted thing for everyone. However, as the saying goes that retaining something is more difficult than getting something, you may also have certain difficulties while keeping for the scholarship. We never know about any problems that may come in the future. If you feel that losing the scholarship is unfair to you, you can appeal by writing a scholarship appeal letter.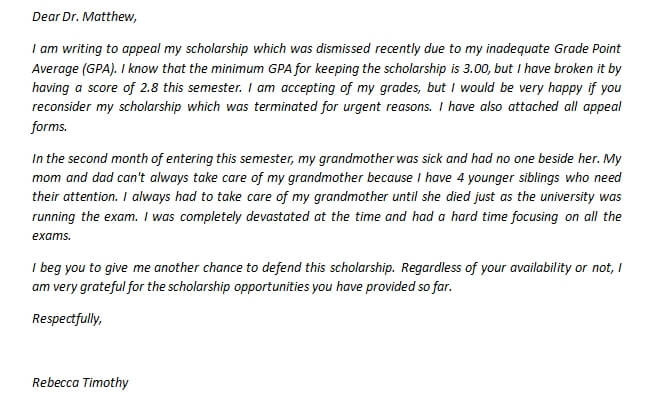 When Do I Write An Appeal Letter?
There are some situations where you can write an appeal, for example, if your scholarship is being dismissed for some reason. If the scholarship is revoked because you have committed a serious violation, it may be very difficult or even impossible to get your scholarship back.
However, if you have a good reason to be explained, you can appeal by writing a scholarship appeal letter. Take an example, if your GPA does not meet the minimum requirements to maintain the scholarship, you can write an appeal stating some plausible reasons such as the death of a family member, serious illness, accident, or you have to do a part-time job to help your family economic condition. Note that your reason must be facts.
How To Write A Good Scholarship Appeal Letter?
You can write a letter in a clear format, but be brief and to the point. Include the specific reason why you get a bad GPA, provide an acceptable excuse to ensure that you deserve the scholarship. Here are several aspects you should include in your letter:
Pay Attention To The Tone
You are filing an appeal letter, not applying force that shows your emotions. Your letter should be to the point and short. Show that you still deserve the scholarship.
Supporting Documents
You may have several supporting documents that you can include in your appeal. The more related documents you have, the more likely you are to get the scholarship back.
Follow The Guidelines
You can ask a friend or the scholarship committee regarding the requirements to file an appeal. You have to know all the rules before writing an appeal.
Scholarship Appeal Letter Sample
Here is an example of an appeal letter if your reason related to your family's sickness:
Dear Dr. Matthew,
I am writing to appeal my scholarship which was dismissed recently due to my inadequate Grade Point Average (GPA). I know that the minimum GPA for keeping the scholarship is 3.00, but I have broken it by having a score of 2.8 this semester. I am accepting of my grades, but I would be very happy if you reconsider my scholarship which was terminated for urgent reasons. I have also attached all appeal forms.
In the second month of entering this semester, my grandmother was sick and had no one beside her. My mom and dad can't always take care of my grandmother because I have 4 younger siblings who need their attention. I always had to take care of my grandmother until she died just as the university was running the exam. I was completely devastated at the time and had a hard time focusing on all the exams.
I beg you to give me another chance to defend this scholarship. Regardless of your availability or not, I am very grateful for the scholarship opportunities you have provided so far.
Respectfully,
Rebecca Timothy
That's all our brief explanation about the scholarship appeal letter and the sample. Hope it will encourage you to write a good letter.