Secretary Resume Sample, Templates, and Writing Tips
Secretaries work in a variety of fields and are responsible for the overall administrative tasks, including organizing letters and answering phones. You will need a secretary resume sample to help you prove that you are a multitasker with the capability of working under pressure.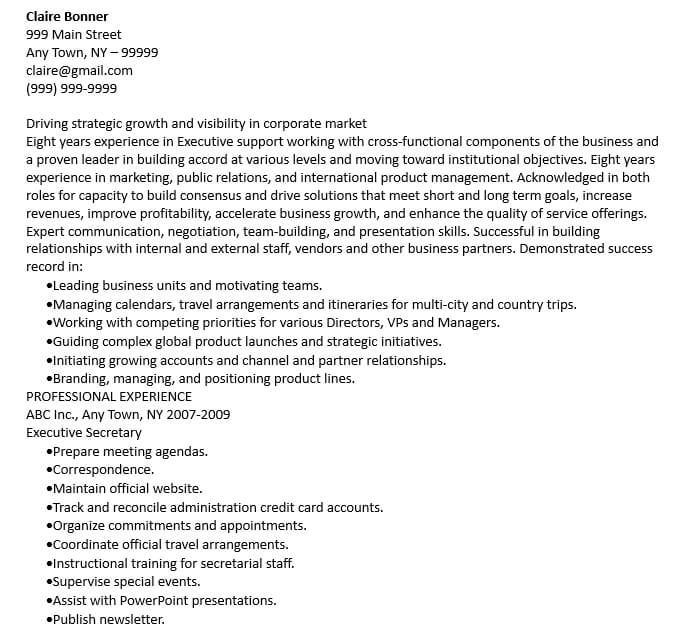 While the majority of secretary position does not require any formal education, the competition for these jobs is relatively tight. Therefore, having a secretary resume sample can open the doors of opportunity for you to be hired.
 Example of a Secretary Resume
If you are a well-organized person looking for a secretary position, then you will need to have a resume that can grab the hiring manager's attention. The following secretary resume sample can give you a fundamental concept of how your final resume should look like.
Margaret Forte
Address            : Roseville, CA 95661
Phone               : 530-294-7352
Email                : margaretforte@mail.com
Professional Summary
Attentive secretary with more than 9 years of professional experience in leading administrative divisions and supporting executives.
Proficient in project management, communication, and organization skills.
Introduced a new management system which enhances the office's efficiency by 20%.
Professional Experience
Executive Secretary | February 2012 – Present
Birmingham Associates, Roseville, CA
Maintain schedules of partners, organize arrangements of travels, and keep track of records.
Manage the office's organization and efficiency with the support of other employees.
Responsible for the training and supervision of more than 20 staff over the last five years.
Legal Secretary | January 2010 – February 2012
Hansel Firm, Sacramento, CA
Responsible for the preservation of confidential corporate resources.
Optimized the process of managing administrative communications, resulting in a more than 20% increase in work efficiency.
Prepared thorough reports for partners.
Secretary | October 2008 – January 2010
BB Insurance, Sacramento, CA
Responsible for the documentation, transcription, and distribution of daily meetings.
Answered and directed all phone calls to the relevant departments.
Maintained office supplies and equipment as well as purchasing new office stationery.
Education
Secretarial Science, Sierra College Rocklin, Sacramento, CA | 2006 – 2008
Skills
Detail-oriented
Time management skills
Ability to type 120 WPM
Proficient in Microsoft Office Suite
How to Write the Best Secretary Resume
In addition to a secretary resume sample, you will also need to understand how to draft your resume. Below is the writing guide to follow:
First, you will have to find the appropriate format of a secretary resume. Among all the available resume formats, reverse-chronological is the most recommended one.
If you have long work experience, include a paragraph of summary that details your qualifications. If you are a fresh graduate, write a paragraph regarding your career objective.
Write your professional experience from your current employment. Also, list all the duties of each job and your accomplishments, if any.
For your education qualifications, include all the secretary training programs you have attended.
List your soft skills and hard skills as a secretary.
People Also Ask
What skills to include in a secretary resume?
The following are some suggestions for secretary skills you may want to include:
The ability to organize seminars, conferences, and staff meetings.
Efficient management of paperwork, reports of expense, and other reports.
Extensive managerial and administration knowledge.
The capacity to communicate effectively with executives, senior managers, and clients.
What are good keywords for a secretary resume?
When you write a resume for a secretary position, you must present your professional qualifications in a specific kind of way. To do this, you can use the right words relevant to the job. These include time management, managing, supervising, processing, coordinating, and many more.
What are the tips for writing a secretary resume?
Only include relevant job experience.
Choose the right skills related to secretarial professions.
Include quantifiable accomplishments or achievements related to the position.
Highlight your special qualities since most recruiters are reviewing tons of resumes.
If you have a lot of job experiences, choose only the strongest ones.
Types of Secretary Resume Templates
A secretary is one of those professions that work in practically every sector of expertise. It's even a highly recommended career in the fields of law, administration, business, medical, and so on. Check out the following templates to find out the secretary resume sample that fits your qualifications.
Resume Sample for Executive Secretary
This resume sample is designed for those who have at least three years of experience in the secretarial field. The content included in this sample is technical, like dealing with the compilation of legal documents. Download and use this template to help you compose your own application.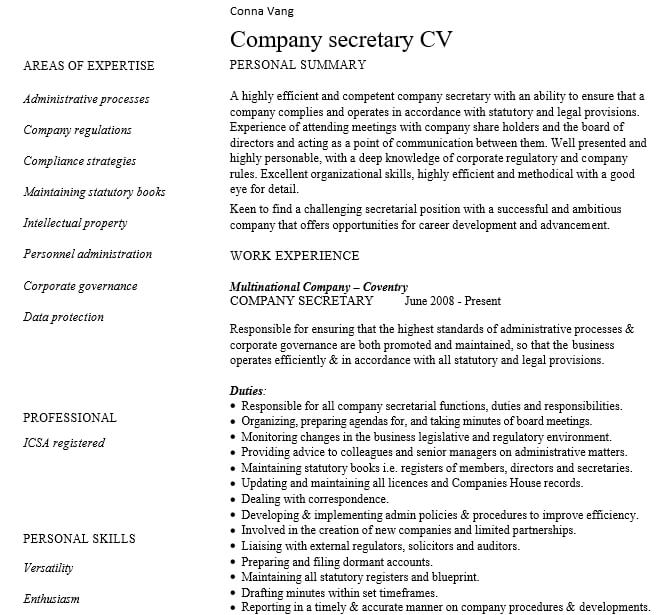 Resume Template for Legal Secretary
Suppose you want to work as a legal secretary. In that case, you will need a well-written resume in addition to certification, formal education, or licenses. This secretary resume sample is a shortcut way to have the best resume to get your application shortlisted.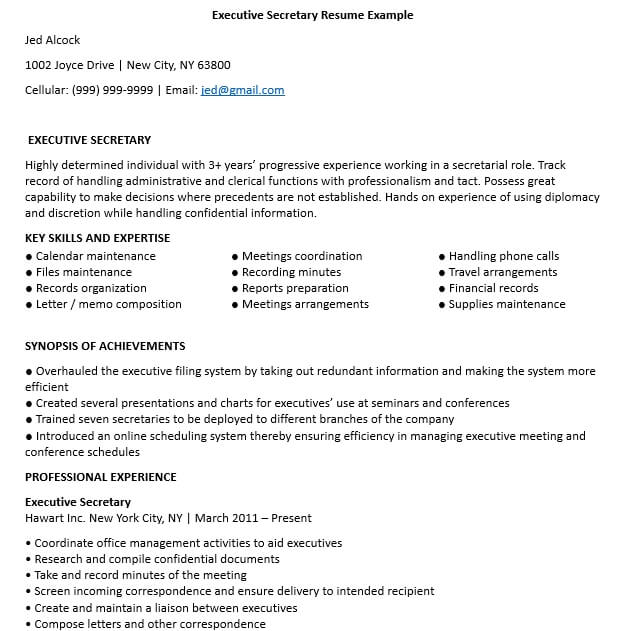 Resume Example for Business Secretary
It is a secretary resume sample you can use if you are planning to apply for a secretary position in certain corporates. In this template, you can add your most valuable skills as a secretary, previous experience, and any applicable information that can guarantee you to be interviewed.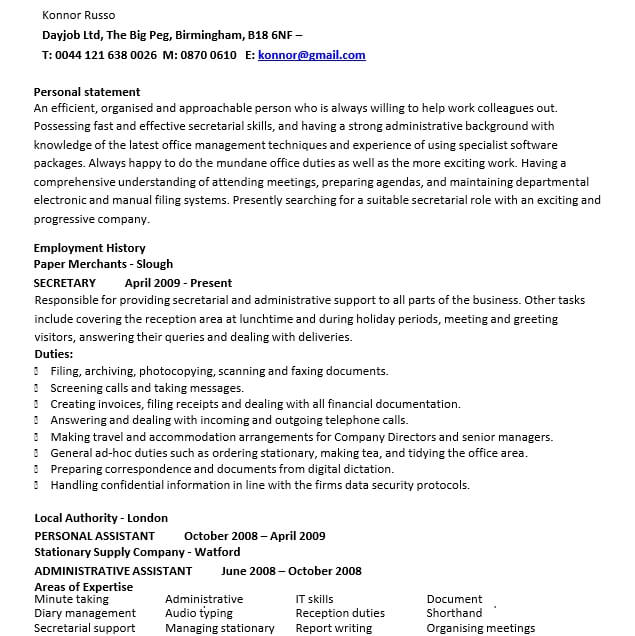 Resume Template for Medical Secretary
Want to apply for a medical secretary position for the very first time? Then you can get this secretary resume sample for free and use the provided content as a reference to edit them with your own summary, experience, skills, education, and other important information.
General Secretary Resume Template
Are you a well-organized secretary looking for a new opportunity? Then you may require this secretary resume sample to create a resume that can set you out of the other applicants' resumes. This template is elegantly designed with all the necessary items written in the most organized way.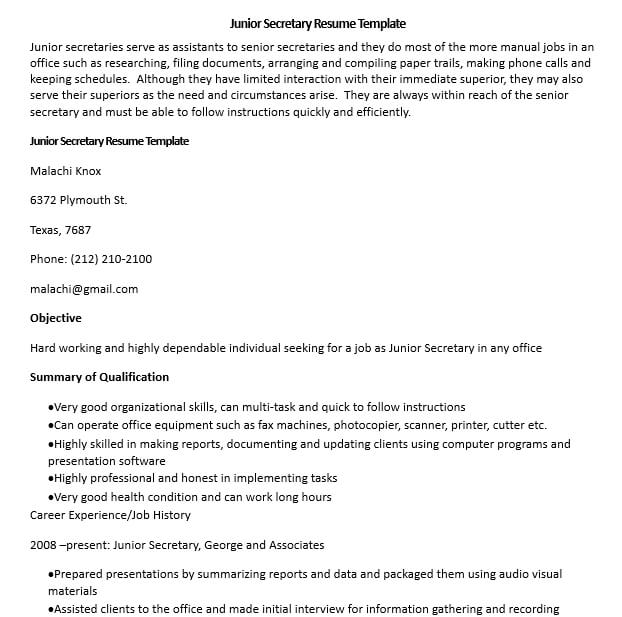 As briefly mentioned, a secretary is one of the many professions with tight competition. Therefore, in order to appear different from others, you will need a secretary resume sample in addition to the writing tips on how to create the best resume already stated above.