Call Center Resume Example and Writing Guide
Working as a call center agent has recently become one of the most sought-after occupations. Many people looking for work in this field, ranging from university students to postgraduates. Due to the tight competition, you will need a call center resume example.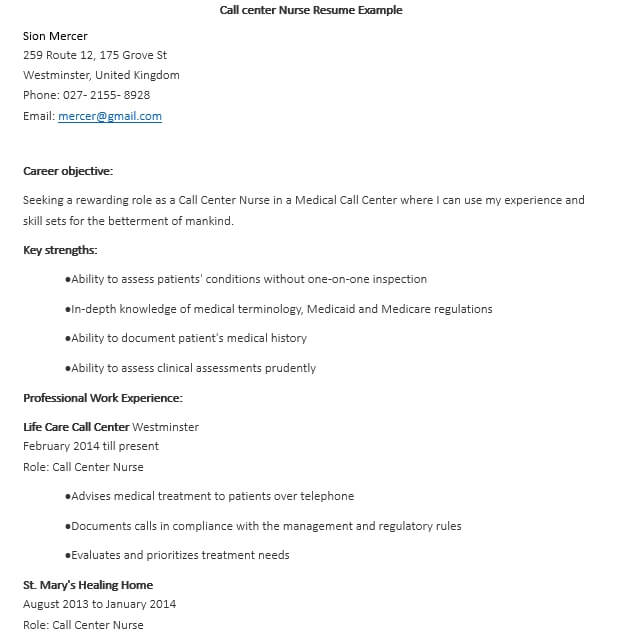 The resume sample will make it easier for you to compose your own rather than start everything from scratch. With a call center resume example and writing tips below, you are able to know the essential elements you need to present in your own resume to secure the position of a call center staff.
Example of Call Center Resume
Below is the sample of call center resume that can provide ideas on how to make a proper resume to apply for a call center position:
Kathleen Heavener
Address            : Longview, TX 75601
Phone               : 903-992-5458
Email                : heavenerk@mail.com
Career Objective
Professional customer service agent with more than four years in hospitality services and call centers.
Proficient at dealing with a variety of calls while reliably handling various client problems in a timely manner on a daily basis.
Professional Experience
Call Center Agent | October 2014 – Present
Brooke's Groups, Dallas, TX
Handle more than 50 client interactions on daily basis to maintain client engagement by providing thorough, courteous, personalized, and professional service.
Memorized all the products and services offered by the company to be able to provide an immediate answer to all client inquiries.
Receive data, including client names, phone numbers, addresses, and credit card details, as well as enter the provide data into customer care programs.
Trained 4 entry-level staff in data entry procedures, conflict management, and script recitation for customer service.
Waiter | May 2012 – September 2014
Buzz's Pizza, Dallas, TX
Delivered menus, bussed a table, accommodated customers to empty tables, and helped servers with orders.
Trained 4 new waiters on how to provide exceptional service and how to resolve conflicts.
Educations
Bachelor of Arts in English Literature, University of North Texas, 2014
Skills
Strong work ethic
Adaptability
Problem Solving
Teamwork
Fluent English
Microsoft Office
How to Write a Call Center Resume
Before you get started, pick an appropriate resume format, such as the one in chronological order.
Include your contact details at the top of the page and followed by a compelling summary or career objective. For example, if you are a professional call center representative, use a summary to briefly explain your professional details.
If you have experience related to the call center position, include your job title, company's name, location, and date of employment. Also, write all your accomplishments in bullet points.
If you don't have any relevant experience, including any kind of jobs that have something to do with customer service.
A call center resume example doesn't include too much detail in the education section. However, you still need to have it in your resume. Simply write your degree, institution, and when you graduate.
Highlight your soft and hard skills.
People Also Ask
What are the perks of using samples for creating a call center resume?
Call center resume samples offer a number of advantages. One of the obvious advantages is that these samples are free. You don't need to spend money to have a call center resume example. Moreover, all those templates are available in universal formats and relatively convenient.
Who is the target audience for the resume examples?
These ready-made resume templates can be used by anyone looking for a call center position. For example, the templates can be used by university students or individuals looking for a job as call center representatives.
The templates can also be used by nurses considering a medical call center as their following occupations. Those who want to use the templates simply need to download and personalize them as per requirements.
What to include in a call center resume?
Only include the correct information, such as your contact details, experience, and education. Of course, you should also have the relevant skills, but you will need to put them in a specific section. Furthermore, use the correct words to highlight your soft skills.
Types of Call Center Resume Templates
A call center resume example comes in a variety of formats. In addition, all these templates are relatively easy to download and can be customized without hassle to meet your needs.
Resume Template for Call Center Supervisor
This call center resume example is designed for those who would like to work as supervisors in a call center. This template comes in a .doc format; thus, you have the flexibility to customize this ready-to-use resume without having to deal with graphic design programs.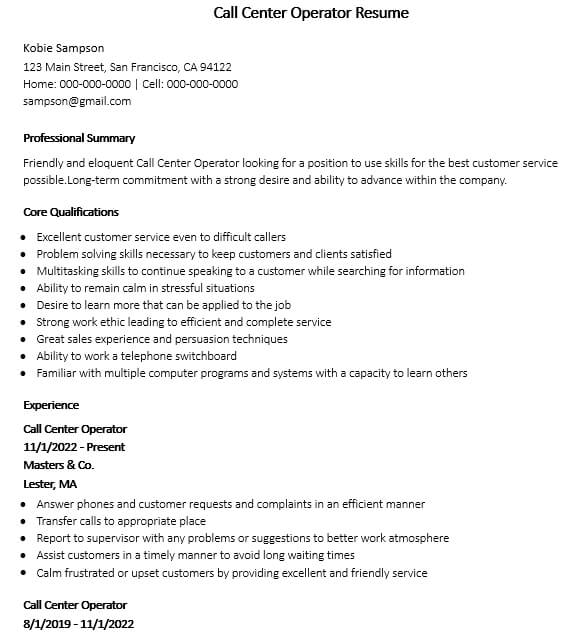 Resume Example of Call Center Nurse
It is a call center resume example used by applicants who want to work in a healthcare call center. This resume sample is also available in a customizable format so that you can easily edit it. In addition, it includes all the critical content of a resume, so you won't miss any of that essential information.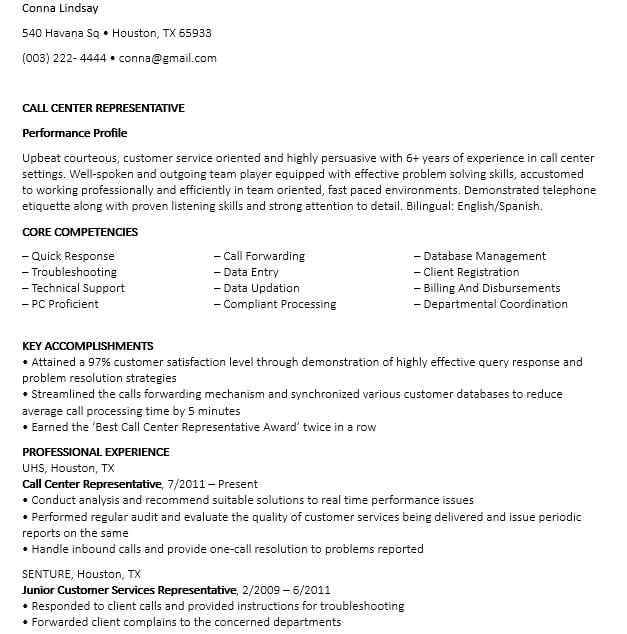 Call Center Agent Sample in Word
Want to apply for a call center representative position? Then, this call center resume example is the first thing you will need to have to increase your chances of being shortlisted. This Word resume sample has adequate space for your qualifications, experience, and other professional details about you.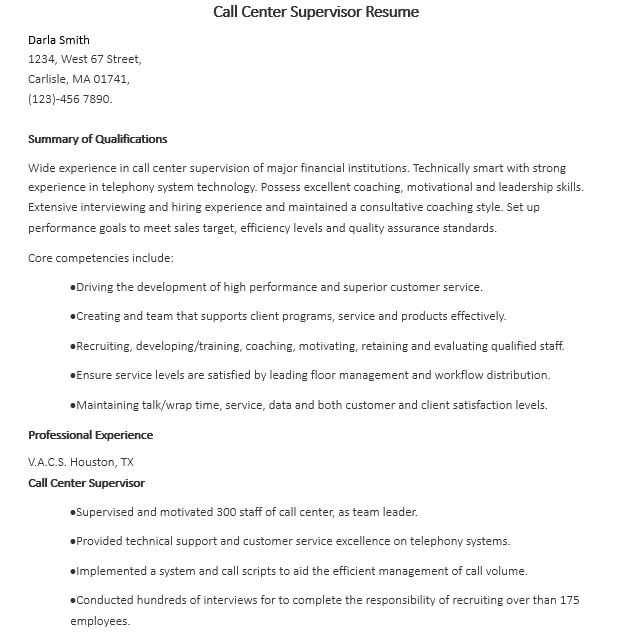 Resume Template for Call Center Manager
Applying for a call center manager position requires a professionally built resume. If it's the first position you apply for, you will need this call center resume example to give you a basic concept of a resume. Besides, it's a customizable resume, so you can add information about your professional details.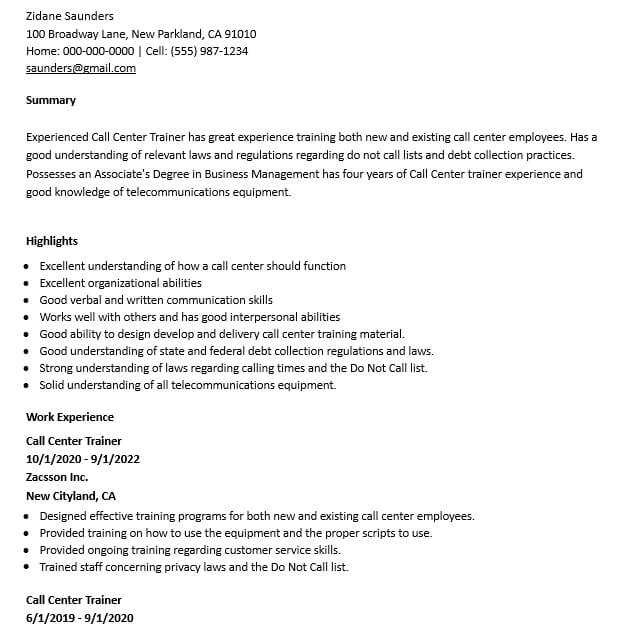 Call Center Resume Sample for University Students
Suppose you are a university student looking for a part-time job as a call center agent. In that case, you can make the most of this resume sample to help you compose your resume. You can also add your career objectives, skills, academic qualifications, and other additional details to this template.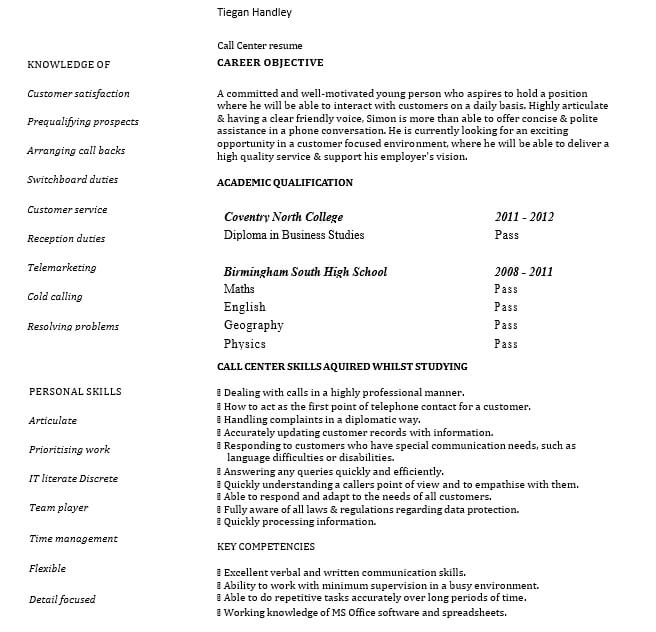 So, if you are looking for a proper way to impress the hiring manager, you simply need to select a call center resume example, download it, customize it in accordance with the writing guidelines above, and print it out with a high-quality paper.