The solicited application letter is the most crucial part besides your CV. It acts like a showcase which will make your resume looks standout in front of the recruiter. Keep in mind the recruiters have limited time reading application letters because usually there are a bunch of them. Therefore, they only read it at glance. This is why you must make the solicited application letter effective. It is not that you make super simple, but it must catch attention enough. In this article, we will talk about this letter further.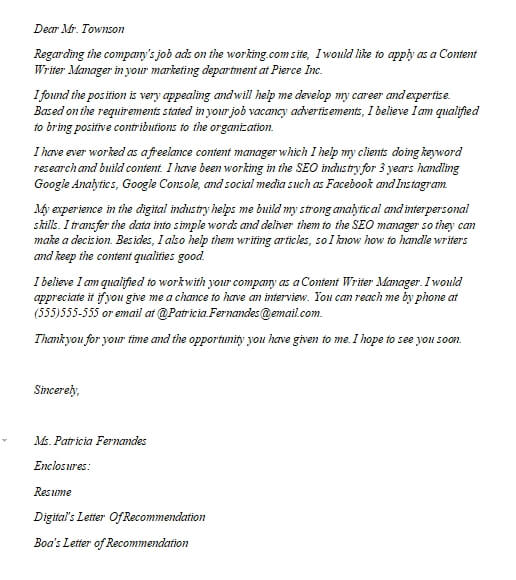 Solicited Vs Unsolicited Application Letter
The main difference between solicited and unsolicited application letter is the company's job announcements. When a company publicly opens a job vacancy, then the application letter is called the solicited application letter. If the company is not opening a position, then the application letter is called unsolicited.
How To Write A Short Application Letter?
As we have mentioned before, a good solicited application letter should be made effective because the hiring department has limited time. You need to make it brief and to the point without making it sound weak. You can use the following checklist to make it easier.
Dear (fill with the employer or hiring manager's name)
1st paragraph (begin with the introduction and some achievement that related to the position)
2nd paragraph (write down your important skills related to the position)
3rd paragraph (write down your reason why you want to join the company along with  your passion)
4th paragraph (call to action such as phone number and email)
Closing
Add a P.S
The Solicited Application Letter Example
Dear Mr. Townson
Regarding the company's job ads on the working.com site,  I would like to apply as a Content Writer Manager in your marketing department at Pierce Inc.
I found the position is very appealing and will help me develop my career and expertise. Based on the requirements stated in your job vacancy advertisements, I believe I am qualified to bring positive contributions to the organization.
I have ever worked as a freelance content manager which I help my clients doing keyword research and build content. I have been working in the SEO industry for 3 years handling Google Analytics, Google Console, and social media such as Facebook and Instagram.
My experience in the digital industry helps me build my strong analytical and interpersonal skills. I transfer the data into simple words and deliver them to the SEO manager so they can make a decision. Besides, I also help them writing articles, so I know how to handle writers and keep the content qualities good.
I believe I am qualified to work with your company as a Content Writer Manager. I would appreciate it if you give me a chance to have an interview. You can reach me by phone at (555)555-555 or email at @Patricia.Fernandes@email.com.
Thank you for your time and the opportunity you have given to me. I hope to see you soon.
Sincerely,
Ms. Patricia Fernandes
Enclosures:
Resume
Digital's Letter Of Recommendation
Boa's Letter of Recommendation
To sum up, you need to persuade the hiring manager with the solicited application letter. Make sure to add necessary detail only to this cover letter.