When you had an assistant that might be a good helper in your duties, you may recommend it to your instance through a letter. This letter will be useful, either for you or the person you recommend and the two will get a benefit of it. To get further information, we have provided the explanation about this letter. You can check it below.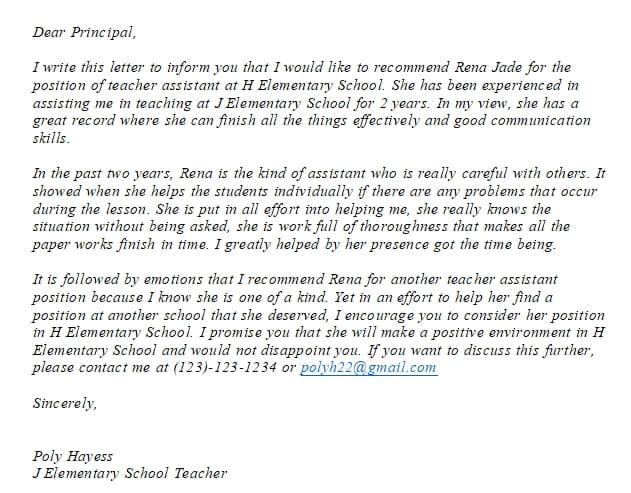 What Does Assistant Teacher Mean?
A teacher assistant usually is a person who is still not qualified to be a teacher but has a great deal to help a teacher manage a class or helping any other work related to teaching. Mostly an assistant teacher not yet having any license on teaching for school, therefore an assistant teacher only allowed to help the duties of the teacher and not fully replace the teacher position in learning teaching process.
Can You Be A Teaching Assistant With No Qualification?
Generally, there are no special qualifications required to be a teacher assistant. But, there are some aspects that may help you to be a professional teacher assistant.
Communication
The most important thing for a teacher assistant is communication skills which may ease your communication toward your students. This skill may help you to approach the student without intimidating them, otherwise, you should engage with students to observe their development.
Patience
Indeed, patience also included when you are on duty where you handling some situation or someone. This is crucial, where you cannot showing your emotion towards the students when you are being an assistant teacher.
Knowledge
Teacher assistant should have a base knowledge in teaching. If it's not, you may be experiencing a difficult situation where you cannot give a good way of teaching methods to the students.
How Do I Write A Teacher Assistant Recommendation Letter?
Give a reason why you recommend someone being an assistant, you can include their history, their specialties, and any other aspect needed to convince the receiver of the letter. Deliver your letter with good language, pay attention to your grammar and spelling, then sign the letter.
Teacher Assistant Recommendation Letter Example
Here is an example of a letter that may help you to make a new one.
Dear Principal,

I write this letter to inform you that I would like to recommend Rena Jade for the position of teacher assistant at H Elementary School. She has been experienced in assisting me in teaching at J Elementary School for 2 years. In my view, she has a great record where she can finish all the things effectively and good communication skills.

In the past two years, Rena is the kind of assistant who is really careful with others. It showed when she helps the students individually if there are any problems that occur during the lesson. She is put in all effort into helping me, she really knows the situation without being asked, she is work full of thoroughness that makes all the paper works finish in time. I greatly helped by her presence got the time being.

It is followed by emotions that I recommend Rena for another teacher assistant position because I know she is one of a kind. Yet in an effort to help her find a position at another school that she deserved, I encourage you to consider her position in H Elementary School. I promise you that she will make a positive environment in H Elementary School and would not disappoint you. If you want to discuss this further, please contact me at (123)-123-1234 or polyh22@gmail.com 

Sincerely,


Poly Hayess
J Elementary School Teacher
May this article can be useful for you to understand about this letter. Hope may fulfill your satisfaction.