Try Getting These Teaching Assistant Resume Templates Below
At times, teachers can get frustrated dealing with the class. This is where teaching assistant comes to help. Interested in becoming one? Go and prepare your resume! To help you, grab and use one of teaching assistant resume templates available below.
Teaching assistant resume templates will help you showcasing your previous experiences in teaching. This way, your future employer can know that you qualify to be granted such teaching assistant position.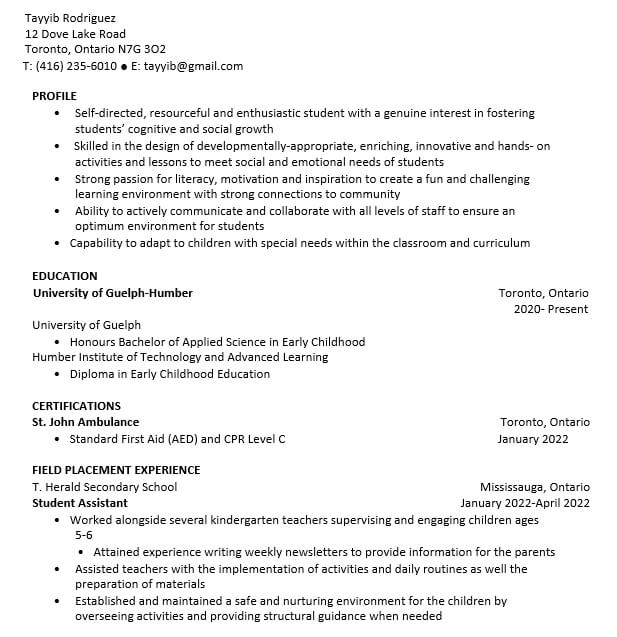 Sample of Teaching Assistant Resume
If you're looking for a teaching assistant resume sample, you may find this resume made by sample teaching assistant resume templates good for you.
Pierre M. Adison
122 Sunrise Rd. Indianapolis, Indiana 22930
Phone 8210-2043-3947 | email: pmadison@hmail.com
Objectives
Join the school as teaching assistant for Biology subject, including taking parts to the educational excellence of students through various ways of active involvement within the school community.
Education
Bachelor of Science – Biology Education
University of XYZ, Indianapolis, Indiana (Graduated in February 2015)
Overall GPA 3.52
Dean's list – Fall 2011, Spring 2012, Fall 2012, Fall 2013
Creating and implementing curricula for three grades including 12 classes
Preparing lessons in twelve classes that involves various learning styles.
Professional Experience
Student Teacher
IJK High School, New York City, New York
Grade 10-12, September 2017 to December 2020
International Guest Teacher – Biology
Osaka High School, Osaka, Japan
Grade 10, March 2015 – July 2017
Teaching Assistant – Reproductive Biology
University of XYZ, Indianapolis
September 2013 – December 2014
Skills
Computer skills – Microsoft Office: Word, Excel, Power Point
Language – English (Native), Japanese (JLPT N1)
Suggestions to Write Your Teaching Assistant Resume
If possible, get some references and attach it in a different document.
Make sure not to include 'cute' decoration onto your resume – think of it as a professional document (and it must be).
You may use up to two pages, but not more.
While mentioning your teaching experiences, make it in detail. So, include the class and subject you are teaching.
If possible, include your field experiences, organizational involvement, and all related experiences.
Use teaching assistant resume templates to ease you while making the resume.
People Also Ask
What skills do you need to be a teaching assistant?
Adequate educational background
Organizational skills
Children-friendly
Creativity and flexibility
Can you be teaching assistant with no qualifications?
It depends on which school you're applying for. Some schools have strict requirements while lower schools usually don't.
How do I become a teaching assistant with no experience?
Try to volunteer to local school during some occasions, for example, in holiday activities, after-school activities, and even school outings. If you have a basic background, it's best to try providing tuition.
How do I write good teaching resume?
You can apply the aforementioned suggestions and use teaching assistant resume templates to help make resume. Highlight your skill, include relevant experiences, and always remember to proofread your resume.
Various Samples of Teaching Assistant Resume
We know that there are teachers are categorized by their specific subjects. But in terms of teaching assistant resume templates, differentiating one teacher from another just through subject isn't enough.
Teacher Resume Free Template
Who doesn't like freebies? Download a teaching assistant resume template easily online, all for zero bucks! What's left is to leave it for the employer to read your experiences.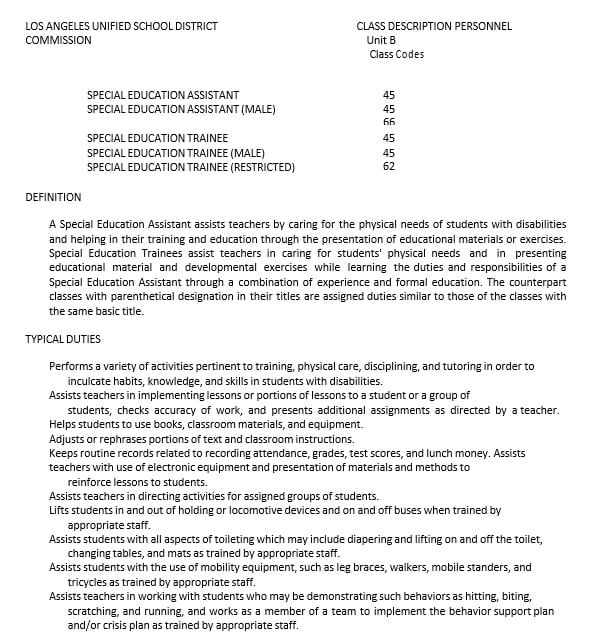 Resume Template for Applying as Teaching Assistant
If you don't have any specific career goal that you want to achieve, yet you're sure that you'll be going for teaching assistant, it is better if you are sticking with the general resume. Find your general teaching assistant resume templates in this list below.
Sample of Assistant Teacher Resume
Making resume is an easy thing to do. But it doesn't mean you should make it nonchalantly. Try to read a sample resume before making one yours.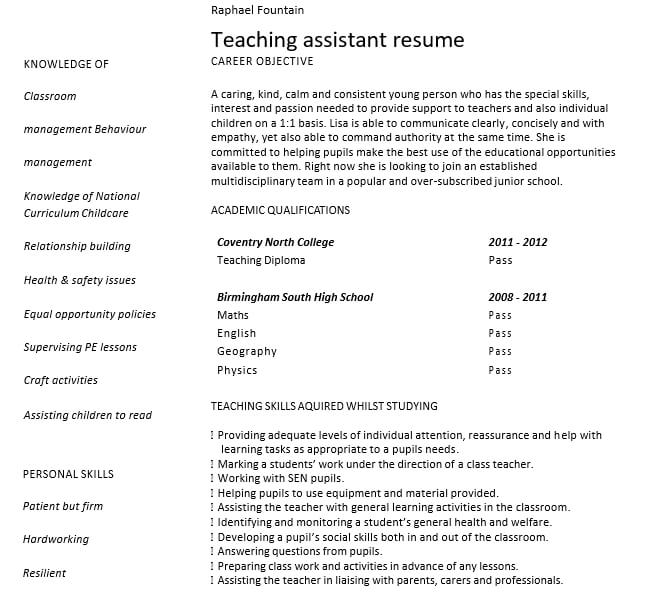 No-Experience Assistant Teacher Resume
Having a job is everyone's rights, even for the ones with no experiences. Even if you're inexperienced still, show off your skills and achievements and write it down with this no-experience teaching assistant resume templates.
Resume Template for Child Care Teaching Assistant
Planning to teach kids in child care? Sounds like a good idea. Prepare your resume with this child care teaching assistant resume templates. No need to make that from scratch, all you can do is to customize it.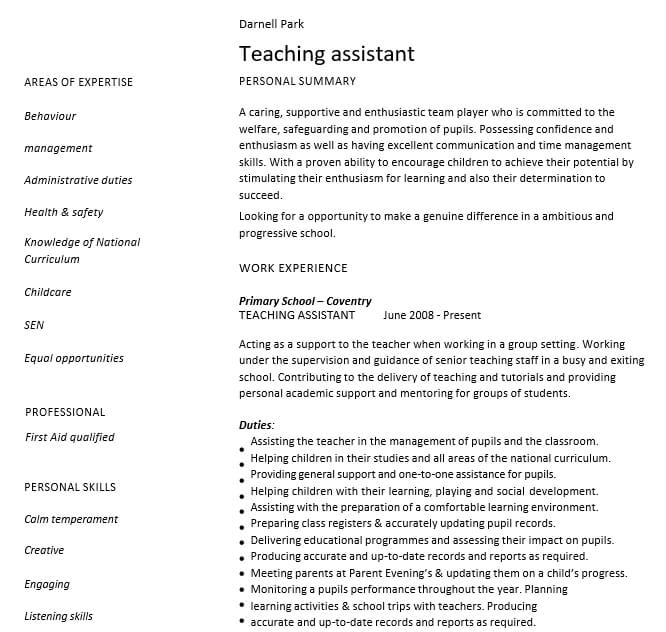 Resume Template for Volunteer Teacher Assistant
If volunteering and teaching is your passion, then being a volunteer teacher assistant can be the job you want. Get into the position and showcase your skill with a decently-designed resume. To make it quick, simply grab a template.
Resume Template for Special Education Assistant
Being a teaching assistant covering special kids is demanding. Only special personnel which are great for the position will only pass the requirements. Thinking that you're the one? Prove your skills by applying to the job!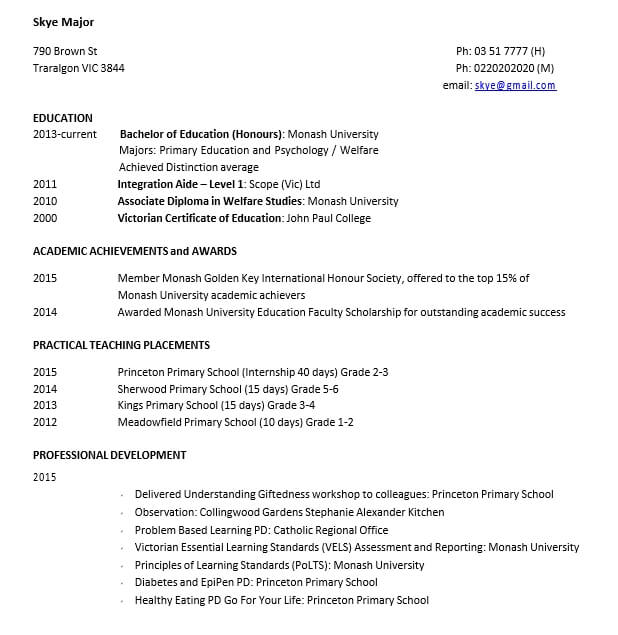 Resume Template for Daycare Teaching Assistant
Even if you deal with just young kids, applying for a position in a daycare center requires you a resume. Make it with one of these available teaching assistant resume templates and be less worried about what content you need to put in.
Resume Template Preschool Assistant Teacher
Preschool kids are wonderful. Besides they are actively learning, being their teacher can also be the other training for you, especially if you've only handled older kids.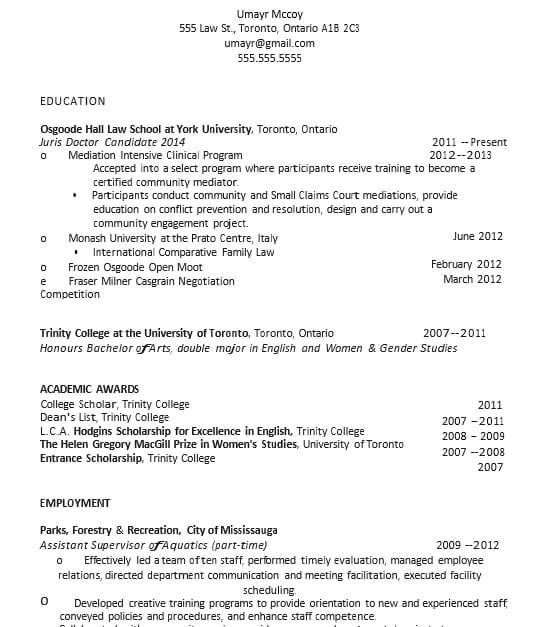 While in doubt of making your resume, try getting your resume template here. With easy handling and professional looks, hope it will take your employer's attention. Hence the call will be yours!
Resume Template for Kindergarten Teacher Assistant
Kindergarten teaching is similar to preschool teaching, yet more formal. Plus, as a compulsory school that kids need to attend, the school requires a perfect candidate to teach their students.
If you are confident of yourself for having such skills – not only to teach, but also to become the students' friend, probably kindergarten teaching assistant resume template is what you need before applying. Using this template, you won't need to make it from scratch.
Resume Template for Art Teacher Assistant
Having a keen interest in art and planning to become an art teacher? Well, win your position from other applicants by sending your resume. No need to make it colorful and artsy, even if you're applying for becoming an art teacher – you'll still need to make it looking professional.
So, those are some types and related information about teaching assistant resume templates. Get ready to show off your skills and experiences to get that call for an interview