Employees who cause threats or doing anything abusive may get termination from the company. This action may happen if an employee truly proves undisciplined. An employer who wants to address a termination letter should do a deep investigation regards this issue. That is why, it is recommended for you to read the termination letter for insubordination we have provided below.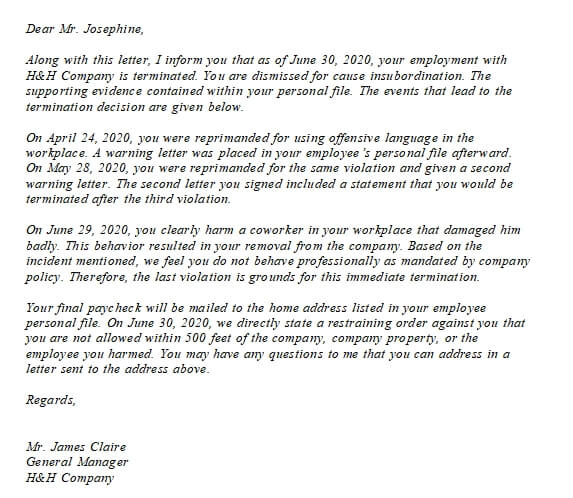 How Do You Terminate An Employee For Insubordination?
Do an investigation that you should collect data about the prior offenses that your employee had done. This is important because it has to be grounds of insubordination, otherwise, a termination letter cannot be addressed to the offender. Ensure the data collected you put into the employee's personal file. Further, it can be included for all the documents required to make a dismissal to one of the employees.
Is Insubordination Grounds For Termination?
Most companies or workplaces emphasize that it can be grounds for termination or at least it can be a reason for the issuance of a warning. Insubordination means willfully disobey of employer's law. Nonetheless, insubordination should be held after the offenses data collected. It cannot be aimed at certain employees on personal or it should be groundwork for discrimination that may harm the company.
How Do You Write A Termination Letter For Insubordination?
Include all of the details that lead to the terms such as the date written, date of violation by an employee, the exact date of termination, and any other information regarding the alleged employee who did offenses.
Example Of Termination Letter For Insubordination
Here is an example below you may need in order to help you make a letter to your employer.
Dear Mr. Josephine,

Along with this letter, I inform you that as of June 30, 2020, your employment with H&H Company is terminated. You are dismissed for cause insubordination. The supporting evidence contained within your personal file. The events that lead to the termination decision are given below.

On April 24, 2020, you were reprimanded for using offensive language in the workplace. A warning letter was placed in your employee's personal file afterward. On May 28, 2020, you were reprimanded for the same violation and given a second warning letter. The second letter you signed included a statement that you would be terminated after the third violation.

On June 29, 2020, you clearly harm a coworker in your workplace that damaged him badly. This behavior resulted in your removal from the company. Based on the incident mentioned, we feel you do not behave professionally as mandated by company policy. Therefore, the last violation is grounds for this immediate termination.

Your final paycheck will be mailed to the home address listed in your employee personal file. On June 30, 2020, we directly state a restraining order against you that you are not allowed within 500 feet of the company, company property, or the employee you harmed. You may have any questions to me that you can address in a letter sent to the address above.

Regards,


Mr. James Claire
General Manager
H&H Company
May this information can help your need in understanding about termination letter for insubordination. Don't hesitate to edit the example. Good luck!