Retirement will probably make you very happy. On the other hand, you may also miss your co-worker or some piling up work. It's good for you to struggle for several years until finally retiring. You are an extraordinary person. However, don't forget that it is important for you to write a thank you retirement letter to the other workers who have given you gifts or impressive farewells.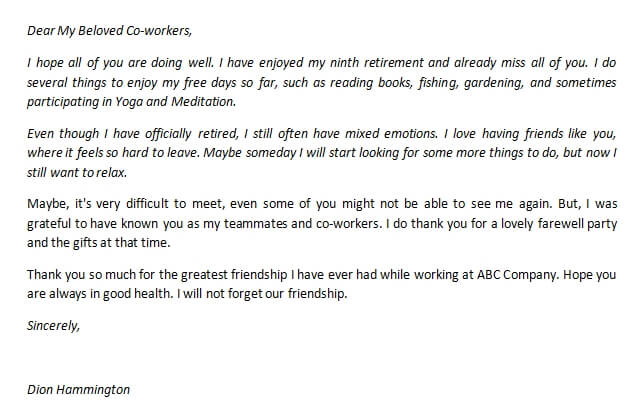 What Is A Thank You Retirement Letter?
A retirement letter is one of the best ways to say a big thank you to a coworker, boss, or client when you have retired. Under most circumstances, the language and tone used in each format will be different, according to who is the person you are addressing. If your letter is given to your boss, then the language must be formal and neat. Meanwhile, if it is given to colleagues, you can use informal language.
How To Write A Thank You Retirement Format?
You can tell some things related to what you have done during your retirement. Express your pleasure and pride in working with someone to whom you are writing. If it is for a coworker, tell them that you will never forget the great teamwork and friendship. Also, tell your friends what plans you have in the future to spend free time during retirement.
Note that you have to say thank you if your coworker gives you a festive farewell party or a certain gift. Show them that you love them as great co-workers.
Thank You Retirement Letter Sample
The format of a thank you letter for retirement will certainly differ from one another, it depends on the experience of each writer. You also need to write your letter in a warm tone and diction. The following may be an inspiration you can choose to write your letter:
Dear My Beloved Co-workers,
I hope all of you are doing well. I have enjoyed my ninth retirement and already miss all of you. I do several things to enjoy my free days so far, such as reading books, fishing, gardening, and sometimes participating in Yoga and Meditation.
Even though I have officially retired, I still often have mixed emotions. I love having friends like you, where it feels so hard to leave. Maybe someday I will start looking for some more things to do, but now I still want to relax.
Maybe, it's very difficult to meet, even some of you might not be able to see me again. But, I was grateful to have known you as my teammates and co-workers. I do thank you for a lovely farewell party and the gifts at that time.
Thank you so much for the greatest friendship I have ever had while working at ABC Company. Hope you are always in good health. I will not forget our friendship.
Sincerely,
Dion Hammington
That's all our short explanation about the thank you retirement letter and its sample. Hope you can find a new idea to write your amazing letter.