Web Developer Resume Templates, Examples and Explanations
 Writing a web developer resume will not be something so effortless when you do not use template. This is why you should be able to download some templates and look at some examples below. They will help you writing a good resume at the end of the day.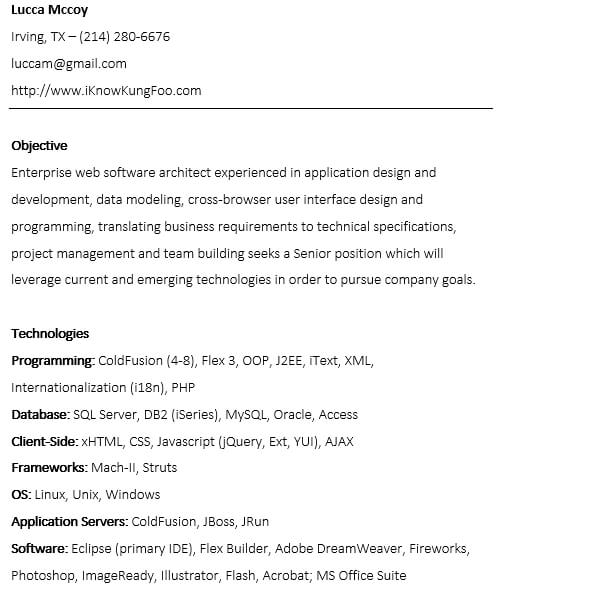 Those examples are for free. There is no need to worry about having to pay money for downloading the whole thing. They are available for free and everyone can just download them anytime they want. These are the examples and templates for you to download.
Web Developer Resume Example
Howard Park
Email: howiepark@mail.me
Phone: 2817-38176
Address: 17 Leonard St, Cooper, RK
Summary
A professional website developer with more than 5 years of experience.
Graduating with specialized degree in website development.
Having skills and experiences in designing and developing website and user interfaces.
Familiar with debugging and tasting as well as data retrieval.
Education
Thomas State University, B.S. Web Development, Graduated 2015, GPA 3.4
Edward Technology College, A.A Programming, Graduated 2012, GPA 3.5
Training
Java Programming Training for Beginners, 2011, Thomas State University
Visual Basic Training, 2012, Thomas State University
Skills
PHP/PERL/ Access
Photoshop
Oracle/.NET/CSS
Dreamweaver
ASP/SQL/JavaScript
WordPress
Visual Basic
XML/AJAX/HTML
Work History
Web Developer, Johnson Technologies, RK, 2015-2018
Supervising internal web function
Doing minor and major updates and changes
Fixing bugs from websites and improving website functionality
Designing websites and pages for the companies
Developing web application according to request
Senior Web Developer, Marcus Technologies, RK, 2018-Ongoing
Managing 10 projects (as per 2021) and developing the dynamic and interactive websites according to request.
Implemented server and document generations.
Trained more than 4 teams of new website developers.
Developing apps and software according to request.
How Do I Write a Resume for a Developer?
Writing web developer resume is going to be way easier when you have been using templates. It is because templates are basically pre-structured documents, so all you need to do is just filling in the blanks, and you will get the finished resume immediately. This is what you need to do:
Pick the web developer resume template that you want and download them,
Examine the template and see if they contain the information that you want to display
Complete the blanks and fill in the blanks with your information
Enlist your work experience and history of education in the resume
Recheck the resume before sending/printing
People Also Ask
How do you mention a website on a resume?
As a web developer, it won't be surprising that your jobs will be mainly on developing particular websites. If you want to display the website and you have permission for that, you can just list them on the resume. Show them in links, so the employer can click on them immediately.
However, if the website is not yours, you should ask the permission first. You can display the website only when you have the permission. If you do not get any permission for that, do not display that website at all on your web developer resume.
What are the skills required for a web developer?
The skills you need to display on your web developer resume are including the technical ones, such as the one for oracles, Java script, HTML and other things like that. If you want to add soft skills, these include the communication skill, time management and problem solving.
Those soft skills are needed because in web developing jobs, you will most likely to work as a team, so the communication is needed. Time management is also needed as you will have limited time to work on your projects. Moreover, problem solving is certainly needed as testing website revolved around those things.
Should I Add My Websites to My Resume?
If it is your own website and you have full right to it, you can add it to your web developer resume. It will help showing to the employers about your skill in developing website. However, again, if it is not your website, you do not need to include it on the resume, unless you have the permission for it.
Resume for Front-End Web Developer
For those who need to write a good web developer CV or resume, use this example. It will help you to write a good resume with ease.
Senior Resume for Web Developer
Even when you are a senior one in your field, you still have to make an impressive CV. This is the CV example you are going to need.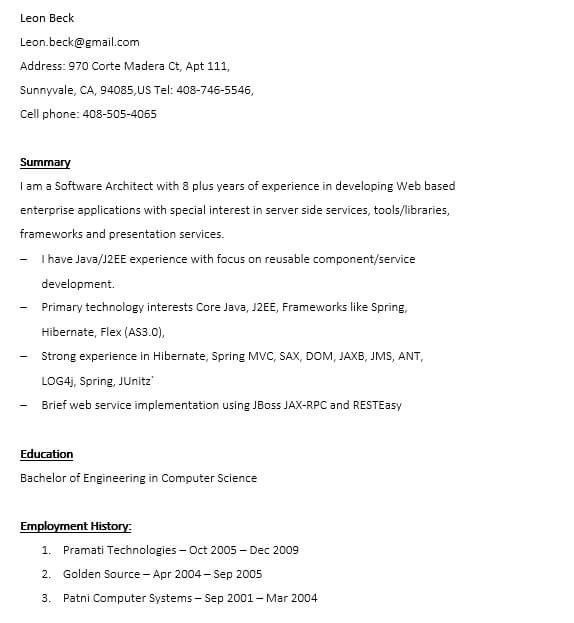 Example of Web Developer CV
Using example is a good decision. It shows you the correct display and contents of the CV. Use this template as a guide.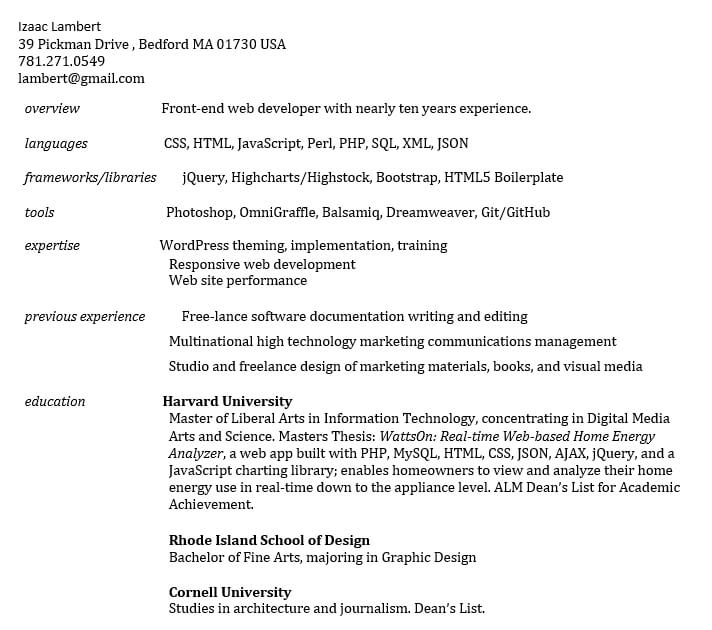 Simple Resume for Web Developer
This is the simplest yet great form of resume for the web developers. It has everything you have to display on the document.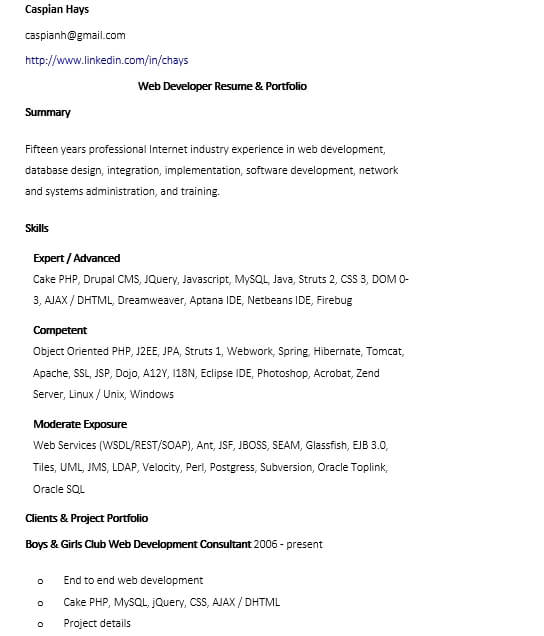 Professional Resume Web Developer Template
This is a web developer resume for experienced web developer. You can have the examples to make a good and readable CV.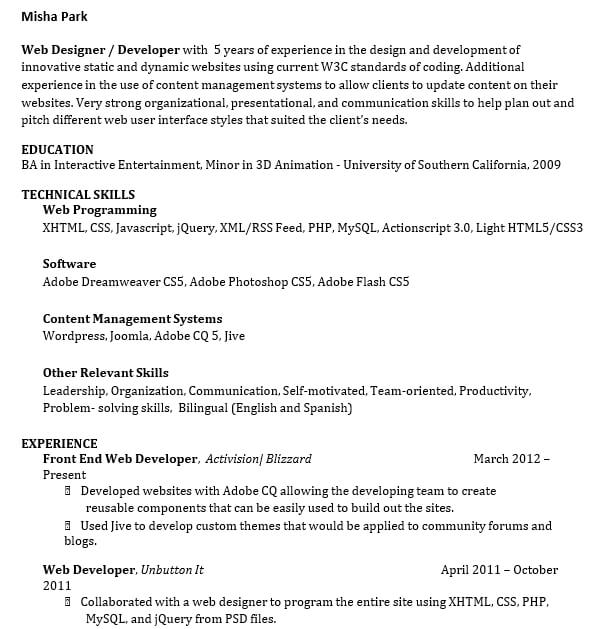 Experienced Web Developer Template Resume
When you have experiences already in the field, use this template to show the proper content of the resume.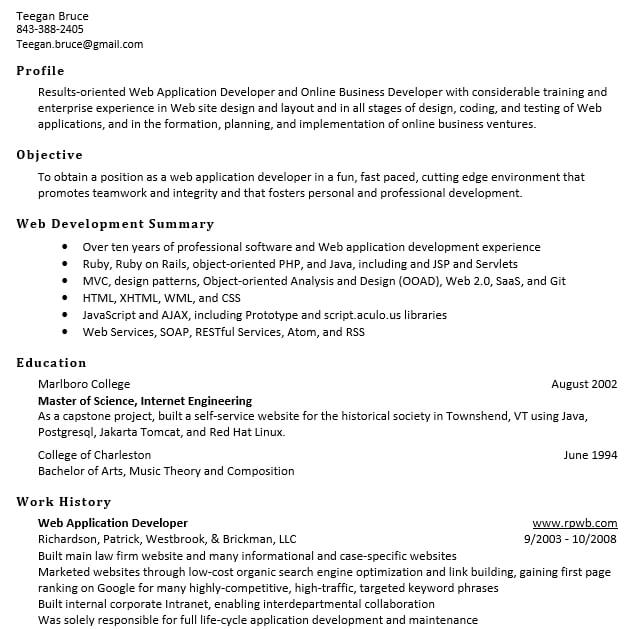 Word Format Web Developer Template
The most common format of web developer resume to write is the one in .doc. Well, .doc is the format for Microsoft Word. Use this template to make a good resume.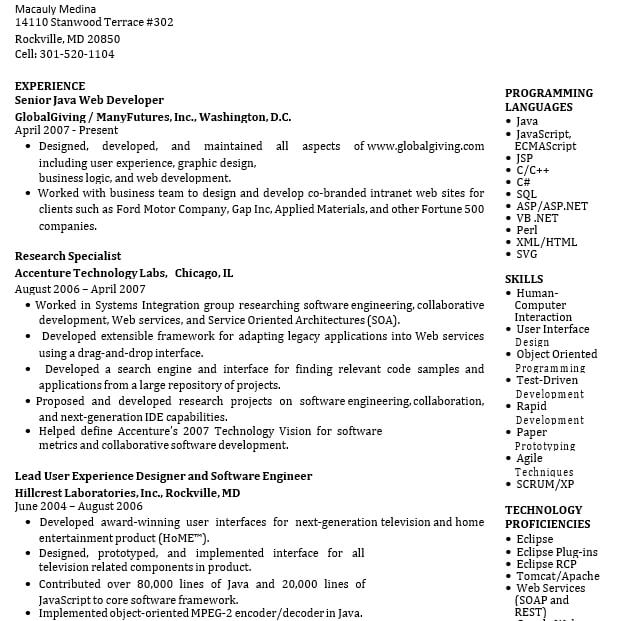 PHP Web Developer Templates and Resume
This is the resume for PHP web developer. Instead of making one on your own, simply use this template.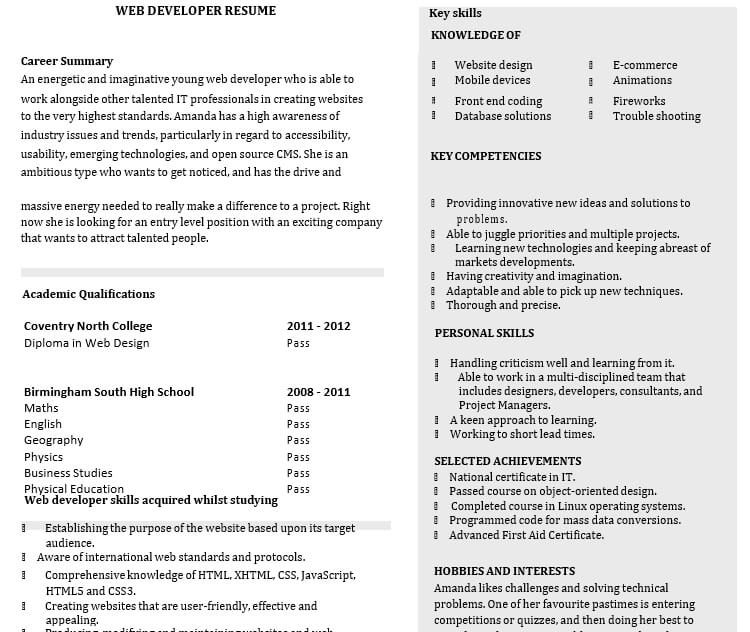 HTML Resume for Web Developer
For those who need to write HTML resume, this is the web developer resume example that you can download. All of them are available for free.
Resume for Java Web Developer
This is the resume for Java web developer. Download the template then use it as the base of your resume.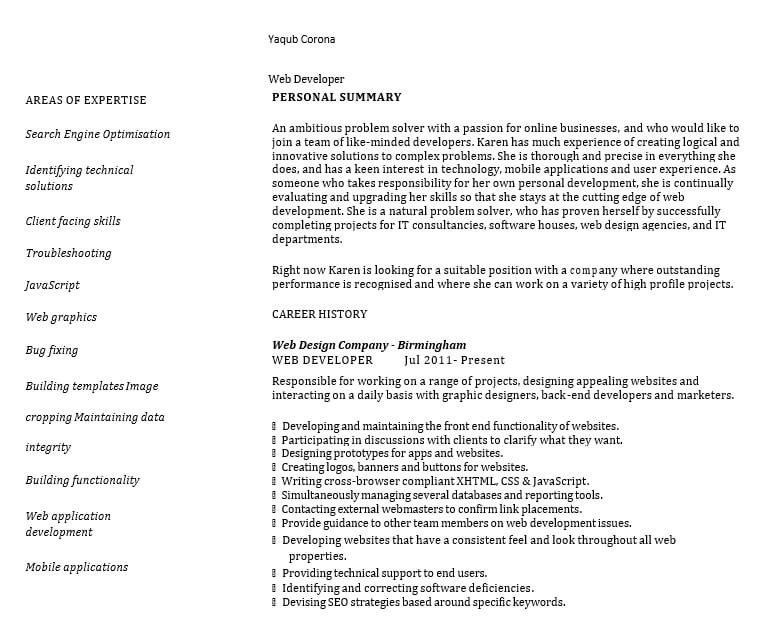 Entry Level Web Developer Template
This is the resume for web developer resume when you are just an entry level one. Of course, you will still need the template as the guideline.