Example of a Caregiver Resumes and Free Downloadable Templates
Many people are looking for example of a caregiver resumes. When you are applying job as caregiver, there will be plenty of thing to write on that resume. In fact, the employers won't just let strangers to take care of their family, so they want to get to know the caregivers first using their resume.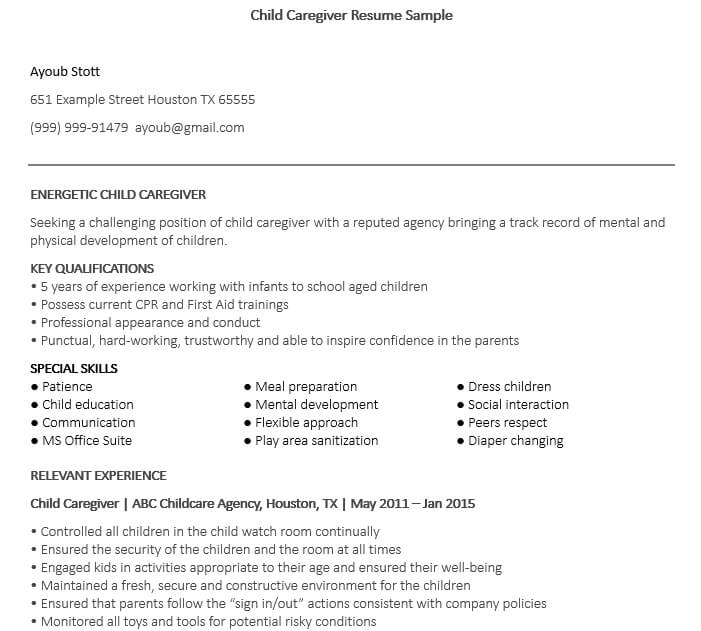 This is why the resume should be very well-written. You will have to impress the employers using the resume and show them if they give the job to you, you will take care of the assigned person with all your heart. Take a look at the example of templates from the list below.
Example of a Caregiver Resume
 Camilla Smith
Email: camillasmith@mail.me
Phone: 2816-3917
Address: 17 Parker St, Hudsonville, CA
At a Glance
Professional caregiver with more than a decade experience.
Have compassion in serving for other people, especially for elderlies who could not get proper attention and care from their own family.
Expert in many soft skills and hard skills related to caregiving and communicating.
Education
Weston High School, Graduated 2006, GPA 3.5
Franklin State University, Graduated 2010, GPA 3.4, Nursing Assistant Degree
Work History
2010-2011, Glenn Family, Taking care of Mr. John Glenn
2011-2013, Kellan Nursing Home, Nursing and Caregiving Team
2013-2014, Frank Family, Taking care of Ms. Phineas Frank
2014-2015, May Family, Taking care of Ms. Brielle May
2015-2018, Jacksonville Nursing Home, Senior Caregiver
2018-2020, Ethan Family, Taking care of Mr. Carl Ethan Sr.
2020-Ongoing, Weston Nursing Home, Senior Caregiver
Training
Basic Training in Elderly Safety Information, 2009, Johnson Nursing Home
Basic Training in Emergency Response, 2010, Jameson Government
How to Cook Special Dietary Food for Elderlies, 2010, Johnson Nursing Home
Safe Patient Handling: The Seminar, 2011, Hudson University
Hard Skills
CPR
First Aid
Dietary Food
Housekeeping
Patient handling
Personal Care
Soft Skills
Patience
Observation
Communication
Cleanliness
Compassion
Time Management
What Should a Caregiver Put on Resume?
Being a caregiver is all about compassion and soft skill. After all, your main job is to take care of people, mostly old people. This is the reason why the resume is less technical. To ease your way in writing the resume, follow this list of the things you should write there:
Find the right example of a caregiver resumes and download them
Personal data is a must. So, write it on the resume.
You will need to input your history of education, especially if you have degree in nursing, caregiving, etc.
Enlist all your working experience. If there are only a few, you can replace them with the internship or volunteering work you have done over the years.
Make a list of your soft skill and hard skill.
If you have been joining any training, write them on the resume.
People Also Ask
What do you write in a caregiver resume?
As stated before, you should be able to write a lot of things in the resume, including your working experience. However, the main part of the resume is the skill. Make sure you know how to do the basic caregiving skills and find the right example of a caregiver resumes.
The skills are divided into two kinds: soft skills and hard skills. They are all needed at the same time, so taking care of people especially elderlies will not be too hard. If you do not conquer those skills, it will be better for you not to apply a job as caregivers as it will not suit you well.
How do I put my private caregiver on my resume?
Most caregivers work for families. Sometimes, it is called private caregiver. Yes, instead of placing their old parents or relatives in nursing home, people tend to hire private caregiver, so the elderlies can be taken care of at home. For the caregiver, this is certainly a professional work still.
Therefore, surely it can be enlisted in the resume. The example of a caregiver resumes includes private job like this as well. However, it will be better for you to contact the former employer first to ask whether or not it is okay to put their family name to your resume, albeit just at a glance.
What are the skills of a caregiver?
The hard skills are the technical ones, including CPR, first aid, and the understanding of dietary food and basic care for old people. The soft skills are more on the feeling and mental management, including compassion and patience. This is the example of a caregiver resumes to download.
Children Caregiver Resume Template
Caregiving is not only for elderlies. It is for small children as well. Use the example of a caregiver resumes to create a good and readable one.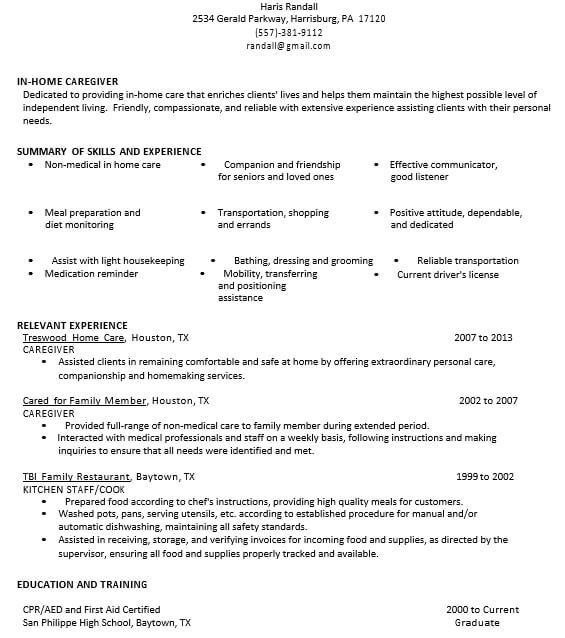 Caregiver Resume Template for Private Duty
Private duty is less publicized, and usually it is the job from private family as well. This is the example of a caregiver resumes to download. It is all for free.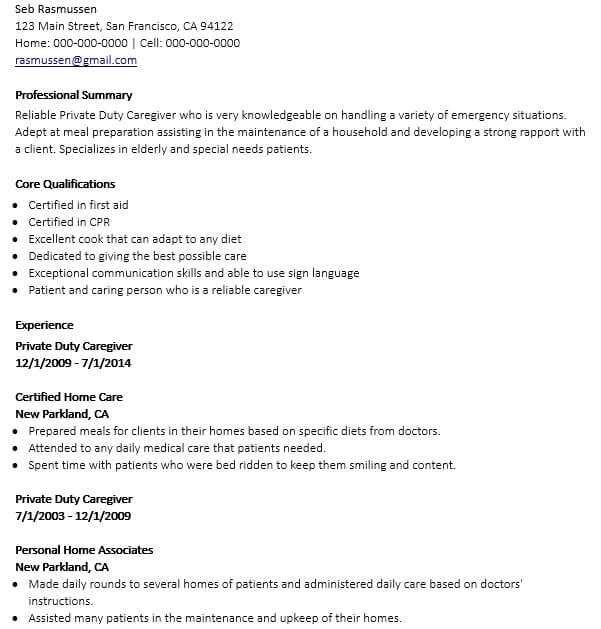 Less-Experienced Caregiver Resume Template
Even when you have less experience, the resume can still be good. All you need to do is using the template then modify it based on your need.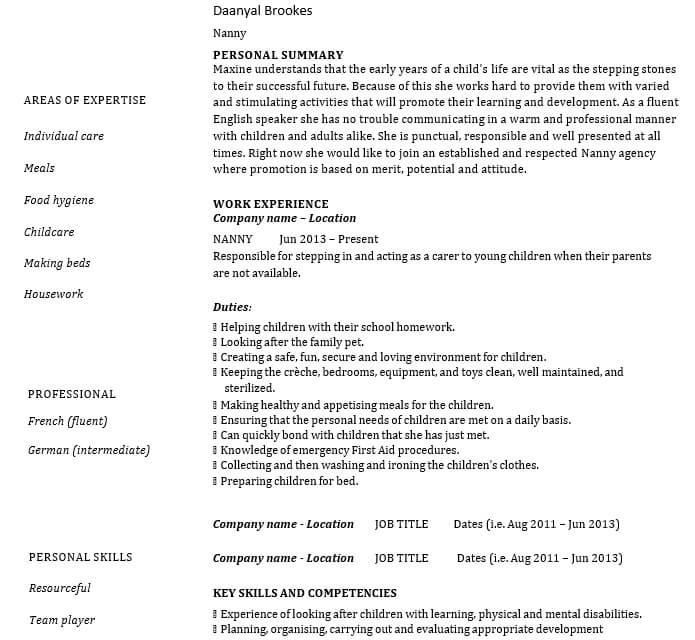 Private Caregiver Resume Example
For your information, private caregivers are usually working for families, and they take care of the family member who is in need of special attention. This is the example of a caregiver resumes that you can use.
Caregiver Resume for Nannies
Nannies are the job for mostly taking care of babies and children. They need to write resume as well, and this is the best example of a caregiver resumes to use.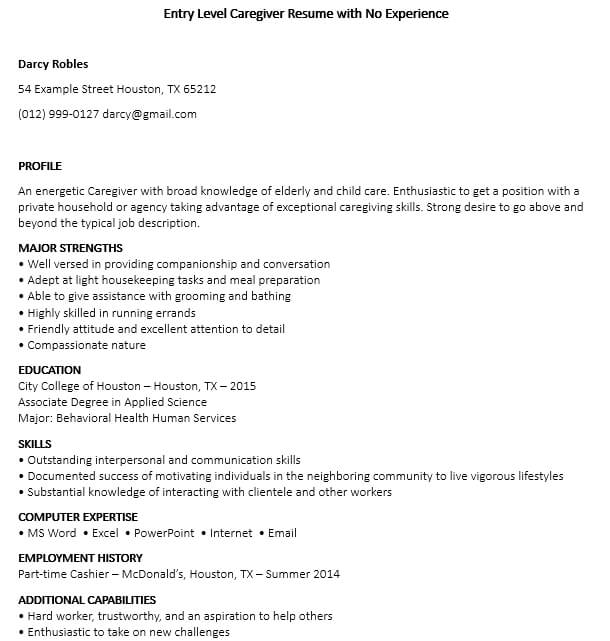 Caregiver Resume Example to Take Care of Animal
Some caregivers are needed to take care of animals. This is the resume that you may need to write to get that job.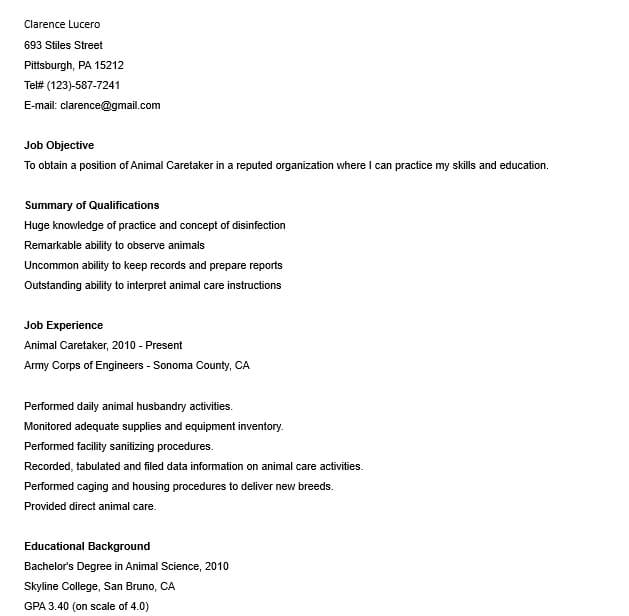 In House Caregiver Resume in PDF Format
If you want to apply job as a full-time in house caregiver, and the job application is sent via email, surely the resume needs to be in PDF format. This is the example of a caregiver resumes in PDF format that you need.