Tips and Sample on How to Create a Welder Resume
Writing a welder resume is unquestionably the most essential step when it comes to applying for a certain job. Your professional experience and qualifications are only helpful if you know how to professionally present and write them in your resume.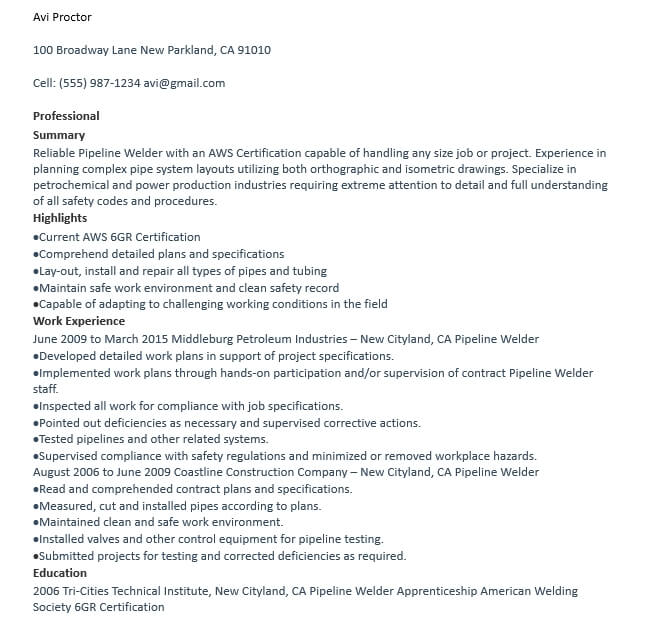 Your extensive expertise in the sector you plan to apply to will not assist you in obtaining the job if you are unable to inadequately describe or specify it. The following welder resume samples will offer you a broad concept and writing tips on writing your own.
Sample of Welder Resume
Below is the resume sample you can make use of as a reference in writing your own resume to apply for a welder position:
Chris Dorado
Address            : Blue Springs, MO 64015
Phone               : 262-472-3174
Email                : doradochris@gmail.com
Summary
Detail-oriented and passionate welder with over 2 years of expertise producing premium industrial products in a safe and clean work facility.
Proficient in understanding designs and welding constructions according to the provided blueprints.
Education
State Technical College of Missouri Linn | Oct '13 – July '15
Associate of Applied Science in Welding Technology
Professional Experience
JJ Tech, Welder | Jan '19 – Present
Interpret computer-aided drafting and provided blueprints in the large-scale construction industry for more than five months.
Arrange and fabricate components in a correct framework, and determine the suitable welding method for each connection.
Perform welds testing for quality and stability, making sure any defective parts are fixed to prevent any safety issues from occurring.
River Group, Welder | Oct '15 – Jan '19
Fabricated stainless steel tubing systems using provided blueprints as a reference.
Safely managed supplies and equipment, including putting up essential components on a welding station.
Thoroughly examined all the final components to make sure everything complied with the rules.
Skills
Fabrication
Blueprint comprehension
How to Professionally Write a Welder Resume
Below is the step-by-step to compose a welder resume that can help you land a job:
Select the correct format for your resume. Make sure to choose one that fits the position you want to apply for.
Start your resume with your basic contact info and include a compelling summary if you have experience related to the position. If you have limited welding experience or don't have at all, use resume objective.
Describe your professional experience from your most recent employment.
Include your relevant educational background.
Highlight the relevant skills.
People Also Ask
How long should a resume for the welder position be?
If you use a template, always stick to the resume template's length. The length often indicates how much time the employer will spend their time for reading your resume. However, it's advised to be only one page or as short as possible.
Should I follow the entire flow of the resume template?
It's highly recommended if you stick to the welder resume template's pattern and flow. The template has outlined every essential resume section, which you can use to present to present your experience and qualifications.
Suppose you feel the need to modify some existing headers. In that case, you have the flexibility to adjust these elements to suit your preference.
Should I use the same resume templates for all applications?
You may use the same welder resume template for any of your applications. However, you will need to edit the content of each resume so that it fits the requirements of the position you are planning to apply for.
Types of Welder Resume Templates
Just like any resume template, the one that is specifically meant for welder position is also available in many different formats. Below are some of the templates you can use to create your own.
Welder Resume Template for Entry Level
Suppose you plan to apply for a welder position with limited experience. In that case, this welder resume sample is the right one for you. It outlines all the qualifications and skills you have to offer. Because this template is designed for entry-level applications, you must only include relevant experience.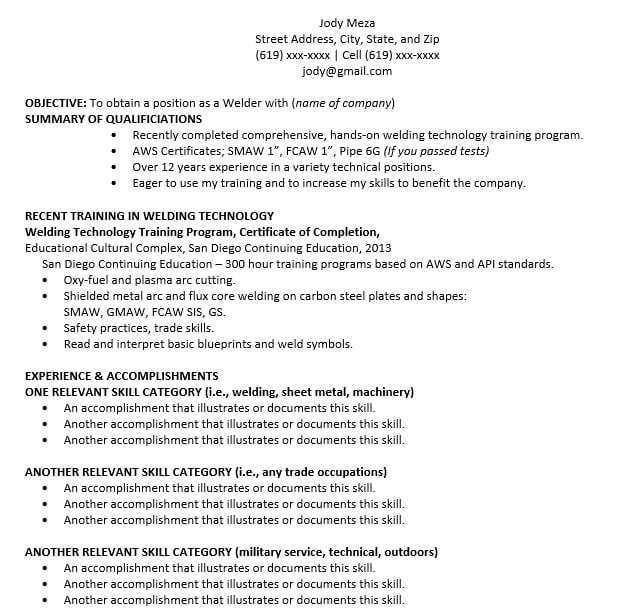 Resume Template for Pipe Welder
This welder resume sample is a practical way to the job-hunting process. It outlines all the essentials resume sections, including summary, professional experience, educational background, and highlights.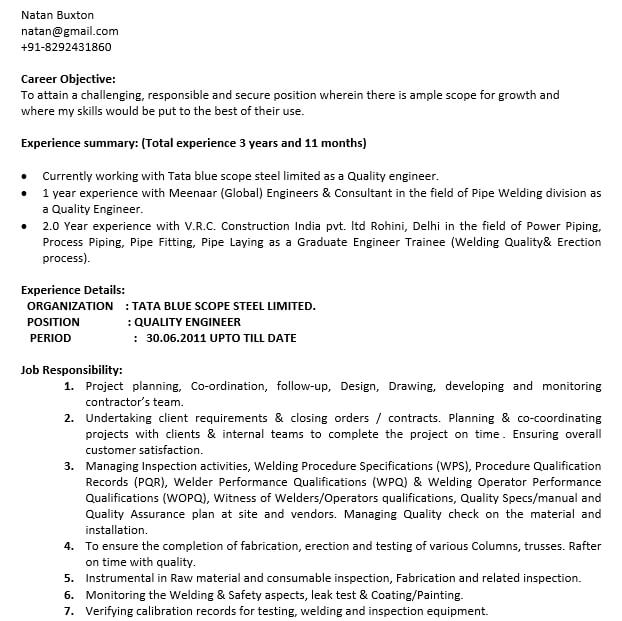 You solely need to download the template and fill in the provided blanks with your own relevant information along with concise descriptions.
Resume Sample for Welder Fabricator
This welder resume comes in a bulleted layout, making it easy to use and customize. You can create your own resume content based on the samples provided under each resume subject. You only need to make sure that the information you highlight is conveyed. Also, include a brief description of each credential.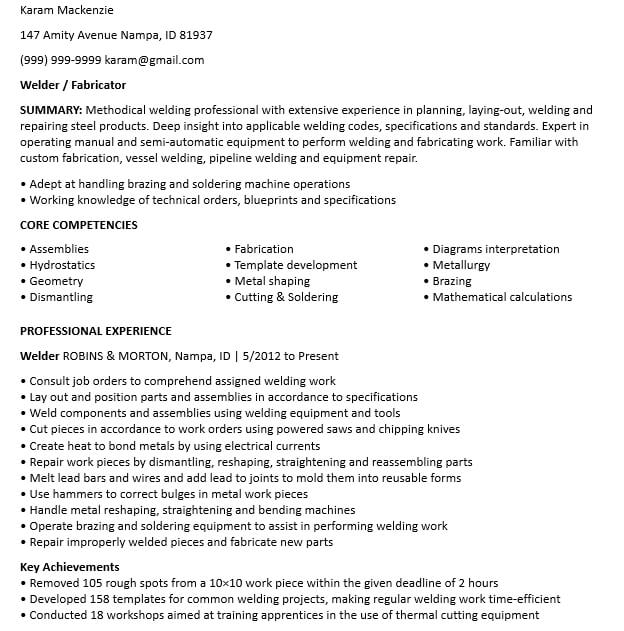 Structural Resume Sample for Welder Position
In order to land a welder job you have been dreaming of, you will need this thorough resume sample. With this welder resume sample, you will no longer have to create everything from scratch. The only things you need to do are to download and customize it as per your requirements.
The good thing about this resume is that it highlights your extensive professional experience and the key capabilities you have gained through your previous employment and projects.
Editable Resume Example for Welding Job
Composing a professional resume to apply for a welder position can be a bit taxing. More importantly, if you have no foggiest idea of what you are going to include in your resume. You might want to write as much information as you can, but it's not always a good thing.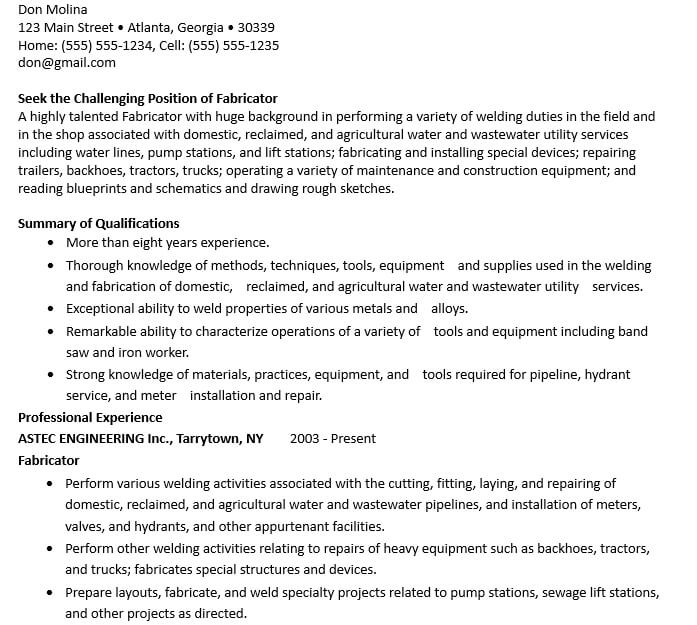 This resume sample details all the essential entries, including summary, education, experience, and skills. Besides, it's also highly editable.
Sample Template of Welder Resume
This ready-made welder resume template is an ideal choice to help you list each of your professional qualifications. It comes with detailed sections where you may describe your most recent experience and any of your relevant achievements.
When writing a welder resume, you must consider all the entries you want to present in order to increase your possibility of being interviewed and hired. You may use the provided templates above to give you ideas on how to create your own resume.