MBA Resume Template as Quick Way to Help Building Your Resume
Finding the right candidate is one of the hardest tasks of being a HR. Besides HR is faced with various kinds of resume, this position needs to select little number of candidates among all piles. Including into those piles, probably your MBA resume is made with an MBA resume template.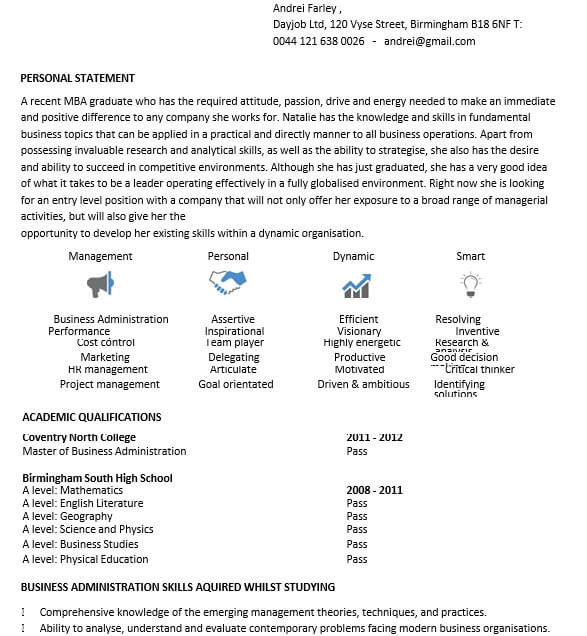 Is it worthy to build your MBA resume with an MBA resume template? Will it help you to dismiss common mistakes in making resumes? Those questions are what this article is going to reveal.
The Sample of MBA Resume
Wondering how to make an MBA resume? Read this shortened version of resume made by MBA resume template to give you an insight.
Pretty Chopra, MBA
12 Oak Street, Little City, Arkansas 821703 | pchopra@gmail.com | 019-291-2123
CAREER OBJECTIVE
MBA fresh graduate specializing in HR management seeking for opportunities in a company which provides growth and success to both organization and individual.
CORE COMPETENCIES:
Effective communication skills
Efficient management skills.
Assertive approach.
Excellent interpersonal skills.
Profound knowledge of managerial, labor laws, and HR practices.
EDUCATIONAL QUALIFICATIONS:
Master of Business Administration, specialties in HR Management
University of XYZ (2018-2021); GPA 3.93/4.00
Bachelor of Management
University of XYZ (2014-2018); GPA: 3.78/4.00
SKILLS:
Proficient with MS Office
Outstanding knowledge with various HR tools
Foreign language: Hindi, Spanish, French
How to Make an MBA Resume
Gather your information, including personal information, skills, working experiences (if any), achievements, etc.
Get a sample. This will help you learn about formatting and the contents. Suggestion: if you're an MBA-graduate, you may refer to MBA resume template.
Learn about the sample first.
Then, you may directly edit the template using your own data. If the template isn't editable—let's say it's in PDF format, consider converting it or simply use it as reference.
Proofread and edit. That's why it's best to make your resume long before the due date for submission.
People Also Ask
What is MBA resume?
An MBA resume, just like other kinds of resume, is used to showcase your qualifications, personal information, as well as other related information, such as your skills, educational backgrounds, and not to forget, work experiences. The document is written typically when applying for a job.
What are essential steps for writing an MBA resume?
Just as mentioned above, you need to gather your information first and take an example to guide you while writing it. Then, you may create your document by referring to that template or simply edit it to make your resume in less time. The last step is to review and proofread your file.
What are some tips for writing an MBA resume?
Make your resume concisely and effectively written
Format it neatly
Always proofread to avoid misspelling and other kinds of mistakes
Showcase your experience and achievements first (if any)
Types of MBA Resume
With MBA in hand, it seems like many opportunities are opened. That simply means, with one MBA resume template, you can get a lot of job application samples as follows.
Free MBA Resume Format
You know what's good about MBA resume template? It's mostly free to download. If you're currently unemployed, freebies like such template will help you to cut the cost of hiring a freelance to make your CV.
Commonly, people will take a resume as a guide to make theirs. Some of them may even use MBA resume template in order to cut making time. Is it a wrongly act? Not even at the first glance. It's just a quick trick to help them build resume.
Free MBA Resume Template in Word
It's undeniable that Word is one of the easiest apps to use to make various types of documents. Including in the list is your MBA resume. If you need a lending hand, you can simply rely on a resume template.
Once you find your right resume template, you may simply click on the download button. To use it, you'll have to launch the Word app and then open the template file. Shortly after that, you may start to customize the template
Resume Template for Marketing MBA
If you're an MBA graduate, marketing analyst can be one of your dream jobs. The first thing to achieve that vacant position, of course, is to build your resume.
Whichever marketing position you prefer, MBA resume template is what you need if you're an MBA-degree graduate. Showcase your qualifications in that resume, and let's see that bright future together.
MBA College Resume and Cover Letter Template
Are you a candidate with MBA degree and in dire need to make a resume? Take a pause from your business, and invest it to download a template. That'll save you a lot of time to build your resume.
Additionally, resume won't be enough if cover letter isn't included to the package. When in doubt, you can refer to the 'complete package' of resume-cover letter template.
MBA Director Resume Template
Being an MBA graduate doesn't mean you're only busy with business administration stuff. If you're trying to reach that high place in your office hierarchy, let's say, being a director, you can start the journey by making your resume to showcase your qualifications.
Even if you have been already working long time in the field, you may find composing a resume is difficult. For that reason, you can download an MBA resume template to help you make the resume for director position.
MBA Fresher Resume Template
Are you new to the workforce with MBA degree in hand? Wow your potential employer by making a great resume. Try getting an MBA resume template and see what wonders it'll bring.
Again, what's so good about templates is that they are mostly downloadable for free. Therefore, no need to hire a resume-maker and you may allocate the money for other useful things.
Hopefully, this article about MBA resume template will be useful for you. To sum it up, it's not a bad idea to create your resume with a template. It's practical; hence you don't need to make from scratch nor hire a freelance guy to build your resume. You can also take common mistakes and unimportant blabbers away from your document.