An employee may be fired by an employer for some reason. However, it is not in an employment-at-will policy that allows employers to fire their employees without specific reasons. In some cases, you are permitted to terminate your employee without stating the reason. However, you are not permitted to fire your worker based on illegal reasons such as gender, age, race, religion, sexual orientation, and other matters related to discrimination. If you are going to terminate your employment without telling your reason, you can write a termination letter without cause.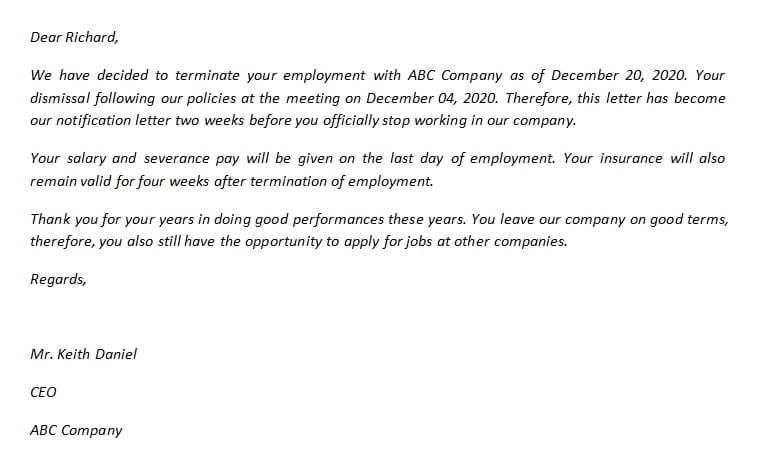 When Should An Employee Get Fired?
Getting fired at work is a painful thing. But the company also has the right to terminate a certain employee. Several reasons make a company have to fire an employee, some of which are as follows:
Involve in Using Drug or Alcohol At Work
A company doesn't want to get a bad reputation by hiring employees who are addicted to alcohol and drugs, especially to get drunk and interfere with performance in the office which will harm the company.
Violating Company Policy
Violating the policies imposed by the company is also a serious violation. Paying close attention to what regulations the company enforces is very important.
To Many Absences
Employees who have too many absences can also be fired by the company. Taking too much rest time will affect the completion of the project and cause the teammates who also have to do many tasks.
Committing Sexual Harassment
Committing sexual harassment at work cannot be excused. As the employer, you need to warn your employee in advance. But if your employee keeps making the same mistakes, you deserve to fire him/her.
How To Write A Termination Letter Without Cause?
Include the name of the employee you will fire by disclosing the last date of the employee. Write that you fired him/her without a reason, also state that the company will provide severance pay and payment on a certain date. Don't forget to thank the employee at the end of your letter.
Termination Letter Without Cause Sample
If you're still confused about how to start a termination letter, you can look at the examples below for your inspiration:
Dear Richard,
We have decided to terminate your employment with ABC Company as of December 20, 2020. Your dismissal following our policies at the meeting on December 04, 2020. Therefore, this letter has become our notification letter two weeks before you officially stop working in our company.
Your salary and severance pay will be given on the last day of employment. Your insurance will also remain valid for four weeks after termination of employment.
Thank you for your years in doing good performances these years. You leave our company on good terms, therefore, you also still have the opportunity to apply for jobs at other companies.
Regards,
Mr. Keith Daniel
CEO
ABC Company
Briefly, you can write your termination letter without cause by using some important aspects above. It's important to pay attention to the format in accordance with applicable recommendations.
Similar Posts: