Confused of Making Your Bilingual Resume? Just Take a Template and You will Make It in Ease
Having a skill in speaking more than two languages is surely a plus thing. If your soon-to-be workplace requires this as one of the qualifications, and you have that skill in you, then why don't you apply to that job? Applying for a job requires you a bilingual resume for sure—where you explain that you are a bilingual person that may be suitable to become a new addition to the company.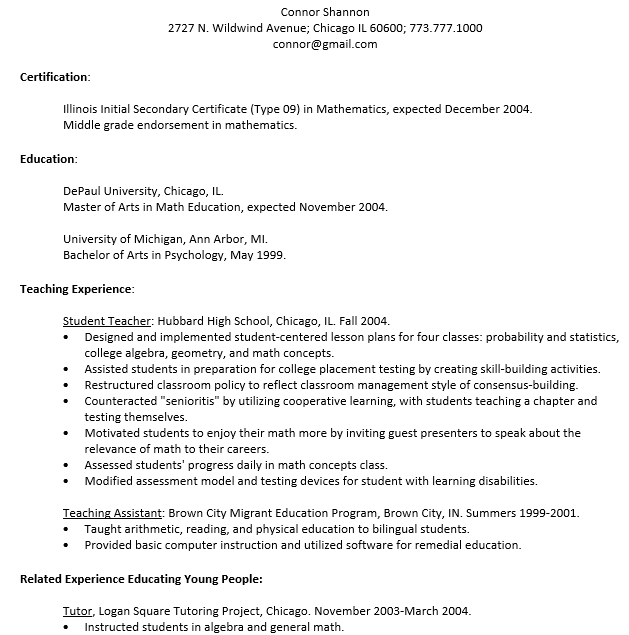 In making your bilingual resume, you don't have to write it in two languages or more. What it means to make your bilingual resume is that you should include your language skill into the resume. That is done in order to let the potential employer knows that you are an eligible applicant that the company is seeking.
Sample of Bilingual Resume
While making your bilingual resume, you may stumble upon confusion. That confusion will be more apparent if you are a first-timer in making your bilingual resume. That's why you should try to look at a sample before making your own resume.
Shawn J. Rodriguez
Biology Teacher
3 West 5th Street, Somewhere City, Ohio 29344 | shawnrodz@gmail.com | 0932-4732-2364
PROFESSIONAL SUMMARY
A graduate in biology education, currently teaching Maple High School in Somewhere City.
Having in-depth knowledge and is passionate in teaching.
A communicative teacher with native proficiency skill of Spanish.
OBJECTIVES
Seeking a biology teacher job in New York that also supports the teacher to have their own independent achievements, be it in the field of education or in the field of biology.
Seeking a positive and vigorous working place that enthralls and prompts me to do better every day.
EDUCATION
B.Sc. in Biology, University of Mississippi, Mississippi                      Graduated in 2015
GPA: 3.5/4.0
B.Ed. in Science Education, University of Mississippi, Mississippi     Graduated in 2016
GPA: 3.9/4.0
CERTIFICATION
Ohio State Science Teacher K-16 Certification                                        (August 2016)
WORKING EXPERIENCES
Biology Teacher in Maple High School, Somewhere City, Ohio          2016 – present
Preparing syllabus according to the curricula set by the Board of Education
Preparing lessons that fit with the syllabus
Creating materials, planning activities, and evaluation set that will help students to better understand about the lessons
Performing evaluation for each student for their performance, occasionally helped with a teaching assistant
Collaborating with the teaching assistant to take note which student needs help to improve themselves.
Working with a laboratory assistant to maintain the laboratory stuff work accordingly, etc.
ADDITIONAL SKILLS
Language:
Spanish (Advanced level)
Latin (Intermediate level, limited to colloquial conversations yet has not been covering for terms of education)
REFERENCES
Mr. Adnan Chaudhury, Maple High School (Principal)                  0123-4783-5493
How to Create Your Own Bilingual Resume
Just like creating your own resume, making your bilingual resume will require you to prepare some important data. You can see it in the aforementioned sample that you'll need:
Personal identity, which includes name, addresses, phone number, and email address.
Education background, this will be definitely important if you are applying for a job that requires specific education background, such as teacher, engineer, or anything.
Previous working experiences. If the job you are applying for requires you to have a previous working experiences—and you have it as well—then you'll have to include your experience. It'd be better to prepare it beforehand and don't forget to put the job descriptions into your bilingual resume
Following that, you may also include several optional items such as professional summary, objectives, and references. Writing down your language skills will be paramount in building an outstanding bilingual resume, especially if the job requires you to be bilingual.
People Also Ask
What jobs that usually needs bilingual resume?
There are no specific jobs that require a bilingual resume. After all, a bilingual resume is usually needed if the company you are applying is a multinational one. Language teachers, tour guides, travel agents, salespeople, receptionists, and frontier jobs usually require people who are bilinguals. But you need to check it first with the job qualification to know about that.
How to make your bilingual resume?
It's pretty easy. You can create your bilingual resume from scratch—meaning that you have to start with a blank document, taking a sample and copying it, or simply using a bilingual resume template. Taking a template is the easiest way to make your bilingual resume.
What to include in your bilingual resume?
personal identity
working experiences
education background
professional summary
objectives
skills, especially that two or more language skill
references, if any
Some Samples of Bilingual Resumes
Since there are many jobs that require bilingual resume, it's no wonder that you'll find many kinds of templates while searching for it online. If you decide to use template in order to create the resume, here's what you can choose.
Bilingual Translator Resume Sample
Being a translator without a second language? It's impossible! To be able to become a translator, you should have that second language which you are proficient in. Show that language and complete your resume with the certification you have had.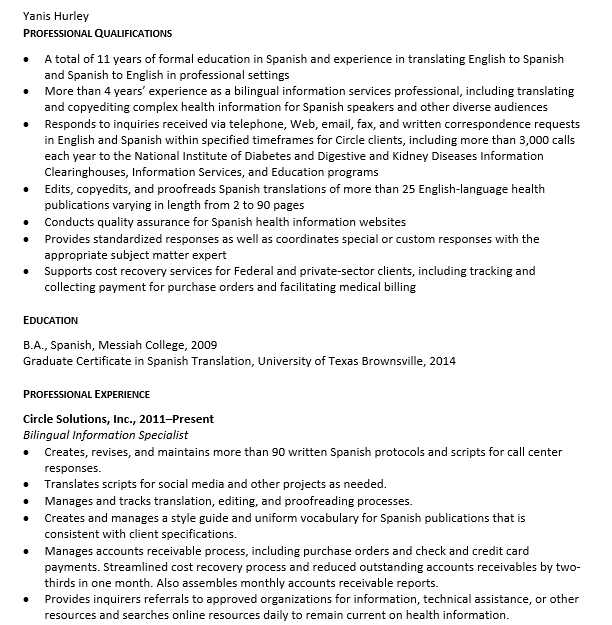 Bilingual Receptionist Resume Template
If you are previously working as a receptionist that also handles foreign people coming to your hotel, office, or hospital, being a bilingual speaker is a plus sign to have. With those experiences to showcase, have another person's bilingual resume to guide you while making a resume of yours.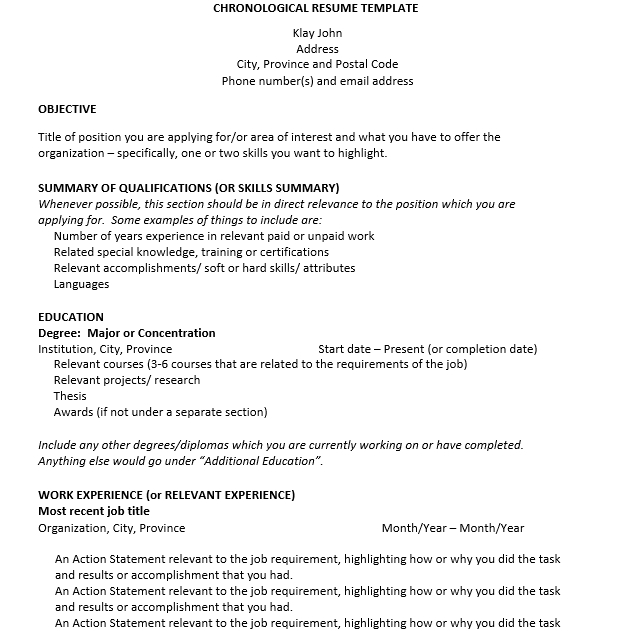 Bilingual Customer Service Sample
Working in a multinational company oftentimes requires you to be a bilingual person. Especially if your job is to handle customers whose primary language isn't English. If you need a quick assistance while creating your resume, bilingual resume template for customer service can help.
Template for Bilingual Teacher
Are you a bilingual person with a passion in education field? Then template for bilingual teacher is exactly what you need. No need to allocate a specific time to make your resume—with a template everything can be easily made!
So those are some samples of bilingual resume template and information that you may need in order to create your bilingual resume. Are ready to jump in to the job? Prepare your resume with a template and let's see whether it can bring you to interview or not.