Samples of Business Resume Templates as Your Guide
A business field job is another field job with a wide range of specialization and job positions that you can try to apply for, even if you are a fresher or a student with no working experience. You can make a resume by taking the business resumes templates below as your example.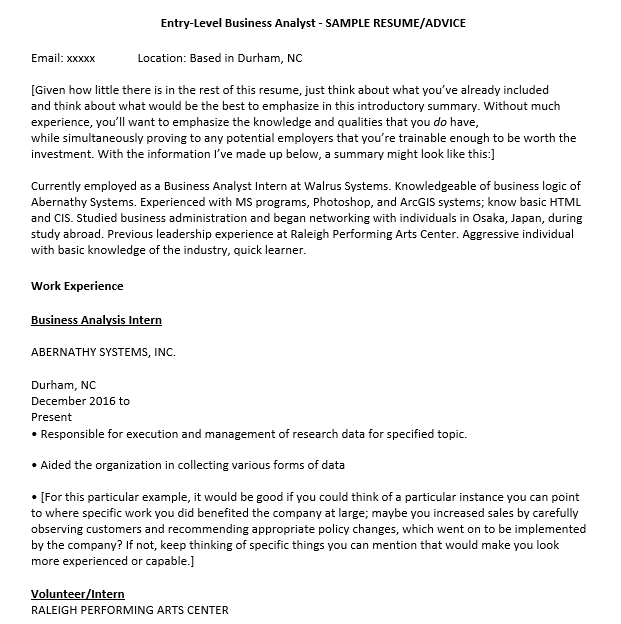 A curriculum vitae or a resume is an important document, especially if you are an ambitious person who always wants to develop your career in whatever field you are working and interested in, starting from the engineering field, technological field, until business field.
Sample of Business Resume Template
You will be provided with many samples of business resumes templates, just like shown below.
Peter White
Contact Details
Address            : 68 Woods Avenue, Los Angeles, CA 72897
Phone               : 827 777 7262
Email                : peter.white@outlook.com
Summary
A professional business analyst with excellent skills in increasing revenue in the company and completing operational efficiency.
Data analyst, asset management, and business development expert.
Defining the root analysis to develop improvements and identify issues that can affect the production cost and saving cost.
Exceptional implementation and planning capabilities.
Key Skills
System development
Budgeting skills
Cost analysis
Planning and forecasting
Business system
IS management
Project management
Business development and improvement
Microsoft Office
Project life cycle
Work Experience
Lead Business Analyst (June 2015 – Present)
East Los Angeles Hospital, Los Angeles, CA
Identifying the process then implementing the improved policies and processes
Trusted to be the Lead Analyst after only 5 months of employment
Analyzing the supply process and system project to improve them
Identifying the root issues and conducting the effective solutions for $35 million hospital project that saved almost 2 million dollars for the production cost
Developing analysis system that used to define inefficiencies for the improvement of the company
Redirecting the technology-based project plan to a forward-thinking plan
Leading cross department of the company to understand and analyze the opportunities and impacts of the technology changes to the company
Business Analyst (January 2015 – May 2015)
East Los Angeles Hospital, Los Angeles, CA
Gathering all the technical requirements for the designing project
Conducting the analysis of the company processes to make plan recommendations based on the results
Establishing internal control regulations and procedures by evaluating reports, documentation, records, and operating practices
Business Analyst (August 2012 – December 2014)
Woods Avenue Clinic, Los Angeles, CA
Assisting the senior staff officer with the development of effective analysis
Drafting monthly financial forecasts and reconciliations
Creating reports, collecting data, and analyzing the data trends as requested
Education
Bachelor of Arts (2008 – 2012)
Major: Business Management
University of Texas, Dallas, TX
Tips on Making Business Resume
Here are the things you should better do in making a resume using business resumes templates:
Do not use the confusing font or put too much color in resume
A colorful resume might sound good, but actually this is a terrible idea. You can't put too much color or confusing design in your resume because this will make the hiring managers is not interested in reading more about you. Just use the basic simple design and layout, and apply the common-used font, such as Times New Roman or Arial.
Give a short explanation and proof for every skill you have
You can't only list down your skills, but you also have to give a brief explanation about each of them. Even better if you have any proof that can make the hiring managers trust in your resume
Add your trusted references
The simplest way to make your resume more valued is by adding references. The hiring managers can contact them to check about your background.
People Also Ask
How do you write a business resume?
Besides knowing the samples of business resumes templates, follow these tips to make a professional business resume:
Avoid any common clichés
Put a resume summary
Spotlight your credentials
Define your accomplishments
Write the most relevant skills and experiences
Make your resume well suited to the company and the job position
What are the best skills for a resume?
The following are the key skills you should put in your resume:
Problem solving
Teamwork
Creativity
Public speaking
Interpersonal skills
Communication
Critical thinking
Customer service skills
What should a business resume look like?    
A good business resume should be:
One-page length
Easy-to-read font
No photos or graphics
Proper margins format
Consistent and proper line spacing format
Proper headings format
Types of Business Resumes Templates
Finally, now you can select one of these business resumes templates to make it as your example and guide you in writing the solid resume.
Business Resume Template for Business Development         
The very first options you can select are the development business resumes templates. Select this template if you are confident with your exceptional skills and experiences, and want to pursue your career in the business development field.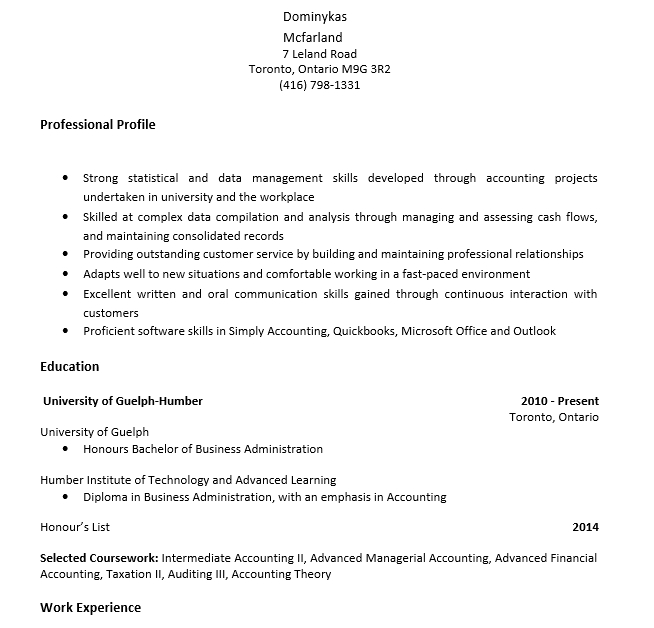 Business Resume Template for Entry-Level Business Analyst
Are you a fresher who wants to start career as a business analyst? Select the entry-level analyst business resumes templates to help you create your very first resume. You will be guided in highlighting your educational background, academic achievements, and relevant skills by using this template.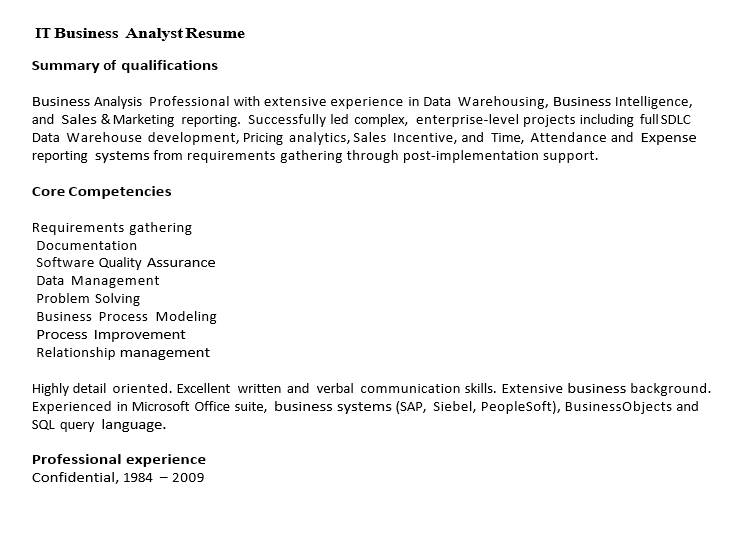 Business Resume Template for Junior Business Analyst
Now, if you have completed the first step in becoming a professional business analyst, you may want to pursue career by being a junior business analyst. If you are ever confused about making a great resume, try to follow the junior analyst business resumes templates.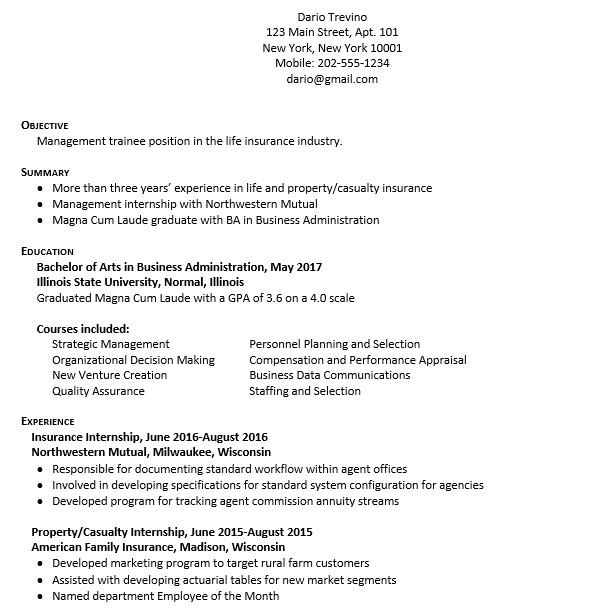 Business Resume Template for Senior Business Analyst      
After completing the second step of becoming a professional business analyst, now you are ready to take the next level: to be senior business analyst. You can follow the senior analyst business resumes templates to guide you in highlighting professional experience and achievements in the best way.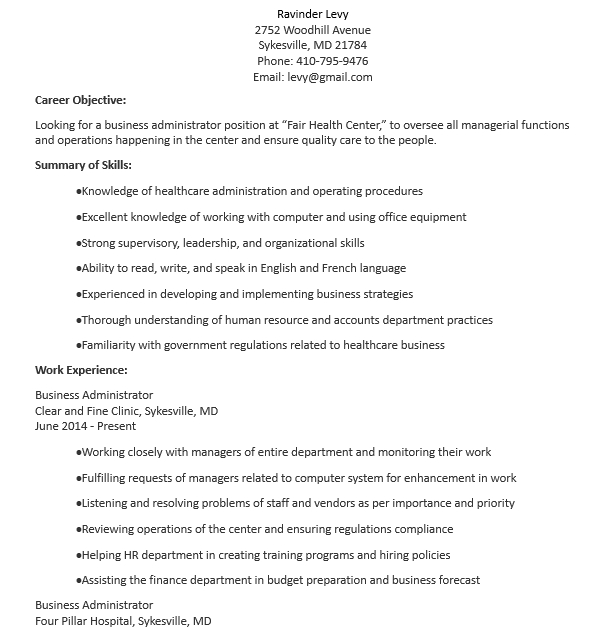 Business Resume Template for International Business Student
If you take international business management as your major in university, then the international business resumes templates are perfect for you. This template is divided into 3 parts. The first part enables you to write personal details, the second to list your education, and the last part to tell about your skills.