Professional Career-Winning Event Planner Resume Samples
Event planner has high skills in generating creative ideas, creating to-do lists, putting focus to the smallest details, and applying their problem-solving ability during work. However, these skills do not always necessarily translate to the ability of great resume building. So, how exactly an event planner can convey their skills onto the document? Learn the best way to do so by checking out the event planner resume samples and writing tips provided below.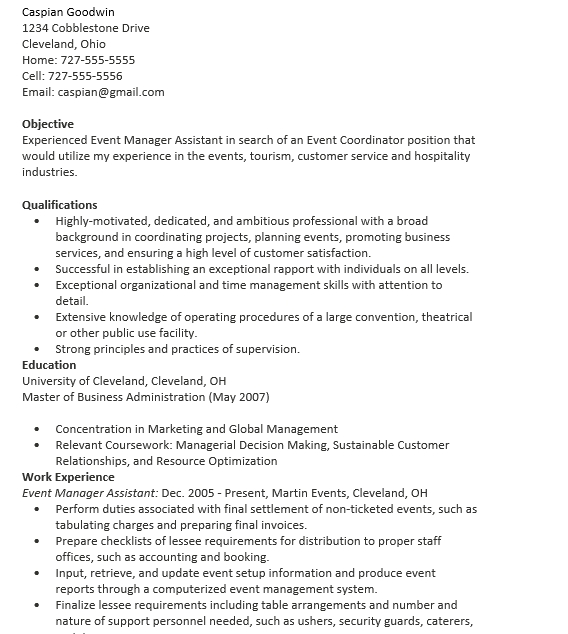 Building and submitting a strong resume will help to land a job, attract prospective clients, or advance career into further stage. If you are planning to pursue professional career as an event planner, then it is essential to create a resume that's able to present your qualification effectively. Read the following article to know what to include in event planner resume and gain several useful tips on how to write one.
Example of Resume for Event Planner
Olivia Wallace
8062 South Morris Dr.
Virginia Beach, VA 23451
202-555-0175
Professional Resume
Experienced event coordinators for social events, seminars, fundraisers, meetings, and more.
Detail-oriented and organized event planner with over ten years of professional experience in planning and carrying events and meetings.
Skilled and knowledgeable in choosing and decorating venues to accommodate needs of clients and deliver to their preferences.
Committed in building strong relationships with reliable vendors.
Work Experience
April 2018 — Present
Eden Springs EVENTS, Virginia Beach, VA
Lead and direct planning and executions of events, including meetings and fundraisers for business clients
Build and retain solid relationship with quality domestic and international vendors to support local and overseas event planning
Handle and organize up to $150,000 budget for large-scale events
Event Coordinator
February 2014 — March 2018
Valle de La Luna Events, Hampton, VA
Planned and carried social and professional meetings for different client ranges
Handled up to $50,000 budget for events with more than 750 attendees, several vendors and other contributors for the events, such as photographers, entertainers, caterers, etc.
Special Events Associate
September 2010 – January 2014
Dewdrops & Sunlight Events, Hampton, VA
Organized donor and fundraiser events for nonprofit organizations that promotes kids and youth charities
Established network reach, physical campaigns, and digital advertisement to promote regular and annual fundraisers
Education & Credentials
Bachelor of Arts in Marketing – GPA 3.65
2010
Hampton University, Hampton, VA
Professional Affiliations
American Planning Association (APA) member
Corporate Event Marketing Association (CEMA) member
Tips to Write Resume for Event Planner
Proofread the event planner resume: Make sure that you read and double check the resume before submitting it to spot any spelling error, grammar mistake, or issue on the formatting.
Tailor the resume: You need to tailor the substance of resume for each job that you're planning to apply to, in order to ensure that it suits with the job description and qualifications required by the company.
Use the right keywords: It is common for the job recruiters to put keywords on the job ads that they use when assessing the resumes. To make yours stands out, you need to incorporate these keywords into your resume.
People Also Ask
How do I list my event planning skills on my resume?
Start with some of the essential soft skills for event planner, such as organization, time management, and communication. Then, continue by listing hard skills, which may involve technical skills and marketing skills. By the end, write about beneficial skills that are unique to you and may set you apart from the other job applicants.
What skills do you need to be an event planner?
Here are some of the skills to include on your event planner resume:
Organizational skills
Communication skills
Time management
Networking skills
Problem solving
Budgeting skills
Negotiation skills
Multitasking skills
 What is event planner job description?
Event planner is some who's responsible to organize private or corporate events for individuals or companies. The tasks include conducting meeting with client to discuss the events execution, retaining partnerships with caterers and vendors, and arranging cleanup after the events.
Customizable Event Planner Resume Document
It takes plenty of hard work and various types of skills to be a professional event planner. To land a job as one on, there is no doubt that you will need a great resume to back up your qualifications. Get this event planner resume sample template for free if you're looking for some inspirations and ideas on how to write one.
Free Download Event Planner Resume Sample
As an aspiring event planner that are looking forward to be hired, you need to build a resume that can convince the potential employer that you are indeed the best qualified job applicant for the job. Here is a sample of event planner resume that will help you to begin the job-hunting process on the right foot.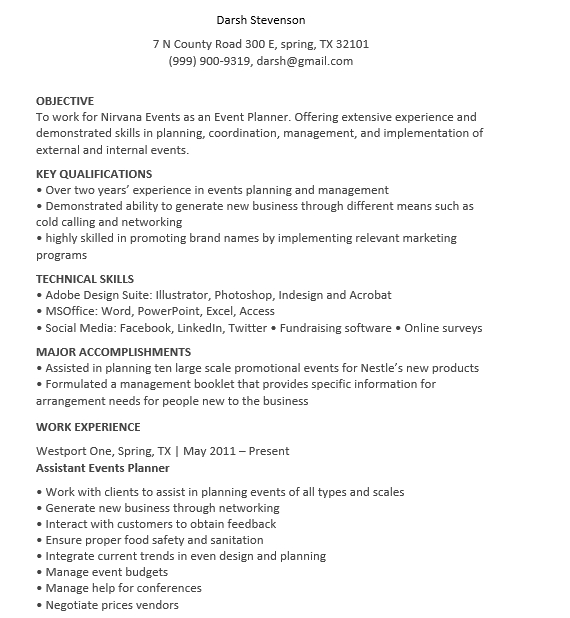 Free Resume Sample for Event Planner
Download this free job-winning event planner resume to land on your next job this year. It is customizable, so you can start easily and quickly to write the best resume in only mere minutes. You only need to simply edit it and fill it with your information and then submit it to the job recruiter.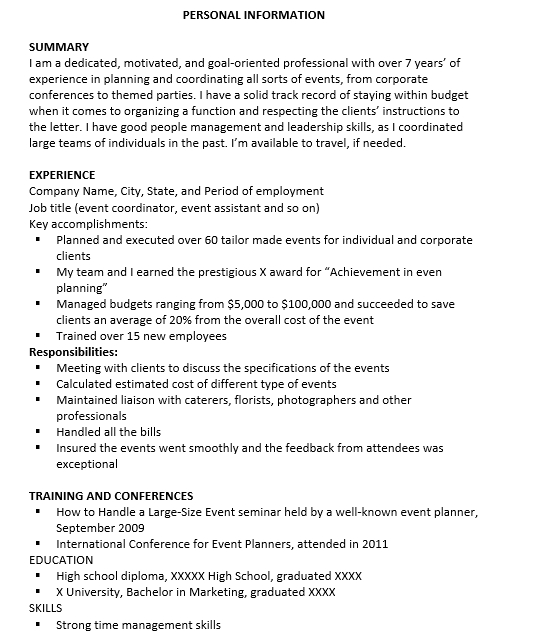 Resume of Event Planner Sample of Free
This sample of event planner resume will help you in developing a catchy and modern resume to get the best result. Use this resume to demonstrate your qualifications and make your way from being a job applicant, to job candidate, and finally gain that job position to advance your event planning career further.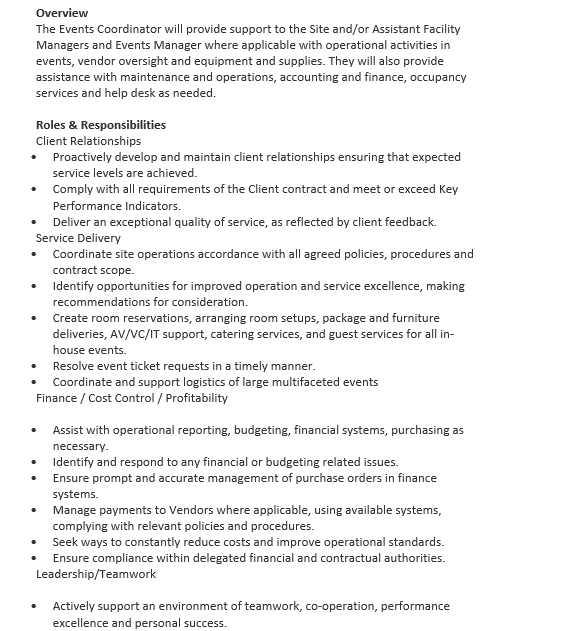 Sample Resume for Event Planner
The secret to build the best event planner resume is to get the details of the document right. Taking time to write the proper document is necessary, but if you need to act fast, then it is worth to consider using this resume sample template to guide you through every needed process to build the resume.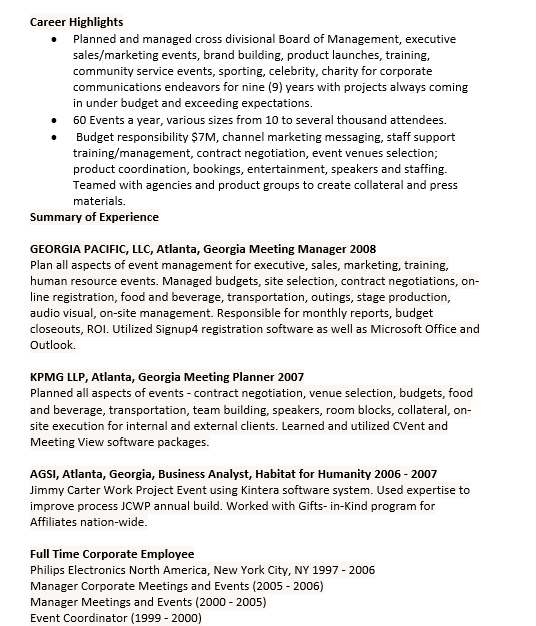 The trend of event planner resume has evolved over the years, and so does yours need to. These professionally curated resume samples and templates can provide a look into how a modern and well-written resume should appear to be, and give insight on what elements that has to be incorporated into your own.