The Captivating Civil Engineer Resume Samples
Are you pursuing career as a professional civil engineer and looking for any fascinating civil engineer resume samples? If so, this article is a brilliant choice for you. Later, you will also be provided with valuable information about civil engineering sector field.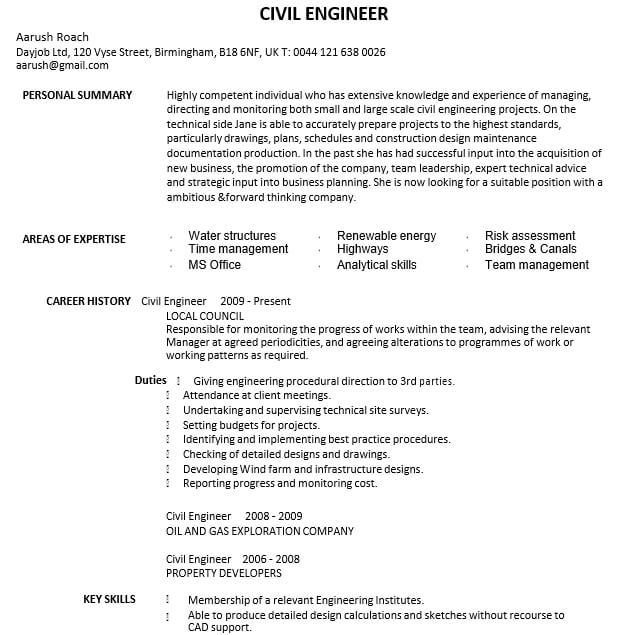 This job is a very important element because every country needs highly competent civil engineers in building the public facilities. Now, let's check the resume example below.
The Example of Civil Engineer Resume
The following is civil engineer resume sample that you can observe and apply to your own resume.
Thomas Greene
Civil Engineer
Contact Details
Email                : greene.thomas@live.com
Phone               : 982 777 777
Address            : 9877 Bay Beach Road, San Francisco, CA 82782
LinkedIn            : linkedin.com/in/thomas.greene
Key Skills
Sewer CAD
StormCAD
AutoCAD
S-Frame
Trigonometry
EPANET
Culvert Master
Flowmaster
Credentials and Educational Background
Bachelor of Science (2011 – 2015)
Major: Civil Engineering
Bay Beach College, San Francisco, CA
High School (2008 – 2011)
Bay Beach High School, San Francisco, CA
Achievements and Awards
Best Employee of the Month (February 2017 – December 2017)
JJ Construction, Nice, CA
Resume Objective
A highly passionate civil engineer and a registered member of CIOB and ICE with more than 5 years of experience in working as a highly independent civil engineer.
Highly committed to provide excellent service to any project and focused on environmental issues, safety, and health.
Highly adaptive in every situation and condition, also capable of working independently.
Possess a Bachelor of Science in a civil engineering major.
Professional Experience
Civil Engineer (August 2017 – Present)
JJ Construction, Nice, CA
Performing drafting according to the drafters and ensuring compliance with all the requirements and QA procedures
Supervising 39 projects, including sub-contractors, in-house, and external contractors
Inspecting inventories and preparing orders for factory materials
Attending meetings and discussing details with contractors, stakeholders, clients, and asset owners
Training new employees to take over the similar factory projects
Tips on Making Civil Engineering Resume
After learning from the sample of civil engineer resume above, keep in mind the following tips:
Optimize your skills section in your resume
Make sure to include civil engineering hard skills (skills about the use of tools and software that's relevant to civil engineering) more than soft skills (communication skills, teamwork, the ability to work under high pressure, etc.)
Make a listed or bulleted points
Never make a confusing resume if you want to catch the HR manager's attention. Make a clear and well-written resume, including making the lists in your civil engineer resume rather than writing in a long paragraph.
Use the active words only
Think carefully about the words and language you choose when making a civil engineer resume. Use action verbs only, such as focused, chaired, engaged, enforced, tested, upgraded, etc.
People Also Ask
How do you write a civil engineering resume?
To summarize the whole article, follow these easy steps on making a magnificent civil engineer resume:
Start by highlighting the job details.
Mention about your skills and abilities that go along well with the company need.
Make sure every required skill is showed in your educational background section or in your professional experiences.
Add the "other" section in your resume to prove that you are more valuable than most of the applicants.
What is a CV in the civil engineering sector?
Curriculum vitae is longer than a resume, and it contains more valuable information, such as your relevant skills, educational background, professional summary, contact information,  exceptional professional experience, relevant hobbies, achievements and awards, even pictures of yourself as a professional civil engineer.
What skills should civil engineers have?        
There are many important hard skills and soft skills that are highly required as civil engineer. These should be included in your civil engineer resume, including:
Problem solving skill
Ability to maintaining the projects
Methodically thinking skills
IT skills
Mathematic skills
Ability to work in stressful conditions
Communication skills (written and spoken)
Leadership
Decision making
Technical training
Organizational skills
Teamwork
Types of Civil Engineer Resume Samples      
The last part is by selecting one of the following types of civil engineer resume sample based on your specialization and preferences.
Civil Engineering Resume for Project Manager          
The project manager civil engineer resume is the right option for you who are seeking a project manager position in civil engineering sector. Do mention your areas of expertise in this resume to make the HR manager get more detailed information about you.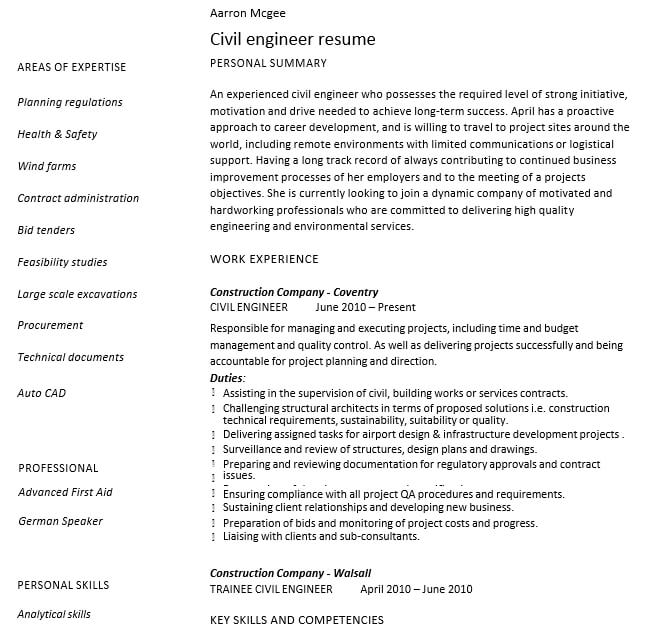 Civil Engineering Resume for Experienced Engineer
If you have a long list of exceptional working experiences as a professional civil engineer and still want to get your dream job in this sector, choose this template. Well, you will get the cool designs in your resume.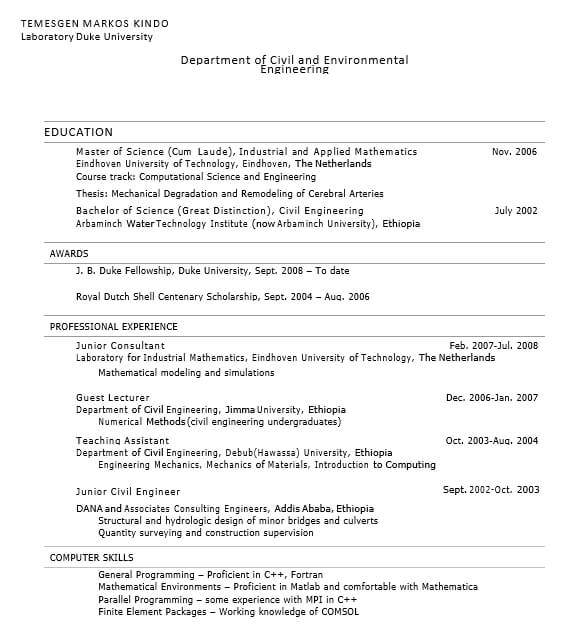 Civil Engineering Resume for QC Engineer
Being a QC civil engineer is definitely not an easy job since you will need to have a great attention to the detail in checking the projects and tasks. If you are confident enough about your skills and qualities, try to apply for this position to get your dream job.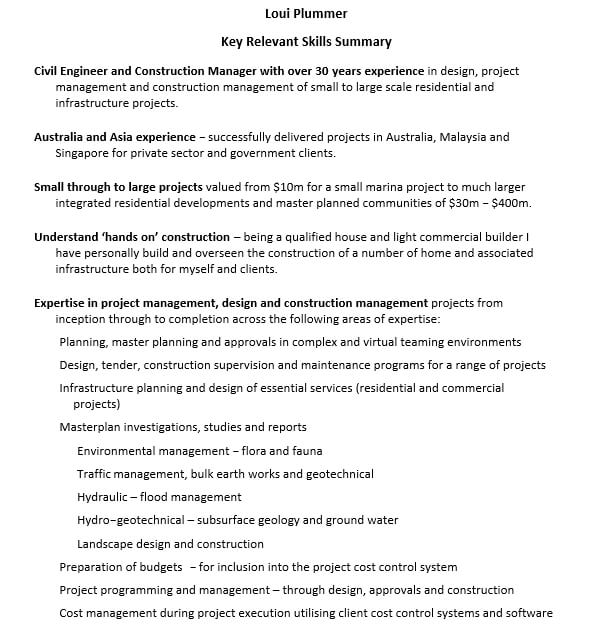 Civil Engineering Resume for Entry-Level Engineer
The next sample template is the best choice for any fresh graduates who are eager to catch the dream future career in civil engineering. By using this template, you can focus on your skills and exceptional educational background instead of showing your working experience.
Civil Engineering Resume for Senior Engineer
Use this sample template if you are confused about choosing which one that best suited for you. This sample has the best design with an elegant touch to show that you are a professional senior civil engineer with many exceptional skills and experience.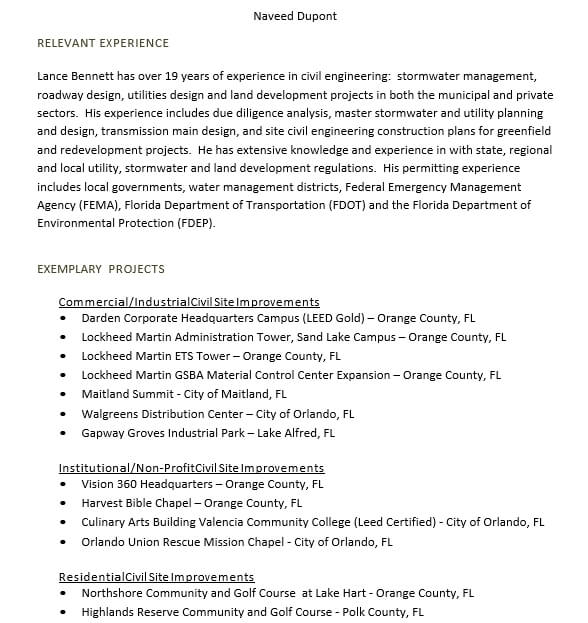 Civil Engineering Resume for Professional Engineer
The professional civil engineer resume template is similar to the experienced sample template, except in this resume you will need to include the exceptional key skills and qualifications before writing your educational and working experience.